Assam CM Wife's Firm got PPE Order 'Without Tendering' Before Lockdown
RTI queries revealed that three firms owned by Riniki Bhuyan Sarma and the CM's business associate received four 'urgent' orders at higher prices when he was the health minister, according to a news report.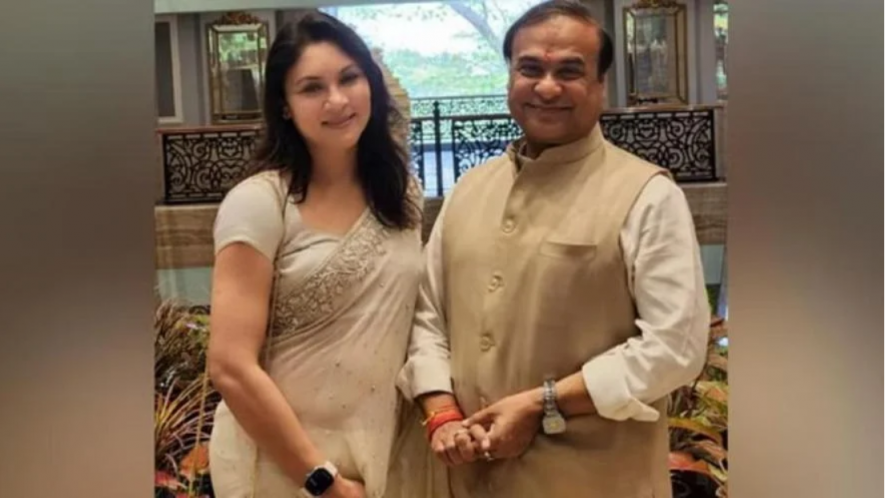 Assam Chief Minister Himanta Biswa Sarma with his wife Riniki Bhuyan Sarma. Image Courtesy: Twitter
Three firms owned by Assam BJP chief minister (CM) Himanta Biswa Sarma's wife Riniki Bhuyan Sarma and his family's business associate received four COVID-19 personal protective equipment (PPE) kit orders before the lockdown allegedly without tendering or quotation, a series of Right to Information (RTI) queries has revealed.
According to an exclusive report by The Wire and Guwahati-based news portal The Cross Current, the three companies
received the orders despite quoting higherprices than other contenders. When one of the firmscouldn't deliver the required number of kits, its contribution was turned into a 'CSR' activity.
Moreover, Riniki's Guwahati-based firmJCB Industries, which produces sanitary napkins and has never produced or supplied medical equipment and safety gear, was given the order to supply 5,000 PPE kitswhen Sarma was the health minister.  
Days before the sudden lockdown was imposed on March 24, 2020, the health ministry gave an 'urgent' work order to JCB Industrieson March 18 as part of the state government's claim to have made "instant" and "urgent supply orders" to stock safety gear and testing kits immediately after the lockdown. 
However, RTI replies from the state National Health Mission (NHM) revealed that JCB Industries and GRD Pharmaceuticals and Meditime Healthcare, owned by Sarma's family's business associate Ghanshyam Dhanuka, were issued the orders before the lockdown.Even under the Congress rule, the Sarma-headed health ministry had given regular orders to Dhanuka's firms.
Incidentally, Sarma's son Nandil Biswa Sarma is a majority shareholder in RBS Realtors (now Vasistha Realtors), which hasDhanuka's father Ashok Dhanuka as one of its directors, according to the report. An earlier investigative report by The Wire and The Cross Currents showed Dhanuka's close business ties with Sarma's family, particularly through RBS Realtors.
As per the RTI replies, both JCB Industries and Meditimefailed to supply PPE kits marked 'urgent' by the government as the pandemic turned serious. But Dhanuka's firms bagged more pandemic-related supply orders at a much higher rate than quoted earlier. 
An RTI reply from NHM managing director (MD) S Lakhmanan's office to The Cross Currentdated March 10, 2022, reads: "The government of Assam (had) notified instantly the state level, district level and medical college level procurement committee for the purpose (of) emergency procurement from all available sources either through nomination/quotation/tendering process in view of the countrywide lockdown from March 24, 2020." 
The NHM MD's office said that a "panicky situation" caused by the lockdown "to gather all essential items on an emergency basis to Assam as most of the essential manufacturing unit(s) were located outside of the state" prompted the state government to procurethem "on nomination basis/market survey in a topmost priority to save the human life as well as for the greater public interest to fight the pandemic".
However, the four 'urgent' work orders were issued between March 18 and March 23, 2020, before the "panicky situation", the RTI replies, comprising copies of 14 supply orders of NHM, revealed.
As per the news report, the orders were most likely approved through nomination as they didn't mentionquotations.Though one of the orders issued after the lockdown mentioned that the approval was based on that bidder's quotation. 
The RTI replies show that JCB Industries was granted an 'urgent' supply order on March 18 to provide 5,000 PPE kits, GRD Pharmaceuticals was asked to supply 10,000 bottles of hand sanitiserand Meditime Healthcare to 'urgently' supply 10,000 such kits on March 22. On March 23, Meditime Healthcare received an order to supply another batch of 10,000 kits.
The Wire arrived at the following conclusions after deconstructing the responses to an RTI application filed by The Cross Currentaround six months ago.
1. JCB Industries and Meditime Healthcare failed to supply the equipment despite the 'urgent' orders.
2.  JCB Industries received the 'urgent' supply order for 5,000 PPE kits at Rs 990 per piece while the state government bought 1,790 kits for Rs 600 per piece from another Assam-based firm, NE Surgical Industries, on the same day.
3. Meditime Healthcare was also issued two 'urgent' supply orders for PPE kits at Rs 990 per piece.
4. NE Eastern Surgical Industries delivered the kits on time despite selling them at Rs 600 per piece compared to JCB Industries and Meditime Healthcare.
5. The JCB Industries order was cancelled on April 4citing "failure in supplying the life-saving cover-all protection kit in time, required for treating the Corona-infected patients" but the 1,485 PPE kits supplied were presented to the Assam government as part of the firm's CSR.
A few days after cancelling the urgent supply order,Lakhsmananwrote to JCB Industries on March 27thanking it for supplying the same PPE kits under CSR.   
6. Meditime Healthcare got an urgent post-lockdown supply order for Rs 1,680 per kit, higher than its previous quotation of Rs 990, on the condition that it would deliver them at the New Delhi Assam Bhavan despite failing to deliver the earlier order. Only Meditime Healthcare was given the privilege of delivering the order in New Delhi instead of NHM's warehouse in Narengi, Guwahati.
According to the official documents, Meditime Healthcare supplied 66,035 PPE kits at Rs 1,680 per piece between March 23 and April 11, 2020, totalling Rs 10,84,85,850.
Get the latest reports & analysis with people's perspective on Protests, movements & deep analytical videos, discussions of the current affairs in your Telegram app. Subscribe to NewsClick's Telegram channel & get Real-Time updates on stories, as they get published on our website.
Subscribe Newsclick On Telegram