Assam Tea Tribes Served Another Set of Vague Promises
Despite five-hour long meeting, no commitment on granting tea tribes ST status or increasing daily wages in line with demands of tea estate workers.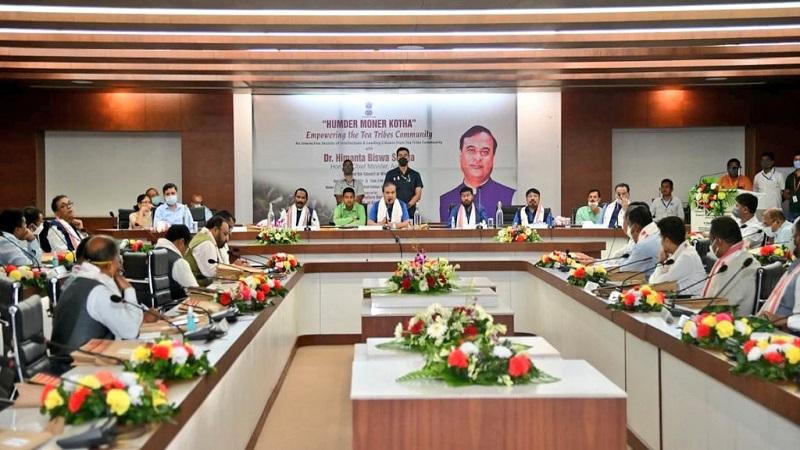 Image courtesy - Official Twitter Account of Assam Chief Minister Himanta Biswa Sarma
Assam's Tea Tribes have been given a raw deal yet again, with the state's Chief Minister steering clear of making any concrete commitments when it comes to specific demands of the community, despite holding a five-hour long meeting with representatives of the tea tribes as well as intellectuals on August 30. The final outcome of the meeting was just a promise to set up a few sub-committees to study the needs of the community and submit a report.
At the meeting titled "Humder Moner Kotha" which means "our thoughts", Sarma met with and held detailed discussions with community leaders and eminent citizens like Dr Bhaben Tanti, Dr Dhrubajyoti Kurmi, Smt Dulami Herenz, Dr Kamal Kumar Tanti, Sri Pawan Singh Ghatowar, Sri Sushil Chandra Kurmi and many others. But at the end of it, Sarma did not make any specific commitment towards looking into specific demands.
"We're exploring robust short to long term action plan for Tea Tribes. Assam Govt will constitute 7 sub-committees to study all issues and will submit reports by Dec 2021. Based on the recommendations, GOA will include provisions for their socio-eco upliftment in next Budget," said Sarma with no mention at all about granting Scheduled Tribe status to tea tribes or addressing the matter of their abysmal daily wages. While he said, "Assam is forever grateful to Tea Tribes for their sparkling contributions. Their prosperity is our priority," and that, "The deliberative process will continue for 6 months," the vagueness of his words appears to suggest that the administration has no desire to address the elephant in the room.
To understand the full scale of this issue, we have to first understand the people constituting the Tea Tribes.
Who are the Tea Tribes?
In colonial times, after tea leaves were found growing by a British officer named Robert Bruce in 1823, the British brought several people hailing from Adivasi and tribal communities of other Indian states (present day Uttar Pradesh, Bihar, Jharkhand, Odisha, Andhra Pradesh and Chhattisgarh) to work in tea estates in Assam. By 1862, there were 160 tea estates in Assam. Many of these communities have been granted Scheduled Tribe (ST) status in their home states.  
In Assam, these people came to be known as the Tea Tribes. They are a heterogenous, multi-ethnic group and speak languages as diverse as Sora, Odia, Sadri, Kurmali, Santali, Kurukh, Kharia, Kui, Gondi and Mundari. They worked in these tea estates in colonial times, and their descendants have remained in the state to this day still working in tea estates, making Assam their home and adding to its rich socio-cultural tapestry. Today there are over 8 lakh tea estate workers in Assam and the total population of the Tea Tribes is estimated to be more than 65 lakhs.
Tea estates in Assam
According to the Directorate for Welfare of Tea Tribes, at present there are 803 tea estates in Assam. Dibrugarh leads with 177 tea estates, followed by Tinsukia (122), followed by Jorhat (88), Sivasagar (85), Golaghat (74), Sonitpur (59), Cachar (56), Udalguri (24), Karimganj (23), Nagaon (21), Halaikandi (19), Karbi Anglong (15), Lakhimpur (9), four each in Baksha and Darrang, three each in Dhubri, Kamrup (Metro), Kamrup (Rural) and Kokrajhar, two each in Dhemaji, Dima Hasao and Goalpara, and one each in Bongaigaon, Chirang and Morigaon.  
Electoral might of Tea Tribes
Today, Tea Tribes, comprising people of diverse ethnic groups including, but not limited to Santhal, Kurukh, Munda, Gond, Kol and Tantis, are influential in as many as 42 of the total 126 assembly constituencies in Assam. Therefore, it is impossible for any party to ignore them. But as has been the case so far, promises are made only to be broken.
The demand for ST status
Given how tea workers hail from different Adivasi communities that have been granted ST status in other states, it is understandable that they would want the same in Assam. The grant of ST status allows members certain social benefits such as reservations and exemptions, which tea tribes do not enjoy at present. In the run up to the assembly elections in Assam this year, SabrangIndia had reported how in March, Adivasi groups led by All Adivasi Students' Association of Assam (AASAA) had questioned the BJP as to why it had failed to grant ST status to tea tribes.
Demand for a living wage
Trouble has been brewing in Assam's many tea estates where workers hailing from Tea Tribes have been forced to live hand to mouth, working for a measly daily wage of just Rs 167!
In February 2021, the state government led by the Bharatiya Janata Party (BJP) helped pave the way for a higher wage, an increase of a mere Rs 50 to the daily wage. But the tea estates went to court against this hike. As a result, the tea estate workers were deprived of even this marginal hike pending the outcome of the court case. Then on March 22, 2021, just days before the first phase of elections, tea estates voluntarily agreed to a hike of Rs 26… another meagre amount.
Organisations representing interests of Tea Tribes such as Assam Tea Tribes Students' Association (ATTSA), All Adivasi Students' Association of Assam (AASAA) and the Assam Chah Mazdoor Sangha (ACMS) have expressed displeasure with the denial of a basic living wage.
Interestingly, the BJP had promised Rs 351 as the daily wage in the run up to the 2016 elections, a promise they clearly reneged on. But with by-elections coming up in five seats including two in Upper Assam where Tea Tribe voters will play a key role, perhaps this is just another political ploy to wrest back these two seats from the Congress that had won them in the last Assembly Polls.
Get the latest reports & analysis with people's perspective on Protests, movements & deep analytical videos, discussions of the current affairs in your Telegram app. Subscribe to NewsClick's Telegram channel & get Real-Time updates on stories, as they get published on our website.
Subscribe Newsclick On Telegram