Assam: Why Himanta Biswa's Child Marriage 'Crackdown' is a Pre-Poll Ploy
The CM is trying to convey that he is unsparing when it comes to practices identified with Muslims, as also use it to obscure issues related to BJP government's failure to address basic issues of livelihood and security.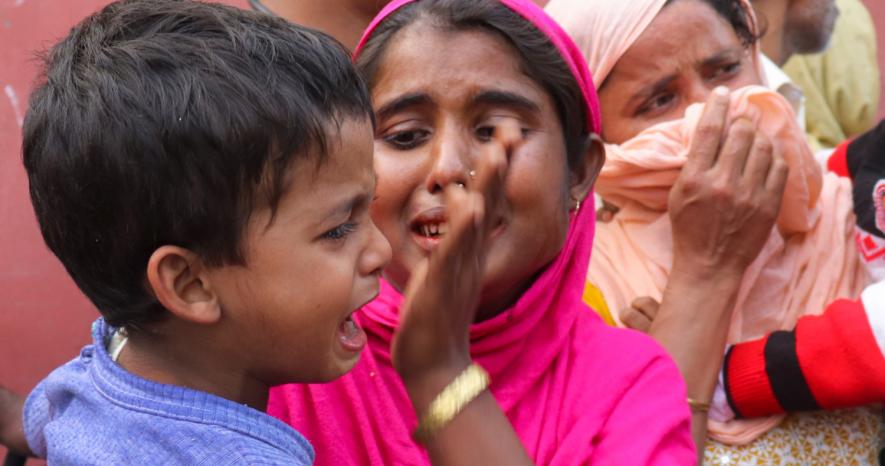 Relatives react after police arrested people allegedly involved in child marriages, during  Assam government's statewide crackdown on child marriages, in Guwahati, Friday, Feb. 3, 2023. (PTI Photo)
The cat is out of the bag. Assam Chief Minister Himanta Biswa Sarma has declared that the ongoing crackdown in the state on child marriages is unlikely to stop despite widespread criticism of the latest push. "This drive will continue till 2026 Assembly polls," he stated specifically.
This leaves no ambiguity that the police campaign to arrest people for allegedly marrying girls below 18 and booking them under provisions of the POCSO Act and the Prohibition of Child Marriage Act has an electoral purpose.
The motive is two-pronged. The first point that Sarma is trying to convey is that he is unsparing when it comes to practices that are identified with Muslims – in this case child marriage. He has already raked up alleged 'love jihad' and 'inducement' for religion conversion and the latest move is to further stigmatise the community.
By stating that his directive, issued to the police in the last week of January, will continue at least till the next Assembly elections, Sarma has confirmed that he thinks that the campaign will enable him and his party, the Bharatiya Janata Party (BJP), to reap rich electoral dividends.
The second purpose this campaign serves emanates from the furore this would cause. The din generated by this police drive – already thousands have been arrested, mainly in Muslim and tribal majority districts (or where they are present in significant numbers), a development which has led to massive protests from effected families, especially wives of the arrested men – would obscure issues related to the Centre and State government's failure to address basic issues of livelihood and security.
Anger of people at large over non-deliveries has the capacity to trigger anti-incumbent sentiment and can thereby have impact negatively on electoral fortunes of the BJP, first in 2024 during Lok Sabha elections and later in 2026 during the Assembly polls.
The decision to launch the police drive against men married to girls below the legally permissible age of 18 years was taken on January 23. The Assam government justified its decision by citing the report of the National Family Health Survey (NHFS)- V which paradoxically did not list the state as the worst 'offender' on the number of child marriages index.
NFHS-V reported that for the period 2019-21, across India, 23.3% of women aged 20-24 years married before the age of 18. The report stated that West Bengal, Bihar and Tripura top the state-wise list of child marriages with more than 40% of women aged 20-24 years having married when they were below 18.  Six other states and Union Territories recorded figures higher than the national average – with two, Jharkhand and Assam having child marriage incidence rate higher than 30% (Assam notched 31.8%).
It can be deduced from NFHS reports that nationally the incidence of child marriages reduced significantly from 47% in 2005-06 to 27% in 2015-16. The downward trend was continued in the latest NFHS-V (2019-21), which indicated that close to one in every five i.e., 23.3% women aged 20-24 years, married before 18 years of age. But as mentioned previously, child marriage rate in Assam remains higher than the national average.
Contrary to general perception, in 2005-06, the instance of child marriages across India among Hindus was one percentage point higher than among Muslims.
However, in 2019-21 the incidence had not just reversed, but the percentage of child marriages among Muslims was three percentage points higher than among Hindus. Importantly, the percentage for Christians declined from 26% in 2006-06 to 15% in 2019-21.
There is little need to reaffirm that child marriage is embedded in India's social fabric and there are pockets of the country with a high concentration of the practice.
Besides it being a long-standing social custom, there are also deep-rooted economic causes behind child marriage. With disparity rising phenomenally in recent years, this custom has become acute among more vulnerable communities. Often, the data also reveals inexplicable realities.
For instance, the Census 2011 data suggests that Uttar Pradesh has the highest concentration of married adolescent boys in the age group of 10-19 years (19.24%). Given that this data is from the same poll that Sarma uses to vilify Assamese Muslims, can this same set not be cited to provide a negative hue to the Hindu male adolescents of UP?
Child marriage as a practice in many places is also community specific, and enmeshed with the grim socio-economic reality. The custom of child marriage in Rajasthan during the Hindu festival of Akshay Tritiya is well-documented.
Coupled with this is the alarming rise in recent years of social prejudice and targeting of Muslims corresponding with the elevated levels of the Hindutva sentiment.
The increase in the extent of hatred/dislike/alienation of Muslims between 2005-06 and 2019-21 has corresponded with the increased prevalence of child marriages in the community is a reality. But the two trends cannot perhaps be treated as distinct or considered as part of the same phenomenon.
However, the final word on this crucial subject can only be stated after sensitively examining of not just data but also after conducting detailed surveys among the community.
The trouble with Sarma's approach, a strategy that he picked from the book of the Karnataka government (another BJP-ruled state), is that is that it follows a law and order approach. There is no effort to understand that child marriages are a challenge for society at large and it is not a socio-political tactic that has been devised by imaginary Islamic Jehadi groups.
For the past four decades the Sangh Parivar has run a disinformation campaign, with the intention of fanning fear and spreading hatred against Muslims, alleging they are part of a global conspiracy to 'reduce' Hindus in a 'minority' in 'their own country.'
The fact of the matter is that there exists no conspiracy to alter the demographic balance of the country. The truth is that there are far more complex reasons for relatively higher fertility rate among Muslims and these must be perused for reasons of improving life conditions in India and also to ensure progress of the community.
But, more importantly, the Sangh Parivar's argument that India is a "country of Hindus" is not just an abhorrent idea, but is also violative of the nation's constitutional principles.
In November 2019, the Assam government launched a wider state-wide programme to discourage the practice of child marriages in the state. However, this was incentive-based and did little but benefit families, who were not just on the 'right' side of the majoritarian-politics-driven divide in the state, but were also those with the 'right' connections to the politically entrenched elite.
The Rs 800 crore per year Arundhati scheme, as it was called, doled out 10 gm of gold to brides from EWS families provided they registered their marriage and were above 18 years at the time of the ceremony.
This sort of one-time incentive is hardly the reason to prevent child marriages in Assam or other states. In Assam, Muslim and tribal communities have been socially and politically targeted for decades.
Efforts to reduce their alienation and sense of being ostracised or even driven away from India (remember such exhortations during elections – referring to them as deemak or white ants) requires being politically addressed, if the practice of child marriages among them is to reduce.
There is no denying that levels of poverty and education are relatively lower among Muslims and tribals in most parts of India. This has to be tackled as a long-term project and handled sensitively. People have to be made stakeholders if they have to begin avoiding child marriages.
Significantly, an important early 20th century book, Child Marriage: the Indian Minotaur – An Object-Lesson from the Past to the Future, by Eleanor Rathbone, independent British parliamentarian for more than a decade and half from 1929, provides insight into child marriages in Assam which reverses the idea that the state government and Sarma are trying to promote.
The book cites a Census Superintendent as saying after establishing that Muslims were not the only community with a high rate of infant marriage: That it was "also probable that through their Hindu neighbours, they (Muslims) are gradually assimilating more and more the social customs of the majority community."
Quite clearly, the argument was that if Muslims learnt of the practice of child practice from Hindus, they communicated to them the "sister evil of purdah".
Quite clearly, much of recent practices of different communities is of recent origin, or certainly became a practice over the last century or so.
Despite this being the reality, Sarma has embarked on a path where the entire responsibility of child marriage system is placed at the door of the Muslims and they are also being accused of pursuing this practice to beget more children with the aim of altering the demographic balance in society.
Nilanjan Mukhopadhyay is a NCR-based author and journalist. His last book was The Demolition and the Verdict: Ayodhya and the Project to Reconfigure India. He has also written The RSS: Icons of the Indian Right and Narendra Modi: The Man, The Times. He tweets at @NilanjanUdwin. The views are personal.
Get the latest reports & analysis with people's perspective on Protests, movements & deep analytical videos, discussions of the current affairs in your Telegram app. Subscribe to NewsClick's Telegram channel & get Real-Time updates on stories, as they get published on our website.
Subscribe Newsclick On Telegram