Assam's Flood Survivors: Who Will Mend Injured Minds and Broken Homes?
With the loss of home and belongings, the psychological aspect of the survivors, especially the children, youth and women, is crucial for their future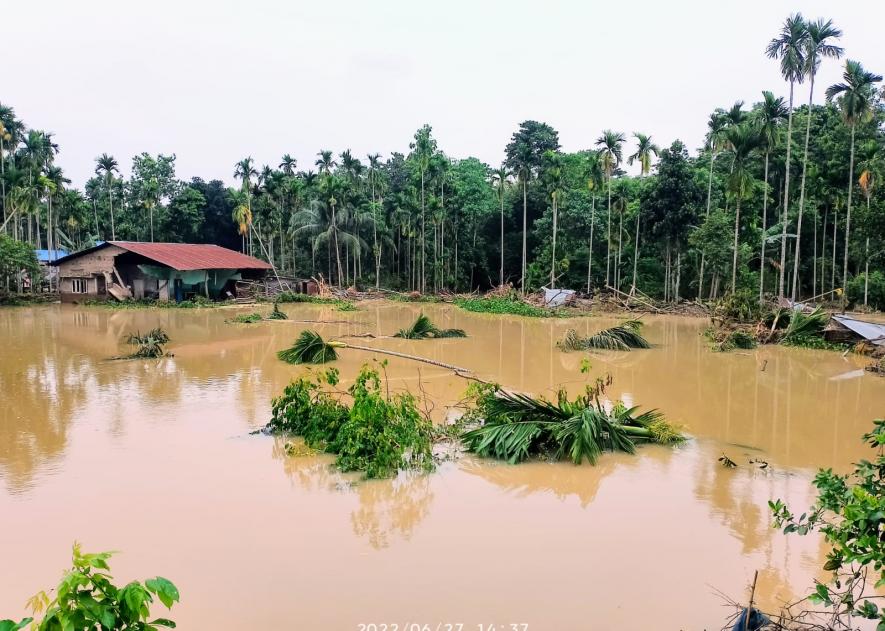 Once there were some houses, the flood washed them away within hours.
The embankments in Assam, with a massive increase in their numbers during the post-independence period till 1980, were thought to protect the vulnerable areas from flood. During massive floods, these embankments are often breached by gushing waters, causing more devastations.
Gohin Das, a middle-aged man from Deobali, is staying on the road along with his family members; his house is half destroyed and water currents are still hitting its base. He could protect a few of his belongings like few plates, one pot and one pair of cloth. He does not know whether the family's other belongings are there or have been washed away. From where he is now, he can see that half of his house has collapsed. Das narrated his account of the event to NewsClick, saying, "On that morning, we heard a sound like that of an explosion, the water was hitting hard on the road and breached it. I could not believe myself seeing a betel nut tree going down vertically. The ferocious water destroyed everything it found on its way. The embankment could not protect our village."
The rushing water dug the soil by about 20-25 feet. In fact, the water was flowing at this level and the real depth that it created could be even deeper and it will be known only after the water recedes completely. It breached the embankment (cum road) and made its own path, appearing like a river flowing at its full strength.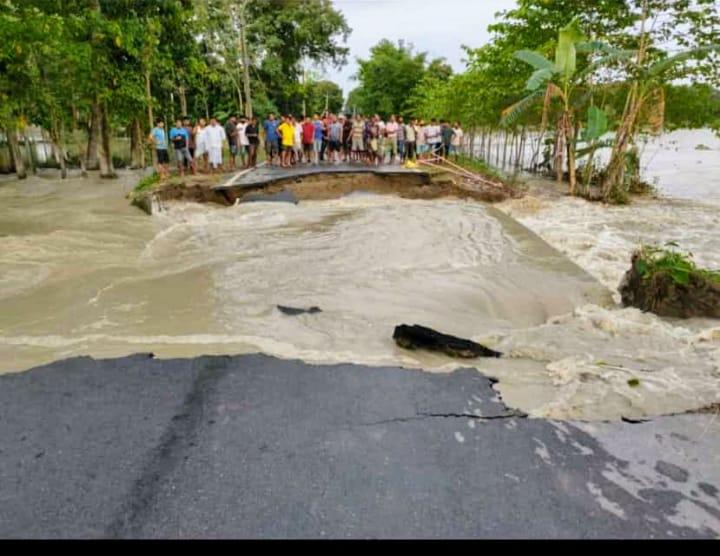 The flood water broke the road and swept it away.
"It seemed impossible to calm down my wife, she behaved madly, imagining her little possession vanishing into the water. We had a garden of lemon trees and this time the products were good and we were expecting a good earning (Rs 10,000). For us, Rs 10,000 rupees is a lot. We were also expecting a good sale of our betel leafs, which is vanished now along with the betel nut trees. You know a betel nut tree takes five-seven years to start producing. Her (his wife) little possession of jewellery might have also gone away. People are completely broken down now. We don't know how we would start from zero."
Deobali is a Schedule Caste majority village and most of the people there are self-employed with a large number of them depending on agriculture and fishing. Only few households have one or two government employees. The village on the bank of Kolong river also witnessed a massive flood in 2004. However, locals said that this year's flood is much wide scaled and brought more devastations.
Das's wife might have calmed down by now, but the sense of fear and the trauma she experienced will have lasting effects. The distressed people of Deobali don't know anything about mental health, they only know she has got a massive shock. Nobody is there to assess their psychological status. They are also not sure if the government or anyone else would help them overcome this difficult situation. "We receive government relief after every three days and that too few grams of rice, dal and little mustard oil. The tarpaulin sheets are also not sufficient. It is still raining and we are living like cats and dogs. We really don't know when things will become normal," said Das.
Deobali has at least seven families whose houses no more exist, according to the residents there. Some of these are kutcha houses, but this time, the pucca houses were also not spared. The flood current dug away the soil from beneath the houses and they collapsed. In fact, the geography of parts of the village has been changed now; after the water recedes, there will be ponds where once houses were there, some open areas like the paddy fields behind the houses will be full of silts. Some people feared that demarking the boundaries of the plots will also be difficult afterwards.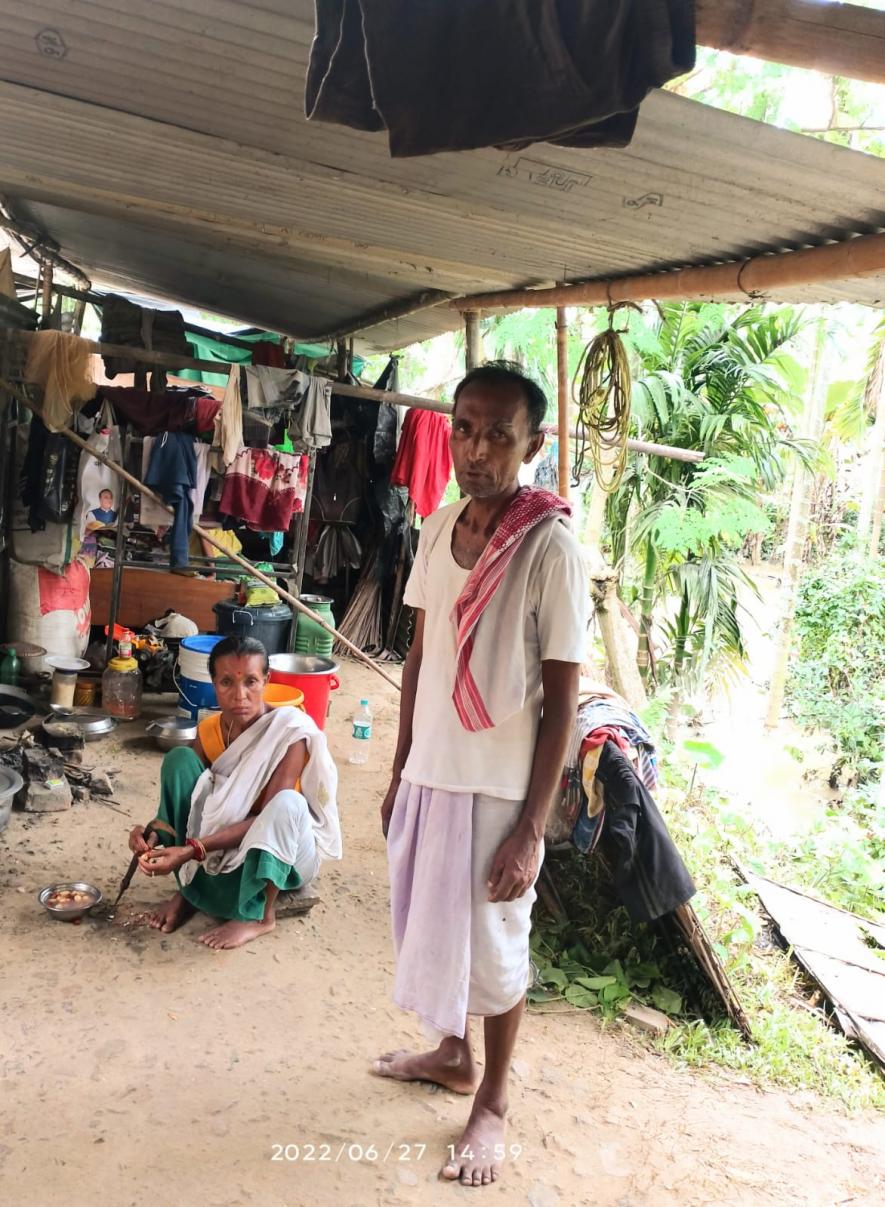 People taking shelter on roads.
Nirupama got married to Narottam of Deobali a few months back. She kept all her clothes and jewellery in a steel almirah. On the day the water breached the road, part of their house collapsed and her almirah was taken away by the flood. Some young people went searching for it on a boat, but their effort was in vain. Till now, nobody knows the fate of Nirupama's belongings. "That day she cried madly all night. Even now she would wake up late at night and start screaming," said a neighbour whose house was also destroyed. Her husband, as told by others, went missing for one and a half day, but luckily he returned. He has almost stopped talking.
Mina's husband had two cows and they could save one; the other was taken away by the flood current. Their lemon garden is nowhere on sight, their paddies have been completely destroyed. They are in complete shock and uncertainty about their future.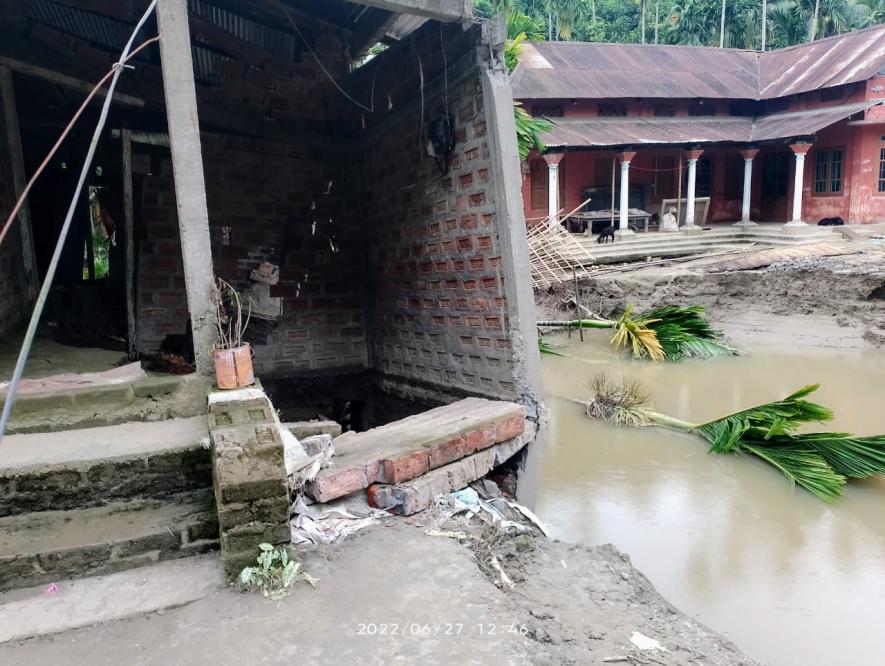 Flood current dug away the soil from beneath the houses and it seems like a river flowing through it.
Few kilometres away from Deobali is Petboha village in Raha. Here too the riverine village has seen the wrath of the flood. The road at Goromur was breached when water entered from the backyards of the residents. Along with the road, houses were also demolished. Umesh, a conductor who resides at Petboha, had his house destroyed in the flood. With much struggle, he completed building the house a few years back. With his one leg broken, he and his family members have fled the place to live with one of their relatives, said his neighbor. He added, "It is like a great shock for his family. How will he rebuilt the house and mend the losses with his earnings? If there is no compensation, they will be at a complete loss."
Situations like these are common in places where the flood has caused devastation. Medhikuchi and Dongarpar villages in the Bhabinipur area of Bajali district in lower Assam (north bank of Brahmaputra) have similar stories of distress and despair to share.
The survivors are vulnerable, both economically and mentally. Without extra support, these families will have a really tough time; in fact, it will be almost impossible for them to bring their lives back on track.
Here arises the possibility of migration from these villages. Once migrated, they are ought to lose their dignified lives in the village, albeit with less money. Moreover, their new-found settlements will always have the threat of evictions. One can recall the Amchang eviction drive of 2017 during Sarbananda Sonowal-led government. "Most of the people there were displaced from their original villages after losing everything into the flood. These people lose their addresses overnight and their lives become completely insecure. This saga has to come to an end," said Pankaj Das, a Left leader based in Guwahati.
With loss of properties, the psychological aspect of the survivors, especially the children, youth and women, is crucial for their future. Dr Dilwar Hussain, associate professor of psychology at IIT Guwahati, told NewsClick, "The mental health side is always ignored, it is a cultural phenomenon. People think about mental health in terms of only the psychiatric disorders. It need not be the sole criteria; in fact, anxiety, PTSD, acute stress are the issues that can impact the productivity of a person. The survivors of any natural disasters are prone to develop these kinds of mental health issues."
Commenting further on the flood victims, Dr Hussain said, "There should be initial assessment made by the government, especially to find out the status of vulnerable ones; for example, those who were already experiencing anxiety or depression before the disaster happened. Our public policies will have to include the crucial aspect of mental health of the disaster survivors." Dr Hussain has worked extensively on various facets of mental health among those who experience recurrent floods and property loss.
Dr Sangeeta Goswami, president of MIND India, an institute of mental health and research, Guwahati, shared her own experience of supporting such survivors. She said, "The victims usually will go through the process of loss and grief, which is experienced if there is loss due to death or any other major life changes as well as for man-made or natural calamities. There are usually five stages -- denial, anger, bargaining, depression and acceptance. Though it need not happen in the same progression."
Highlighting some more important aspects of trauma experienced by disaster victims, she said, "The symptoms may start within one month of a traumatic event, but sometimes they may not appear until years after the event. These symptoms cause significant problems in social or work situations and in relationships. They can also interfere with your ability to go about your normal daily tasks. They are characterised by irritability, startle response, hyper vigilance, heightened emotions, nightmares, intrusive thoughts and flashbacks about the trauma event, panic attacks and sleeplessness, memory loss." Dr Goswami also pointed to the necessity of strengthening the district mental health programme under the Government of Assam with trained counsellors appointed at district or block levels.
Get the latest reports & analysis with people's perspective on Protests, movements & deep analytical videos, discussions of the current affairs in your Telegram app. Subscribe to NewsClick's Telegram channel & get Real-Time updates on stories, as they get published on our website.
Subscribe Newsclick On Telegram