The Assassination of Shahjahan Bacchu and Sujaat Bukhari and the Rise of the Right
Sajjad Jahir Chandan, Assistant General Secretary of the CPB said, "In Munshiganj, Shahjahan played an active role in making the Party move ahead.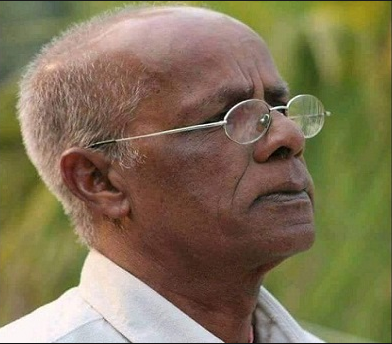 At 6:46 pm on 11 June, Durba Zahan typed a status on Facebook at 6:46 pm. She wrote "My father, Shahjahan Bacchu, died today. In our village. Father was shot with two bullets by unknown assailants." 
The village she is referring to is Kakaldi, near Dhaka. Bacchu was a publisher of Bikasha Prokashoni which specialised in poetry, and was also the editor of the weekly Amader Bikrampur. A list of the book published by his publishing house can be seen here. He was also the former general secretary of a district unit of the Communist Party of Bangladesh (CPB).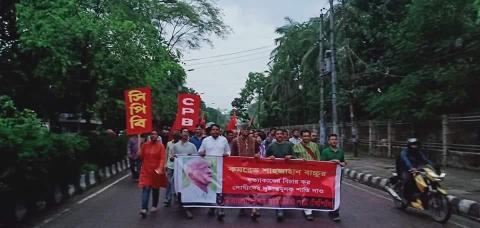 According to a report published in the CPB website, the Party protested against the killing on 12 June at Shahbagh. Sajjad Jahir Chandan, Assistant General Secretary of the CPB said, "In Munshiganj, Shahjahan played an active role in making the Party move ahead. He was involved in the movement for free thinking through his publishing house. He kept abreast of progressive literature. The terrorists could not perhaps tolerate the steady idealism of this free thinker."
Hasan Tariq Chowdhry, Supreme Court advocate and a member of the Central Committee of the CPB told The Dawn News, " Comrade Shahzahan was a free thinker who used to campaign for the cause of progressive ethos, secularism, and scientific temper. It is clear that as extremist forces are unable to confront progressive forces with their hollow ideological narrative, they are using guns and knives to silence these voices."
Bacchu's killing is one among a spate of murders in Bangladesh in which secular writers and bloggers have been targeted. Anu Muhammad, who teaches Economics at Jahangirnagar University, and who is also the member-secretary of the National Committee to Protect Oil, Gas, Mineral Resources, Power and Ports, remembered others who have been killed in Bangladesh in recent years. In an email interview he said, "More names are being added to the list of those who have been killed. We can remember few names — Ahmed Rajib Haider, Professor Shafiul Islam, Avijit Roy, Washiqur Rahman, Ananta Bijoy Das, Niloy Chakroborty, Faisal Arefin Dipan, Kunio Hoshi, the priest Jogeshwar Roy, Professor Rezaul Karim Siddique, Xulhaz Mannan, Mahbub Rabbi Tonoy, Nikhil Joarder, Mohammad Shahidullah, the monk Maung Shue U Chak, homeopath Dr Mir Sanaur Rahman, Debesh Chandra Pramanik, the priest Ananda Gopal Ganguly, Shyamananda Das, Mong Shwe Lung Marma, Nazimuddin Samad, and Shahjahan Bachchu. And the last one is Sumon Zahid."
Zahid, son of slain journalist, Selina Parvin, was found dead on 14 June.
According to a report  published in The Daily Observer on August 2015, Bacchu was interested in setting up secular study centres, which he called Suddho Charcha Kendro, across the country. He had bought land in Tetulia to establish a centre but had not visited the place for fear of being killed.
The Director-General of UNESCO, Audrey Azoulay, has condemned the murder. "The assassination of people who stimulate creative debate is a loss for society as a whole and I call on the authorities to spare no effort in bringing to trial those responsible for this crime," he said on 15 June.
On 11 June, PEN International published a statement saying, "The murder of Shahzahan Bachchu, a publisher, writer, and activist known for his support of secularism, is proof that free expression remains under grave threat in Bangladesh."
Andrew Copson, the President of The International Humanist and Ethical Union (IHEU), which is a "global representative body of the humanist movement, uniting a diversity of non-religious organisations and individuals", said, "We are devastated that the spectre of violence has returned to the freethinking community in Bangladesh. Every humanist writer and secular activist and freethinking publisher who has been killed in recent years has been a defender of the rights of others, a lover of humanity and reason and justice. Their murders stand against all these universal values."  The organisation had earlier published a Freedom of Thought Report on Bangladesh. It can be read here.
The 600,000 member strong International Federation of Journalists, said pointing to the systematic manner of the killings, "Brutal attacks on secular bloggers and writers are not new in Bangladesh. The horrific murder of Ahmed Rajib Haider in February 2013 by machete-wielding assailants with links to a banned extremist outfit was one of the first loud messages that free-thinkers would be decimated. The ruthless killing of blogger Avijit Roy in Dhaka on February 26, 2015 shocked the world, as did the hacking to death of Roy's publisher Faisal Arefin Dipan, who ran Jagriti Prokashoni, on October 31 of the same year. The dramatic killing of Nazimuddin Samad, 28, on April 6, 2016, in the crowded Sutrapur area by suspected Islamist militants chanting "Allahu Akbar" sent shock waves through the nation. Notably, none of the masterminds of these killings have been brought to book.
In India, veteran journalist Sujaat Bukhari, who was the editor of Rising Kashmir, was shot dead on 15 June. Earlier, journalists like Ravish Kumar, Barkha Dutt and Rana Ayyub have received death threats. This is a grim time to be a journalist in the subcontinent. In India, the situation has deteriorated as a Right-wing government is in power. Many of the people who are threatening the journalists, for instance, are followed on Twitter by the Prime Minister, Narendra Modi.
Anu Muhammad explained how the situation perpetrates the dangers in Bangladesh: "Indian Right-wing government has become a blessing for Right-wing extremism in Bangladesh. Intolerance, racism, sexism, communalism, and terror are their common features. In Bangladesh, the government, which claims to be secular, makes compromises with Right-wing forces in Bangladesh and in India. Their inaction to find the killers, their patronising nature towards communal forces, and above all, their aim to create an autocratic rule contribute to the rise of Right-wing extremism."
Souradeep Roy is part of the editorial collective of Indian Writers' Forum.
Get the latest reports & analysis with people's perspective on Protests, movements & deep analytical videos, discussions of the current affairs in your Telegram app. Subscribe to NewsClick's Telegram channel & get Real-Time updates on stories, as they get published on our website.
Subscribe Newsclick On Telegram