Atiq, Ashraf Murders Trigger Point-Blank Questions
Former UP top cops question how could three petty criminals afford banned Turkish pistols for Rs 6-Rs 7 each, the sudden medical check-up and the motive for the killings.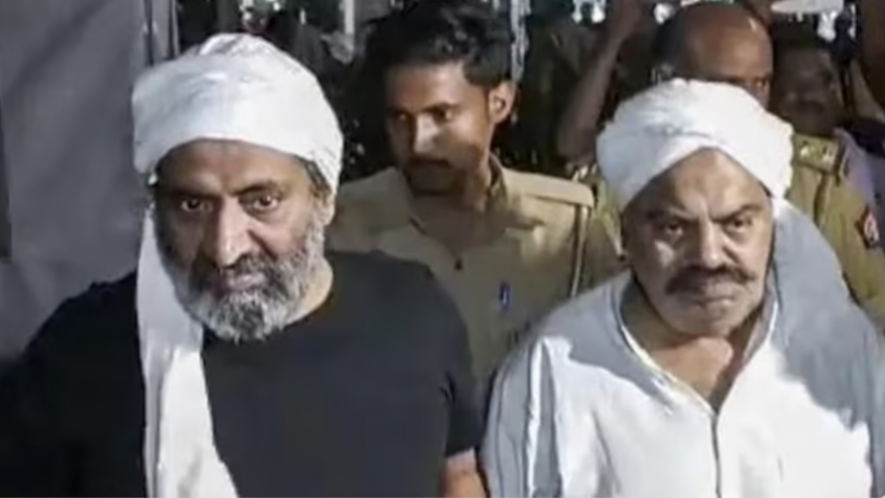 Atiq Ahmed and his brother Ashraf were shot dead on Saturday night. Image Courtesy: PTI
Lucknow: Fake press ID cards, a dummy camera and a mic, and two banned Turkish pistols and a country-made pistol—the murders of gangster-turned-politician Atiq Ahmad and his brother Ashraf in Prayagraj on Saturday seem directly out of a Bollywood crime thriller.
Atiq and his brother were shot dead at point-blank range on live TV in police custody when they were being taken for a "medical examination" to Colvin Hospital.
The assailants, Luvlesh Tiwari, Mohit Singh and Arun Maurya, used banned Turkish Girsan and Zigana 9mm pistols, and a 7.62 country-made pistol.
"Suddenly, two of the journalists dropped their camera and mic, respectively, and fired at Atiq and Ashraf in a flash. The third journalist also started firing. Before someone could fathom the situation, the criminals, in the garb of journalists, killed Atiq and Ashraf. Policeman Mann Singh sustained injuries and one of the attackers also got injured in the firing," the FIR accessed by Newsclick reads.
In a plea before the Supreme Court, Atiq had pleaded that he feared being eliminated in a "fake encounter" but it was turned down. 
PISTOLS COST Rs 6-Rs7 LAKH
The two Turkish pistols cost, at least, Rs 6-Rs 7 lakh. Questions are being raised about how the attackers could procure and afford such expensive pistols when banned in India, whether they were smuggled and who masterminded the killings.
Zigana is a semi-automatic pistol produced by Turkish firearms manufacturing company TISAS.
Former Uttar Pradesh (UP) director general of police (DGP) Vikram Singh raised questions following the murders. 
"The pistols that the assailants used were made in Turkey and cost up to Rs 20 lakh. How they could buy such expensive pistols should be investigated. Besides, why didn't the police identify the miscreants, who were visiting the hospital regularly?" he told Newsclick adding that "the sequence of the live murders and the UP Police's role are under scanner". 
Singh further said that questions are being raised on the modus operandi and training of the killers. "Merely suspending 17 policemen isn't enough until strict action is taken against police officers who showed apathy during the shootout."
Another former UP DGP, Vibhuti Narain Rai, too raised questions. "They [the assailants] are pretty criminals and possession of such expensive weapons is a matter of investigation."
According to him, Atiq had "many secrets and there was someone who wanted to kill him. Maybe, that person provided the pistols to them. With the death of Atiq, all those secrets were also buried".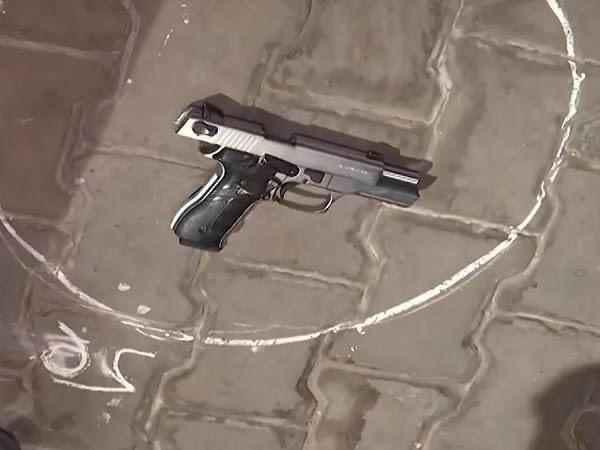 The banned Turkish pistols cost, at least, Rs 6-Rs 7 lakh each.
Besides, "pistols are being smuggled from Nepal, Bangladesh and Pakistan using drones", he added. "Since criminals from the Thakur community are not targeted by the Yogi Adityanath government, they have access to such expensive guns because they have a good hold in Nepal and Bangladesh," he alleged.
Rai further added the entire sequence, including the police not fired in retaliation, is a subject of investigation. "The police could have killed the three criminals on the spot. I am afraid that the trio may be killed without knowing who was behind the killing."
ASSAILANTS FROM DIFFERENT DISTRICTS
Tiwari (22), Singh, aka Sunny Puranu (23) and Maurya (18) belong to the lower-middle class or poor families from three different districts of UP. The families of all three men have disowned them.
Tiwari is a resident of Kotwali Nagar, in Banda district, and was charged with assault, molestation and smuggling. Sunny, a resident of Hamirpur district, faces 14 criminal cases, including charges of attempt to murder and loot. Maurya belongs to Kasganj district, western UP.
According to the police, the trio arrived in Prayagraj 48 hours before the incident and were staying in a hotel.
"Three criminals from three different districts, same family status and of similar criminal background. From where did they access the banned weapons? Where did they hatch the conspiracy to kill Atiq and Ashraf? Who would have trained them to use Turkey-made pistols? All these questions put the state police in dock," retired IPS officer Amitabh Thakur, who had written to the National Human Rights Commission to look into the alleged illegalities by the UP Police in the last week's encounter of Atiq's son Asad, said.
'NO PRIOR INFORMATION ABOUT MEDICAL EXAMINATION'
Colvin Hospital chief medical superintendent Dr Nahida Siddiqui, told the media that "the police did not inform us. We were told that Atiq and his brother Ashraf were being brought for a medical check-up just 10 minutes before their arrival".
"If the police had asked us, we would have sent our medical team where Atiq was kept like before," she added. 
Atiq's lawyer Vijay Mishra too questioned the "unexpected routine medical check-up". 
"Without any complaints of discomfort, the duo was taken for a routine check-up and that too at night. The timing is highly questionable," Mishra told Newsclick.
Rai said, "A team of doctors should have been sent to the lock-up for medical examination as only the heart rate and sugar level had to be checked. It was completely unethical to parade them to the hospital instead of providing an ambulance. Despite knowing that their lives were in danger, allowing the media is also questionable. Atiq and Ashraf both complaining of discomfort at the same time raises many questions."
Get the latest reports & analysis with people's perspective on Protests, movements & deep analytical videos, discussions of the current affairs in your Telegram app. Subscribe to NewsClick's Telegram channel & get Real-Time updates on stories, as they get published on our website.
Subscribe Newsclick On Telegram