At least 6 People Killed in Mob Lynching Incidents in Bihar in Past Week
Not just that, a dozen more incidents of mob violence have also been reported in which people were attacked, thrashed, injured, abused and humiliated by mobs for alleged crimes or no crimes in some cases.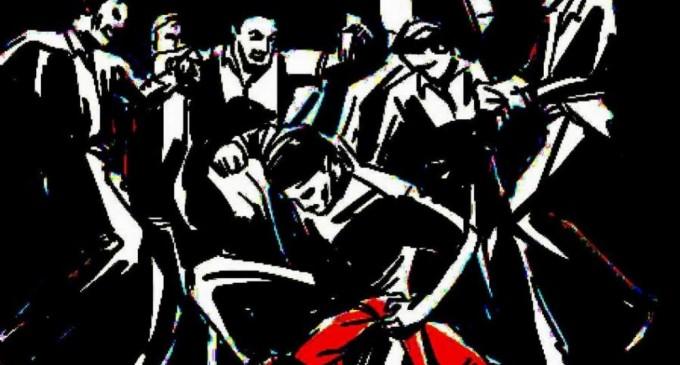 Representational Image. Image Courtesy: North East Today
Patna: Amarjit Singh alias Amar, a youth, was allegedly beaten to death by a mob on the evening of July 24. He had allegedly shot at a school teacher on his lower leg following which he was attacked by the mob at the crowded Aliganj Bazar under Chandradip police station in Bihar's Jamui district.
Amar has become the latest victim of mob lynching in Bihar. In the last one week, over half a dozen people have been killed in separate incidents of mob lynching across the state. A dozen more incidents of mob violence have also been reported in which people were attacked, thrashed, injured, abused and humiliated by mobs for alleged crimes or no crimes but they managed to survive due to the timely intervention of the local people and police.
According to district police officials, Amar fled away after he shot at and injured a school teacher. "When a group of people tried to catch him, he entered a shop but he was dragged out by the angry people and beaten to death with bamboo sticks, iron rods and bricks," a local police official said.
After Amar was lynched, tension prevailed in Aliganj Bazar as dozens of people from his native village set ablaze a shop where he had hidden to escape the mob. The people also ransacked a clinic, attacked other shops, staged violent protests, blocked roads and pelted stones at police. Keeping in view the situation, additional security forces have been deployed and top district officials have been camping in the area on Thursday, July 25.
Also read: Three Cattle Traders Lynched by Mob in Bihar
The rise in the number of lynching incidents started after last Friday in Saran district, three suspected cattle thieves were beaten to death in a village by a mob consisting of mostly youths.
Four suspected cattle thieves were allegedly caught by an angry mob in Pithori Nandlal village under Baniyapur police station in Saran when the victims were on their way in a pick up van to purchase cattle. While three of them were beaten to death, the fourth victim sustained serious injuries and was admitted in the government hospital.
However, Saran Superintendent of Police Hari Kishore Rai said that even though three suspected cattle thieves were beaten to death by some villagers, it was not a case of mob lynching.
The Opposition MLAs and MLCs have raised the issue of mob lynching repeatedly in the Bihar Assembly in last seven days.
Till date seven people have been arrested in the case. But Azad Quraishi, elder brother of one of the victims, told NewsClick that mob lynching was part of a well planned conspiracy by activists of Hindutva outfits. But police is not probing from this angle. He further said that the local police had named some accused including a man died five years ago and few others who are not the resident of the village.
In the second incident on the same day, in neighbouring Vaishali district, a violent mob brutally beat to death one robber and seriously injured another after their failed attempt to loot a Grahak Seva Kendra. The victim of mob lynching was identified as Arman.
In the third incident on Sunday in Supaul district, a mob had beaten to death an 18-year-old youth Ashmit Yadav after he shot dead a 22-year-old postmistress Lovely Kumari in Fulwariya village. "Ashmit Kumar Yadav was caught by angry villagers after he killed Lovely Kumari and beat him to death as an instant punishment."
In the fourth incident, an old woman was accused of practising witchcraft and was beaten to death on Tuesday, July 23,  by a group of villagers in Nawada district. Her family members have lodged a case against 16 people.
On the same day, a suspected thief was beaten to death by a mob in a village in Bhojpur district.
Four Home Guard jawans were thrashed by a mob in Khagaria district on Tuesday for allegedly misbehaving with some passers by. After a video clip of the mob beating up the jawans went viral, the district police chief has ordered a probe.
In another incident in Supaul district, a man was beaten by a mob. A video went viral showing him trying to run away from the clutch of mob with his hands tied up.
A tribal youth Bechu Gond was tied up and beaten on suspicion of stealing an electric motor by an elected village body Sarpanch and his henchmen at Mokarii village in Kaimur district on Sunday, July 21. The accused also poured petrol on the victim's private parts. No arrest have been made so far in this case.
Also read: Mob Lynching Can't be Tackled Without Taking on Brahminism
On the same day, a mob thrashed two youths on suspicion of carrying beef in Parsa area in Saran district. First a group of half a dozen people stopped them and asked to show the meat they were carrying in the trunk of their two wheeler. But when they opposed it, several other villagers gathered and thrashed them with sticks and rods. But the police were able to rescu both after being informed by a few local people. No accused have been arrested in this case so far. However, an FIR was lodged against the two men for carrying beef and they were arrested.
In Begusarai district on Sunday, drivers of five pick up vans, carrying cattle, were attacked by a mob. The mob also damaged their vehicles on suspicion that they were on their way to deliver the cattle to a slaughter house.
Mob lynching incidents have come as an embarrassment for Chief Minister Nitish Kumar who claims to have brought 'sushasan' or good governance to Bihar. Especially, in rural Bihar, incidence of 'mob justice' have become common.
Failure on the part of state government to punish people involved in street justice or mob rule encourage people to deliver instant justice without fear. What is alarming that some people were lynched over minor disputes. Nearly a dozen suspected criminals or thieves have been lynched in the past six months in the state, which even otherwise has a high crime rate.
"These mobs catch and punish the alleged criminals instead of handing them over to the local police. This is increasing day after day in Bihar," Satyanarayan Madan, a human rights activist, who led a fact finding team in Saran after three suspected cattle thieves were lynched by a mob, told NewsClick.
"However," Madan said, "unlike the past, cases of mob violence or mob lynching no more go unreported thanks to social media."
Admitting to the rising number of cases of mob violence, a senior police officer said, "Police are aware of the rising number of incidents of lynching both in urban and rural areas."
However, the most disturbing fact that some people have reportedly justified the act of street justice. Worried over it, Opposition leaders had raised the issue of mob lynching in the state in the Assembly and demanded that the Nitish Kumar-led government enact a law to check and control mob lynching in the state.
Also read: Protests by MLAs and MLCs in Bihar Assembly Over Mob Lynchings
Get the latest reports & analysis with people's perspective on Protests, movements & deep analytical videos, discussions of the current affairs in your Telegram app. Subscribe to NewsClick's Telegram channel & get Real-Time updates on stories, as they get published on our website.
Subscribe Newsclick On Telegram