Attacks on Punjab Christians Increase Amid Allegations of Conversion
Christians constitute less than 1.5% of Punjab's population, according to the 2011 Census.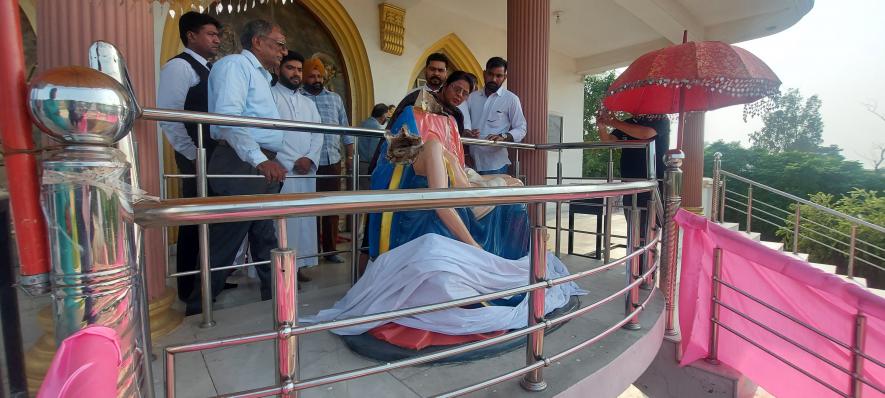 Vandalsed statue of Jesus Christ and Mother Marry, Infant Jesus Catholic Church, Thakarpura, Patti, Punjab.
Punjab/New Delhi: Father Thomas Poochalil was jolted from his sleep on August 31 with a security guard frantically banging on the door of his residence. The Infant Jesus Catholic Church, in Thakarpura village of Patti Assembly constituency, Punjab's Taran Taran district, had been attacked. 
The parish is located in the Diocese of Jalandhar, while Patti (about 50 km south of Amritsar) is a Sikh holy city close to the Pakistan border. 
"A group of more than 30 masked men entered the church premises around 12:30 am on August 31 and held the security guard captive at gunpoint," the parish priest of the church alleged while describing the attack to Newsclick.
"They vandalised the statues of Jesus Christ and Mother Mary on the top floor, took away their heads and also set a Baleno car parked on the premises on fire," Poochalil further alleged adding that the church's "signboard at the main entrance had been destroyed" a month ago. "The incident was "meticulously planned as the vandals left within 30 minutes." 
Taran Taran senior superintendent of police RS Dhillon, who is heading a special investigation team probing the attack, informed news agency ANI that "a case has already been registered. We have vital clues and the culprits will not be spared". 
Locals, who alleged that there is an effort to create discord between Christians and Sikhs, equivocally condemned the attack and said that Poochalil is highly respected.
Their children study in the church-run Sacred Heart Convent School, which is imparting education for the past 35 years, the locals said adding that those embracing Christianity in the region are doing it because of the church's social services.   
Punjab has reported increasing violence against Christians in the past few years. The attack on the church is the latest in a string of more frequent assaults on Christians in recent months amid allegations that Christian missions are conducting "large-scale forced conversions". 
The official data, however, does not support the allegations. Christians, as per the 2011 Census, constitute less than 1.5% of Punjab's population while Sikhs are around 58% and Hindus about 38%.  
A prayer and healing session was disrupted in Daduana village, Amritsar district, on August 28, over allegations of forced conversion. The police, instead of providing and ensuring safety and security of the devotees, allegedly assured the attackers that such programmes will not be held in the future. 
"We used to have a prayer, preaching and healing session at a rented field in the village every Sunday. The number of worshippers used to be around 1,000 and it was growing by about 100 every week. We were running short of space," pastor Sukhvinder Raja, who belongs to Pentecostal Christian denomination, told Newsclick.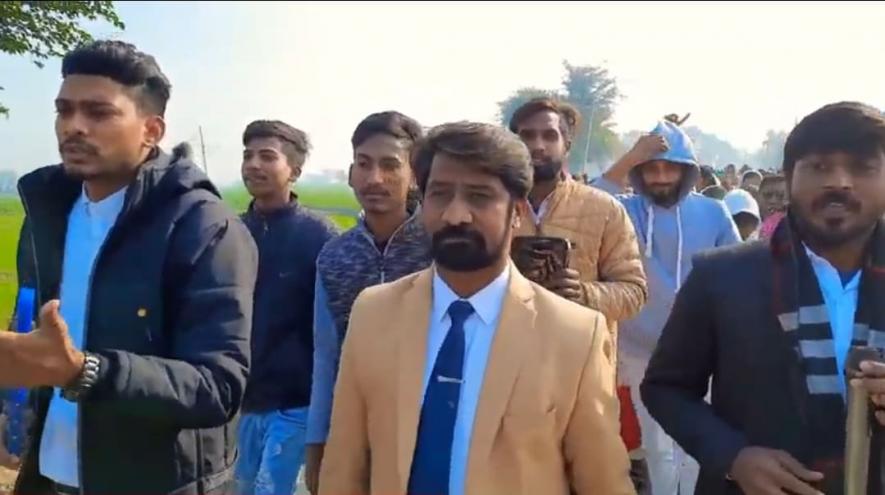 Pastor Sukhvinder Raja, Daduana, Amritsar, Punjab.
Describing the sequence of the attack on his makeshift church, managed by The Jesus Spiritual Fire (which is a registered society), Raja alleged around 500 Nihangs—an armed Sikh warrior order—wielding sharp-edged weapons, sticks and firearms attacked the assembly around 11.30 am. 
"I was their target but they failed to spot me. I was rescued as the devotees locked me inside a room close to the spot. The assembly usually started by 10 am and the field reached its full capacity by 12. The Nihangs had begun gathering there since 9 am and had blocked access to the place," Raja further alleged. 
As Raja told the gathering that it was "the day of their examination and Jesus is alive, the assailants barged into the tent, which had 200 worshippers—mostly women and children". According to him, the "attackers did not spare anyone and injured around 45 people in the presence of a strong police force which had reached there as the Nihangs started gathering". 
Despite the registration of an FIR and more than 150 Nihangs booked for allegedly disrupting the event, Raja alleged no one has been arrested so far. Following the attack, the assembly is not being held as both the devotees and the priest feel threatened. 
When asked about the Raja's allegations, a Nihang leader on condition of anonymity alleged that "mass conversions were going on for the past few months in the name of prayer sessions". "We had to take appropriate action ourselves after the police and the administration failed to act despite complaints and resistance by locals," he told Newsclick. 
"Organisers ask innocent Sikhs to join such assemblies and lure them to get converted by so-called miracles," the Nihang further alleged. 
A local Sikh leader informed Newsclick that Sikhs had filed a police complaint against "few women who were distributing pamphlets six months ago" but no action was taken. "After the incident, we have got an assurance from the police that no such programmes will be organised in the village again," he said requesting anonymity. 
When asked doesn't the Constitution give every person the right to freely profess, practise and propagate his/her religion, the leader said, "We are not against any religion; we oppose superstition. We will stop anyone irrespective of his religion indulging in promoting superstitions." 
Pentecostalism is a charismatic Christian movement which emphasises direct personal experience of God through gifts of the Holy Spirit like prophecy and healing. 
A senior police officer in Amritsar requesting anonymity said that a "peaceful solution has been reached after talking to both sides". "Every religion has the right to preach its teachings. We have also been taught by our gurus to give respect to all religions and co-exist," the officer told Newsclick. 
Asked about the programme, the police officer said, "A weekly Christian prayer session was held in the village on a land taken on lease from the sarpanch for a year." 
Pastor Sukhdev Mark Karnail Singh, a resident of Ambala who is admitted at KD Ganesha Hospital at Amritsar, has deep wounds on his chest, stomach and right wrist. He was stabbed near Celebration Mall, in Amritsar city, on September 15.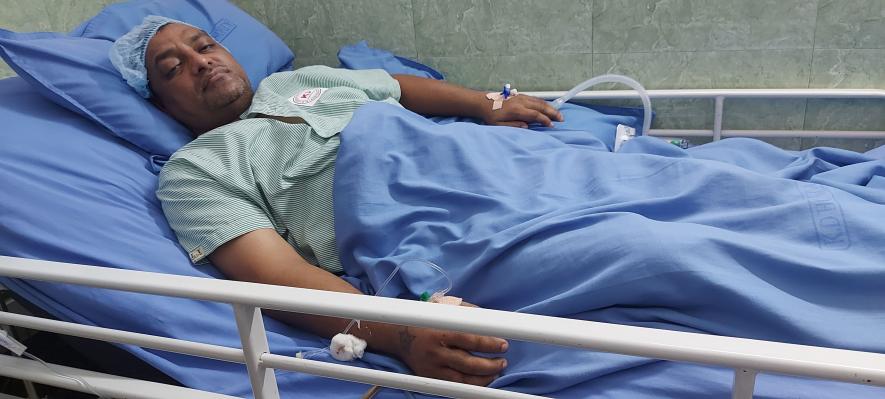 Pastor Sukhdev Mark Karnail Singh, KD Ganesha Hospital, Amritsar, Punjab.
"I was distributing pamphlets and books (propagating Christianity) at the Ambala Cantonment bus stop. A Sikh was listening to me patiently. I gave him a few books after he sought to know more about Jesus Christ. We exchanged our cell phone numbers and used to talk very often," Singh told Newsclick. 
However, Singh was unaware of the coming danger when the person called him one day requesting to be dropped at the Amritsar airport. 
"As we were near the airport, he asked me to turn to a deserted street near a mall on the pretext of collecting his ticket. Then he dialled a few numbers and seven people reached there in a few minutes. As I was taking out the luggage from the vehicle's boot, the men began stabbing me with knives and disappeared," Singh said. 
With blood oozing out, Singh somehow managed to drive to the nearest police post where cops rushed him to Guru Nanak Hospital for treatment. "The bishop brought me here for better treatment," he said. The police have recorded his statement but "no one has been apprehended". 
The father of two young children, who feeds his family by driving his Tata Indica car, is now stable after multiple surgeries. But a fearless Singh is now more determined to propagate Christianity. "Earlier, I used to do it part time. But now I will aggressively pursue it fulltime." 
If a spreadsheet prepared by a member of the state minority commission based on the complaints received by him, media reports and FIRs is something to go by, nine such incidents of attacks, persecution and harassment have been reported between July 19 and September 18. 
Alleging "forced conversions" into Christianity and warning that the practice "will not be tolerated anymore", Bharatiya Janata Party (BJP) MLA Manjinder Singh Sirsa asked the Shiromani Gurdwara Parbandhak Committee in Punjab, Himachal Pradesh and Chandigarh to reward the Nihangs, who have launched a battle to stop "illegal conversions". 
Earlier this month, Akal Takht officiating jathedar Giani Harpreet Singh said that the Sikh community needs to "seriously think about demanding an anti-conversion law" in Punjab. He urged the Central government to rein in "self-styled" Christian missionaries, The Tribune reported. 
"Some so-called Christian missionaries have cropped up in the state. They convert Sikhs by alluring them fraudulently—a practice not permitted in Christianity. Although there are legal provisions to book those who indulge in such practices in the name of religion, vote bank politics prevent governments from taking action," he said.
Singh alleged missionaries funded by foreign agencies are organising religious conversion campaigns in Amritsar and other parts of Punjab. 
However, PK Samantaroy, bishop, Diocese of Amritsar, Church of North India Christians, said that Christians abide by the Constitution and the practice of "foreign-funded" congregations and "forced conversions" is against Biblical principles, according to The Tribune report. 
"Christianity is not a European religion as it is believed to be. It was introduced in India in first century AD by St Thomas, a disciple of Jesus Christ, long before it was introduced in Europe. The question of foreign funding does not arise. Christians abide by the Indian Constitution, which allows every Indian to pursue a religion of his or her choice. Nobody can be forced to adopt a particular religion. If there are instances of forced conversions, these are condemnable and should be dealt with sternly," Samantaroy said in a statement.
Apart from Nihangs and other Sikh groups, Hindu right-wing groups are allegedly trying to create a discord as well. Shouting slogans of 'Jai Shri Ram' and 'Bharat Mata Ki Jai', as seen in videos from an event, a group of people allegedly attacked a pastor in May when Christian organisations had gathered for a two-day programme outside a community hall in Zirakpur, Mohali district.
Last month, local Bajrang Dal and Shiv Sena members accosted five Christian women distributing pamphlets with the teachings of Christ in Gurdaspur and allegedly asked to chant 'Jai Shri Ram'. The women were detained by the police though no complaint was lodged and they were released after a few hours.  
If local journalist SS Mann is to be believed, the BJP and its ideological mentor Rashtriya Swayamsevak Sangh (RSS) are rapidly penetrating into far-flung villages to influence Shiromani Akali Dal voters after the party lost its base in the state.
"There are officers in the state government who are working overtime to help the Sangh set its feet in the interiors of Punjab," Mann alleged. "The saffron brigade has started actively operating in the state," he told Newsclick.
"They first attempted to turn Hindus against Sikhs but miserably failed. Therefore, they are now trying to create animosity between Sikhs and Christians as part of their new strategy. If they succeed, they will easily turn Sikhs and Hindus against Christians," Mann further alleged. "What is happening today is just a warning shot. The worst is yet to come."
Most Sikhs who go to churches or have converted to Christianity are Mazhabi, or dalit. Despite embracing Christianity or going to churches, they continue getting benefits like reservation. 
Get the latest reports & analysis with people's perspective on Protests, movements & deep analytical videos, discussions of the current affairs in your Telegram app. Subscribe to NewsClick's Telegram channel & get Real-Time updates on stories, as they get published on our website.
Subscribe Newsclick On Telegram