Audacity of Illusion: New Defence Production Policy
Foreign manufacturers are to be encouraged to come and produce arms in India.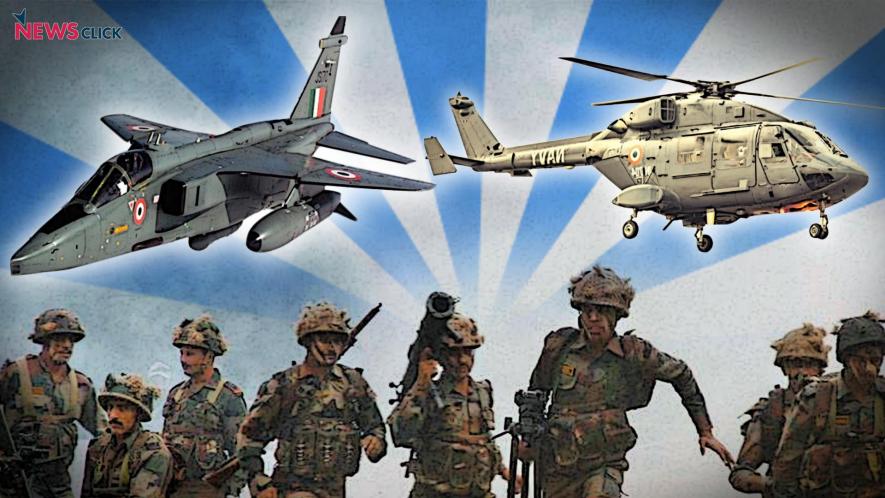 The draft Defense Production Policy 2018, released on March 22 argues that "world over defence has been a major reason and determinant of technological growth and development" and  asserts that "(w)e need to develop cutting-edge technology to be able to achieve leadership in defence products". However, it relies on attracting "Global majors….to set up manufacturing capabilities of their platform to cater to domestic needs and export from India".  And therefore calls for up-scaling automatic route for FDI into military sector to 74% from existing 49%.
The push for defense manufacturing by encouraging Original Equipment Manufacturers (OEM) to set up manufacturing hub in India is made out to be a pragmatic approach, to get around the shortcoming of defense PSUs, but it is fraught with economic and strategic costs, which do not appear to have been taken into account. It is apparent that India's private sector will play second fiddle to OEM. Thus, the stranglehold of foreign defense manufacturers over India's military needs will tighten as they are loath to part with source codes or critical areas of technology related to war equipment. Keeping in mind the corrupting influence of military-industrial complex in US polity or the clout of military apparatus in illiberal States, to put it mildly, how does the Narendra Modi Government intend to cocoon the military sector and defense planning from getting corrupted? If self-reliance in the military sector is a strategic imperative and it is considered to be an intrinsic part of country's geo-strategy, then why is it that the reform of Defense Public Sector Units and restoring it to good health not been prioritized over everything else? That DPSUs have problems is no brainer. But they have also achievements to their credit. The updated Bofors artillery gun manufactured under ToT and now re-named Dhanush is one such product.
In 2015 the Ministry of Industry and Commerce withdrew critical preference given to  DPSUs in form of excise and custom duty, and claimed that this was meant to provide "a level playing field….by taking away the strategic advantage with PSUs for quoting lower rates in open bids". ('India scraps duty benefits for defense PSUs to woo private companies"; The Economic Times 02/06/2015).This was been a key demand of foreign manufacturers, the so called 'Original Equipment Manufacturers' (OEM) and their Indian partners, as the Ministry of Industry and Commerce officials acknowledged that the Government had "fulfilled demand of foreign Original Equipment Manufacturers such as Boeing, Airbus, Lockheed Martin, BAE System….".  
Three years down the line not much came out of this sop for foreign OEMs and disdain for Ordinance Factories and DPSUs. Former Union Minister for Defense, Manohar Parrikar, had then opined that "India's demand for defense equipment is too large for anyone to ignore. They (multinationals) will come and setup their businesses here in joint venture under the Make in India campaign for defense production…Once they are here Indian companies can get maintenance and spare parts business." ("To level the playing field, government withdraws sops for defense"; Pranav Kulkarni. Indian Express 02/06/15.) Three years later Modi government is still trying to figure out ways to make it lucrative for foreign OEMs to make a beeline for India.
Besides, belief and faith are detrimental for security and defense preparedness. While India could be an attractive destination, question is should DPSUs be harmed and foreign investors favoured? Senior officials of DPSUs had then complained that they were not "consulted" and that duty hike will push up domestic cost of defense goods being manufactured in India. One senior officer told the Indian Express that it is actually the "DPSUs that need to be given level playing field…and not the other way round". Indeed why should profit driven foreign OEM's or private sector investment be preferred over non-profit driven and cost effective production by DPSUs? If the DPSUs have failed to deliver, why is it that they are not being restored to health instead of being harmed? How come ISRO and Atomic Energy sector have been successful ventures whereas defense production leaves much to desire?
Moreover, defense planning is expected to be based on threat perception as well as cognition of best choice given availability of resource and the need to reduce India's woeful dependence on foreign defense suppliers and supplies. So, for instance, when the Government scuttled a Rafale deal for 126 fighter jets, where 18 fighter jets were to be bought from Dassault and rest 108 manufactured in India by Hindustan Aeronautics Ltd under license, to outright purchase of 36 fighter jet at a cost of $8bn, with no transfer of technology to Hindustan Aeronautics Ltd, this leaves one flummoxed. If financial viability or resource crunch was the factor how come the buying off-the-shelf 36 fighters was considered viable but not purchase of 18 jets at less than $4 bn with ToT and manufacturing by HAL?
Resource crunch was said to be the reason behind the decision to "trim" the 90,000 soldier strong XVII Mountain Corp at an estimated expenditure of Rs 70,000 cr to 35,000 troops at cost of Rs 38,000 cr. The new Mountain Corp was meant to alter the ratio of 3:1 between China and India against each other across the LAC. If it is not as a pressing a need and can be halved, then was the military assessment itself wrong?
Strategic affairs correspondent Manoj Joshi had referred to the "Operational Directive" issued in1980, under which India was to maintain "Dissuasive Deterrence" vis a vis Pakistan and "Dissuasive Defense" vis a vis China. But this approach changed after the Kargil War when in mid 2000 "Operational Directive" spoke of preparing for a two front war, China and Pakistan, covering "sub conventional to nuclear weapons". The doctrine of 'Cold start' was part of this two front war readiness. Although 'cold start doctrine' was dropped under international pressure, idea of preparing to face a two front war remained. But "(t)his (shift in) assessment was not based on any rigorous exercise like a White Paper or Defense Strategic Review but several paragraph long document drafted by babus and the military….". ("Upgrading Forces still a long way off" by Manoj Joshi; Mail Today 27 April, 2015)  In other words, was the need to prepare to fight two front war itself wrong and led to exaggerating defense preparedness? IF that seems to be the case then why is the Modi government so coy about changing this?
Former Air Chief Marshal Fali Homi Major had once explained that number of squadrons required by Indian Air Force depends on "threat perception, weapon of adversaries and many other aspects. If it is a scenario involving threats from two fronts then we need 42 squadrons". ["Rafale Deal is Great Numbers not so"; Asian Age 18/04/2015].Therefore, if the Narendra Modi government has now slashed Rafale deal does it mean that we are moving away from 'two front war' scenario and/or that threat perception is being lowered?  Now this would be fine if the "Operational Directive" was changed, but fact is that it has not been changed. So long as this remains the Armed Forces are compelled to plan for two front war scenario.
In addition by buying off-the-shelf 36 Rafale fighter jets at an exorbitant $8.7 bn new problems are being sowed. For instance a major weakness in defense preparedness that was sought to be addressed through the deal for 126 Rafales was to reduce the number of different types of fighter planes and also to use the numbers to acquire ToT for manufacture by HAL. Multiplicity of technology, spare parts suppliers, countries and companies involved have played havoc with defense planning and hampered development of indigenous capability. Air chief, S Krishnaswamy, once pointed out that "Make in India does not promise self-reliance". ( " '36'-Let the Force be with India"; Asian Age; 19/04/2015).He had then pointed out that licensed manufacture of Mig, Jaguar, Hawk etc did not help develop and manufacture indigenous design. Besides cost of license manufacture is also high. And he pointed out that "Rafale experience should …teach us that we need to be self-reliant. And the only way to reach self-reliance is to design and produce from scratch."
Former Air Chief Fali Homi Major too pointed out that no country/company parts with source codes and other strategic information as part of Transfer of Technology. WE have the US-India Business Council is on record making it clear that they will not part with proprietary technology in core areas. So what makes us think that foreign OEM's will share the same with their junior Indian corporate partners or part with source codes when they sit in the driver's seat, so to say. We are stuck with another doubt. The famous story of Sea Hawk acquired from UK had seen Indian navy ground in 1980s the planes and to cannibalise the same to provide spares etc because the British manufacturer refused to supply spares and components. Lets also recall that France provided source codes of Exocet missiles they sold to Argentina, to the Margaret Thatcher government in Britain in 1982 during Falkland/Malvinas war. What makes Indian strategic thinkers convinced that this will not occur?
Besides, D Raghunandan pointed out recently that the decision to open up the search for a new fighter jet to both manufacturers of single engine as well as double engine defies all logic and shows that the decision to go in to buy 36 Rafale jets addresses none of the concerns which underpin military acquisition. ["Yet another fighter tender: Confusion and worse" Newsclick, 21/03/2018]. Indeed it shows that these decisions are made arbitrarily without any consultation with military leadership or review of policy. This leaves us vulnerable to whims and fancy and exploitation by foreign suppliers and powers.
In the real world of power politics, foreign purchases and foreign military manufacturing bring greater dependence on outside powers and their inevitable influence pedaling, which is meant to tweak policies which benefit them. When big powers or even Israel invest in military production outside their own territory, what matters to them is that a strategic alliance gets crafted, even as they ensure that they become 'active players' in domestic polity of the country now as 'stakeholders' by virtue of their investments and control over weapon manufacturing. The so called joint venture are unequal partnership where the foreign investor calls the shots and the Indian partner provides an Indian face for public consumption and they remain junior partners where interests of the major partner predominate. So does this mean that Indian ruling class's hubris, to be the regional power, actually rests on alliance with increasing their dependence on foreign OEMs and foreign powers and consciously forsaking non-alignment, or independent foreign policy?
Thus 'Make in India' shows itself to be yet another vacuous 'idiom' designed to push us into greater dependence on foreign manufacturers and foreign powers. It will expose India's 'independent' foreign and strategic policy to pressure of a very different magnitude. Because it will make our existing dependence on imports several notches worse by giving foreign OEMs a stake in India's military sector as well as provide access to military planners and policy makers…Verily, illusion can mask a crass reality and ruling class's hubris can become our country's undoing.
Get the latest reports & analysis with people's perspective on Protests, movements & deep analytical videos, discussions of the current affairs in your Telegram app. Subscribe to NewsClick's Telegram channel & get Real-Time updates on stories, as they get published on our website.
Subscribe Newsclick On Telegram