Ayodhya: A Warning from Mangled Remains of History, Truth and Justice
As crucial Assembly elections loom, BJP is deploying Ayodhya as a weapon once again. It is a divisive model that spells trouble for India.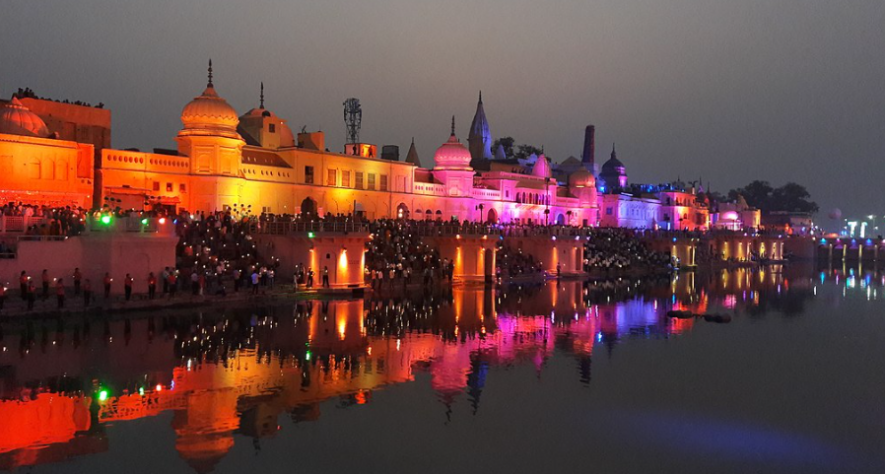 Image Courtesy: Wikipedia
Next year, elections are due in Haryana and Uttar Pradesh, two states where the Bharatiya Janata Party (BJP) faces anti-incumbency, made worse by the farmer protest and mishandling of the COVID-19 pandemic. For the BJP, religion is to be wielded as a shield to deflect from all forms of criticism and opposition, and the Hindu god Rama is the spear it repeatedly deploys to secure votes. Now, as the Rama temple in Ayodhya gets built on the mangled remains of history, truth and justice, the spate of instigative statements that use Ayodhya as a weapon is back.
On 1 December, Uttar Pradesh Deputy Chief Minister Keshav Prasad Maurya said, "Ayodhya-Kashi bhavya mandir nirmaan jaari hai, Mathura ki tayyari hai—we are building grand temples in Ayodhya-Kashi, and preparing for Mathura." His statement followed a stage-managed protest by "fringe groups" demanding the birthplace of the Hindu god Krishna be 'returned' to Hindus. The dispute between the Shahi Idgah and Krishna Janmasthan temple has long been resolved, but will it be revived as per the Ayodhya model? It could be these statements are no more than communal croaking come election season. Yet, it is undeniable that the Supreme Court-certified success of the Rashtriya Swayamsevak Sangh (RSS)-led Ayodhya model is driving the Hindu right-wing's to persecute religious minorities even more.
Over the last two months, in the corporate hub of Gurugram, just 30 kilometres from India's capital, Muslims have been targeted by mobs chanting Jai Shri Ram. Viewing the public offering of namaz as a show of strength by the Muslim minority, protesting Hindu organisations refuse to allow it under any circumstances. Muslim community leaders have said they are forced to pray in the open because their old mosques are either encroached or in disuse. They say the situation cannot change unless the government allocates space to offer prayers.
As we celebrate our 75th year of Independence, it is necessary to understand how we went astray from secular ideals that ingrained a sense of collective belonging and ownership towards an increasingly ugly spectre of identifying those who 'truly belong' and those who are 'outsiders', 'invaders' and anti-nationals. We can trace the metastatic growth in communal polarisation to the sleepy town of Ayodhya. Specifically, the intervening night of 22-23 December 1949, when a group of miscreants forcibly entered the Babri Masjid after overpowering the lone police sentry, beat up the muezzin and planted an idol of Rama under the central dome of the centuries-old mosque.
Subsequently, Muslims were barred from offering namaz in the mosque. In the four decades that followed, the dispute languished in courts while the Indian state looked the other way. Perhaps it wished this veritable thorn in their side would dislodge itself, and it might have, but for the intervention of the RSS and its affiliates, who decided to use communal propaganda to convert Rama into a political mascot.
Rama, hero of the epic Ramayana, was immortalised by Valmiki and popularised by poets such as Kamban, Tulsidas and the reformer Kabir. Over centuries, and after several versions of the Ramayana, Rama came to embody equality, affection, valour and sacrifice, and his name became a marker of devotion. However, since the 1990s, the RSS and its political offspring BJP added another facet to the Rama narrative: weaponising him as a totem of hatred for Muslims.
On 6 December 1992, throwing aside court injunctions and their own promise to not damage the Babri Masjid, right-wing Hindu political parties, led by the RSS, oversaw the demolition of the mosque. The destruction was justified as correcting a "historical injustice"; that the Babri masjid was constructed by emperor Babar after razing a Rama temple. In 2019, the Supreme Court ruled that it is impossible to ascertain whether there was a Rama temple at the disputed site or indeed if Rama was born there.
The demolition of the mosque was followed by communal riots across the country. Bombay [now Mumbai], the melting pot of Indian diversity, was one of the worst affected cities. Over 1,000 people died in this violence, followed by a series of retaliatory bombings by Muslim members of the Bombay underworld. However, since then, our understanding of terrorism remains focused almost entirely on the latter bombings than what took place in Ayodhya the previous year. The forever communal (albeit apologetically so) Indian state, long free of leaders with a moderating influence such as Nehru, opportunistically fed Hindu communalism. The warning bell of the 2002 Gujarat anti-Muslim pogrom following the death of over 50 right-wing activists returning from Ayodhya, too, was ignored by the national leadership, then headed by the BJP prime minister Atal Bihari Vajpayee.
Since 2014, after former Gujarat chief minister Narendra Modi became Prime Minister, the targeting of Muslims and all political opponents have become more vicious than ever. Muslims and Dalits have been lynched under the din of Jai Shri Ram slogans. Once a chant for communion with the creator, Ram's name has become a cry that terrifies minorities and the majority alike. Political hoodlums use it as cellphone caller-tunes and shout it menacingly at opponents. This hate-cry has made its way into state Assemblies and Parliament itself.
The Rama temple movement enabled the BJP to grab political power by fuelling polarisation between Hindus and Muslims. The toxic politics that creates 'Others' is presently focused on devouring the rights of religious minorities, but it could be just a matter of time before the focus of their ire turns on the Dalits and tribals.
Politically, the few parties fighting the BJP are attempting to remain relevant by embracing a softer kind of communal politics. It seems as if they cannot take credit for the Rama temple, so they are eyeing the low-hanging fruit. The Congress chief minister in Chhattisgarh is investing crores into a Ram Van Gaman Path, while Delhi's Arvind Kejriwal is trying to take credit for sending pilgrims on state-sponsored trips to Ayodhya. This is a losing game.
India needs to rescue itself from growing authoritarianism and religious extremism. What happened in Ayodhya on 6 December 1992 was the triumph of fanaticism over reason, of zealotry, that every electoral victory of the BJP fuels.
According to right-wing Hindu claims, over 40,000 monuments in India were built over Hindu structures. Will the Ayodhya model be applied to each one, or will it be limited to Kashi and Mathura after Babri? Going by events in the National Capital Region, where Muslims were stopped from offering namaz and a church vandalised by mobs furiously chanting Rama's name, it would seem right-wing Hindu forces will not stop until they turn India into a battleground like Ayodhya its. The irony of this must be pointed out: one meaning of Ayodhya is a place 'without war'. The very idea of Ram Rajya was irreparably destroyed by the same act the right-wing forces said laid the foundation for it. Freeing Rama from the clutches of the right-wing may seem impossible today, but it is certainly possible to reject politics based on promoting religious hatred. The Ayodhya model of the BJP spells nothing but trouble for India.
Valay Singh is a journalist and author of Ayodhya: City of Faith, City of Discord. The views are personal.
Get the latest reports & analysis with people's perspective on Protests, movements & deep analytical videos, discussions of the current affairs in your Telegram app. Subscribe to NewsClick's Telegram channel & get Real-Time updates on stories, as they get published on our website.
Subscribe Newsclick On Telegram