'Baiyat', Suspicious Seizure and More: Inside Chargesheet of 5 Muslims Facing Trial for 'Al Qaeda Links' in UP
"There is no independent witness to both alleged recoveries. The seizure memo does not even have the signature of the accused person's father," Advocate Najmussaqib Khan, who is representing the two prime accused in the special NIA court in Lucknow, told NewsClick.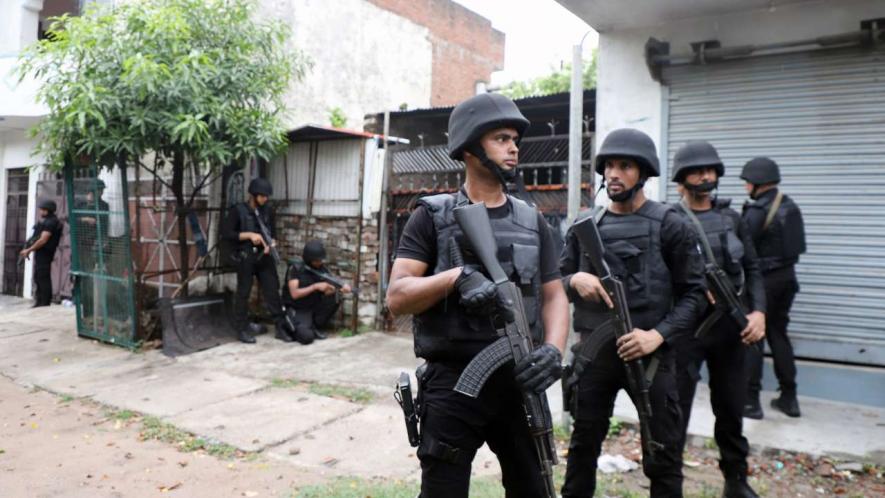 Image for representational purpose. Credit: DNA
New Delhi: Claiming to have busted an Al-Qaeda module in India, Ansar Ghazwatul Hind (AGH), the Uttar Pradesh Anti Terrorist Squad (ATS) on July 11, 2021, arrested two persons — Museeruddin (41) and Minhaj Ahmad (32) — from Lucknow's Fatima Nagar and Adnanpalli areas respectively. The way that the allegations have been made against the duo and three others (who were later apprehended) with the documents referred and the procedures followed by investigating agencies, the prosecution's case appears to have several loopholes and lacunae.
The duo was taken into custody by the ATS following a search operation conducted at their residential premises based on alleged information that "one Umar Halmandi – a suspected Al-Qaeda operative based at Pakistan-Afghanistan border — is radicalising and recruiting members for the terror outfit in the Indian subcontinent" and that "he has already identified and recruited a few people in the Uttar Pradesh capital for raising an Al-Qaeda module to carry out terror acts".
While Museeruddin drove an e-rickshaw to earn a living for a household consisting of eight people, Minhaj – an electrical engineer by education – ran a battery shop at Khadra in Lucknow. The two, according to investigators, came in contact when the battery of the former's e-rickshaw malfunctioned and he visited the latter's shop to get it repaired or changed. Subsequently, they became good friends.
Since Minhaj was "tasked to recruit as many persons as possible for jihad", Museeruddin, because of his "orthodox views", was an "easy target". He was "instigated to join jihad". Getting an "affirmative response", Minhaj asked him to take "baiyat" (oath of allegiance) to "serve Al-Qaeda".           
The ATS claimed to have seized from Museeruddin's house explosive substances and other material required for making Improvised Explosive Devices (IEDs) – one seven-litre pressure cooker attached with high-power battery and detonator, about 2.5 kilogrammes of iron nails, two electric solders and solder wires, one LED bulb with holder, 78 packets of Homelite matchboxes, one regmar, a tester, double-sided tape, scissors, a amagnet attached with needles,  magnifying glass, a Samsung battery, M-seal, thread, and mobile phones.
However, the recovery memo does not have the signature of any independent witness as mandated by the Section 100(6) of the Code Of Criminal Procedure (CrPC).   
Museeruddin's wife Saeeda had said in an interview that they had bought a new gas stove and a cooker, which the police took away along with their children's books and some posters in Urdu.
"ATS officials dressed in plain clothes came to our basti at around 11 am and asked for my husband, who was barely in his banyan (vest) and pants. They arrested him and took him to the Madiyaon police station. We also went along to accompany him. But when I returned home a few hours later, I found that the police had frisked the entire place, and our pressure cooker was taken away," she had said.
Soon after Museeruddin's arrest, his two school-going daughters (aged 15 and 16 years) were expelled from the Lucknow Inter College without any explanation. He has three daughters and a six-year-old son. The youngest daughter, who is 12, has been suffering from some health problems and is unable to attend school.
The ATS has also claimed to have found one .32 bore pistol, four ammunitions, eight boxes of ball bearings, an electronic weighing machine, four knives, potassium permanganate powder, two cans containing black colour powder, two plastic cans with white colour powder, sulphur in a polythene, two pressure cooker IEDs, 168 packets of match box, five open match boxes, a screw driver, one gunny bag of match sticks and empty boxes, coal in a black plastic packet, detergent powder, three cells, three batteries of HLF, a UID card, a PAN card, debit cards, a pen drive and five cell phones at Minhaj's residence during a raid.
But the agency again did not produce any independent witness to the alleged recovery as per the law established.
"There is no independent witness to both alleged recoveries. The seizure memo does not even have the signature of the accused person's father," Advocate Najmussaqib Khan, who is representing the two prime accused in the special NIA court in Lucknow, told NewsClick.
Does not it create doubt about the authenticity of very important evidence? It is for the court to decide whether the prosecution case can be thrown out or doubted on the ground alone.  
Calling the alleged seizure "mere allegations", Minhaj's father, Siraj Ahmad, said they were not informed with the regard to the alleged recovery from his son's room.
"The police had completely cordoned off my son's room during the raid, and when they were going back, they did not let us know what was found inside his room. They even did not bother to tell us the charges under which he was arrested. Therefore, the claims regarding the recovery are bogus and mere allegations," he told this correspondent.
The 67-year-old father, a retired additional statistics officer, said the men came out from Minhaj's room after several hours with boxes, which they refused to open. "They frisked us as well and made us sign a blank form before leaving," he added.
A recovery memo was furnished to Minhaj's family only after the NIA took over the case from the UP ATS on August 4, 2021.
A case (number 10/2021) against Museeruddin and Minhaj was registered at Police Station ATS, Gomti Nagar under IPC sections of 121 A, 122 and 123 of the Indian Penal Code (IPC), 1860, sections 13, 18, 18B, 20 and 39 of the Unlawful Activities (Prevention) Act or UAPA, 1967, sections 4 and 5 of the Explosive Substance Act,1908, and sections 3 and 25 of the Arms Act, 1959.
The charges are grave — waging or attempting or abetting, collecting arms, etc. and concealing with intent to facilitate design to wage war against the Government of India, advocating, abetting, advising or inciting and conspiring an unlawful activity and being member of a terrorist organisation and supporting a terror outfit.
On July 28, 2021, the Centre transferred the case to the National Investigation Agency (NIA) for further investigation. Accordingly, the central agency took over the investigation and re-registered the case as RC-02/2021/NIA-LKW at Police Station-NIA, Lucknow, on July 29 last year.
THE CASE BRIEF
Museeruddin, Minhaj and one Shakeel (a resident of Bansmandi in Lucknow), according the NIA chargesheet (filed on January 5, 2022), are "important characters" of the case and are "associated with the Al-Qaeda module.
It is further alleged that acting on Halmandi's instruction, they were planning to commit terrorist acts before August 15 (Independence Day) in various cities of Uttar Pradesh, especially Lucknow. "They had already arranged arms and explosive substances for committing the terrorist acts," it alleged.
The interrogation of Museeruddin and Minhaj allegedly led to the arrest of Shakeel and two other accused — Mohammad Mustaqeem and Mohammad Moid.
A permanent resident of Mandi village in UP's Muzaffarnagar district, Mustaqeem (as per the chargesheet) was temporally residing at Lucknow's Takiya Taranshah locality at Sitapur Road. Moid is a resident of New Haiderganj in Lucknow.
"The interrogation of the accused brought out that they were members of the proscribed terrorist organisation Al-Qaeda in Indian Subcontinent (AQIS), which is referred to here as the AGH, and they had conspired to wage war against the Government of India. They procured arms, ammunition and explosive materials with the intention to wage the war," alleges the chargesheet.
Minhaj has been radicalised since 2017, claims the NIA, accusing him of adopting the way of "jihad" to "settle the score with other communities".
The chargesheet states that at the beginning of 2020, he had replied to an Instagram post related to the alleged atrocities of the Indian Army on innocent Kashmiris. Post his comment on the post of the social media platform, the chargesheet alleges, he got a message from a Kashmiri youth — Tawheed Ahmad Shah (a 19-year-old B.Sc. Student from Budgam in Jammu and Kashmir).
The NIA alleges that both of them later became friends and started chatting frequently.
"Tawheed asked Minhaj to create an ID/account on the Telegram app, where messages are more secure and anonymous. He did so, and they used to discuss issues related to abrogation of Article 370, atrocities being faced by Muslims and that they should go for jihad against these issues," allege the investigators, adding it was Tawheed who "instigated Minhaj to join jihad".
The chargesheet alleges that Tawheed shared Minhaj's Telegram ID with his "ameer (chief)" named Adil Nabi Teli, who is active on the instant messaging service app with the pseudo name Musa.
"Minhaj subsequently received a message from Musa, and both of them began talking to each other. Minhaj on Musa's instructions joined a Telegram channel — 'Haqaiq Ki Duniya' (World of Truth). Apart from Tawheed and Musa, others were also members of the group or channel," states the prosecution's case.
It alleges that Minhaj donated to Tawheed an amount of Rs 93,441 "for the cause of jihad" in five instalments. The alleged amount was credited in the bank account of one Suhail Majeed Magray – also a Jammu and Kashmir resident known to Tawheed.
To support the allegation, the NIA has enclosed a summary of Suhail's bank account transactions and credit vouchers, allegedly mentioning Minhaj's cell phone number.
Other than Suhail, the chargesheet alleges, Minhaj has deposited money in two other bank accounts of Jammu and Kashmir.
But the fact is anybody can send money to an account, using some fake names and mobile numbers as the banking system does not verify the depositor's identity in case of small transactions (below Rs 50,000).
"Except one, which is a UPI transfer by someone called Shamsul Ansari, all credits have been done against cash payments to the bank — mentioning Minhaj's alleged mobile number. How does it prove that it was my Minhaj who deposited the alleged sum?" asked Najmussaqib, rejecting the allegation against his client.
The investigating agency has further alleged in the chargesheet that Minhaj took "baiyat" to show his "trustworthiness to Al-Qaeda" and recorded a video — doing the same. On Tawheed's instructions, he allegedly tried to recruit others to join the "Al-Qaeda in Indian Subcontinent" (AQIS/AGH).
He is alleged to have recruited Museeruddin for the terror outfit and persuaded him to take the oath of allegiance. He allegedly shared a video with him, explaining how to do it.
Museeruddin, following the same, too, allegedly recorded a video of him taking "baiyat" to show his allegiance to AQIS/AGH and forwarded it to his recruiter, Minhaj.
Interestingly, Tawheed — the main character of the prosecution's case who as an "over ground worker of the AGH" is alleged to have radicalised many, including Minhaj — was arrested on February 7 this year, nearly seven months after the first two arrests made from Lucknow. He was chargesheeted on August 3, 2022.
Why so? The NIA has not offered any explanation.
He reported at NIA, Lucknow, on February 7, 2022, after he was issued a notice to join the investigation. He was taken into custody following his "non-cooperation". 
"Isn't it surprising the man who supports militancy in Kashmir, has contacts with alleged foreign handlers and allegedly radicalised all the accused to wage war against the Government of India and is an over ground worker of a terror organisation joins probe when he is asked to do so, gets arrested and chargesheeted months after his alleged module was busted?" asked Najmussaqib.
THE EVIDENCE
The NIA's case against Minhaj and Museeruddin heavily relies on video recordings of the alleged "baiyat", Telegram and WhatsApp conversations, alleged pictures and videos found in the duo's cell phones, call data records and alleged financial transactions with Tawheed.
"For a conspiracy to get established, there must a meeting of minds. It means, all the accused met physically and conspired to carry out some terror activities. But it has not happened in this case. Even if the NIA's story is considered to be correct for arguments sake, Minhaj took the 'baiyat', saying something, and sent the video to someone. How does it establish the alleged conspiracy?" he argued.
"Baiyat", he said, is a sworn declaration that need two individuals: one who is pledging and the other who is administering the oath of allegiance. "There is no second person in this case," he added.
To support the evidence, the NIA claims to have found a purported screenshot — containing a Telegram link in the of @IslamGhalibAyegaAdminBot and its Telegram link t.me qafilajihad313 — from the mirror image of Minhaj's cell phone.
According to the chargesheet, the IP address and the mobile phone number linked to the Telegram channel @Qafilahjihad belongs to Afghanistan.
"This substantiated the fact that Minhaj was in contact with Umar Halmandi, who is based at Afghanistan-Pakistan border," it adds.
When asked about the same, Advocate Najmussaqib — instead of going into the technical details — drew the attention to NIA's own admission that "Minhaj broke his mobile phone, Oppo F-11, by throwing it during the search at his residential premises. And as a result, it caught fire".
When Minhaj destroyed his cell phone as claimed by the NIA, which phone was analysed and how was the alleged digital data, whatsoever, recovered from his mobile phone?
The NIA, producing its another "incriminating evidence", claims that it has found a video in Minhaj's phone that shows he and Museeruddin were "reconnoitring important places in Lucknow" to target.
The transcript of the purported video quotes a conversation between the two in Hindi. "My childhood was spent here and 95% of the families are affiliated to the RSS," Museeruddin tells Minhaj — referring to the Lucknow's Mohibullapur locality.
In a letter to his counsel, Minhaj has rubbished the NIA's allegation — arguing that "anyone who watches the video with an open mind will say one person is simply showing the other the place where he has been living since childhood".
Had it been part of a reconnaissance mission, he said, he would have deleted it soon after.
Rest of the "incriminating" evidence presented by the NIA include some books such as 'Jihad of Those Who Do Not Attend Jihad', 'Why Did I Choose Al-Qaeda', 'Guerrilla Warfare in the Light of Martial Art' and '9/11'; pictures of three militants killed in Kashmir in April 2021; and an alleged pdf file called "Explosive Course" for preparing Improvised Explosive Device.
"Minhaj and Museeruddin visited several shops to purchase required materials for making the IED," alleges the NIA.
The agency has placed reliance on one Sudhir Pansari and Sunni Gupta who in their purported statements, recorded under section 161 of the CrPC (inadmissible in a court of law), claimed that Museeruddin accompanied by Minhaj visited their shop at Lucknow's Daliganj to procure Kalmishora (potassium nitrate) and potassium permanganate respectively.   
Terming the stories "a bunch of lies" by the NIA, the duo's advocate claimed, "Let the trial begin, we will unpack it."
WHY UAPA, ARMS ACTS AGAINST THREE OTHERS?        
The chargesheet states that Minhaj, on the instructions of Tawheed to procure arms and ammunitions, contacted Shakeel and both of them visited Kanpur to get firearms and ammunitions. They met Laiq and Affaq who allegedly showed them a revolver. But the deal, the NIA says, could not materialise as the ammunition was not available.
Minhaj allegedly clicked a photo of the revolver. "Many photos of small firearms were recovered from Minhaj's digital extracted data," alleges the investigating agency.
Minhaj then allegedly contacted Mustaqeem and asked him to arrange the same. The due along with Museeruddin in February 2021 allegedly met one Saddam at Shamli who refused to arrange the weapons.
Mustaqeem then allegedly reached out to Moid who handed over a pistol to Minhaj for Rs 40,000 at Kacchi Dhal near Lucknow's Khadra locality on July 10, 2021. And the next day, the investigators allege, he also arranged the ammunition required.
"The said pistol along with four ammunitions were recovered during the search of Minhaj's house by the UP ATS," the chargesheet claims, further alleging that "three more ammunitions were recovered from his residence on July 25 following his disclosure during interrogation".
Moid had allegedly purchased the pistol and the rounds from one Ajaz Mohammad, a resident of Faridipur village at Lucknow Dubagga.
Despite no recovery and possession of any firearm from Shakeel, Mustaqeem and Moid, the trio were booked under the same sections of the IPC, the UAPA, the Arms Act and the Explosive Substance Act by the UP ATS.         
But when the NIA took over, it removed section 25 (1b) (a) of the Arms Act against the trio. "Ideally, they should have filed an FR (final report), saying that there is no evidence to support the charge. To book someone under the Arms Act, there must be recovery, possession, purchase and sale of firearms by the accused. But the NIA chargesheet does not establish it," said Najmussaqib, wondering how they were booked for waging war and carrying out terror activities.
The NIA has concluded that Shakeel, Mustaqeem and Moid "aided and abetted" Minhaj and Museeruddin in "procuring weapons and ammunitions, thus becoming a party in furtherance of the "larger conspiracy".
But nowhere in the chargesheet, the NIA has established that the trio were aware of the alleged intention or conspiracy hatched by Minhaj and Museeruddin.  
"At max, they should have been slapped with Section 3/25 (arms supply) of the Arms Act as they were neither part of nor abetting any alleged conspiracy. But the NIA has booked them for conspiracy in addition to the said section of the Arms Act. Selling and abetting procurement of weapons is a crime, but how can it be an anti-national work?" asked Najmussaqib.
He said they should have been discharged by the magistrate court.
"We moved an application in this regard, but it was rejected. The proceeding, which is going on, has violated sections 41, 41A and 41B of the CrPC. And there is a Supreme Court ruling that if there is no compliance of the CrPC sections, the accused is entitled to get default bail," he concluded.
Get the latest reports & analysis with people's perspective on Protests, movements & deep analytical videos, discussions of the current affairs in your Telegram app. Subscribe to NewsClick's Telegram channel & get Real-Time updates on stories, as they get published on our website.
Subscribe Newsclick On Telegram