Bajrang Punia Enigma: A Patient Indian, An Impatient Wrestler
Tokyo 2020, the Olympic Fortnight (Series): In life, one of India's brightest medal prospects is a picture of calm. Patient beyond measure and positive to boot. On the mat, Bajrang Punia's aggression is known to win him points but his impatience in applying it has served his doom. Now, with an additional year to iron out the flaws, he needs to crack the enigma that is himself.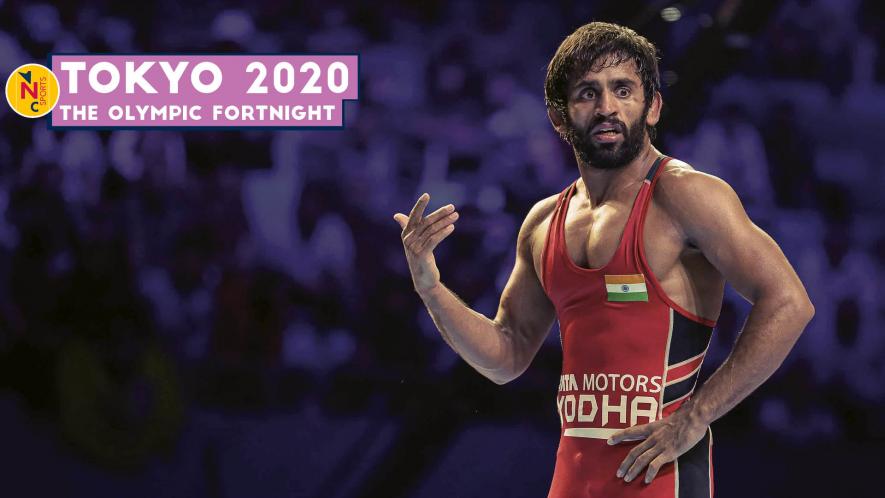 For bringing home the Olympic gold, Bajrang Punia needs to decipher his mat persona, and that would need a deeper tinkering than fine-turning technique and tactics.
Bajrang Punia is quite an enigma. If you observe his general mannerism on the mat, or while interacting with friends, peers or teammates, or even mediapersons around wrestling venues, you sense a copious bit of impatience. That impatience was glaring the three times he lost in competition over the last two years. In fact, shades of it have come across in his victories too. However, in his journey in life — in wrestling rather since both are intrinsically intertwined — he has come across as a very patient and focused individual. Punia's enigma begins there. 
The mat persona of a wrestler is usually a mirror image of who he is in life. Sushil Kumar, for instance, has always been a headstrong character. On the mat, his repertoires and techniques required power and a bit of stubbornness to execute. Yogeshwar Dutt, Punia's mentor, was quite the opposite. A wily and sharp person — as shown by his move into the political arena with a caustically right wing leaning — was a very versatile and intelligent competitor, capable of extracting points and victory even from half openings or weaknesses. 
Punia, 26, is patience personified in life. He, after all, waited under the wings of Dutt for the first half of his 20s. He could and should have been a competitor at the Rio Olympics in 2016 instead of the injured Dutt. The mentor was keen on a swansong, trying for a repeat of what Sushil did, or even better it. The two friends by then had become rivals of sorts in a battle of egos as well as legacy. When ego and a blind quest for legacy become motivators, decisions get muddled. And we all know how badly that misadventure of Dutt ended in Rio. It wasn't too far away from the telling loss he suffered in the Haryana assembly elections, fighting on a BJP ticket.   
Click | For more stories/videos from 'Tokyo 2020, The Olympic Fortnight' series
Punia, for his part, never even gave a second thought to the what ifs and what nots of that episode. However, the experience — being at the Games — could indeed prove a factor when he makes his Olympic debut at Tokyo 2020 in 2021. 
Punia just waited for his time. Patient. He is still waiting. Patient!
"I have no doubt about Bajrang's focus and his patience," reveals Shako Bentinidis, Punia's personal coach. "In my career, both as a wrestler and as a coach, I have never seen someone so committed to the sport. Training him has been a revelation and lesson for me. A masterclass in selfless commitment and trust."
Wrestling is a sport that demands selfless commitment. And in that sport, if Punia stands out, then the levels we are talking about would indeed be astronomical. It all stems from trust as well. We have seen and experienced the mutual trust, appreciation and respect the coach and ward have for each other. There is a bigger role for trust in wrestling, in sport as a whole rather.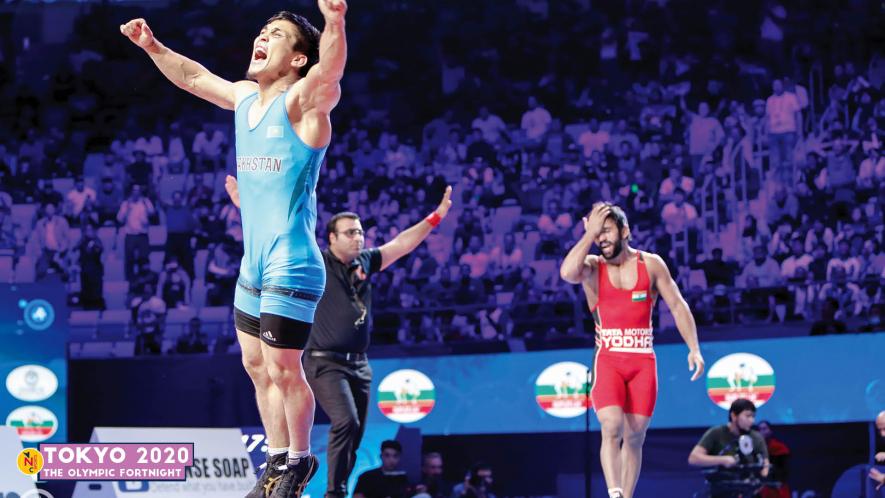 Trust happens to be a prerequisite for patience. One has to have a firm trust and belief in destiny to be patient, to be committed enough and keep chipping and working away even when things are not going according to plan. And right now, things aren't to plan for not just Punia, but the world as a whole. 
We address Punia today, though. He deserves our mindspace for he is a rarity among the 1.3 billion or so Indians. He is a favourite to win an Olympic medal and we only get one or two personalities per Olympics to hype, build and celebrate. We Indians are impoverished in sport. But our trust has always been proven right. At least this century. At the last three Games, those burdened with our hopes for a medal — and the burden of their own expectations — have delivered, out of personal commitment, and in spite of the system.
Also Read | To Be or Not to Be: Olympics No Hamlet for Cricket
If at all the system was well-oiled, far-thinking rather, then confusion  around the national camp for wrestlers, or training bases for the elite, would have been sorted beforehand. 
Punia's case is a prime example of this ineptitude. He and Jitender Kumar, who fights in the 74kg category, were training from the World No. 2's home in Sonepat before the shortcomings of such a set-up forced them to move to Inspire Institute of Sport (IIS), a facility run by JSW Sports in Karnataka. They endured a quarantine period before starting training at the state-of-the-art facility there. Now, this month the Wrestling Federation of India (WFI) mulled a restart of the national camp in Sonepat. Punia flatly refused to travel back as that would mean losing another 15 days to quarantine, not to mention the risk of infection while flying.
The champion's personal coach — Bentinidis — and his desperation to come back from Georgia and join Punia, though it is a necessity, adds additional confusion and even tension.
On the day of our conversation, Bentinidis was driving hurriedly to Tbilisi, the capital of Georgia, to ensure things were put in place so he could board a flight to New Delhi on June 30. The rush, desperation rather, in the former European champion's voice was palpable when he spoke over a sputtering and intermittently breaking Whatsapp call.
"I can talk. I have a few minutes, but I am driving and please don't mind that," he said. "I will be returning to New Delhi on July 30. Have made the arrangements with the Georgian government. However, I need to get some things cleared last minute before I get to board the flight."
Bentinidis has been away from his champion ward for a little over four months now. They parted late March with the coach leaving in one of the last flights out of India before lockdown was implemented. He left on Punia's insistence. The wrestler wanted his coach to be with his family in these uncertain times.
The coach, in turn, is now desperate to get back, showing the same personal commitment which Punia displayed while forsaking his Olympic preparations for the benefit of Bentinidis. Back in March, when Punia sent his coach back, the Olympics were yet to be postponed and the wrestler could have insisted on the contrary. He did not and Bentinidis, perhaps, is trying to honour that personal relationship and not necessarily the signature on dotted lines he has signed with the WFI, who by the way, have slashed his salary in the interim.
More important for India, Bentinidis' desperation to get back does not stem from apprehensions about the physical condition or the mental state he would find Punia in. The coach is confident of what he will find. "It would be nothing but positivity," he laughed, perhaps at the lightly veiled pun, or at the happy prospect that Punia is always in a good space both mentally and physically.
"I can tell you this aspect about Bajrang with 100 percent surety," said Bentinidis. "Of course I have been monitoring his progress via video calls and recordings of his workouts. But beyond that, I am sure of his physical fitness and conditioning. He will be as fit as he was last year, or the year before."
Working out — the physical drills — is almost like breathing for wrestlers. One glance through the training routine of any wrestler at any of the akhadas or centres in the country would show their almost unearthly capacity to repeat exercises, be it push-ups or mat drills or burpees. However, uncertainty over competitions, and a postponed Games when the last four years of his life was spent more or less in entirety living, breathing and making positive visualisations about the winning moments in Tokyo, would definitely have shaken Punia's mental resolve, if not cracked it.
No, says Bentinidis.
"Of course Bajrang has been complaining about lack of bouts, or missing links in training etc," added the coach. "But not for once has he sounded negative. Let me give you an example. The reigning Olympic champion, Vladimer Khinchegashvili of Georgia (57 kg gold medalist at Rio 2016), has also been talking to me about difficulties in training. The difference between him and Bajrang is that he has been extremely negative. And that's not a good space to be in. And, think about it. Georgia is in the green as far as the number of Covid-19 infections are concerned. In Georgia, and even across Europe, many wrestlers have restarted training too. In India, things are very uncertain at the moment. But still Bajrang has not even shown a single ounce of negativity."
Also Read | East Bengal's ISL Hopes All But Over as Organisers Decide on 10-Team League
The coach, then, has one less factor to deal with once he joins Punia and Jitender at IIS, post his mandatory quarantine isolation. But then, the Georgian will have a host of other variables and areas to deal with, starting with planning a timeframe for Punia's step-by-step climb back to the gold-winning intensity, the peak! 
"I don't care about tomorrow or December or March. July-August in 2021 is what I am thinking about," he said. "My ideas and my focus will solely be to ensure Punia is at his peak when the Olympics come around. We'll take it slow. Competitions are anyway out of the question. We will mull about travelling to Georgia which is safe at the moment, and where he could get strong training partners. Of course, the WFI and the Indian government have to clear that. As of now, they have said no. However, I assure you that he will be ready for that gold medal we have been talking about."
A physical and mental peaking trajectory is just one side of the story, though. In the last two years since Punia hired Bentinidis, they saw a period (2018-19) when he remained unbeaten in all competitions, becoming the World No. 1. His first defeat after the loss in the gold medal clash at the 2018 Worlds came in the Beat the Streets event at the Madison Square Garden in May 2019. He lost again later last year, at the semifinals of the World Championships. In the three losses, what came out was an inherent weakness towards the single-leg takedown. 
However, there is more to that than a technical flaw. On most occasions when Punia lost points to the takedown, it was basically due to his impatience, and his overt aggression when diligence would have served him better. 
Trying to decipher Punia's bouts — losses and victories — this enigma is glaring. How can a wrestler's personality be so different on the mat? What brings that about? These are questions Bentinidis would have to find answers to in the coming 12 months. He generalised them all under one big header. 
Also Read | London Eye: India's Greatest Olympic Fortnight
"I am now going to focus on his technique," he said. "Bajrang has been doing all sorts of conditioning drills during lockdown. He is in great shape. What needs work is his technique."
Technique, and perhaps a bit of understanding as to what makes Punia tick differently on the mat, compared to his real self off it.  That job is easier said than done for a foriegn coach with a language barrier to contend with. And the language of wrestling — of takedowns, holds and physical cues of working with and against gravity — can only help decipher a small part of it. Persona, after all, is more complicated than a few takedowns and medals. 
Perhaps, this challenge is upto Punia himself and no one else. And, by now, he should be knowing that on the mat, it takes patience to decipher patience!  
Get the latest reports & analysis with people's perspective on Protests, movements & deep analytical videos, discussions of the current affairs in your Telegram app. Subscribe to NewsClick's Telegram channel & get Real-Time updates on stories, as they get published on our website.
Subscribe Newsclick On Telegram