Barring Dalit Girl From Temple Highlights Caste Divide in MP's Khargone  
Priest disallows girl from entering Shiv temple on Maha Shivaratri.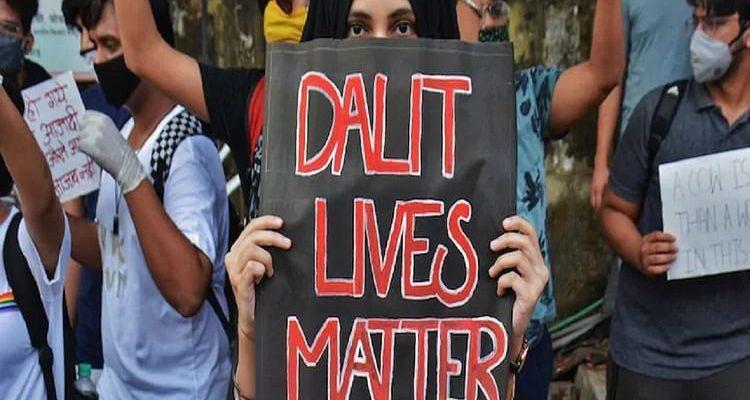 Bhopal: When Puja Khade's turn to pay obeisance at the sanctum sanctorum of the Shiv temple at Timla village of Madhya Pradesh's Khargone district on Maha Shivaratri came, the 22-year-old priest Shankar Barve sternly objected. "Harijans are not allowed inside; they have no right to worship. They should worship from outside," he told the undergraduate Dalit girl as she was preparing to offer milk to the deity.
According to the police, the incident occurred about 300 km south of the state capital Bhopal in an area dominated by tribals. A 2.50 minute-long viral video of the incident shows Khade holding a plate of votive offerings and arguing with Barve while citing her constitutional rights. Meanwhile, two aged women performing rituals also support Barve's casteist prejudice of not allowing Dalits inside the temple.
महाश्वीर रात्री के दिन एक दलित युवती पूजा खांडे को शिव मंदिर में पूजा करने से पंडित जी ने रोका।

मामला MP के खरगोन जिले के ग्राम टेमला का।

SP सिद्धार्थ चौधरी के आदेश पर पंडित सहित 3 पर मामला दर्ज। उन्होंने आरोप लगाया कि उन्हें जिले के कई मंदिरो में जाने से रोका जाता है। @DGP_MP pic.twitter.com/Oq0nL8vLEv

— काश/if Kakvi (@KashifKakvi) March 3, 2022
Despite the viral video, the police registered a first information report (FIR) only after Khade and members of Dalit outfit Azad Samaj Party (ASP) protested at the superintendent of police's (SP) office and subsequently handed over a memorandum to SP Siddharth Choudhri and demanded strict action against the priest.      
"Who is the priest to prohibit me from entering the Shiv temple and calling me Harijan? It's my constitutional right," Khade told the media outside the SP's office alleging that Barve not only prohibited her from performing puja by citing restrictions imposed by the temple administration but also passed casteist slurs. 
"हरिजन मंदिर में नहीं आ सकते,"

इस दलित बेटी को सुनिए, आपको झंझोर देगा।

MP के खरगौन में महा शिवरात्रि के दिन शिव मंदिर में पूजा नहीं करने देने पर दलित युवती पूजा खाड़े @AzadSamajParty के लोगों के साथ SP को कल विज्ञाप्ति दिया। @DGP_MP@SunilAstay @KotwalMeena @ambedkariteIND
1/3 pic.twitter.com/htce7oy5sf

— काश/if Kakvi (@KashifKakvi) March 4, 2022
Almost a week before Gangaur festival, celebrated in Nimar region of MP, no one entertains Dalits, Khade further alleged. "Dalits are neither allowed to participate in the procession nor carry perform the Ghangore puja ceremony in front of their homes. We demand strict action against the culprits and urge to end untouchability," she said.
On the SP's order, the Mangaon police registered the FIR against Barve, one Manjubai Patidar and unidentified aged women for promoting enmity between the two groups under Section 505 (2) of the Indian Penal Code and three Sections of the Scheduled Caste and Scheduled Tribe (Prevention of Atrocities) Act, 1989. 
"We have arrested the priest, Shankar Barve, who allegedly stopped a Dalit girl from entering the Shiv temple, and deployed three police personnel outside Puja's home," Dinesh Kushwaha, station house officer, Mangaon police station, told Newsclick over the phone. However, a few hours after his arrest, a special court in Mandleswar granted bail to Barve.
With a mixed population of more than 2,000 voters, Timla, 10 km away from the Khargone district headquarters, is the native village of veteran Bharatiya Janata Party (BJP) leader and former minister Balkrishna Patidar. Out of the three temples in the village, the 50-plus Dalit families in the village are allowed only inside the Ambe temple and not the Ram and Shiv temples, according to the locals.
Puja's father Pawan Khade (45), a mason by profession, alleged that "in the majority of the nearby villages, Dalits are not allowed inside temples, especially containing statues of Ram. Many of the Dalit youths distance themselves from temples due to untouchability". The incident at Timla village has again exposed the caste divide in the tribal-dominated district of Khargone. 
"मंदिर में घुसना तो छोड़िए ज़िले के कई गांव में दलितों का हुक्का पानी बंद कर रखा है पर पुलिस कोई कार्यवाही नहीं करती," सुनिए मनोज परमार को।

2/3 pic.twitter.com/19XXzt1quI

— काश/if Kakvi (@KashifKakvi) March 4, 2022
In Lohari Moradabad village, eight km away from Timla, Dalits are barred from all the five temples, managed by the Brahman and Patel communities. "Dalits are barred from all the five temples. Several of them offer prayers only at a temple constructed by Dalits," Kartik Devle (22), a villager who belongs to the Scheduled Caste, told Newsclick.
Village head Bharat Rathore, however, refuted the allegation claiming that no villager prohibits Dalits from offering prayers at the temples expect those owned by upper castes of Other Backward Classes. 
Claiming that untouchability is a common practice prevalent in Nimar, Rameshwar Badole, a political and social activist in Khargone, said that "Dalits can't perform puja at temples managed by the members of the OBC or general category. In a majority of the villages, Dalits and upper-caste men have separate crematoriums".
Despite the discrimination, "Dalits don't dare to lodge a complaint as they are dependent on upper castes for survival", Badole said adding, "as a result, the discrimination goes unreported".
The discrimination against Dalits in Khargone is not only limited to temples and crematoriums. Tasleem Khan, Indore division-in-charge, ASP, alleged, "A Dalit journalist Deelip Pancholi was assaulted by an upper-caste BJP sarpanch Ajay Joshi last week for just asking an address. But despite various complaints and the journalist sustaining serious injuries, the police did not lodge an FIR and termed it only a case of scuffle."
ASP members had also submitted a memorandum to the SP demanding strict action against Joshi. Choudhri brushed aside the allegation of rampant untouchability in the district. "The allegation of rampant caste-based discrimination lacks evidence as the police haven't received many complaints. Cops acted promptly when a Dalit girl alleged discrimination at Timla village," he told Newsclick.
हंगामे के बाद, पुलिस ने पुजारी सहित 3 लोगों पर 505 (2) IPC और SC/ST Act की तीन धाराओं के अंतर्गत FIR किया। @newsclickin

3/3 pic.twitter.com/pSvGAUOYHm

— काश/if Kakvi (@KashifKakvi) March 4, 2022
When asked about the BJP sarpanch's attack on the Dalit journalist, Choudhri replied, "The incident has nothing to do with untouchability; it's a case of old enmity."  
Get the latest reports & analysis with people's perspective on Protests, movements & deep analytical videos, discussions of the current affairs in your Telegram app. Subscribe to NewsClick's Telegram channel & get Real-Time updates on stories, as they get published on our website.
Subscribe Newsclick On Telegram