Bawana Factory Fire: Chronicle of Death Foretold
Criminal negligence of safety, licensing and labour laws led to 17 deaths in the cracker factory fire in Delhi.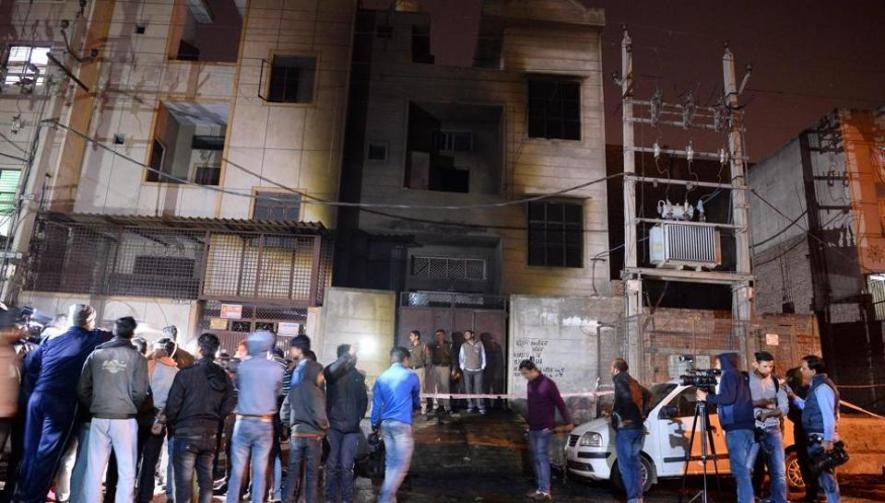 Image Courtesy: Hindustan Times
In one fell blow, the fire at a factory in Bawana, Delhi has ripped apart the glittering cloak of this 'world class' metropolis, the capital of 'new' India, exposing its deadly underbelly. The fire on 20 January claimed 17 lives according to official figures. Those who work in the area say that at least 35 persons would have been trapped inside the factory when the fire broke out. The front gate – the sole exit point to the structure – was locked and the few windows were barred. Some escaped by jumping off the roof, suffering fractures in the process. Among those dead were 7 women, including one who was pregnant.
Political powers and administrative authorities have immediately muddied the waters by accusing each other of negligence on this or that count, washing their hands off the shocking tragedy. It is typical of this metropolis – with dozens of authorities with overlapping jurisdictions – that every tragedy sees this outflow of unbridled mud-slinging. However, one thing binds everybody together: as far as workers and the poor are concerned, nobody is responsible because nobody cared enough before tragedy struck. That is why such horrendous tragedies keep happening and life goes on in the city of smiles.
Bawana Industrial Area, where this factory was located, was set up after industries were relocated from residential areas to designated industrial areas in the late 1990s. It was supposed to house some 16,000 units but according to current reports, about 12,000 are actually functional. Most of the original allottees, who used to run factories in Shahadra in East Delhi, have sold of the properties. Although there is designated space for some low income housing, most workers in Bawana's industrial belt stay in jhuggi clusters (slums) in the vicinity. This slum itself had been devastated by a fire in April 2017 when 1000 jhuggis were burnt down. Four years earlier, in 2013, the same JJ cluster had seen a similar fire that finished off 1000 jhuggis. These semi-pucca structures packed in closely have been sites of repreated fires
As per the Master Plan of Delhi - 2021, the norm is to have a fire post within a 3-4 km radius and a fire station within a 5-7 km radius of every such settlement. There is no such arrangement in Bawana. In fact the Delhi Fire Service is reportedly suffering from severe under-staffing of 40%, and is short of fire fighting equipment. More pertinently, it is unable to (or as some allege, unwilling to) monitor fire safety measures in this vast population of the Capital. By law, each building needs to have a clearance from the Fire Department on safety norms. Evidently, the factory in Bawana did not have a metal ladder at the back, nor did it have fire fighting arrangements or laybacks.
But, it is not just the Fire Dept. that is supposed to monitor safety. There are sufficient labour laws that spell out diverse safety norms for the workers. Were these being followed in Bawana?
Here one steps into the biggest abyss, the dark heart of Delhi. Starting from the early 1990s, labour laws and their implementation machinery have been drastically diluted in Delhi. Most units don't even have to register themselves. They don't maintain rolls of employees. They pay a paltry wage, with no benefits or social security. Injury or death compensation by legal norms is unheard off. There is no medical coverage. There are hundreds of instances where factory owners work 12-hour shifts with workers staying inside the premises, locked away from the world. All this is gross and criminal violation of a bunch of labour laws. But nobody cares.
If any labour or factory inspector had properly inspected the Bawana factory, he would have found these multiple violations and – theoretically – could have forced the owner to comply. But the labour department is either complicit in these violations, as alleged by trade unions over the years, or it is too understaffed to monitor thousands of legal and illegal factories in the Capital.
It is reported that workers in the Bawana factory were getting upto Rs.200 per day for a 10 hour work shift. That's Rs.6000 per month for 10 hour work day. The legal minimum wage in Delhi is Rs.13,350 per month (Rs.513 per day) for an eight hour work day. This is the gigantic scale at which labourers are being exploited – looted would be a better word – in Delhi. One can imagine the extent of violation of other labour laws in this sweatshop.
A tea shop owner next to the burnt factory told mediapersons that he had sent 35 cups of tea into the factory about an hour before the fire broke out. If that was the number of workers, the unit should have been covered under the Factories Act. This law lays down detailed specifications of working area space, ventilators, exhausts, doors and windows, besides safety norms. Obviously, the unit was functioning beyond the pale of all this. What happened on 20 January was bound to happen in this or any other factory, in any other area.
There is also the issue of licensing. The Delhi Municipal Corporation Act 1957, clearly says in S.416 (1) that factories can be set up only after getting permission from the municipal commissioner. In the Bawana factory, the original licensee was the original allottee who sold off the premises to the present owner. It appears that there was no license with him. And, especially not for making fire crackers.
So the whole set up was illegally run – from premises, to labour, to the product. And, this is not an exception. It is the norm in Delhi. Successive govts. of different parties – including the present AAP – have adopted a highly partisan approach towards this rampant illegality in Delhi, arguing that industrial production needs to be encouraged and pleading limited staff to ensure compliance.
The industrial area was set up during Congress regime, which ran Delhi till 2013. After that AAP govt. took over. They control the departments of labour and industry. The North Delhi Municipal Corporation is controlled by the BJP since 2007. It is in charge of giving licenses to factories and monitoring compliance. Clearly all these political forces in Delhi are culpable in the Bawana tragedy. They stand with the property owners, and neglect the workers.
In effect they have condemned nearly 14 lakh workers in Delhi's unorganized industrial sector to become sacrificial lambs on the altar of profit. Bawana's tragedy was yet another instance of this. The deaths of at least 17 workers, most of them migrants from UP and Bihar, were foretold.
Get the latest reports & analysis with people's perspective on Protests, movements & deep analytical videos, discussions of the current affairs in your Telegram app. Subscribe to NewsClick's Telegram channel & get Real-Time updates on stories, as they get published on our website.
Subscribe Newsclick On Telegram