Bela Estate: Hundreds Left Homeless, Farming Comes to Halt as DDA Bulldozes Yamuna Floodplains
The DDA has been demolishing settlements in Bela Estate for a while, but the latest HC order has left hundreds without hope for rehabilitation.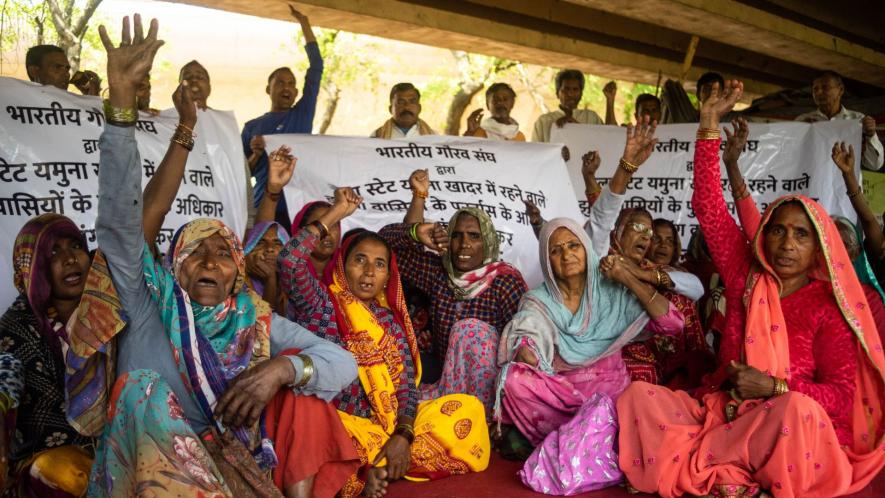 Dharna led by women residents of Bela Estate JJ clusters. The dharna started on April 2, 2022, in demand of rehabilitation. | Images by Aritry Das
Delhi: Around 600 families of farmers and daily wagers were rendered homeless at Bela Estate on Tuesday morning as bulldozers of the Delhi Development Authority (DDA) stormed the settlements, sending the residents scurrying to gather their belongings. As per the latest High Court order, they will not get any rehabilitation.
According to the petitioner, an association of residents of Bela Estate that was fighting the case for rehabilitation, the slum clusters have been there for over 70 years and comprise more than 700 households. The settlements are located on the western bank of the Yamuna river, where these people have been living for decades and farming on the floodplains.
The latest demolition followed after the Delhi High Court on Monday dismissed the plea by the association, Bela Estate Mazdoor Basti Samiti, which was seeking rehabilitation following an eviction notice from DDA. The writ petition had also challenged the eviction. The high court said the petitioner could not prove that these jhuggi-jhopdi (JJ) clusters were notified by the Delhi Urban Shelter Improvement Board (DUSIB) and that the jhuggis were constructed before January 1, 2015. Therefore, the residents are not entitled to rehabilitation as per DUSIB's Delhi Slum and JJ Rehabilitation and Relocation Policy, 2015, the court said.
Kawalpreet Kaur, advocate for the petitioner, told NewsClick, "The High Court has fully relied on the submissions made by the DDA and the DUSIB to dismiss the case. Their submissions held the view that the petitioners and others are not eligible for rehabilitation under the current policy of the Delhi government. The policy says that the JJ cluster has to be in existence before 2006 and the cluster dwellers must possess documents prior to 1.01.2015. We fulfilled both the criteria. But there is a list published by the Delhi government and the court has squarely relied upon that, saying that if the cluster's name is absent from that list, then they are not eligible for rehabilitation. The entire constitutional jurisprudence of right to shelter has been reduced to a list."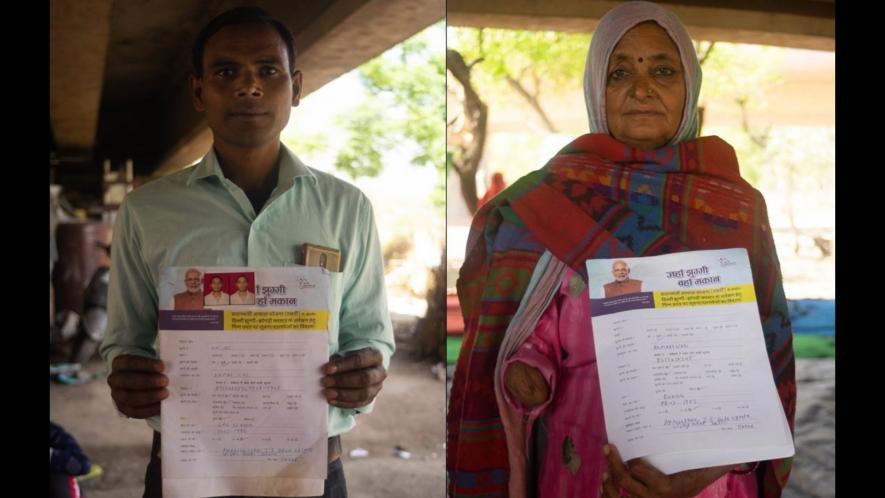 Kamal Lal and Rameshwari show forms they were made to fill ahead of 2020 Delhi elections for getting accommodation under the PMAY Urban scheme.
Kaur said they submitted that the people at Bela Estate have documents from prior to even 1990, which means the cluster was already in existence. "If its name was not on the list, that is the government's mistake. I believe that because of the G20 they want to rush and clear the entire Yamuna floodplains and they want to do it without providing rehabilitation," she claimed.
"We will appeal against this order and seek rehabilitation for the people. We have to see whether we will go to the SC or the HC as a petition against the constitution of this list is already pending before the apex court," the advocate added.
'CANNOT FARM, CANNOT PROTEST'
On Monday, acres of land with standing crops from Geeta Colony to Bela Estate were destroyed by DDA. "As per a 2019 NGT order, farming on the Yamuna floodplain is not allowed," Satish Kumar, Section Officer, DDA, Horticulture, told media persons.
Speaking to NewsClick, Heera Lal, a 39-year-old farmer, said around 40 bighas of herbs ready to harvest were destroyed on the day, incurring him a loss of around Rs 8 lakh. He is just one of the many who looked on with despair as the JCB machines crushed the crops.
The same day, their protest rally demanding rehabilitation was curtailed. Around 500 people gathered at Bela Estate around 10 a.m to march to Jantar Mantar, but were stopped there by a large police deployment. A group of around 50 protesters, with about 20 women, had left early on buses to Rajghat where they were detained by the police and brought back to Bela Estate, according to the protesters.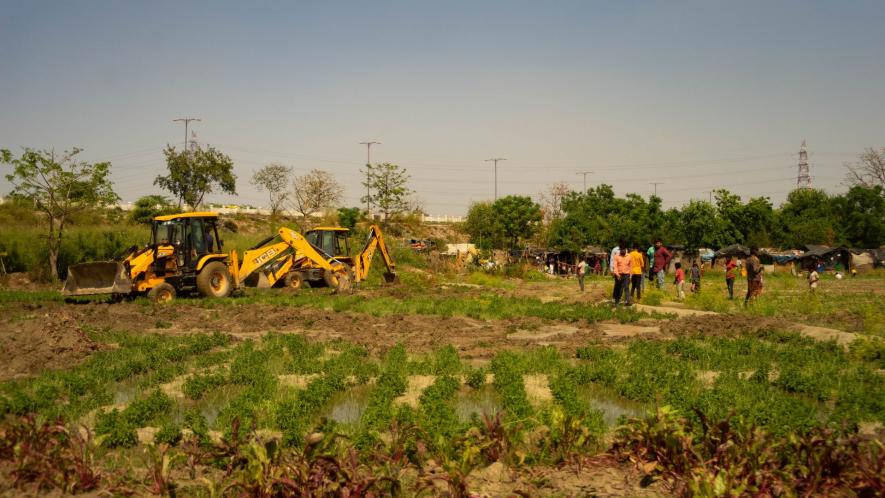 DDA's JCB machines destroy standing crops of vegetables near Geeta Colony.
Led by women, residents of Bela Estate have been sitting on dharna in their area for almost one year now. They started the dharna on April 2, 2022, demanding rehabilitation. But the fight over rehabilitation has been long and complicated for the hundreds living and farming on the Yamuna floodplains.
According to another farmer Hiralal, who is one of the leaders of the community, the SHO told him that the permission for the march was cancelled at the last moment because of an Israeli delegation arriving. "Our dharna is going on for a year. The SHO has told us couple of times that she will help us meet the LG or anyone concerned with our demands. But they keep cancelling our permissions to even protest or let us talk for at least 10 minutes. Is it not our right to be able to do that?"
Monday's court order led to their struggle for rehabilitation reaching a major roadblock.
DEMOLITION AND FIGHT FOR REHABILITATION
Around 40 houses in Bela Estate were demolished by DDA on March 20. Rekha's house was among them. Rekha, a leader of the women protesters, claimed that on March 18, the DDA put an eviction notice in her area to vacate it within three days and did not mention a date. "Despite several calls on Monday (March 20) the SHO did not confirm to her whether the demolition would take place that day. Then around 3 p.m, I got a call that they have started barricading the dharna site so that people cannot gather. Then suddenly the bulldozers came and almost attacked us. They demolished our houses. We scurried to save whatever things we could. At least they could have told us to vacate properly and not stab us in the back," Rekha rued.
She said they have pucca houses which were demolished in 2014. Afterwards, they made shanty like structures with asbestos and bricks. After that too was demolished on March 20, they made impermanent shelters with tarpaulin and lost most of their belongings. "The police keep coming here every other day asking us to leave with whatever little belongings we have left. DDA has destroyed our crops and land. Now, my husband buys vegetables from mandis to sell and that's how we are getting by. Where will we go? Authorities tell us to go to shelter homes. But we are farmer families with the elderly, women and children. Shelter homes are not safe for us; they are full of homeless people and addicts. Which self-respecting person would go there?" She asked in tears.
Hiralal said they had been running pillar to post to stop evictions and get rehabilitation, but to no avail. slumdwellers, who have been sitting on a silent dharna for the past year in their area claim that despite repeatedly writing to the Delhi LG, Chief Minister and even the Prime Minister, urging them to provide rehabilitation but their requests have gone unheeded.
Hiralal claimed that more than 30 people had got provisional land allotment proposals from the DDA in the 2004-06 period and got receipts of submitting documents and Rs 7,000 for land, but they have not been allotted anything to date. Instead, their houses in the JJ cluster were razed by DDA. A few of these receipts were accessed by NewsClick but could not be independently verified.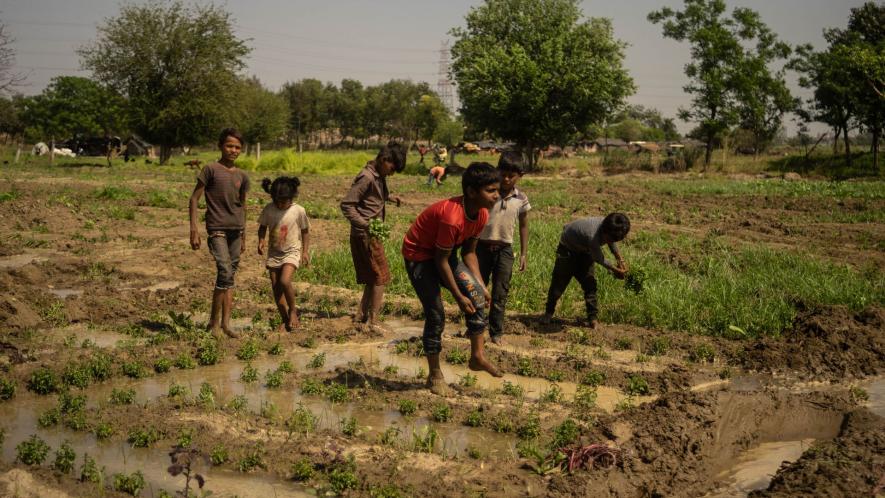 Children try to salvage crops before they are bulldozed by the DDA in Bela Estate.
In this regard, Advocate Kaur said, "In our case, we had these people who were provided with allotment letters in between 2004 and 2006, following a survey done by the DDA. These people are still living there and not given rehabilitation. When we made these submissions, the High Court asked the DDA file an affidavit. The DDA in its affidavit admitted that they do not have the knowledge of the 13 people whose documents, including possession letters, were submitted before the court.  But the court has remained quiet on that."
Again, in the end of 2019, ahead of the Vidhan Sabha elections, the Bharatiya Janata Party allegedly employed Hiralal as a karyakarta to collect identity documents of people across Bela Estate JJ clusters among other areas in Delhi. They were made to fill forms under the PM Awas Yojana. However, the BJP lost in the elections and boxes filled with these forms and documents and people's hopes were never taken by the party, Hiralal alleged while showing NewsClick the material.
Kamal lal, a 35-year-old social worker and daily-wager from Bela Estate, showing his form to NewsClick said, "We were asked to fill these forms ahead of Delhi Vidhan Sabha elections and were promised that we will get flats where the jhuggi is located."
Randheer, a farmer from Moolchand Basti in Bela Estate, slammed DDA for cancelling their lease for farming on the floodplain. He said, "Even if we see it from the process of law, the farmers are as much rightful owners of these lands now as they did before."
He lost his crops and house in DDA's demolition drives. Looking on to the JCB machines uprooting standing crop of spinach, beetroot, pudina, Randheer said, "First they served us notice in 1991 and then gave another one in 2015. Where was DDA for all those years? We have been staying here for more than 50 years. We have ration cards, voter ID cards and Aadhaar. Why should we not get rehabilitation? They are suppressing our voices from all sides because the BJP government does not care about poor, marginal communities like us."
Many of the residents of Bela Estate belong to the Mallah community. Mallahs are a notified Scheduled Caste in Delhi who have been living on the banks of Yamuna for generations. An ethnographic Census study of 1961 traces the Mallahs as boatmen and fishermen staying in Bela Estate and Mayur Vihar, among other places, along the Yamuna river.
Kamal Lal, who belongs to the Mallah community, said, "Generations of our community have lived in Yamuna Khadar and farmed on these lands. At least 300 families here are Mallahs. Now that the government has snatched away farming, many of our youths are going to cities to work as labourers for little pay."
TOXIC PRODUCE VS FARMERS' LIVELIHOOD
The NGT had banned the growing of vegetables on the floodplain in 2015 till the Yamuna is restored to its natural state. DDA acquired the land on the Yamuna floodplains to be developed as a biodiversity zone.
In February 2019, an NGT committee ordered the Central Pollution Control Board (CPCB) and National Environmental Engineering Research Institute (NEERI) to take up separate studies on Yamuna floodplain farming. In July, the NEERI submitted its report saying that it had found high levels of lead in vegetables (above FSSAI recommended safety level of 2.5mg/kg) and corresponding soil samples from there. However, the committee recommended that farming may be allowed in the floodplains with a regular check on the metal and pesticide levels in the produce. In August of the same year, the CPCB report revealed that excessive use of fertilisers and pesticides in farming on the floodplains is leading to pollution of Yamuna's water and floodplains.
Following this, in September 2019, the NGT ordered the DDA to stop the cultivation of fruit and vegetables on the Yamuna floodplains, warning that the central agency will be penalised if it does not do so.
However, the farmers deny these findings of toxicity. "Would we not have fallen sick if these vegetables were toxic? We eat what we grow," said Rekha. The farmers claim that they mostly use groundwater for farming instead of Yamuna water and use manure as fertiliser.
Get the latest reports & analysis with people's perspective on Protests, movements & deep analytical videos, discussions of the current affairs in your Telegram app. Subscribe to NewsClick's Telegram channel & get Real-Time updates on stories, as they get published on our website.
Subscribe Newsclick On Telegram