Bengal: Are Jangalmahal's People Being Denied Right to Healthcare?
Access to public health services is a fundamental right. But the hospitals here suffer from acute doctors and health worker shortages.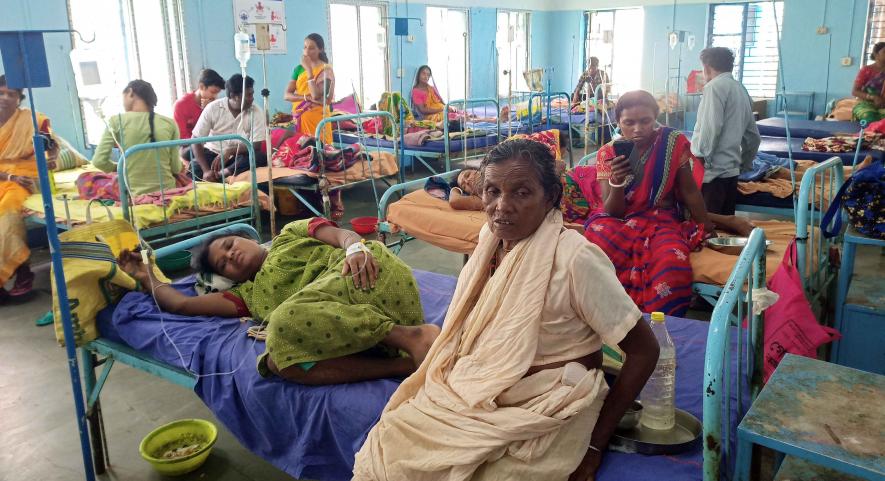 Ranibandh hospital's indoor.
Jangalmahal: Residents in the underdeveloped Jangalmahal area of West Bengal are unfamiliar with modern medical care. Recent concerns have arisen over the region's health services, leaving people with limited treatment options.
Access to public health services is a fundamental right. But the hospitals suffer from a shortage of essential doctors and healthcare workers. Some medicines are stored in paper boxes at the hospital's outdoor counter; patients are familiar with these medicines as alternatives are scarce. The quality of these medicines is questionable, to the point that even healthcare workers avoid using them. Despite this, people quietly endure by using them, hoping for recovery.
In the Jangalmahal area of Bengal, people view pharmacists, nurses, and even group D staff who listen to their diseases and prescribe medicines as doctors. Presently, this is the reality of government health services in Jangalmahal.
When a Sweeper Has to Step Into Doctor's Shoes
At the Halutkanali primary health centre in Jangalmahal's Ranibandh, Bankura district, there is one doctor (general physician), a pharmacist, a nurse, and a contracted group D staff (sweeper) on record. This hospital is situated 12 km away from the Ranibandh block headquarters. It is alleged that the doctor rarely visits the hospital; the pharmacist spends three days there and the rest at Khejuria Hospital, 25 km away. The nurse's presence is sporadic, yet the hospital serves around 100 patients daily. So, who treats them?

Abandoned health workers' quarters and indoors of Halutkanali Hospital, Ranibandh
When questioned, Nurse Jayti Sahis said the doctor is responsible for patient treatment. However, patients claim they have not seen the doctor during their visits. Patients present at the hospital told NewsClick that in the absence of the nurse and the pharmacist, sweeper Bhimsen Mahato attends to patients and provides medication. Bhimsen Mahato told NewsClick that he had been contractually appointed by the Rogi Kalyan Samity (Patients Welfare Association), and his job is to keep the hospital clean. He is paid Rs 4000 per month for working as a sweeper. He said when no one is present in the hospital to treat patients, he listens to their problems and gives them medicine. He cannot drive patients away as they come from far away. With a smiling face, he said, "I know which tablet is for which disease."
Subash Kalindi from Nachna village, who came to the hospital, said his father, Jagannath Kalindi, had come to Haludkanali Hospital to be treated for his chest pain. But he was given medicine to reduce acidity instead. The chest pain did not subside, and Jagannath had to go to Bankura Medical College Hospital, where he was told he had heart disease. He underwent surgery, which was financed by selling their land, and still remains unwell. Such incidents are not uncommon, people say.
Locals said that during the former Left Front government, indoor facilities and adequate medical staff were available at the hospital. However, this changed after the Trinamool Congress came to power in 2011. The indoor services and staff quarters remain as abandoned structures from the Left Front era. 
Similar conditions prevail in Barikul, Khejuria, and Jhilimily primary health centres. Most of these areas are tribal-dominated. Even though there are doctors on the government records, most days, they are not seen in the hospitals. Pharmacists and nurses treat the patients in their place. These hospitals also had an indoor system earlier, but now all are closed. 
Patients now have to come to Ranibandh Block hospital, said Bidhan Mandal, a resident of Nachna village. Ranibandh block hospital is meant to have 14 doctors, yet only five are currently in service, with insufficient health workers. Adequate cleaning staff is also absent. The same doctor attends to various medical concerns, leading to compromised patient care.
A normal delivery is done indoors, and there is no caesarean facility. If there is a possibility of a caesarean, they are sent to Khatra Sub Divisional Hospital or the 60 km away Bankura Medical College Hospital. Shyamali Hansda, a housewife of Kotro village who came here for her Gynae treatment, said they have to get treatment under great difficulty. She asked, 'What will we do?' Although there is a blood test system, common blood tests like sugar, T C D C E S R, and Thyroid are not done. They have to be brought from outside at the patient's own cost. In indoor, most of the patients were admitted with fever, abdominal pain, vomiting. Their blood is taken and sent to Khartra Hospital lab for dengue tests, but the report is not given to the patient. People allege that the dengue disease is being suppressed. A doctor at Ranibandh block hospital, who did not wish to be named, said, 'There is nothing we can do. We have repeatedly informed the concerned authorities, but no action was taken, and the treatment system has worsened day by day.' He said it is a fact that a doctor has to treat multiple patients like pregnant mothers, teeth, eye, E N T problems, diarrhea, and fever patients. Is it somehow possible? As a result, patients are affected.
Jyotsna Mandi, state food minister and MLA from Ranibandh, also chairs the Ranibandh block Rogi Kalyan Samity. While speaking to NewsClick, she said the Samity meeting had not been held in a while. Mandi also acknowledged the shortage of doctors and health staff but cited challenges in securing more resources. She said, "I have informed at the state level many times to send doctors and health staff here, but they did not send them." Regarding the current Dengue outbreak, she said, "We were busy with the panchayat elections. Mosquito-killing measures could not be taken, and that cannot be done until the panchayat board is constituted. We are thinking about what can be done in this situation."
Protests to Keep Health Centre Open
Meanwhile protests have erupted, demanding the continued operation of Sindri Primary Health Centre, while concerns persist in other places such as Lauriyadam Hospital and Bandowan Block Hospital.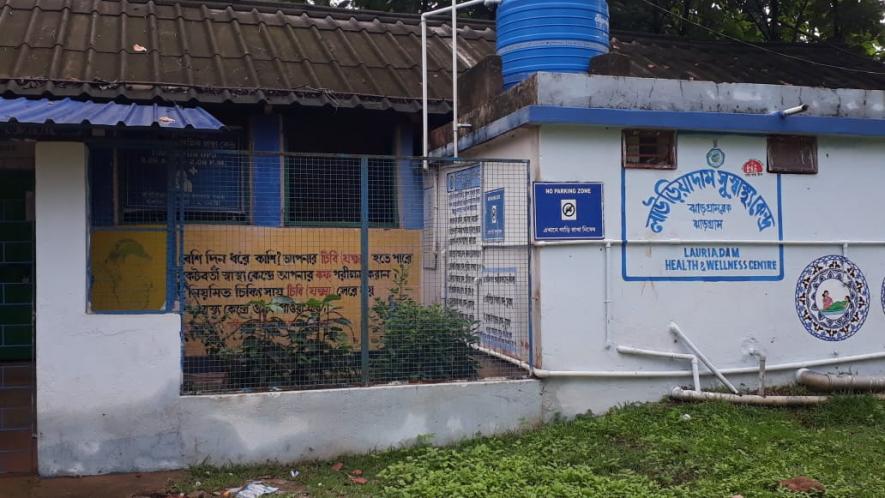 Lauriyadam Hospital of Jhargram
Residents are rallying to keep the health centre operational. Recently, residents of Sindurpur Gram Panchayat, located in Purulia district's Borabazar block, blocked the road to demand the continued functioning of Sindri Primary Health Centre. Concerns arose when locals observed medical equipment being removed from the facility, sparking fears of closure. While a doctor was once present, they were transferred to Borabazar Block Health Centre. 
Jiban Hansda, Sukumar Mahato, Nimai Pal, and Dilip Das, all from the area, alleged threats of action by the police and administration for their opposition. Notably, people from neighbouring villages, including Manbazar 1, 2 Panchayats in the Jharkhand state, also rely on this centre. After being closed for a few years, the hospital was reopened due to a significant community effort. Presently, the state Health Department is attempting to close it once again.
In Purulia's Bandowan block, two of three primary health centres operate under challenging conditions. Regular doctor visits are infrequent at Gurur and Lotapata Health Centers. Health workers only dispense medicine based on doctor-prescribed instructions. When no doctor is available, patients like Nabokishor Kishku and Maloty Hembram from ChhotoPorasya village struggle to find care. Despite residing 10-15 km away, people from Kendboni and Salboni villages come seeking treatment and often have to leave without receiving proper care.
At Bandowan Block Hospital, patients experience deteriorating health instead of recovery. Accumulating toxic waste outdoors and indoors creates an unbearable stench, making it impossible for patients to endure even ten minutes. Patients and their families find themselves trapped, wondering who to turn to or who will listen to them.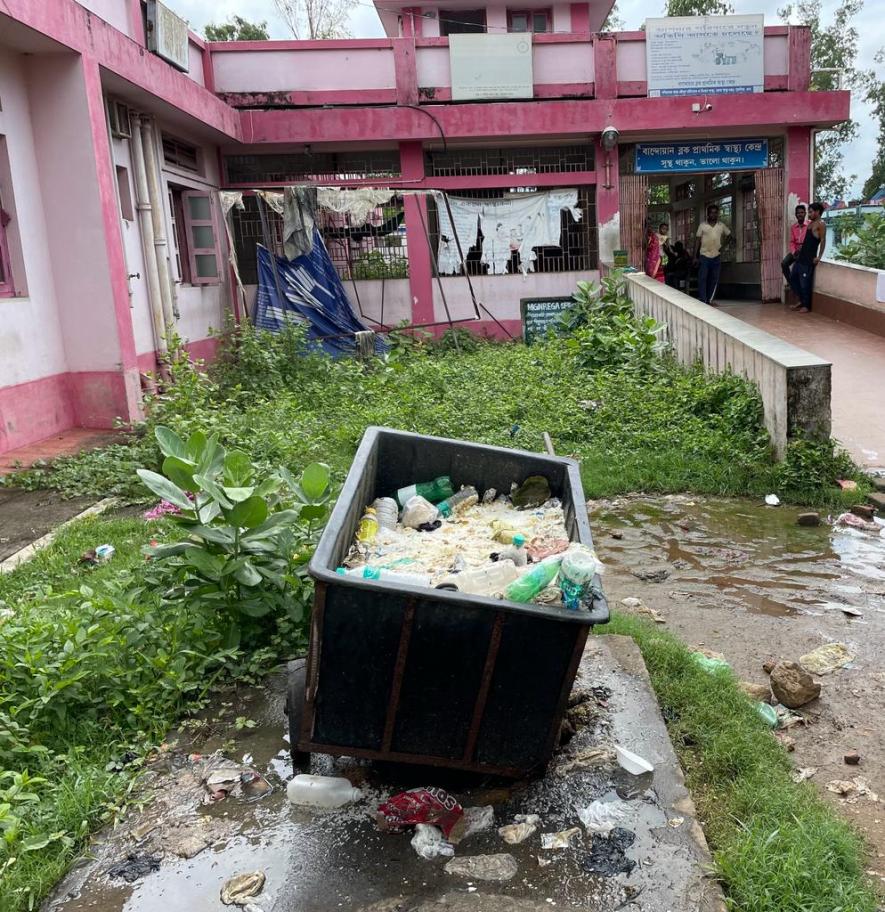 Toxic waste accumulated outside of Bandowan Hospital, Purulia
Bandowan Block Development Officer (BDO) Kashib Aabir explained to NewsClick that an agency once responsible for waste removal ceased its operations, causing problems. The matter has been communicated to the District Health Department. Dr Kajiram Murmu, the Block Medical Officer of Health (BMOH), suggested that the block administration undertake cleaning measures. This administration controversy has left patients and their families perplexed.
Many Return Without Treatment 
A significant portion of Jangalmahal's population in Jhargram District relies on Belpahari Block Health Centre, housing only five doctors. Patients with minor issues are often referred to Jhargram District Hospital instead of receiving treatment at the local health centre. Residents from around 50 villages, including Sonapara, Kashidanga, Goyalberia, Dhekia, Kheriyarata, Munda, and Bhimarjun, travel 25-40 km to access this health facility. A class 10th student, Mrinmoy Mandi, travelled 25 km through a dense jungle to receive treatment for his eyes. Unfortunately, the health centre lacked the necessary doctor or eye drops for his condition, leaving him emotionally distressed.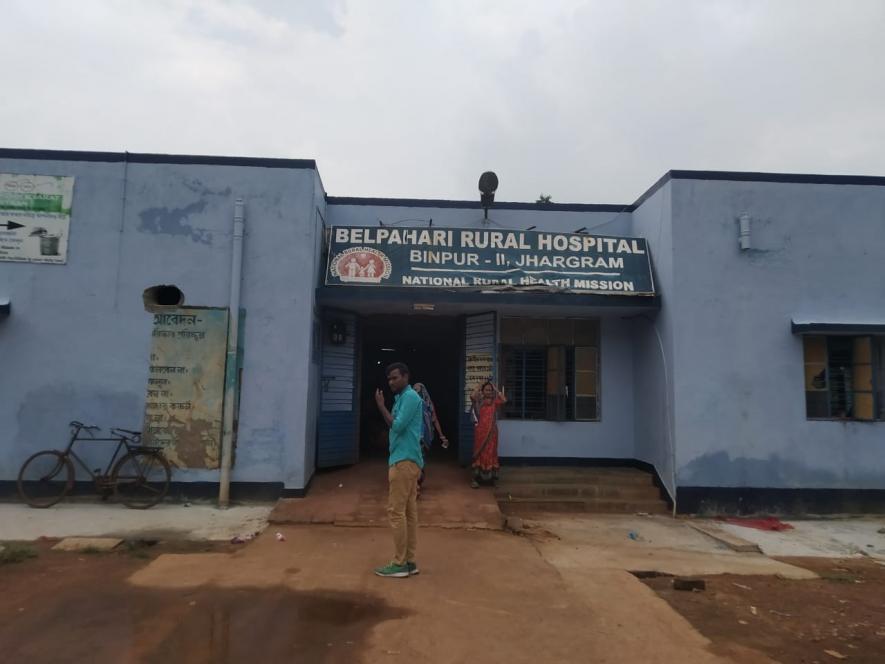 Belpahari Hospital of Jhargram district.
Similar challenges persist at Lauriyadam Hospital in Gopiballavpur Block, where doctors are often absent, and the staff relies on pharmacists and sweepers for patient care. The local MLA and former state minister's residence is located nearby, yet no significant efforts have been made to improve the medical system.
Interestingly, the SwasthoSathi card, designed to provide free treatment up to 5 lakh rupees at private hospitals, is now required for admission at local health centres. This practice raises questions about its necessity when treatment should be available without cost. Allegations of irregularities and collusion have emerged, suggesting a potential illicit trade involving prescribed medicines and diagnostic tests.
Numerous doctors and pharmacists express reservations about the quality of medicines provided by health centres. Government-provided medicines often undergo minimal testing, raising concerns about their efficacy and safety. Additionally, improper storage practices further compromise the quality of these medicines.
Fakir Hansda, a resident of Kulyam village in Ranibandh, highlights the lack of employment opportunities in Jangalmahal, leading to malnutrition and subsequent health problems. When residents seek medical treatment, they often encounter inadequate care. Consequently, many turn to unlicensed practitioners or local healers, exacerbating health issues and potentially resulting in fatalities.
Dr Shyamal Saren, Bankura's Chief Medical Officer of Health, acknowledges the problems and assures efforts to recruit more doctors. He further states that the issue has been reported at the state level for necessary action.
Former Block Development Officer of Ranibandh, Ullas Chattopadhyay, emphasises that the people of Jangalmahal possess a distinct cultural identity characterised by unique values, beliefs, and traditions. Despite enduring these challenges, their resilience remains strong. 
Dharmadas Sardar from Belpahari, Jhargram District, suggests that the current government fails to consider the region's unique needs, which amounts to exploitation. It is evident that the people will not tolerate this situation indefinitely.
Get the latest reports & analysis with people's perspective on Protests, movements & deep analytical videos, discussions of the current affairs in your Telegram app. Subscribe to NewsClick's Telegram channel & get Real-Time updates on stories, as they get published on our website.
Subscribe Newsclick On Telegram