Bengal Elections: BJP's Half-Empty Glass a Sign of the Times
Though BJP has bagged sizeable vote share, it failed to effect significant polarisation on religious, linguistic, caste or 'ethnic' lines.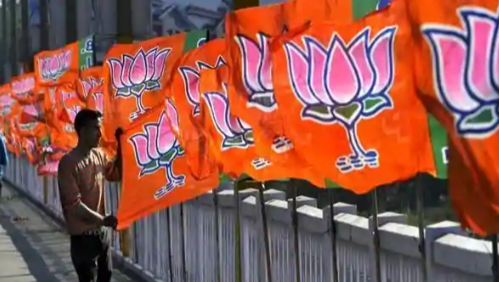 Representational Image. Image Courtesy: Mint
The 'epic contest' for West Bengal, hyped by Hindutva hardliners and the poodle that is otherwise known as the mainstream media, turned out to be a damp squib. The ruling Trinamool Congress (TMC) eased to a successive two-thirds majority, with 215-odd seats in its bag, a few more than the 211 it won in 2016.
The only downside to TMC's somewhat unreal strike rate is caretaker Chief Minister Mamata Banerjee's loss to party rebel Suvendu Adhikari, her Bharatiya Janata Party (BJP) rival in Nandigram, in what she terms as "dubious" circumstances.
There are a number of reasons for the contest failing to live up to its epic billing, the principal one being that there was no prospect of a humdinger in the first place, never mind the multiplicity of dragged-in-by-the cat opinion and exit polls. We'll get through most of the reasons, but first up, and most heartening, was the fact that the TMC got widespread support – across 'communities', perhaps better designated 'ascriptive categories' – while notching up close to 50% of the votes cast.
In other words, not only did the BJP fail to effect a significant enough degree of polarisation on religious lines, it also failed to do so on linguistic, caste or 'ethnic' lines. The TMC, for instance, breached the base the BJP had built up in Jangalmahal – the districts of Bankura, Jhargram, Pashchim Medinipur and Purulia. While final numbers aren't available yet, the 40 seats in the region seem to have been split near halfway, though BJP had swept the region in 2019.
Similarly, Hindi-speaking voters, concentrated in parts of Kolkata, North 24 Parganas, Howrah and Hooghly, for instance, voted overwhelmingly for Bengal's ruling party, which is why TMC swept these
districts despite having lost a number of Lok Sabha seats in the region in 2019.
Again, the most important type of polarisation the BJP sought to generate – on religious lines – failed to materialise to any great extent. Preliminary figures suggest that while the 'Muslim' vote unsurprisingly coalesced around TMC, the 'Hindu' vote was split evenly. This pattern of voting was reflected in the roughly 10% gap between TMC's vote and BJP's, up from around 2% in the 2019 Lok Sabha elections.
The question, of course, is whether this is a glass half full or half empty for BJP. On the one hand, it won only three seats in 2016 with just above 10% of the vote, while this time it has won around 75, polling close to 38%. Whichever way you slice it, that's a quantum jump. Most parties in most situations would take great satisfaction from that.
On the other hand, that's not the real comparison that needs making because of the 2019 Lok Sabha results in the state. Then, on its way to winning 18 of Bengal's 42 seats, the BJP had taken a lead in 121
Assembly segments, with a vote share of just above 40%. Thus, it has lost vote share of around 2.5%, and 45-odd seats, precisely because its toxic attempts at polarisation consolidated all kinds of voters
behind TMC. A large number of people who would not have voted for TMC, did so because it was the best way to keep at bay the forces of obscurantism, majoritatrianism and authoritarianism. To some extent, too, it was a vote for a minimal amount of decency in public life. It was also an assertion of Bengal's exceptionalism, mistakenly written off by numerous commentators.
Another reason for seeing the glass as half empty is BJP's desperation to win Bengal, which led it to throw the kitchen sink at the TMC. In the sink, of course, was the Election Commission of India (ECI), by now reduced to an extra-legal wing of BJP, and all manner of law-enforcement agencies.
But, thereby hangs a tale. Though ECI, as  alleged by TMC, managed to "fudge" the Nandigram result, in trying to pay obeisance at the durbar of Prime Minister Narendra Modi and Union Home Minister Amit Shah, it actually ended up helping TMC.
Mamata Banerjee's loss in Nandigram, even if sustained through due processes that are not so 'due' anymore, will not hurt much for two reasons. First, the widespread public perception that there was foul
play. Second, all Banerjee needs to do is get elected from one of the two constituencies in which the elections have been countermanded because of the deaths of two candidates.
On the other side, the ECI's partisanship hardened the perception that BJP is a party of interlopers using its massive financial resources and its complete, and illegitimate, control of government agencies,
including bodies supposed to be autonomous, to win Bengal. The biggest – and dumbest – decision was to hold the Bengal elections over five weeks and eight phases.
This was clearly meant to give Modi, Amit Shah and assorted sidekicks like BJP president JP Nadda and the malignant Ajay Mohan Bisht, aka Yogi Adityanath, the chief minister of Uttar Pradesh, enough time to
carpet bomb Bengal with meetings and rallies.
This gave wings to TMC's repeated charge that BJP was a party of outsiders, with no understanding of the Bengali ethos or any connect with Bengal. Repeated gaffes reinforced this perception, while it
exposed the lack of talent the BJP had in the state.
The ECI's intransigence in sticking to what amounted to a 'lunatic' schedule in the first place when the second wave of the COVID-19 pandemic started flattening the entire country, was a colossal own goal. It strengthened the impression that all ECI cared about was that its puppeteers should win the state and the cost in human lives and suffering was scarcely worth counting.
The state election commission in Uttar Pradesh has done practically the same thing by holding panchayat elections over four phases and a fortnight – April 15-29 – in the middle of an even more devastating surge of infections. One hopes BJP will pay the price there as well.
In the end, of course, it was the BJP flagellating itself. The interminable commuting between Delhi and Bengal indulged in by the duumvirate, allowing official work like pandemic-control pile up in their in-trays, the fatigue of listening the same blather in a language often not familiar and otherwise murdered for no good reason, took the game away from the Hindutva peddlers.
It would, however, be too facile to read this election as an anti-BJP vote. The scale of the victory suggests that Banerjee's emphasis on promoting a kind of welfare-oriented policy in the guise of a constructive populism helped her cement her standing with the citizenry. But she will have to institutionalise this trend, instead of using it as an electoral fallback option.
Finally, we should take heed of the new polarisation. The complete decimation of the Left Front and the Congress and their replacement by BJP is very bad news. It is incumbent on both to treat this as a
cautionary tale. They must forge new beginnings, whatever it takes.
The writer is an independent journalist and researcher. The views are personal.
Get the latest reports & analysis with people's perspective on Protests, movements & deep analytical videos, discussions of the current affairs in your Telegram app. Subscribe to NewsClick's Telegram channel & get Real-Time updates on stories, as they get published on our website.
Subscribe Newsclick On Telegram