Bengal: Ganashakti Turns 57, Plans to Expand Digital Footprint Amid Rising Constraints
Movements on livelihood issues need to be linked with wider ideological battle against Right-Wing forces, says CPI-M leader Prakash Karat.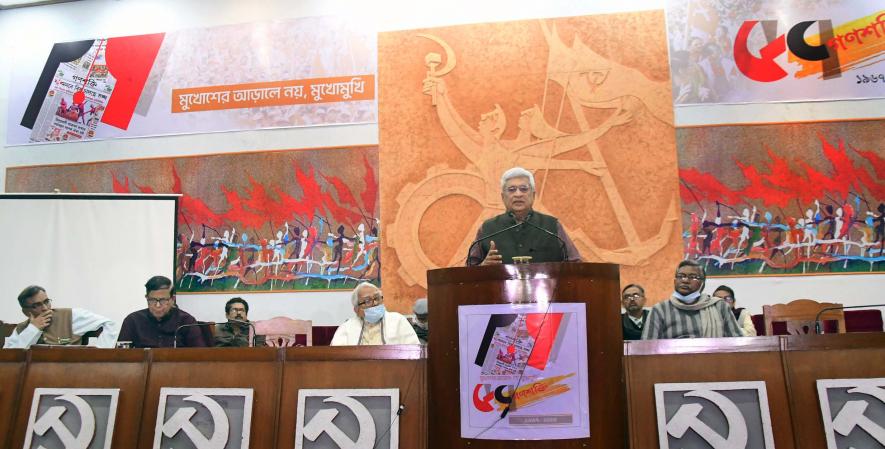 Prakash Karat speaking in the programme
Kolkata: As it turns 57, Ganashakti newspaper, which grew out of the Left movement in West Bengal, is embarking on newer strategies to expand its footprint while popularising its digital presence with its Bengali news app etc.
At a well-attended public meeting at PDG auditorium here in Kolkata, Ganashakti, the mouthpiece of Communist Party of India (Marxist) or CPI-M's West Bengal unit, which is now run by a trust, observed its 57thbirth anniversary.
The newspaper, which began in1967 as the state's first eveninger, became a morning daily in 1986. It describes itself as the
"torchbearer of the toiling masses". Thereafter, it went through rapid transformation under editors, such as Saroj Mukherjee, Anil Biswas and Avik Dutta.
Addressing the meeting, the newspaper's current editor Debasish Chakraborty said that in the past 57 years, Ganashakti had meandered through many ups and downs. "It is not only a daily newspaper, but a movement which caters to the larger people's movement perspective. It will never surrender to reactionary forces," he said, adding currently the organisation was facing severe financial constraints.
Chakraborty said while the "many helping hands was a welcome sight" what was adding to the financial stress was the rising price of newsprint.
Speaking with Newsclick, Atanu Saha, Assistant Editor of Ganashakti, said the motto of news daily was to assist the people's movement in the state.
"Currently we are facing various obstacles, as any rational idea in the country is under attack. Since Ganashakti plays an alternative media as opposed to corporate media news, there are a lot of obstacles. On the one side, the government is not giving
advertisements to it. As a result, advertisement givers are also desisting from giving ads to Ganashakti. Furthermore, even the process of physical distribution of the newspaper is being resisted."
Saha said the newspaper was trying to introduce newer strategies while popularising its Bengali digital medium. "We are trying to reach newer people with our news app. All these are aimed and standing beside the people's movement of the state."
Speaking  on the anniversary programme, CPI-M polit bureau member and former general secretary Prakash Karat  warned about the  danger emanating from the extreme Right-wing forces in the country. He called for a two-fold strategy to fight such forces. First, there was need to build up of movements on daily livelihood issues of the people. "Movements, like the recent farmers movement, are an example to that type of movements needed in the country", he said.
Second, these movements need to be linked with wider ideological movements against Right-wing forces, he added.
Karat said there was is a notion among some bourgeois parties in the country that only election-time manoeuvrings can defeat a party like Bharatiya Janata Party (BJP).
"While in Indian politics use of electoral politics plays a significant part, but that is not enough to defeat a party like BJP,"
he said, adding that "BJP is a party  unlike any other party operating in the country. Behind them is the RSS, a fascist force that guides them. So, to defeat a party like BJP, an ideological fight is absolutely necessary."
Karat said that though "the strength of the Left forces had eroded, yet the Left in their truest form are the only forces that can fight
against these forces on an ideological platform". He recalled that after the Left's loss in Tripura, in the BJP victory rally, the Prime Minister (Narendra Modi) had termed it as an "ideological victory" over the Left.
"It is a fact that the forces like the Rashtriya Swayamsevak Sangh (RSS) are always gaining strength through various shakhas. In fact, in 2018 in Orissa, there were 1,800 schools imparting RSS brand of education to students. The number ostensibly has increased since then," he added.
Earlier in his speech, Karat highlighted the growth of the Far Right parties in Brazil, Turkey, Italy, France Sweden and India. He also noted the weakening of the Left forces due to neo-liberal economic policies, which has decreased the scope of labour in modern advanced European nations. The coal economy, the traditional iron & steel economy in the UK and France have seen downsizing, leading to massive lay-offs. The traditional workers movement, as a result, had suffered, he said.
Karat said: "25 years ago, there was a strong communist party in Italy, but where are they now? In Italy, a strong reactionary
government has been sworn in to power with the help of neo-fascists , who have modelled themselves on the Mussolini's movement and call themselves as "Brothers of Italy".
The CPI-M leader also pointed out at the conditions in Brazil where Far Right Jair Bolsonaro still exists with a huge support base and his association continues with the evangelist churches. Even in Turkey, the  nationalism of Reccip Erdogan is directed toward the Kurds  and the main opposition candidate who fought Erdogan in the last presidential election was still in jail.
Highlighting that ethno-nationalism and religious nationalism was ruining the atmosphere  in these  countries, Karat said: "Like in
Europe or in all these countries, the immigrants  or indigenous people (in Brazil) are being seen in derogatory terms. In India, Muslims and Christians to some extent are being seen as the cause of all evils by the Far Right forces".
Get the latest reports & analysis with people's perspective on Protests, movements & deep analytical videos, discussions of the current affairs in your Telegram app. Subscribe to NewsClick's Telegram channel & get Real-Time updates on stories, as they get published on our website.
Subscribe Newsclick On Telegram