Bengal: Questions Raised Over 'Police Inaction' During Ram Navami Violence in Howrah
Videos have surfaced showing Hindutva activists openly brandishing weapons and swords, yet police presence was scant, allege local Left leaders.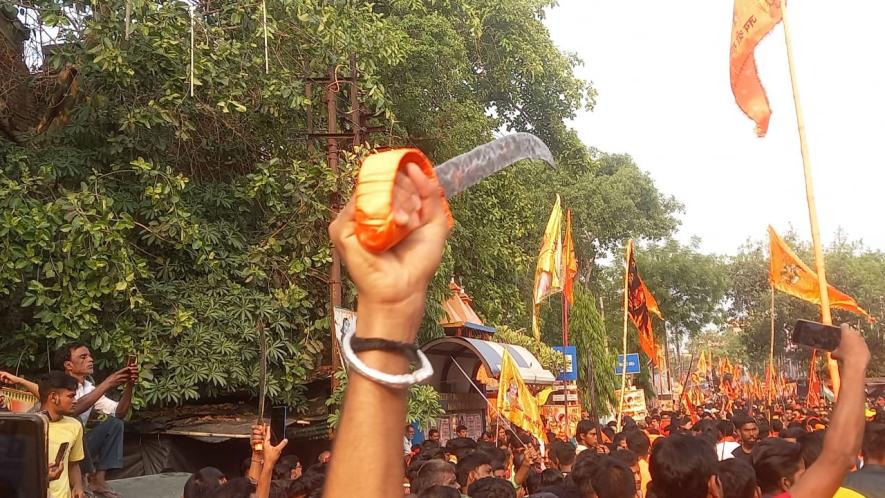 Image Credit: Biswajit Roy
Kolkata, April 1: Friday's violence in Howrah during Ram Navami celebrations during Vishwa Hindu Parishad (VHP) activists' clash with the police has thrown up several videos showing irate locals in Kazipara area of Howrah wearing headgears and some even brandishing automatic weapons. 
Till last night, 46 persons had been arrested by the Howrah Police for stone-pelting. 
On Thursday, VHP had organised a Ram Navami procession, which reportedly changed its route with some participants allegedly causing harm to shops and establishments in Kazipara and PM Bustee areas.
The PM Bustee area is a Muslim-dominated urban slum. It is an area where Left and progressive activists have been running a people's kitchen to help the poor of the area, especially after the financially debilitating lockdown during the pandemic.
According to some eyewitnesses, some miscreants were seen pelting stones on Saturday afternoon, too, and there were reports that similar violence was spilling to other places. On Friday, the police remained a mute spectator to violence that caused havoc in the Kazipara area.
On Saturday, too, the police were accused of inaction when alleged VHP workers began stone-pelting in the area. After which irate locals of the PM Bustee area burnt tyres on the road and clashed with the police, too. Section 144 has been imposed in parts of Howrah city following the violence, especially in areas under the Shibpur police station area.
It may be recalled that last year, too, during Ram Navami celebrations, Kazipara was attacked. This year, instead of maintaining additional surveillance and vigilance in the area, police presence was totally lacklustre, paving the way for violence when the Ram Navami procession suddenly decided to enter the PM Bustee area and alleged VHP activists created a ruckus by burning parked cars and motorcycles. Several shops were also gutted in the fire.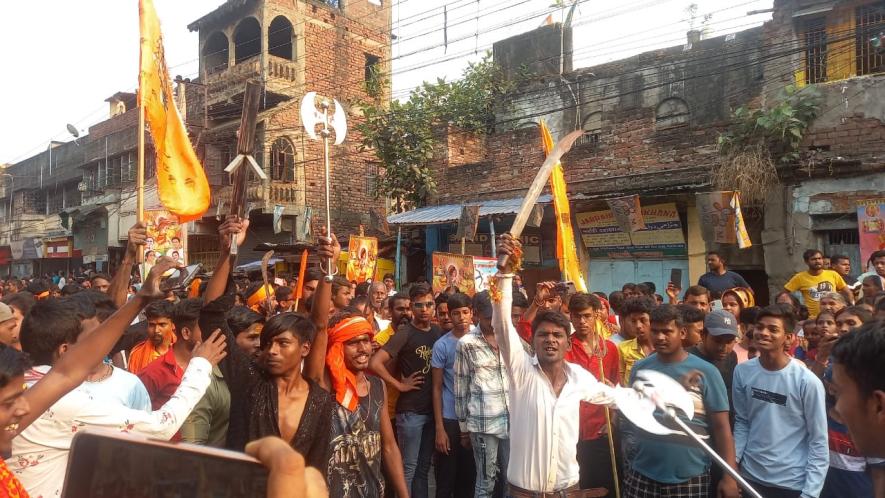 Image Credit: Biswajit Roy
West Bengal Chief Minister Mamata Banerjee has promised stern action and has vowed to punish the trouble makers. In a televised address, she claimed that the BJP and other Right-wing organisations such as Bajrang Dal were "involved in violence with arms" in Howrah on Ram Navami day.
She also admitted the lacuna of the police to take action against the trouble makers. Interestingly, the spot of trouble on both days is a stone's throw away from Shibpur police station.
Speaking with Newsclick, CPI(M) Howrah district secretary Dilip Ghosh said that if the government has the will, such kind of violence can never happen.
Last year during Ram Navami, violence took place at the same spot. The Rashtriya Swayamsevak Sangh-controlled BJP and ruling Trinamool Congress are expected to be primary gainers from such violence, he alleged.
Ghosh said, TMC due to its constant corruption allegations and scam was losing face before the people and BJP was losing relevance in the state.  "Under these circumstances, such as the Dhulagori incident last year, the two sides of clashers are being led by leaders of BJP and TMC, respectively, who are trying to be seen as saviours of their respective religions," he said.
Ghosh said as far as they knew, the Ram Navami procession was supposed to go from BE College to Ramkrishnapur Ghat. Police knew that last year trouble took place in the same spot, yet it did take steps to control the VHP workers. "Actually, this is a ploy to enhance the narrative of binary politics in the state at a time when it is falling to pieces, as seen from Sagardighi bypoll results," he added.
The Left Front has called for peace rally on April 2 across the state, Ghosh said, adding that "we have sought police permission for it, even as the  VHP and TMC  are planning to let the matter linger till the upcoming panchayat elections," he added.
Dipshita Dhar, joint secretary of Students' Federation of India, who belong to Howrah, told NewsClick that the vitiated communal atmosphere has been ushered in the past 10 years in the state, Before 2011 , the Ram Navami procession, which was taken from Ramarajatala of Howrah, was peaceful and worth watching, she said.  However after 2014, (BJP came to power at the Centre) every Ram Navami procession is feared in the state for its potential of wreaking destruction in the areas through which it passes, she said, adding that  "BJP and TMC had politicised the religious festival and were responsible (for the violence)".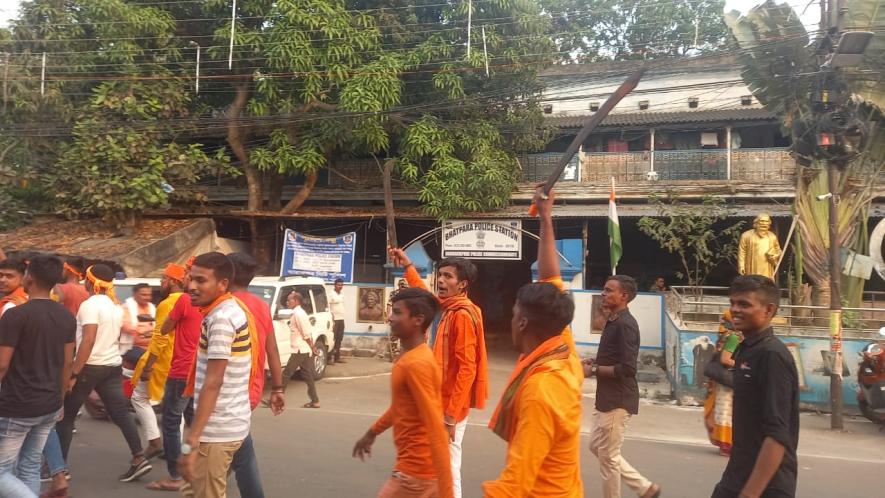 Image Credit: Biswajit Roy
On Thursday, Ram Navami processions, with minors wielding swords and sharp weapons, were taken out in parts of the state. In Bankura, both TMC and BJP leaders were allegedly seen participating in these. In Purulia, too, a local BJP leader was seen reportedly greeting TMC leaders in the procession.  In Murshidabad, North Dinajpur and Malda districts, TMC leaders Golam Rabbani and Tajmul Haque were seen ushering in VHP leaders in their areas to carry on the Ram Navami procession, alleged some local Left party sources.
In Siliguri, some minors were seen handling swords. In Kamarhati, Bhatpara and Naihati, VHP activists were seen swords openly in the religious procession.  Yet, the police have failed to lodge any complaint against this open show of sharp weapons in a religious rally.
Clashes were reported in Dalkhola of North Dinajpur district where nagai VHP activists, en route to the Ram Navami procession, attacked police with swords and firearms. The police had to fire several rounds of teargas to disperse the crowd.
It may be recalled that till 2011 (when TMC won the Assembly elections dislodging the 34-year LF regime), West Bengal had no tradition of taking out Ram Navami processions, except in some pockets, where these were peaceful and organised by local religious heads.  Now, most of the Ram Navami processions are patronised by the BJP and TMC MLAs, MPs, corporators and panchayat members.  The VHP, linked to several communal riots in the state, also takes the lead in organising these processions and is often patronised by TMC leaders, both openly and clandestinely, say political observers.
Get the latest reports & analysis with people's perspective on Protests, movements & deep analytical videos, discussions of the current affairs in your Telegram app. Subscribe to NewsClick's Telegram channel & get Real-Time updates on stories, as they get published on our website.
Subscribe Newsclick On Telegram