Bengal's Barjora Coal Mines- A Disaster in Waiting
Intense explosions being carried out inside mines to crack the coal, jeopardising lives of four villages; Despite knowing everything, mining authorities silent.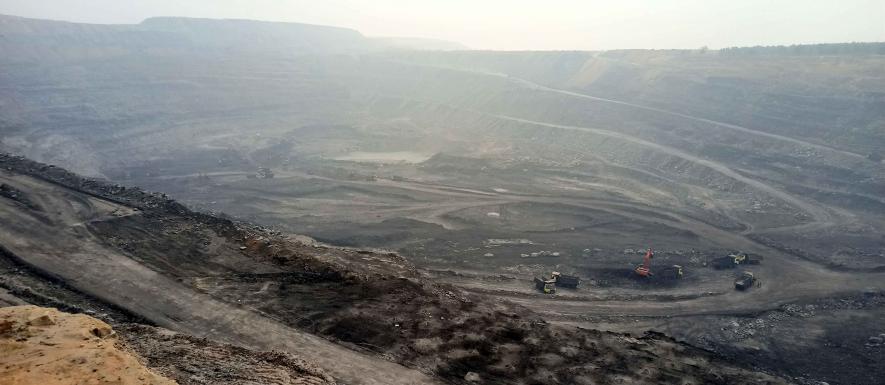 Open cast coal mines near Monohor village at Ghutgoriya.
It is possible that one day, more than 4000 people from 720 families could die due to their houses crashing down on them. The incident could occur in four villages near the two open-cast coal mines on the eastern and southern part of the northern edges of Barjora in the Bankura district near the Damodar Valley Corporation (DMC) barrage in West Bengal. It is just a matter of time before this terrible situation reaches its final stage. 
With the intense explosion that is being carried out inside the mine to crack the coal, a terrible panic has gripped the four villages. It is increasing every moment. Despite knowing everything, mining authorities are silent. In addition, when affected people protest for rehabilitation and compensation, they are arrested arbitrarily, and even women are not spared. This behaviour of the administration is further accelerating the crisis of existence of the affected people of these areas. Right now, every family in Chunpura, Monohor, Keshabpur, and Tentulpuya villages is standing on the brink of death.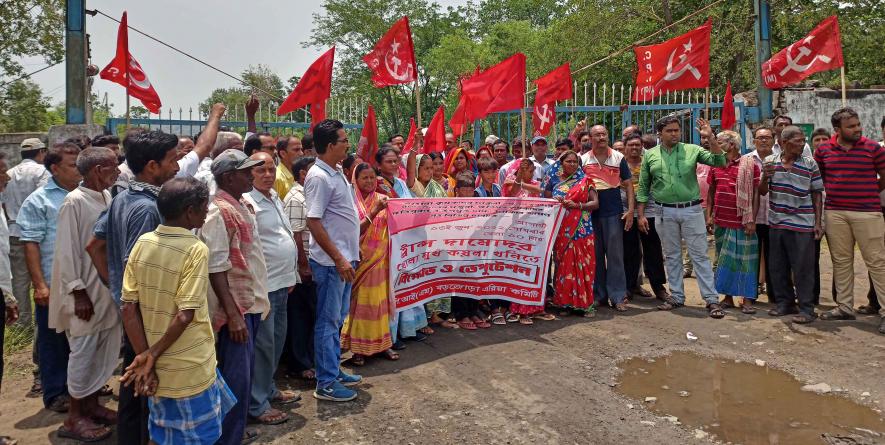 Agitation in front of Barjora coal mines gate for rehabilitation.
In the 1990s a survey of the Geological Survey of India revealed that there is a lot of high-quality coal underground in the Barjora area. After almost a decade, in 2006 land acquisition notices were issued for setting up two open-cast coal mines at Barjora and Ghutgoriya Panchayat area under the Barjora block. The land acquisition started smoothly, there was no problem anywhere. On the right side of Bankura- Durgapur road, parts of several villages of Paharpur, Krishnanagar, Ronalebera, Sitarampur, Bhagabanpur, Shalgara, Chunpora, Kishoripur, Gaurbera and Raghunathpur were acquired for mining.
694 acres of land were supposed to be acquired for this project. But initially, 183 acres were acquired. "Later several other lands were purchased in stages," said Santosh Khan, a resident of Paharpur village. Similarly, a part of the Mohohar, Baguli, Tentulpua, Keshabpur, and Hidurdanga villages of the Ghutgariya region was acquired. Among them, Molbona and Lahoraboni villages have completely entered the coal mine. During the Left Front government, after negotiation with the mining authorities, the habitats of these two villages were shifted and rehabilitated to another place near Ghutgoriya village. In the year 2008, DVC and Eastern Mineral Trading Agency (EMTA)- private companies, together started to extract coal from this mine.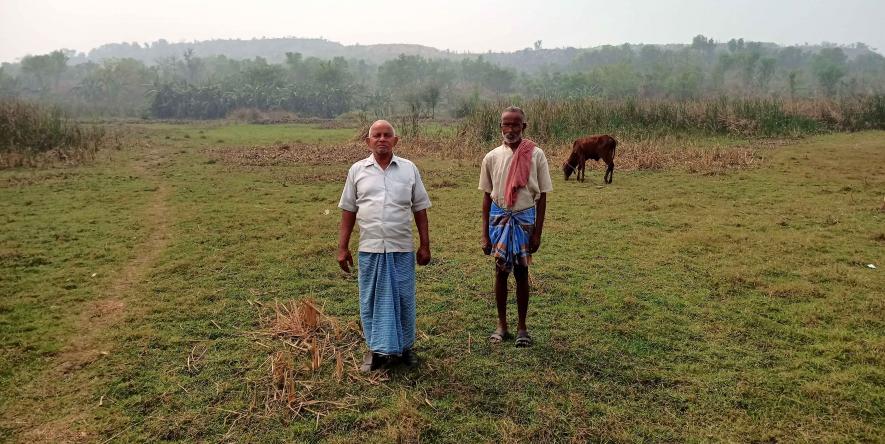 santosh Khan and Amrit khan on their land which covered by soil and coal stone.
"11 lakh rupees per acre were given to farmers as compensation. At that time no intervention was needed from the administration. Farmers sat with the DVC authority to decide the price of the land compensation. At the time the compensation amount of the land was 10x higher than the market price of the land. No job was offered as compensation. But for the Paharpur coal mines, the farmers were given 14 lakh rupees per acre as compensation. In addition, a job was secured for one person from the land loser family. Then the District administration intervened," said Baneswar Gupta, a senior Centre of Indian Trade Unions (CITU) leader of Barjora. But in both places, an agreement was made to pay 500 days of wages to the land labourers who lost their work because of the land acquisition. As per the wages at the time, each enlisted labourer was supposed to receive Rs 50,000. This agreement was made during the last phase of the Left Front government. But after the change of government, during the Trinamool Congress-led regime for eight years, not a single land labourer received any compensation money. There are about 3,500 land labourers in the adjoining areas of two coal mines where they earlier worked as agricultural labourers before the land was acquired. "Through the long agitation of Krishaksava and the Communist Party of India (Marxist) (CPI(M) only 250 people received a small amount of compensation. It is alleged that a few leaders of the ruling TMC have taken the compensation money by showing their relatives as farm workers," Said Sujoy Choudhury a Krishaksava leader of Barjora. He said, "rest of the land labourers are yet to receive any compensation, the administration is making empty promises."
In 2010, a private company called Transdamodar started extracting coal from the Barjora open-cast mine and the Chief Minister of West Bengal Mamata Banerjee inaugurated the mine. The two coal mines were operating normally until 2015, but when the Supreme Court ordered the closure of hundreds of coal mines in the country, these two mines were also closed. In 2020, coal extraction started again from these two mines. Now DPL took responsibility for coal extraction at Paharpur and PDCL at Ghutgoriya mines. Both are under the control of the West Bengal state government.
Since the start of the new phase, the way coal is being blasted has been spreading terror in the lives of the people who live in villages adjacent to the mines. Coal gets broken by blasting at Barjora mine between 9:00- 9:30 am and 2:00- 2:30 pm at Ghutgariya every day. The loud noise of this explosion can be heard in Barjora. "We cannot stay inside the house for half an hour when the blasting is going on. The whole house shakes. We tremble with fear. It is more powerful than an earthquake," say Sobha Maji, Budhon Maji, and Madhuri Bhuin residents of Chunpora village. 
The village is located near the Barjora mines. Chunpora is the most affected village in the Barjora coal mine area. Coal is being blasted every day at a distance of just a hundred meters from this village. In total 75 five families live here. Cracks have appeared in all house's roofs, floors and walls. The whole house can collapse at any moment. It is not just a fear, in the true sense, it's going to happen someday or the other. The same scene is in Monohar village adjacent to the Ghutgariya coal mine on the other side of Barjora. When this reporter reached a few days ago at Danga para of Monohar gram around 9:00 am, blasting started a few meters away in the mine. All the people panicked and came out of the house, with no words. The whole village was shaking due to the intensity of the explosion. Baren Bauri a land labourer said, "this is how our day starts. None of us knows when someone will die from the crashing of the house."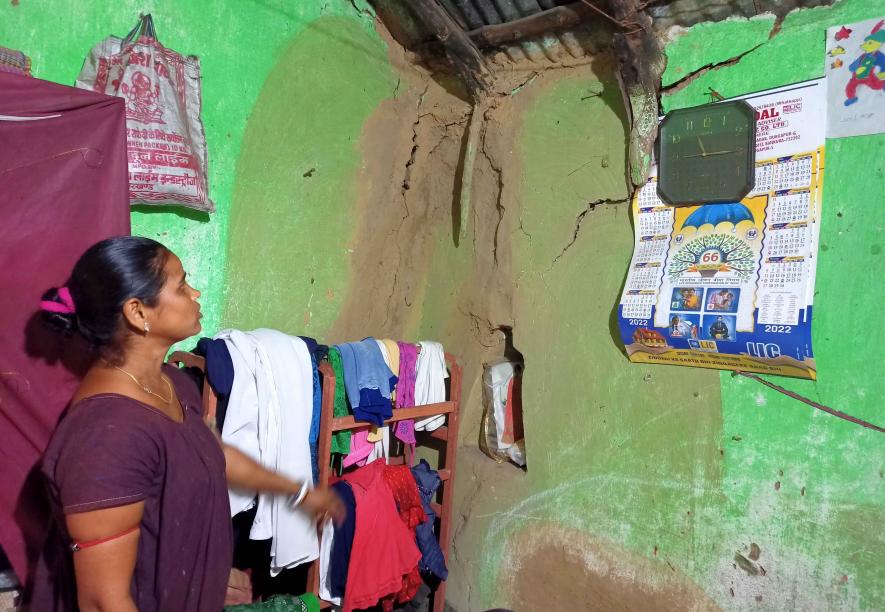 Cracked house of Soroma Ray at monohar village.
Residents of the village Lakshmikanto Ray, housewife Saroma Ray said that the exploded coal flew there randomly. "When we tried to say something about this to the mining authority, they sent the police and threatened us as if we had committed a serious crime by complaining. Many people got bleeding injuries from these flying coals."  200 families live in Monohar village. "Like Chunpora village every house has cracked here also. The people of this village are mostly land labourers. We have no place to go anywhere else," said an elderly woman Rabidasi Bauri in the midst of the blasting. Her house has cracked in several places. Cracks are so wide that snakes can enter. Almost all the residents of this village are victims of the same situation. Not only that, the house of several families in neighbouring Tentulpua, and Keshobpur villages were damaged by the explosion. "The walls of Tentulpua primary school have been breached," said Tarun Kundu and Jairam Kundu residents of this area. They said, "students come to study in this condition. Think about how much danger we have to live here in. People of Chunpora, Salgara, Monohar, Keshabpur, Baguli, and Tendulpua villages have repeatedly staged agitation and submitted deputations before Block and District administration for rehabilitation. What did they get by continuing the movement for the last four years?" Youth leader of the Barjora block Sajol Khan said that sometimes the mining authority and block administration come and conduct an empty survey, promising that they are considering the rehabilitation matter. "Later false cases are filed against agitators," he said. Nadhu Bauri an elderly woman from Monohor village said that false cases were filed in the name of her four daughters-in-law Shobha, Mallika, Latika and Bharoti Bauri.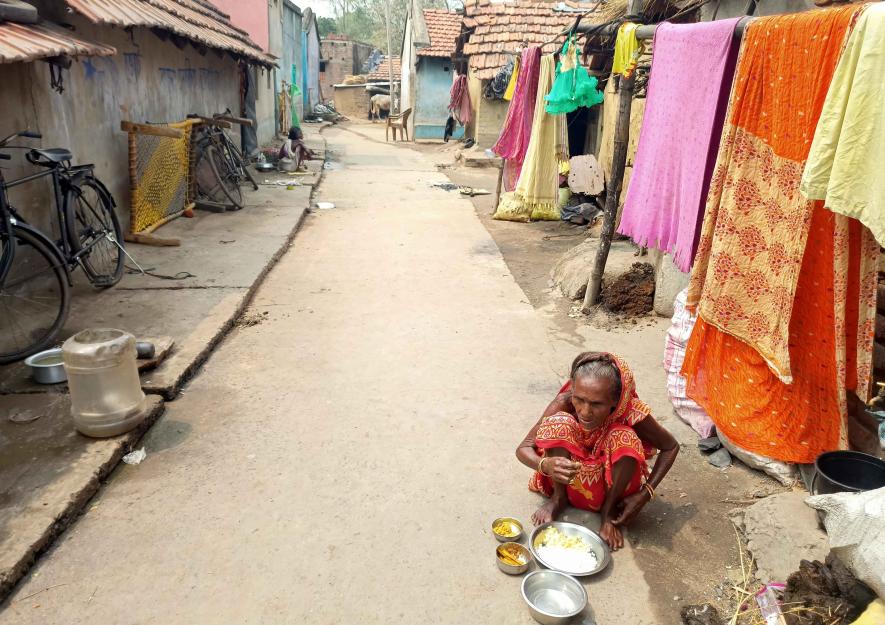 Nidhu Bauri at Monohor village. Her four daughter in law have filed a false case by police.
Not only the cracks, but a number of farmers can not cultivate their lands which are adjacent to the Barjora coal mine. 34 acres of land are covered with coal mine soil and abandoned coal stone. That land has not been cultivated for 10 years. Affected farmers Santosh Khan, Amrit Khan, Mohan Shit of Paharpur, Magaram Mondal of Gaurbera, Jiten Kanra of Pratappur Rasomoy Ghorui of Nadin village said, we have not been able to cultivate our land for 10 years. We have repeatedly told the Mine, Block, and District administration, please buy our land, because even after the acquisition, many lands have been purchased by DPL." Their complaint is that land of those who are close to TMC has been bought. The old landowner started a business on that land instead of using it for mining. Many restaurants are running on such land in front of the mine gate. Despite observing everything, the mining authority is silent. Santosh Khan said, "after long movement, we have collected the annual compensation of Rs 64,000 per acre. But we did not get that compensation for the last two years. If we do not get it by 31st March this year, we will start an intense movement in front of mine's office." In this regard, Mr Shing, an officer of DPL said that they are trying to give outstanding compensation, but cannot say when it will be paid. When this reporter asked Mr Shing and PDCL officer Mr Majumdar about rehabilitation and land labourer compensation, they said, "we do not know anything about this matter all will be under the direction of 'Nabanna'( State administrative headquarter)."
The question of the people of the Barjora area is whether these two coal mining areas are going to become death valleys.
(The writer covers the Bankura region for the 'Ganashakti' newspaper in West Bengal.)
Get the latest reports & analysis with people's perspective on Protests, movements & deep analytical videos, discussions of the current affairs in your Telegram app. Subscribe to NewsClick's Telegram channel & get Real-Time updates on stories, as they get published on our website.
Subscribe Newsclick On Telegram