In Berasia's Forest Villages, Key to Development Lies with Revenue Department
Only conversion to revenue villages can bring in panchayat funds for ensuring basic amenities in the 14 forest villages of the tehsil.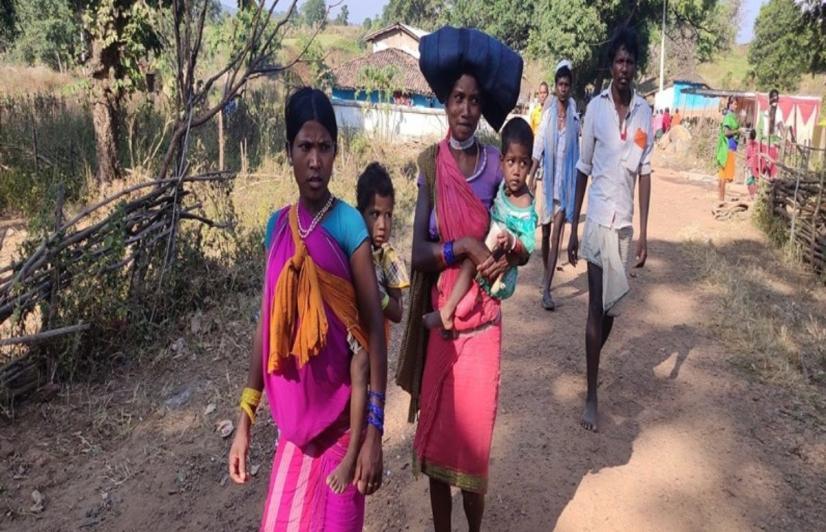 People from the forest village walking on the streets. (Photo - Sanavver Shafi, 101Reporters)
Bhopal: "Which of our problems should we tell you about? If it was just one, we could have shared our woes, but all we have are problems," says Arjun Singh Gond (42) of Khandariya forest village in Berasia tehsil of Bhopal district.
Arjun, a member of the Gond tribal community — the second largest tribe in the state — is the third generation of his family to live in the Khandariya forest. He owns four acres of land under the Forest Rights Act (FRA), where he cultivates or tries to cultivate kharif and rabi crops.  
"When it is hot, we have to go three to four km in search of water… When it rains, the roads get flooded, and we are completely cut off from the world. We often have to leave our homes and look for jobs elsewhere," says Arjun, who lives with his wife, mother and two children.
"We cannot do anything on our land freely. Even though we own the land, it does not seem so. We are at the mercy of the forest department," he adds. The situation is the same in all 14 forest villages coming under Berasia tehsil.
Khandariya is one of the 925 forest villages in 29 districts of Madhya Pradesh, forming about 19% of the total forest villages in India. A significant population in these villages relies on the forest for their livelihood and sustenance.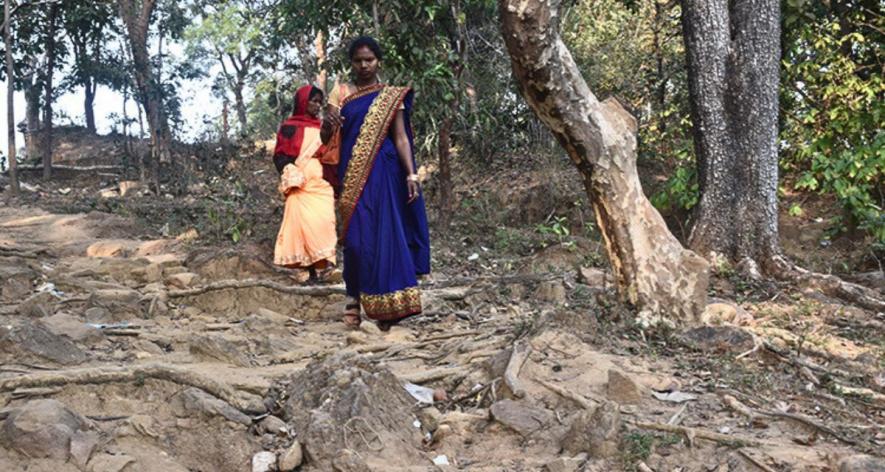 The way to reach Raipura village in Vidisha. (Photo - Sanavver Shafi, 101Reporters)
Forest villages date back to the British era when locals were moved into remote forests for managing them. Though they remained there even after Independence, they did not have land rights or access to development schemes since they did not fall under the jurisdiction of any revenue village.
With the FRA implementation, all unsurveyed settlements in forest areas were included in the definition of forest villages.  However, the residents were left behind in the development journey as the settlements did not feature in revenue records, which meant the welfare schemes of the revenue department were inaccessible to them.
Dr Sudesh Waghmare, former director of Van Vihar National Park, tells 101Reporters that forest villages do not have separate funds for development like revenue villages, which is why their conversion to revenue villages was initiated. "Thus, the residents of such areas can be assimilated into the mainstream to access benefits of welfare schemes."
"The conversion of forest villages to revenue villages requires denotification of forest land, which needs approval by the Central government and then a final nod by the Central Empowered Committee, which is a panel of experts created by the Supreme Court. These areas have been converted into revenue villages only on paper," Bhopal Divisional Forest Officer Alok Pathak tells 101Reporters. 
Elaborating further, he says the Government of India has been asking the Ministry of Environment, Forest and Climate Change since January 2002 for approval under the Forest (Conservation) Act, 1980, to convert 827 forest villages into revenue villages. "District-wise proposals were sent for the period till 2004. Of these, 310 forest villages were approved, but the Supreme Court, while hearing petition number 337/1995, issued orders against the deforestation of forest villages in 2004. Because of this, the conversion remained pending."
"Under the rule of conversion of forest villages in the FRA, opinion was sought from the Law Department on December 12, 2016. According to this, guidelines were issued to convert 827 forest villages into revenue villages on May 26, 2022, with the approval of the Government of India. After this, the MP Tribal Affairs Department issued instructions on August 25, 2022, to all district Collectors and forest officers to convert forest villages into revenue villages within the time limit."
Caught in this bureaucratic process are the lives of forest villagers. Take the case of Padam Singh Gond (52), who earns his livelihood by growing crops on his four acres in Goria forest village, adjacent to Khandariya. "Last year, my house collapsed in the rain. Though I heard about the rain relief measures doled out by the revenue department in the state, I could not apply for compensation as I was not eligible," says Padam.  
Besides inaccessibility to welfare schemes, lack of necessities is another major issue in forest villages. Kashiram Pandu Sarote, Tulsiram Tiju Sarote, Hirelal Parte and Panchulal Tekam, all from Bhakkutla forest village in Kosmara gram panchayat of Balaghat district, claim that they have not received benefits from any government scheme. "There are 75 kutcha houses in our village. We have ration cards, but have to travel seven km just to get ration," they say.
Padam's wife, Shyama Bai (50), complains how her daughter-in-law refuses to stay with the family due to a lack of proper amenities. "My son got married two years ago, but my daughter-in-law stayed with us only for six months. She says she will not come back. She has also told everyone that if we plant crops on land, the forest department might take action… If we harvest forest produce, you might be framed for smuggling. You get neither water nor electricity. There are no roads either," she complains.
Uday Singh (48), a Bhil tribal from the Putlipura forest village of Dewas, says there is no water to sow the crops, even for personal use. The only option left is to migrate. Singh lives with his wife and three children on five acres of forest land.
Similarly, Baiga tribals Jagdish, Mamta Bai, Parvati and Balram, who live in Kutelidadar village in the Karanjia development block of the Dindori district, complained of the lack of a metalled road. "When we interacted with the district officials recently, we were told that the village has been converted into a revenue village and that the panchayat will initiate development work," they say.
The residents have been waiting for the transition from forest to revenue villages in the hope of the promised development. "We were told our lives will get better once we become part of the revenue village... We hope we will get to see it," they say.   
"Once converted into revenue villages, their reins will be transferred to panchayats. Then, these villages can be developed with panchayat funds and government help. Basic facilities like schools, Anganwadi, hospitals, electricity and water supply will liberate tribal families from isolation. Once part of the revenue villages, they will be able to take advantage of PM-Kisan Samman Nidhi, cooperative crop loan insurance and solar pump scheme," says Waghmare.
Dindori District Panchayat Chief Executive Officer Nanda Bhawale Kushere tells 101Reporters that 82 forest villages of Dindori have been converted into revenue villages, including 16 in Samnapura block, 25 in Karnjia, eight in Dindori, nine in Amarpur, five in Bajag, seven in Shahpura and 12 in Mehndwani. "After getting the 'revenue village' tag, development work will happen there under the gram panchayat," he reassures.
As of now, the revenue land records of these villages are being prepared. The landholders in converted villages will be called forest rights holders. Their lands will be demarcated, but there will be a ban on buying and selling land. However, forest rights holders will get the right to transfer names, which too can be done only among family members. For example, after the death of the father, the right will go to the eldest son.
Kushere says when the forest department deforests these converted villages as per the law, the sale and purchase of land will be possible as in other revenue villages.
(Sanavver Shafi is a Madhya Pradesh-based freelance journalist and a member of 101Reporters, a pan-India network of grassroots reporters.) 
Get the latest reports & analysis with people's perspective on Protests, movements & deep analytical videos, discussions of the current affairs in your Telegram app. Subscribe to NewsClick's Telegram channel & get Real-Time updates on stories, as they get published on our website.
Subscribe Newsclick On Telegram