Bhima-Koregaon Case: Produce Material, Don't Trouble Gautam Navlakha, SC Tells Pune Police
Reprimanding the Pune police for not filing a chargesheet so far, the top court directed the Maharashtra government's counsel to produce investigation details and material collected against Navlakha on the next date of hearing on October 15.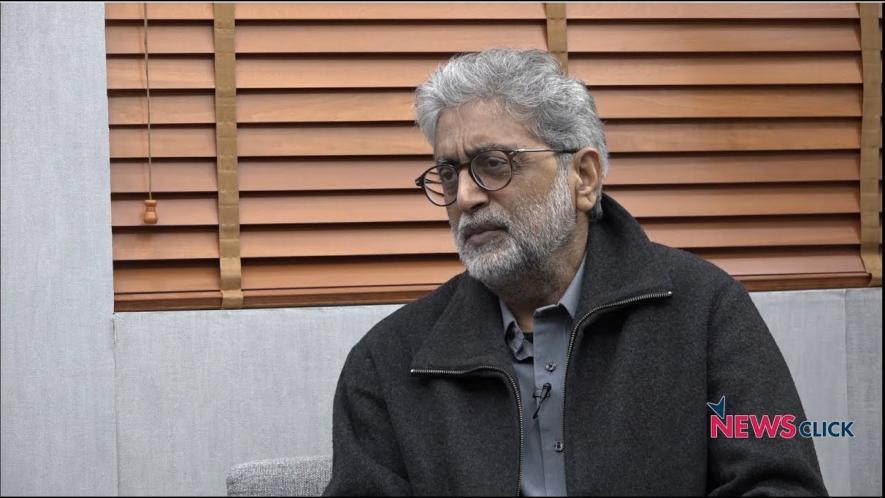 New Delhi: After three consecutive recusals, a Supreme Court bench of Justice Arun Mishra and Justice Deepak Gupta finally heard rights activist Gautam Navlakha's petition against the Bombay High Court's refusal to quash the First Information Report (FIR) filed against him by the Pune police in connection with his alleged involvement in inciting violence in Bhima-Koregaon on January 1, 2018. The apex court granted him interim protection from arrest till October 15.
Reprimanding the Pune police for not filing a chargesheet so far in the matter, the top court directed advocate Nishant Katneshwarkar, counsel for the Maharashtra police, to produce the investigation details and materials collected against Navlakha on the next date of hearing.
As the bench assembled for hearing, senior counsel Abhishek Manu Singhvi, representing Navlakha, told the court that charges under the Unlawful Activities (Prevention) Act (UAPA) had been pressed against his client.
On which Justice Mishra asked, "Does he belong to any banned organisation?"
Singhvi replied, "No. The media has suppressed statements made by me against human rights violation. My organisation condemns violations by both State and non-State actors."
Justice Mishra asked, "Why are you vouching for CPI (Maoist)?
Singhvi clarified, "I have no association with CPI (Maoist), I am from the PUDR (People's Union for Democratic Rights – a Delhi-based organisation, which legally defends civil liberties and democratic rights of people). The irony is even Maoists don't trust me. They think I am an agent of the State. I am faced with a 'devil and deep sea' situation. I have always condemned violence."  He then read out provisions of the UAPA.
Navlakha was booked under UAPA and Sections 121, 121(a) and 124 of the Indian Penal Code (IPC), amounting to waging a war against the State, conspiring to commit certain offences against the State, and sedition.
Referring to provisions of UAPA, Justice Arun Mishra said one need not be a member of a banned organisation to be proceeded under the Act. "If one gives assistance to such organisation, he is a criminal under UAPA," he said.
He pointed out that there is a word "abets" in the sections in the UAPA. "Can membership not be inferred. Should membership be established only on basis of documentary evidence? Can't there be other evidence?" he asked.
Singhvi submitted, "Navlakha is a renowned activist and journalist. Nobel Laureate Amartya Sen has co-authored articles with him."
Justice Mishra asked Singhvi, in response to his submission regarding Navlakha, being a renowned journalist and author, "You mean to say that being a journalist you can say anything."
"I am entitled to hold my view. As a journalist can hold my view. Navlakha's views may be considered extreme by some of us but his focus was on civil rights," Singhvi replied.
He went on to add that except one, all the letters recovered, which were placed before the (Bombay) High Court, were found from the possession of others, not his client.
"One letter was recovered from another accused, Rona Wilson's computer and mine," he said.
Rejecting Navlakha's plea, a division bench of the High Court, comprising Justice Bharati Dangre and Justice Ranjit More, had observed that there was prima facie material against the 65-year-old activist, referring to the documents submitted in a sealed envelope by Additional Public Prosecutor, Aruna Pai. The Pune police claimed before the HC that they had material showing "deep involvement" of Navlakha in Maoist conspiracy.
Singhvi submitted that the communications referred to by the High Court were not recovered from Navlakha.
Launching a scathing attack on the 'sealed envelope' culture, Singhvi said, "Criminal law nowadays has become a practice in sealed cover."
The bench asked Singhvi why the Court wasn't moved for anticipatory bail instead of quashing of FIR. Justice Mishra said, "There are two different matters. Transit remand and quashing of FIR are independent matters."
Singhvi replied, "Transit remand case was kept pending by the Supreme Court and the court had asked Bombay High Court to hear this matter expeditiously."
Responding to the submission, Justice Mishra said, "Question of transit remand has been virtually left to be infructuous. What is the connection between that and quashing of FIR?"
"We have to be satisfied first whether we need to interfere in the FIR or not, then question of interim protection will come," he said.
Singhvi, who pressed for interim protection, submitted that this case should be heard along with the case concerning transit remand against Navlakha, which was kept pending by the Supreme Court. "Prayer is that interim relief may be given and this petition may be heard with the other petition relating to the transit remand," he said.
"I have been under protection from arrest and was not interrogated even once. The Supreme Court kept the matter pending. I am saying this is ultimately a matter of trial and I am not seeking exoneration, and there is nothing the authorities cannot do under safeguard given by the Court that they have not done in the last 18 months," submitted Singhvi.
"Mr Singhvi, why you did not approach under Section 438 (for anticipatory bail)?" asked Justice Mishra.
Singhvi submitted, "Please protect me for three-four weeks. I will go to the High Court, but this issue should be decided,"
Justice Mishra asked the Maharashtra government's counsel about the material collected so far. He further asked if he has filed a case under Section 10 of the UAPA against Navlakha for being a member of an unlawful association. "If you are not in for Section 10, you cannot be in for 13 and 14," said Justice Mishra, asking why the Pune police has not filed a charge sheet so far.
Sighvi interjected and said, "Your lordship, this is exactly my argument that question of membership may not arise because it is not alleged by the State that I am a member."
Advocate Nishant Katneshwarkar, representing the Maharashtra government, made his submissions. He begins by detailing the facts of the case and the contents of the letters recovered.
He further submitted, "The question in the case must be decided by the Supreme Court. But should the Court decide to send Navlakha back, then interim protection should be granted to allow time for application for anticipatory bail.
In the end, Justice Mishra directed the counsel for the Maharashtra government, to "produce the materials, but do not trouble him."
The Court noted that this case required a detailed hearing and posted the case for hearing on October 15, granting interim protection from arrest to Navlakha.
A caveat was filed in the Supreme Court by the State of Maharashtra on September 16 in this case.
Navlakha and four other activists were implicated after an Elgar Parishad meeting held on December 31, 2017, allegedly provoked violence at the Koregaon-Bhima village in Pune the next day.
Get the latest reports & analysis with people's perspective on Protests, movements & deep analytical videos, discussions of the current affairs in your Telegram app. Subscribe to NewsClick's Telegram channel & get Real-Time updates on stories, as they get published on our website.
Subscribe Newsclick On Telegram