Bhima Koregaon Violence: A Year Later, A Sense of Fear is Palpable
With the 2019 Lok Sabha elections round the corner and Maharashtra elections due in October next, the annual Dalit congregation on January 1 is sure to have some bearing on the socio-political scenario.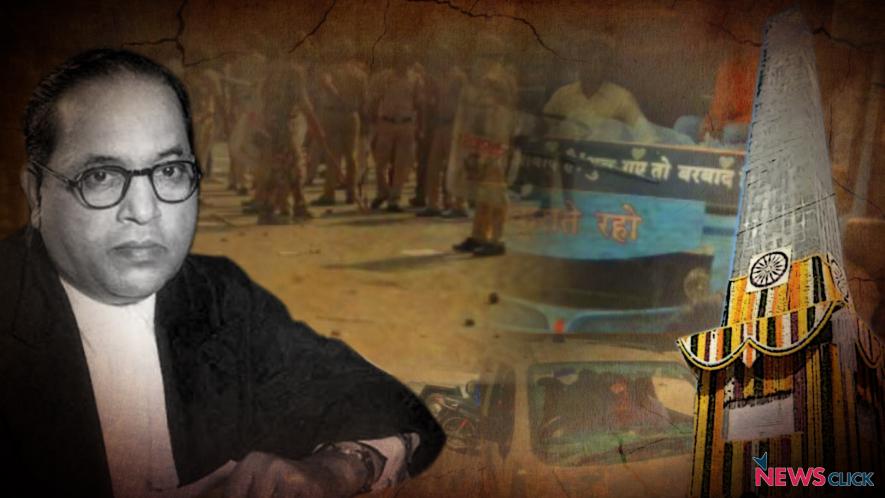 For most of India, Bhima Koregaon was a little-known village in Pune district till January 1, 2018. The tiny village shot into the news that day when violence broke out during the 200th anniversary of the Mahar regiment of East India Company winning over Peshwa Army. The violence shook entire Maharashtra as well as whole India and resonates in Indian politics to this day.
On January 2, 2018, thousands of Dalits were trapped in the village as riots broke out on three sides of village. On January 3, Prakash Ambedkar, the grandson of Babasaheb Bhimrao Ambedkar and leader of the Bharatiya Republican Bahujan Mahasangh (Bharip) gave call for Maharashtra Bandh, which was hugely successful, with reports of violence from some parts of suburban Mumbai. 
Also Read | 'Bhima Koregaon Violence Was 'Pre-Planned' by Hindutva Groups'
Historical Importance of the Village
There is a victory pillar in Bhima Koregaon that was erected by the British in memory of a decisive battle between the East India Company and the Peshwa's Army. It is believed that the battle, which took place on January 1, 1818, brought the Peshwa's empire down to dust. In this battle, the Peshwas, led by Bajirao II, had and army of 28,000 soldiers whereas the British had only one battalion of 800 soldiers – all belonging to the Mahar community. The pillar near Bhima Koregaon is a tribute to valiant battle fought by the Mahar's against Peshwa's army.
There is an adjoining village named Vadhu Budruk, where King Sambhaji, son of King Shivaji, was cremated after Mughal Emperor Aurangzeb killed him in the late 16th century. It is also believed that Govind Gaikwad, a member of the Mahar community, cremated Sambhaji, as no prominent Maratha Sardar (lieutenant) was ready to do so, fearing the Mughal emperor. So there is also a memorial of Gaikwad in Vadhu Budruk, along with Sambhaji. For years now, Dalit community members who come to pay tribute at Bhima Koregaon also visit Vadhu Budruk for paying homage to Gaikwad and Sambhaji.
The date is important for the Dalit community because it was on January 1, 1927, that Babsaheb Ambedkar had visited the victory pillar of Bhima Koregaon and is said to have paid tributes to the Mahar warriors who lost lives in battle of 1818. After his visit, many of Ambedkar's followers started visiting the village every year, which has become an important event for the Dalit community for over 20 years now.
Also Read | Bhima Koregaon Inspires Thousands to Fight Oppressive Social Systems
How the Events Unfolded in 2018
A day before the violence in Bhima Koreagon,  on December 31, 2017, almost 20,000 people had gathered at Shanivarvada, Pune, under the banner of Elgar Parishad. This was organised by retired justice of Bombay High Court BG Kolse Patil, retired justice of Supreme Coourt of India PB Sawant and Prakash Ambedkar, among others. There were 150 organisations that were part of Elgar Parishad, who took an oath on the Constitution that they would never vote for the Bharatiya Janata Party (BJP) again. The party is ruling both at the Centre and in Maharashtra. On the dais, were student leaders, such as Jignesh Mewani, Umar Khalid from Jawaharlal Nehru University in Delhi, among others.
Even as the event was going on, Right wing leaders of Sri Shiv Pratishthan Hindustan and Dharmaveer Sambhaji Maharaj Pratisthan, such as Sambhaji Bhide and Milind Ekbote, were allegedly instigating their followers to disrupt it. Both belong to the Rashtriya Swayamsevak Sangh (RSS). There are Facebook posts of Bhide's supporters who asked 'like-minded' people to come to Vadhu Budruk on January 1. Both, however, have both denied their role in the violence that took place at Bhima Koregaon. 
There are two videos that are widely available and have also been submitted to the Pune police, which show how the mob was instigated on January 1, in the village. In one video, a few hundred youths can be seen carrying saffron flags with wooden stick being, instigated the people who had gathered to tributes at Bhima Koregaon's victory pillar. 
Also Read | Who was Behind Bhima Koregaon Violence?
The Right Wing's Role
The entry of Right-wing leaders into this scenario has also a long history. For, there is a caste angle to King Sambhaji's memorial in Vadhu. Many youths from the Maratha community believe that Sambhaji was cremated by a Maratha lieutenant and not by Gaikwad from the Mahar community, which considered 'untouchable'. It is widely believed that this sentiment was planted by Right wing leaders over the years to create a rift between the Maratha and Dalit communities of Maharashtra. 
The Marathas are a politically strong community, making for 32% of the state's population. Till now, Congress (and after its inception, the Nationalist Congress Party) had strong roots in this community over a network of cooperative institutions as well as through various blood relations across the parties' rank and file. So, to weaken the electoral base of Congress, Right wing strategists always focused on Maratha youths who could be swayed on two emotional lines – anti-Muslim and anti-Dalit. 
So, on January 1, 2018, when a large number of Dalit community members started reaching Vadhu Budruk to pay tribute to Sambhaji and Gaikwad, a mob with saffron flags started provoking them and the violence began.
Also Read | The Real Culprits of Bhima-Koregaon Violence
Police Action: More Questions Than Answers
The most controversial part of the Bhima Koregaon case is the process of investigation by the Pune police, which has been questioned by social activists, lawyers, political leaders and many others.
On March 14, 2018, after almost two months, the Pune police arrested Ekbote for inciting violence in Bhima Koregaon on January 1. An FIR was registered against him and Bhide for instigating the violence, with the Police even arresting Ekbote, saying that there were enough reports against him.
But, the case took a complete U turn when the same Pune police arrested five activists on June 6, 2018. Dalit activist Sudhir Dhawale, lawyer Surendra Gadling, activist Mahesh Raut, Professor Shoma Sena from Nagpur and Rona Wilson from Delhi, were arrested under the suspicion of instigating the people at Bhima Koregaon. 
On June 8, 2018, the Pune police claimed they had found 200 documents that indicated plans of the arrested activists to fan violence in society. The police also claimed that these people had links with banned Maoist organisations. On the same day, Joint Police Commissioner of Pune police, Ravindra Kadam, claimed they had found a letter on a plot against Prime Minister Narendra Modi 'like Rajiv Gandhi assassination'. 
Things did not stop here. In last week of August, police again made arrests of human right activists Gautam Navlakha, trade unionist Sudha Bhardwaj, Telugu poet Varavara Rao, activists Vernon Gonsalves and Arun Ferreira. The police tried to term them as 'Urban Naxals', and continue to do so.
However, the Pune police's action invoked a strong reaction among human rights activists, both in India and abroad.
Also Watch | What Happened in Bhima Koregaon - A Background in Light of the Recent Arrests
Twin Narratives
The politics behind the entire violence and the arrests that followed is being played out at two levels – setting a national narrative, and in electoral equations in Maharashtra.
At the national level, the ruling Bharatiya Janata Party (BJP) is trying to label all its opponents from social, intellectual, journalistic, artistes and other sections as 'Urban Naxals'. It is trying to push a narrative, with the help of mainstream media, that Prime Minister Modi is working hard for the country and these "anti-nationals" are trying to derail his development wagon.
At the state-level, BJP is trying to create a rift between Dalit and Maratha votes. The Maratha community was marching for reservations two years ago. Now the Devendra Fadnavis-led BJP government has accepted their demand. Though the matter is in court, the state government can claim that it has approved the reservation. The BJP believes that Maratha anger can be neutralised through this move. 
But, at the same time, BJP strategists are also aware that Dalits across the country are angry with the party and its parent, RSS, and are not likely to vote for the party in the next elections. So, through Bhima Koregaon, BJP is trying to pit Marathas against Dalits. 
In Maharashtra's fragmented politics, this strategy looks good on paper. Prakash Ambedkar, who emerged as a strong Dalit, after the Bhima Koregaon violence, is said to be exploring the option of contesting elections in alliance with the All India Majlis E Ittehadul Muslimeen's (AIMIM) Asaduddin Owaisi. A Dalit-Muslim alliance in the works could be one reason for BJP to try and win over the Maratha community.
Also, when there is caste polarisation from both sides, Congress won't be able to get Dalit plus Maratha votes. There is only hope for a Congress-led alliance to win back Maharashtra if Dalits, Muslims and Marathas vote for them in a sizeable number. 
The Fear Factor
There is widespread fear in the state that sharp caste polarisation may lead to violence again. Maharashtra has seen Dalit-Maratha riots in the 1990s when Marathawada University in Aurangabad was being renamed as Dr Babasaheb Ambedkar University. The region remained tense for almost two years. In the1995 Assembly elections, the Shiv Sena-BJP alliance came to power for the first time in state. So, it is proven fact that any rift between the Dalits and Marathas helps Right wing politics in Maharashtra.
Thought the political atmosphere is not as intense as it was in 1995, there is a feeling that state government is trying to keep the simmering caste tension alive. One indication of this is the recent decision of not allowing Bhim Army leader Chandrashekhar Azad to visit Maharashtra for the first time. Azad will be in the state from December 28 to January 4, for which Bhim Army's state unit had sought permission for a rally in Mumbai's Jambori Maidan. The police denied permission on law and order grounds, which has been widely criticised by Opposition parties.
With the 2019 Lok Sabha elections round the corner and Assembly elections due in October next year, the annual January 1 event in Bhima Koregaon needs to be closely watched, as it is sure to have some bearing on the socio-political scenario of Maharashtra.
Get the latest reports & analysis with people's perspective on Protests, movements & deep analytical videos, discussions of the current affairs in your Telegram app. Subscribe to NewsClick's Telegram channel & get Real-Time updates on stories, as they get published on our website.
Subscribe Newsclick On Telegram