Biden's I2U2 Summit Belittles India
Sadly, India is losing its strategic focus at a momentous period in global politics, primarily due to the ruling elite's "Chanakyan" mindset, where strategic autonomy gets confused with opportunism and cynicism.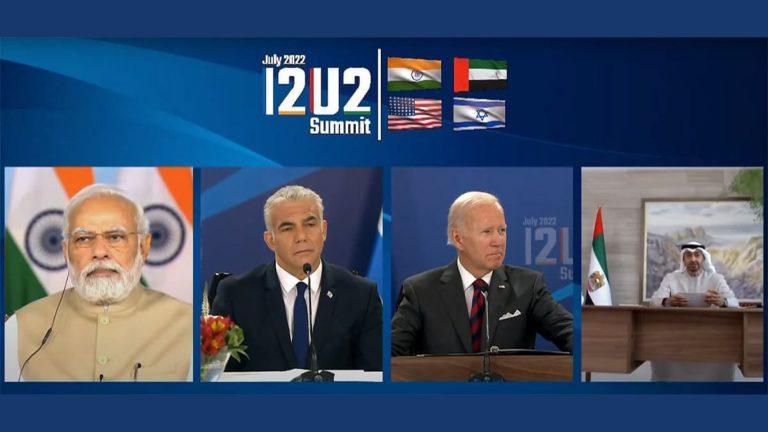 US forms a West Asian Quad with Israel, India and UAE, which held its first summit meeting in virtual setting on July 14, 2022 coinciding with President Biden's first regional tour of West Asia. 
India's involvement with US President Joe Biden's quixotic venture called "I2-U2 Summit" is bizarre, to put it mildly. India's excellent relations with Israel and the United Arab Emirates (UAE) are best pursued on the highly successful bilateral tracks instead of complicating them with the Abraham Accords or the US' big power rivalry with Russia and China for regional influence in West Asia — leave alone partaking of the wasteful American and Israeli obsession of "Iranophobia". 
Perhaps, the only rationale could be that Biden's cynical 180 degree turnaround on the issue of democracy and human rights in West Asia in the US foreign policies may mute the Democratic administration's attitude toward the tide of authoritarianism in India too. 
That said, US' tokenism on human rights and press freedom of press and rule of law is a legion and the Narendra Modi government doesn't have to be so very touchy about preachy functionaries in the Beltway. India's — and Hindutva's — survival does not depend on American largesse. At any rate, so long as India subscribes to Washington's containment strategy against China, and as long as India remains an ATM machine for American arms vendors, India-US "strategic partnership" won't lose its fizz. 
Today's news about the American lawmakers' proposal to signal a "waiver" from CAATSA (US sanctions against arms purchases from Russia) for India's S-400 missile deal itself testifies to the unprincipled way politics works in Washington. The US simply cannot afford to destabilise its relationship with India by sanctioning it, and it is, therefore, making a virtue out of dire necessity by projecting its "goodwill". For all you know, there's some mega arms deal in the pipeline, and the American vendor does not want anyone to spoil the party.  
At the end of the day, the Biden Administration is confident that Modi government's so-called "strategic autonomy" would inevitably have a US tilt. The oil purchase is a pragmatic decision. Reliance reportedly garnered a windfall profit out of buying discounted Russian oil and marketing it in the world market at much higher price as petroleum products. That is smart business of a kind that the West admires. 
However, beyond that, India's policy trajectory of the past decade or two to atrophy the ties with Russia and to mark its distance from the Russian version of "multipolarity" remains on track. The BRICS' lacklustre performance confirms it. 
The Americans also know that even if the Modi government gets ousted in 2024, the policy trajectory vis-a-vis Russia set during Congress-led United Progressive Alliance rule will continue. Fundamentally, middle class interests prevail in foreign policy and the influential NRI (non-resident Indian) lobby in the US wields much clout with India's ruling elite.
However, coming back to Biden's "I2-U2" venture, the really appalling thing is that India is not on the right side of history. What Biden is attempting in the present West Asian tour is basically three things: 
· to create an anti-Iran alliance in West Asia; 
· to try to expand the reach of the Abraham Accords by getting Saudi Arabia into it abandoning its normalisation process with Iran; and,
· to stem the steady decline in the US' hegemony in West Asia under the growing economic and political challenge from China and Russia. 
When it comes to Russia, there is also the sub-plot of OPEC+ which nullifies Washington's capacity to micromanage the supply and demand situation in the world oil market and has implications for Europe's energy security against the backdrop of its confrontation with Russia.  
Biden's agenda on any of these above templates wouldn't concern PM Modi. Instead, what Biden has done, being a much more experienced politician than Modi, was to stage a theatrical sideshow on Thursday to embellish his West Asian tour (which is otherwise a topic of incessant ridicule both in West Asia and in the US itself.) 
Now, arguably, being a subaltern doesn't necessarily harm India's interests but life is real and West Asia is a tough neighbourhood. The Indian establishment's spin that I2U2 is something quite profound in the realm of diplomacy is an insult to the Arab Street. 
The context is important, too. Not only the Arabian Peninsula but entire West Asia is astonished that the Saudi Crown Prince Mohammed bin Salman made Biden bite the dust. After having contemptuously called Saudi Arabia a "Pariah" — interestingly, a repugnant term banned in India itself, its place of origin, by law — Biden landed in Jeddah today wearing sackcloth and ashes. Prince Salman even refused to answer Biden's phone call. Biden must be having the thick hide of a rhinoceros. 
And all this has been in public domain. How could the West Asian region ever respect Biden? Simply put, the I2U2 summit is all about Biden covering his nakedness with an Indian loin cloth in the West Asian public gallery. Sad that Indian foreign policy establishment meekly obliged. 
Why associate with the quixotic I2U2 venture at this point in time when only fools can predict what lies in the womb of time in the West Asian regional politics or what the region's alignments would like in an year's time — or, even Biden's own political future beyond the mid-term elections in November? 
Even as Modi was having his pow-vow with Biden's Iranophobic enterprise yesterday, a top Russian diplomat, Deputy Foreign Minister Mikhail Bogdanov viewed Iran from Moscow the following way: "Moscow & Tehran hold a firm position, strongly rejecting diktats & blackmail against sovereign countries, meddling in their domestic affairs, economic pressure and other actions that run counter to the fundamental principles of the UN Charter. 
"We view Iran as a reliable partner and a like-minded nation amid global changes related to the formation of a multipolar world order and the collective West's attempts to oppose this objective process by any means, impeding the natural course of history.
"Efforts to boost cooperation between independent countries such as Russia and Iran would be the best response to those challenges. It is encouraging that both parties are showing this kind of determination. Today, Iran is more than a neighbour for Russia, with whom we maintain multifaceted ties based on friendship and respect, but also a reliable and important partner in international affairs." 
Curiously, on the eve of the I2U2 summit, the media reported that at the SCO (Shanghai Cooperation Organisation) summit in Samarkand on September 15-16, a memorandum will be signed on Iran's membership status! So much for Washington and Israel's fervour to demonise and isolate Iran!
Also yesterday, news appeared that Saudi Arabia (along with Egypt and Turkey) has applied for BRICS membership, which will be granted "very soon" — a clear signal that the Kingdom is determined to strengthen its strategic autonomy in a multipolar setting. These are sign posts that even myopic eyes cannot miss. 
Washington's craving to integrate Israel into its Muslim neighbourhood by demonising Iran has no takers among regional states. To be sure, Saudi recognition of Israel will come only if there is movement to resolve the Palestinian conflict and create a two-state solution — although, Saudis have allowed direct flights from Tel Aviv to Manama, Abu Dhabi and Dubai crossing over their territory, and, equally, have allowed Bahrain to recognise Israel and exchange ambassadors. No major breakthrough is likely during Biden's visit to Jeddah. 
Sadly, India is losing its strategic focus at a momentous period in global politics. This is primarily due to the ruling elite's "Chanakyan" mindset, where strategic autonomy gets confused with opportunism and cynicism. 
If the UAE and Israel are earthshakingly crucial relationships for India, pursue them robustly on the bilateral track. If Emirati sheikhs want to set up "food parks" across India or an "advanced hybrid renewable energy project" in Modi's home state of Gujarat (which goes to the polls shortly), who's there to stop it? By all means, promote business interests with America, Israel or the UAE. 
But the I2U2 summit? It belittles India. No amount of media spin or hyperbole can obfuscate that geopolitical reality. 
MK Bhadrakumar is a former diplomat. He was India's ambassador to Uzbekistan and Turkey. The views are personal.
Get the latest reports & analysis with people's perspective on Protests, movements & deep analytical videos, discussions of the current affairs in your Telegram app. Subscribe to NewsClick's Telegram channel & get Real-Time updates on stories, as they get published on our website.
Subscribe Newsclick On Telegram