Biden Ordered Destruction of Nord Stream Pipelines, Claims Journalist Seymour Hersh
Seymour Hersh reported that divers from the US Navy's Diving and Salvage Center planted the explosives that were later detonated remotely on September 26, 2022. Earlier investigations by Denmark and Sweden had already confirmed sabotage.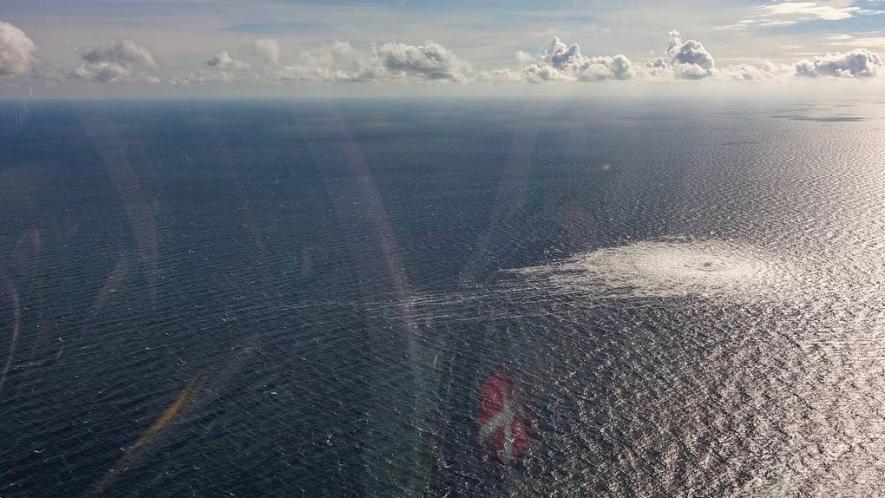 (Photo: EPA-EFE/Danish Defence Command)
Seymour Hersh, a Pulitzer prize-winning journalist, has claimed in an article published on Substack on Wednesday, February 8, that the blasts that decommissioned the Nord Stream pipelines in September were executed by the US under orders from President Joe Biden. 
Hersh cites an unnamed source who, he says, had participated in meetings held in Washington to plan the attack in December 2021, months before the Russian offensive in Ukraine began on February 24. 
Hersh claims that divers from the US Navy's Diving and Salvage Center in Panama City, Florida, used the annual NATO exercises that take place in the Baltic Sea—BALTOPS 22, in June 2022—to plant the explosives that were later detonated remotely on September 26, 2022. 
The report claims that the blasts were carried out remotely after a Norwegian Navy P8 surveillance plane dropped the necessary sonar buoy in the sea on September 26. 
Two pipelines of Nord Stream 1 had been operational for over a decade, supplying billions of dollars of gas to Germany and other Western European countries. Two pipelines of Nord Stream 2 were yet to be operationalized. Of the four Nord Stream pipelines, the blasts destroyed three. 
The report claims that the decision to blow up the pipeline was taken by US President Joe Biden, and that planning for the attack began taking place in late 2021 in Washington under the leadership of Jack Sullivan, US national security advisor. The first formal meeting, Hersh says, was held in December 2021. 
The decision to go forward with a  covert operation using remotely-detonated mines was taken after considering other more overt options, such as using submarines or air strikes with delayed fuses, among others, Hersh claims. 
According to Hersh, blowing up the Nord Stream pipelines was a part of US attempts to reduce Russian influence in Germany and other Western European countries, as well as to reduce their access to—and, therefore, dependence on—Russian oil. It was done now with the objective of ending European resistance to supplying money and weapons to Ukraine, and to sway Europe towards taking a more actively anti-Russia stance . 
Confirms Russian claims
Following the blasts in September last year, Russia had pointed out that the US was the direct beneficiary of the destruction of Nord Stream. It had called the act an "unprecedented act of state terrorism," and had demanded serious international investigations.  
Earlier investigations carried out by Denmark and Sweden, whose special economic zones Nord Stream passes through, confirmed that the destruction of the pipelines was the result of an act of sabotage. 
Both the US and NATO have denied the claims made in the report. Pentagon spokesperson Garron Garn told TASS that his country "was not involved in the Nord Stream explosion." 
Adrienne Watson, a White House spokesperson, claimed that Hersh's account was "false and complete fiction." 
Maria Zakhrova, from the Russian Ministry of Foreign Affairs, however, has asked the US to clarify and comment on the facts presented in Hersh's report. 
Several well-known journalists have also questioned the US's complete rejection of Hersh's report, pointing out that his record as a reporter—including his earlier coverage of such things as the Vietnam War, the Watergate scandal, and Abu Ghraib—suggests that this report should be taken more seriously. 
Bottom line: when Seymour Hersh reports on security state malfeasance by Republicans, like Nixon or Bush, his sourcing/methods are vigorously defended by respectable mainstream opinion. When it's a Dem, as with today's Biden/Nordstream revelation, he suddenly becomes a crackpot pic.twitter.com/3waulaoHBE

— Michael Tracey (@mtracey) February 8, 2023
Get the latest reports & analysis with people's perspective on Protests, movements & deep analytical videos, discussions of the current affairs in your Telegram app. Subscribe to NewsClick's Telegram channel & get Real-Time updates on stories, as they get published on our website.
Subscribe Newsclick On Telegram