'Big Tech is Using Globalised Contractual Labour to Avoid Litigation'
As profits dip, workers are being treated like disposable commodities, alleges IT sector union.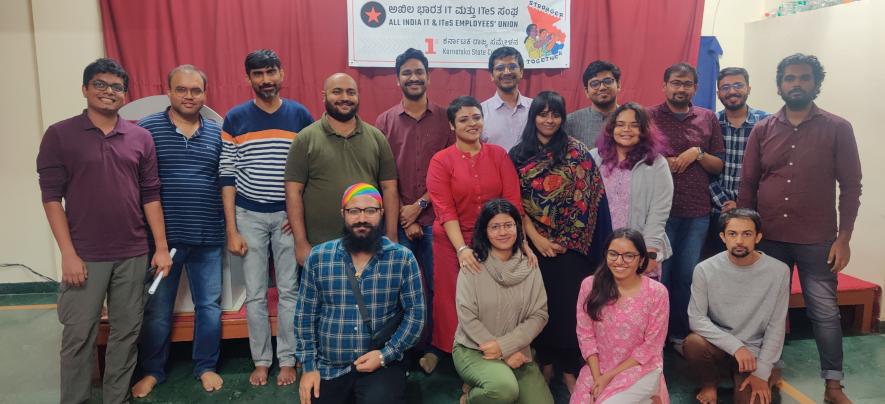 Union members pose for a photo after electing the first secretariat
Bengaluru: Over the past two decades, the tech industry has ushered jobs and riches into the city of Bengaluru, the capital of Karnataka. However, not everyone has received a share of the pie. While the sector has witnessed the birth of salaried millionaires, there have also been a plethora of under-reported issues faced by workers. Overwork without overtime pay, weekend work, harassment by managers, mass layoffs, illegal retrenchments, employment bonds and forced resignations are some such issues faced by tech workers.
The All India IT and ITES Employees Union (AIITEU) has been trying to highlight these issues. However, nudging people to join a union has proved to be easier said than done. Tech workers generally spend five to six days a week in the office and are reluctant to devote a Sunday towards union work. Also, a majority of them (like many others) are unaware of the role played by unions in tilting the balance of power between workers and employers. They are also unaware of labour laws that protect their rights and entitlements. 
On November 12, AIITEU (Karnataka), held their first conference in the state. They invited workers and union members to share their issues and discussed ways to build the organisation. Around 20 members attended the meeting.
Amit, 31, an IT worker who attended the meeting had filed a complaint with the labour commissioner for being "unfairly" terminated without notice. His case highlights how the contractual system of labour is helping tech companies to lay off workers without inviting the risk of litigation.
In October 2020, Amit was hired by Company A Pvt. Ltd. (name changed) but 'deployed' to Company B Pvt. Ltd. (name changed). While Company A (his primary employer) was in Bengaluru, Company B was based out of the United States. It was also a listed company in the US markets. In fact, Amit says his offer letter mentioned his deployment to B. He was in the sales department and his job was to ensure that the existing clients of Company B renewed the software services they had purchased. In exchange for providing his services, Company B paid 25% of Amit's CTC to Company A.
Speaking with Newsclick about his "unfair" dismissal, Amit said: "Big tech companies don't want to be in the news when they fire people. And they don't want to be dragged into litigation. That is why they outsource the hiring to foreign companies. Company B is based out of the US but more than 50% of their workforce is in India. This company faced continuous losses for five quarters and its share prices also started to fall. It was then bought out by a venture capital firm and taken private (removed from capital markets). During that time, I noticed that my access (login credentials) had been blocked. The next day, I received an email from Company A that my employment has been terminated. I never received any explanation for my termination".
He said he had joined Company A in October, 2020, and received the termination mail on November, 2021. The permanent employees of Company B were given a severance pay worth up to six months of their salaries, but contractual employees were terminated without any pay or notice, he added.
Amit said he was also denied a relieving letter, because he held on to the company laptop and refused to acknowledge the termination mail. Then, after researching labour laws and the Industrial Disputes Act, 1947, he decided to file a case with the labour commissioner in Bengaluru. In retaliation, the company filed an FIR against him for 'data theft'. The cases are ongoing. 
As per news reports, Company A has emerged in the list of top 10 largest private sector employers in India. It has employed more than two lakh people. However, this case highlights how people are reduced to numbers and can be crossed off with minimal hesitation.
Amit said he was inspired by the 2021 judgement against Wipro. In 2018, a union, known as the Karnataka State IT/ITeS Employees Union (KITU), successfully challenged the dismissal of a Wipro employee. The company was ordered to reinstate the employee and pay all the arrears from the date of termination till the date of reinstatement. It was a big win.
BPO workers overworked and vulnerable
The AIITEU Karnataka (affiliated to Centre of Indian Trade Unions) was set up in 2018. The union members said they have around 200 members so far, most of them from BPOs (business process outsourcing).
On Saturday, the union set up a committee and voted for a new secretariat. Satyavrat, 31, a communications professional, was elected president. Speaking with Newsclick about the challenges faced by workers, he said: "During the pandemic, we saw that the BPO workers were overworked. Since everyone was working from home, they were subjected to sophisticated surveillance tools to track their web activity. They were made to use their personal phones to make calls. They complained their phones started overheating due to excessive usage and in some cases, stopped working entirely". 
BPO workers fall under ITES (Information technology enabled services). During the union meeting on Saturday, employees spoke about how they were subjected to mass layoffs during the pandemic. Also, since some were still working from home, the modus operandi was similar. Their login credentials were revoked on their day off. Shortly after, they were sent a termination letter via email. 
Building a union
Suman Dasmahapatra, 42, a finance and compliance professional, who is a member of the union, spoke about the hurdles in drawing members to a union. "There is a taboo about unions, particularly among the middle class. The capitalist economy or the neoliberal establishment has created the perception that unions are against development and industrialisation. Moreover, salaries in this sector are higher than others. So, the workers never felt the requirement for a union. But, considering the global scenario of recession, IT companies are going to reduce their resource pool. Even Amazon workers have a union in the US. We have to keep in mind that every industry goes through a cycle. Due to excessive competition, this sector has peaked and is in decline."
The union has assisted laid off workers to file cases against three companies in Bengaluru -- HCL, Byju's and InSemi Technologies Pvt. Ltd. In all three cases, the laid off workers have challenged their termination. 
The IT sector in Bengaluru, known as India's Silicon Valley, hires a lot of migrant workers. Once laid off, these workers cannot always gamble on in labour courts to reinstate them. Their immediate priority is to meet their daily expenses and to secure another job. Also, a prospective employer would conduct a background check before hiring. So, their vulnerable position leads to hesitation in joining a union.
On the flip side, migrant workers, uprooted from their communities, also seek out a social life outside their workplace. If a union could provide a social environment to workers, instead of an overtly political one, they could potentially draw more members. Such a possibility was also discussed during the meeting, said a member.
Get the latest reports & analysis with people's perspective on Protests, movements & deep analytical videos, discussions of the current affairs in your Telegram app. Subscribe to NewsClick's Telegram channel & get Real-Time updates on stories, as they get published on our website.
Subscribe Newsclick On Telegram