Bihar: BJP Ally CM Nitish Kumar also Demands a Caste-Based Census
The CM's cry in favour of a caste-based Census is widely seen as a result of the opposition RJD's aggressive stand against the Centre's decision to not go in for such an exercise.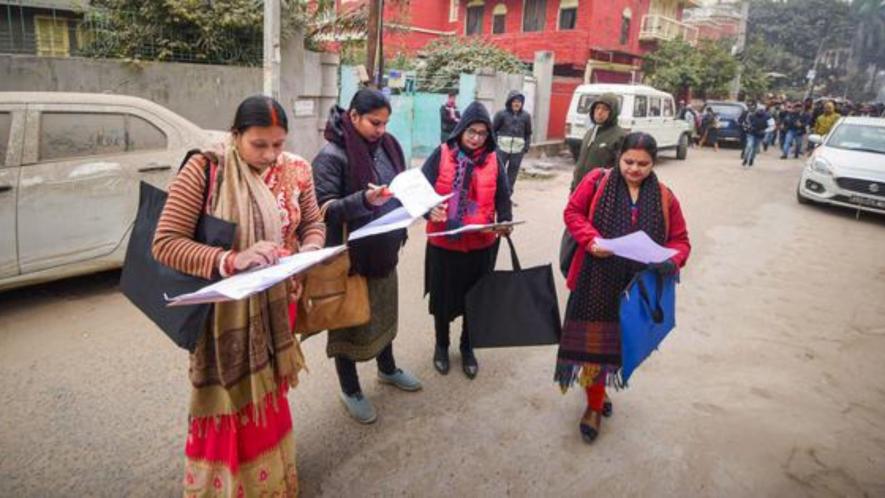 Enumerators during the first phase of the caste-based census in Patna on January 7. Image Courtesy: PTI
Patna: Cracks are beginning to appear in the ruling NDA in Bihar over a caste-based Census exercise in 2021. Chief Minister Nitish Kumar on Saturday strongly demanded a caste-based Census and appealed to the Bharatiya Janata Party-led Central Government to reconsider its decision.
The CM's cry in favour of a caste-based Census is widely seen as a result of the opposition RJD's aggressive stand against the Centre's decision to not go in for such an exercise. Both, Nitish Kumar's JD-U and Lalu Prasad Yadav's RJD have been 'pro-Mandal'; caste-based Census is an old demand reiterated by both.
However, the BJP and its three other allies including HAM,VIP and LJP (Paras) in Bihar are yet to express their support for a caste-based counting exercise.
The Union Minister of State for Home Nityanand Rai told the Lok Sabha this past week that the government had decided that there will be no caste Census other than the enumeration of SC and ST populations. Rai, a senior BJP leader from Bihar who belongs to a powerful OBC caste, is seen to be moving on the lines of the Centre, which is looking to dilute the issue in a state known to be caste-ridden.
"A caste-based Census should be conducted and the Central Government should reconsider its decision on the issue," CM Kumar said.
Nitish Kumar, who belongs to an agrarian OBC caste (Kurmi) himself, said that a caste-based Census exercise should at least be conducted once. He said it would help to know the number of people belonging to different poor and marginalised castes in different regions.
The CM recalled that the Bihar Legislative Assembly passed a unanimous resolution for conducting a caste-based census in February 2019 and in February 2020 and had sent it to the Centre. Notably, the BJP and JDU had supported the resolution calling for a caste-based Census in 2020. However, the BJP do not look too keen now.
हम लोगों का मानना है कि जाति आधारित जनगणना होनी चाहिए। बिहार विधान मंडल ने दिनांक-18.02.19 एवं पुनः बिहार विधान सभा ने दिनांक-27.02.20 को सर्वसम्मति से इस आशय का प्रस्ताव पारित किया था तथा इसेे केन्द्र सरकार को भेजा गया था। केन्द्र सरकार को इस मुद्दे पर पुनर्विचार करना चाहिए।

— Nitish Kumar (@NitishKumar) July 24, 2021
In 2019, the CM had stressed on the need for a caste-based Census, saying that the last such exercise was conducted in 1931. According to him, a caste-based census will reveal much and that people have a right to know strengths and weaknesses on different parameters, including population.The data is expected to expose several myths surrounding the development of backward and marginalised people and help in the formulation of schemes for their socio-economic progress, he said.
Soon after Nitish Kumar tweeted in favour of a caste-based Census, RJD leader Tejashwi Yadav, also the leader of Opposition, dared him, asking what the CM would do in case the Centre does not yield. "You (JD-U) are part of the Central Government.You even have a cabinet minister but you are seen requesting for it," he said.
माननीय मुख्यमंत्री जी, केंद्र सरकार अगर जातीय जनगणना पर पुनर्विचार नहीं करेगी तो आप क्या करेंगे? हमारी माँग पर बिहार विधानसभा में सर्वसम्मति से जातिगत जनगणना का प्रस्ताव पारित किया गया था।

केंद्र सरकार में आपकी हिस्सेदारी है। आपके कैबिनेट मंत्री है फिर भी अनुनय विनय कर रहे है? https://t.co/Uvzb8CcnyG

— Tejashwi Yadav (@yadavtejashwi) July 24, 2021
The RJD in Bihar is set to launch a fresh agitation to mobilise people for the move. Tejashwi Yadav has repeated hat his party had been fighting for a caste-based census exercise for a long time and that it will continue its fight. Earlier this week, in a series of tweets, Tejashwi said that party will take forward RJD chief Lalu Prasad's fight. "We want a caste based census and will not move an inch from Laluji's stand on it. Demand for a caste-based census is a fight for the majority population belonging to backward, marginalised and poor sections of society," he had said.
Tejashwi's move is being seen as a political strategy to strengthen his social support base among Other Backward Castes (OBCs), Extremely Backward Castes (EBCs) and Dalits.
RJD leaders have been targeting the BJP's double-standards in the matter. "While the BJP is against a caste census in Parliament, it sings a different tune in Bihar.The BJP had supported a resolution for conducting a caste-based census in 2020 but is now silent".
The RJD has repeatedly demanded that caste-based data from the 2011 Census of India be made public by the BJP-led Central Government.
Lalu Prasad Yadav, who is undergoing medical treatment in Delhi after being granted bail in the fodder scam case, had consistently demanded for a Census of the kind. Since 2015, Yadav has also been demanding that data from 2011 be made public to "ensure the empowerment of all those lagging behind in development."
When Nitish dumped the BJP and joined hands with Yadav ahead of the 2015 Assembly polls, both he had demanded that the Centre make the data public.
The Central Government released the Socio-Economic and Caste Census 2011, in 2015, but withheld caste-based data, saying it was only concerned with the economic data which will help in the effective implementation of its programmes.
Get the latest reports & analysis with people's perspective on Protests, movements & deep analytical videos, discussions of the current affairs in your Telegram app. Subscribe to NewsClick's Telegram channel & get Real-Time updates on stories, as they get published on our website.
Subscribe Newsclick On Telegram