On UP-Bihar Border, Winds of Change Amid Thirst for Alcohol
Reflections from a recent visit to border villages linking Bihar and Uttar Pradesh.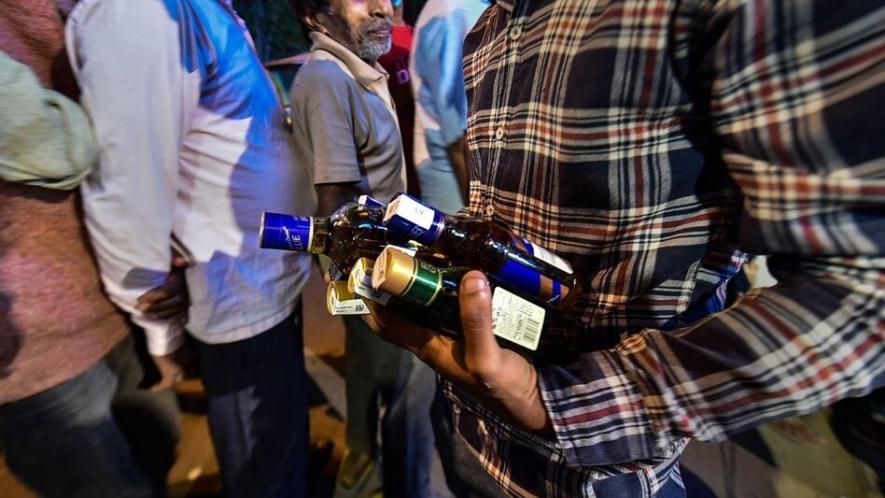 Image for representational purpose. Credit: PTI
In Mehrauna in Uttar Pradesh, adjacent to the border with Bihar, people are celebrating the holy month of Sawan with traditional aplomb. Everywhere you look are kanwarias clad in saffron, trudging on foot or travelling on motorcycles, jeeps and tractors. Flags proclaiming 'Jai Shri Ram—Long Live Lord Rama' flutter atop most houses and shops in this belt of Uttar Pradesh. Even most private vehicles proudly boast of stickers praising Lord Rama.
On roads that lead from Mehrauna, Laar, Deoria and Gorakhpur—each in Uttar Pradesh—to Bihar, many kanwarias come chanting Jai Shri Ram slogans with zeal. Their fervour intensifies whenever they pass by or stop at a mosque.
But life is about more than marking traditions, new or old. It's also about people finding ways to tackle issues that bedevil them and national and regional politics. This writer found that religious frenzy was more pronounced on Uttar Pradesh's streets, while in Bihar, residents were more interested in discussing rising prices and other local and national issues.
Take the ban on liquor sale and consumption in Bihar, which does not apply in Uttar Pradesh. During a recent visit to Tetripar—an isolated location amid the paddy fields of remote Karnai village in the Siwan district of Bihar—this writer saw people openly smuggling liquor to overcome Bihar's prohibition order.
Local youths carrying empty sacks plodded across water-logged fields to reach suppliers arriving from Uttar Pradesh. They crossed the river Gandak, which separates the two states, in boats carrying cartons of liquor concealed in polythene and cloth. Once the local youth filled their sacks, they set out to find customers willing to pay extra for the bottles. Meanwhile, the smugglers took the next boat back to Uttar Pradesh.
City-dwellers who have not lived in Bihar, nor witnessed its liquor ban in action, might consider these developments bizarre. But, say locals, they have become a common sight in far-off villages on the Bihar-Uttar Pradesh border. "Liquor smugglers stock up in the Mehrauna and Laar markets of Uttar Pradesh and cross the Gandak on boats. Some even dress up as kanwarias to trick Bihar Police," says Patru Yadav, 35, a resident of Mathia, a village in the Darauli block of Bihar's Siwan district.
Residents of Chakri, Jataur, Selaur, Karnai—all villages on Bihar side of the river Gandak —told this writer that the liquor mostly comes from the Deoria district of Uttar Pradesh, along which flows the River Gandak.
Pawan, a maize-seller, sets up his cart everyday on the western end of a bridge, which falls in Uttar Pradesh. The eastern end of this bridge gives way to Guthani bazaar, which is in Bihar. Everyday, he watches the goings-on on both sides. "While the state police massages the legs and feet of kanwarias crossing the bridge, smugglers make a killing crossing the river from below," says Pawan.
On the Bihar side are the state's excise department's constables, whose job is to check vehicles entering from Uttar Pradesh over the bridge. Constables also patrol the villages for smugglers, but are far too few to monitor everything that happens in Bihar's thirsty riverside settlements. Besides, they do not have the authority to patrol villages on the Uttar Pradesh side.
Smuggling is rampant in this region, not to mention extremely profitable. Bihar's bootleggers purchase each 180 ml liquor bottle, which costs Rs 50 in Uttar Pradesh, for Rs 75, and the public in Bihar pays Rs 100 for the same amount—a 100% jump for a border crossing.
Tomato and ASHA
Vegetable shops lined up at Guthani bazaar on the Bihar side are crowded. One buyer quarrels with a shop-keeper for selling 250 grams of tomato for Rs 50. Another returns the tomatoes he had picked after the seller refuses to cut the price from Rs 200 a kilo. The customer searches for bottle-gourd next, but it is selling for Rs 20 apiece. Ladyfinger, bitter gourd and all other vegetables are too costly for most customers, locking the buyers and sellers in endless cacophonous bargaining.
Three kilometres away at Daraili Mathia, also in Bihar, a young woman, Paro, experiences labour pains. Her husband, Rinku, approaches an Accredited Social Health Activist—commonly known as ASHA didi. The worker dials an ambulance service, which takes Paro to the Mairwa government hospital, where she delivers a boy.The hospital pays the mother Rs 5,000. Celebrations begin.
The ASHA volunteers, who are a link between the mothers and the hospitals in almost all Bihar's villages, are quite popular in these parts. People praise Bihar Chief Minister Nitish Kumar for the network of ASHA workers and work done under the rural health mission.
They also discuss Bihar Deputy Chief Minister and Health Minister Tejaswhi Yadav, whose father, former chief minister Lalu Prasad Yadav, was born in Phulwaria village, barely 15 km from Daraili Mathia.
In Bihar, there is growing sympathy for the Nehru-Gandhi scion, Congress leader Rahul Gandhi. People in remote parts of the country can now access the latest information using their smart phones and TVs. This has made them more conscious about political developments. For instance, Bihar's farmers kept remarking how Rahul recently sowed paddy with farmers in Madhya Pradesh.
"People forgot the Congress party long ago, but there is a surge of sympathy for Rahul Gandhi," says Ramesh Giri, 65, an influential elite caste resident of Daraili Mathia. He analyses the Rahul-Modi saga in his own way, blaming Prime Minister Narendra Modi for having "victimised" Gandhi. The Congress leader was stripped of his Lok Sabha membership after a court in Gujarat convicted him for defamation. He was also told to vacate his house in Delhi. "But the Supreme Court restored Rahul's membership and bungalow," Giri says.
Brahmins constituted the Congress party's backbone until the eighties and nineties, when they shifted their loyalty to the Bharatiya Janata Party en masse. They have largely been supporting the BJP for three decades.
"We don't know if the community will shift to the Congress in the 2024 Lok Sabha election, but they are very sympathetic to Rahul Gandhi. The Prime Minister is losing his popularity because he repeatedly lies and victimises Gandhi for no reason," says Giri.
The author is a senior journalist, media educator, and researcher in folklore. The views are personal.
Get the latest reports & analysis with people's perspective on Protests, movements & deep analytical videos, discussions of the current affairs in your Telegram app. Subscribe to NewsClick's Telegram channel & get Real-Time updates on stories, as they get published on our website.
Subscribe Newsclick On Telegram