Bihar: Chowkidars Tasked With Implementing Liquor Ban Hounded by Mafia, Stage Protests
In dry Bihar, chowkidars, who are unarmed, are scared as they face direct threats and attacks from powerful people involved in illicit liquor trade–the liquor mafia–across the state after their names are revealed to the latter by the police.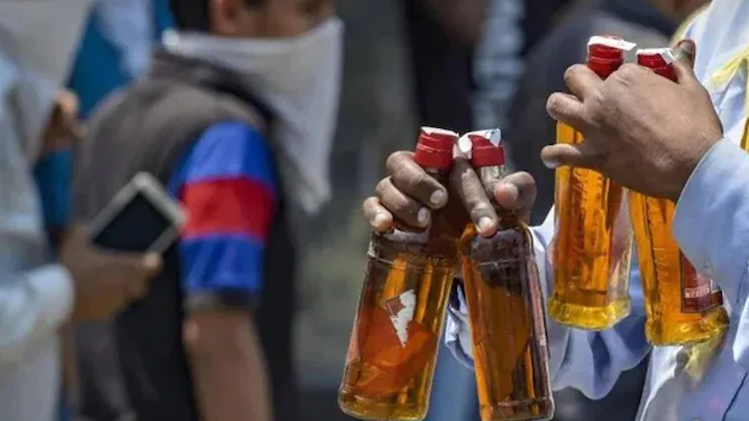 Representational Image. Image Courtesy: India Today
Patna: Chief Minister Nitish Kumar's much-hyped fresh campaign to ensure a total prohibition and to minimise violation of prohibition law in Bihar received a setback as hundreds of chowkidars (government-appointed village watchmen), responsible for informing local police about illicit liquor trade staged a protest on Wednesday against alleged harassment by the state police. The chowkidars have expressed unhappiness over police leaking secret information about illicit liquor trade to local liquor mafias instead of taking action against them, thereby putting their lives in danger.
In dry Bihar, chowkidars, who are unarmed, are scared as they face direct threats and attacks from powerful people involved in illicit liquor trade–the liquor mafia–across the state after their names are revealed to the latter by the police.
More than 100 chowkidars from different panchayats of the state under the banner of Bihar Rajya Chowkidar Dafadar Panchayat Sangh staged a dharna in Patna, shouting slogans against leaking of information by police and sought security for them. They protested on the day (December 22) when Nitish Kumar began his campaign - Samaj Sudhar Abhiyan across the state during which he is set to create awareness about the benefits of liquor prohibition among people.
"We are doing our job honestly by passing information about illicit liquor trade and its consumption at panchayat level to local police stations for action, but it is unfortunate that police are leaking the information to the liquor traders or mafias. In most cases, no action is taken or action is initiated only hours after reporting, giving enough time to illicit liquor traders to escape. This resulted in increasing threats and fear of attack on us by them. The government should take serious note of leaking of information by police to ensure the success of total prohibition," said Ashok Kumar, one of the protesting chowkidars here.
Another protestor Satendar Yadav said, "We are risking our lives by providing information of illicit liquor trade to police for action and to help the government to implement prohibition law. But police are helping local liquor mafias by leaking information ahead of any action against them."
According to a leader of Chowkidar Dafadar Panchayat Sangh, chowkidars are under increasing pressure by the government to collect information about the illicit liquor trade and the people behind it in their respective areas and pass it to local police for immediate action. The state government has time and again made it clear that Chowkidars have to keep a close watch on illicit liquor trade and activities of liquor mafias. Chowkidars have been made responsible for enforcing the prohibition law by informing local police.
"In recent months, the government acted against chowkidars after different incidents of spurious liquor that claimed dozens of lives in the state. Chowkidars are helpless despite working hard to collect information and pass it to police for action against illicit liquor trade," the Sangh leader said.
Last month after a review meeting on the liquor ban by Nitish Kumar that went on for hours, top government officials said that the onus of implementation and intelligence-gathering was on the station house officers (SHOs) and chowkidars. They would face strict action for any laxity. Bihar DGP SK Singhal categorically stated then that chowkidars will be held responsible for not reporting illegal liquor trade and such acts and the local police have been directed to coordinate with chowkidars for it.
During the seven-hour review meeting, Kumar reiterated that he would not tolerate negligence in enforcing prohibition and strict action would be taken against government employees involved in the liquor trade. He also directed the authorities to identify liquor smuggling routes and seal the border.
Noticeably, in the past, Kumar had repeatedly reiterated stringent action against bootleggers and directed top police officers to identify persons engaged in selling and consuming liquor.
After the opposition criticised the CM over reports of more than 45 hooch deaths in the state he had convened a meeting to review the lapses in the enforcement of the liquor ban. Opposition leaders including Left parties demanded action against liquor mafias time and again.
Last week the state government decided to delegate the responsibility of monitoring the implementation of the liquor ban to 10 ADG and 2 IG rank police officers. It was the first such move to use top police officers directly to enforce the liquor ban. Nitish Kumar had imposed the total liquor prohibition in the state in April 2016. After that manufacture, storage, transportation, sale and consumption of alcohol or liquor have been banned.
Earlier, policemen who are mainly responsible for executing the liquor ban had embarrassed Nitish Kumar by not only violating it but they have been found involved in the storing and selling of liquor from the police station and were evening delivering it to houses. These are not just allegations made by opposition leaders, because over a dozen policemen have been arrested and sent to jail across the state for violating the liquor ban imposed in the state.
The much-hyped liquor ban in the state by Nitish Kumar has been widely seen as a failed attempt by the people, even after nearly three years of its introduction. What has made the liquor ban a joke among people is that illegal liquor is freely available on demand and there is an easy facility of home delivery from urban localities to villages. However, the involvement of policemen in selling liquor from the police station as well as their official residences have come as a big jolt to the top brass of state administration that has never missed a chance to claim that the liquor ban has been a total success.
The dominant view in the streets is that liquor is available everywhere, only customers have to pay more for a bottle, particularly for IMFL. Besides, availing of desi liquor (country-made liquor) is not a problem at all. The bootlegging industry is flourishing in dry Bihar.
Get the latest reports & analysis with people's perspective on Protests, movements & deep analytical videos, discussions of the current affairs in your Telegram app. Subscribe to NewsClick's Telegram channel & get Real-Time updates on stories, as they get published on our website.
Subscribe Newsclick On Telegram