Bihar Elections: India's First Solar-Powered Village Now has a Defunct Power Station
No one in Bihar's Dharnai uses solar power anymore as the solar microgrid has been out of order for a long time and the power station buildings are being used as animal shelters by locals.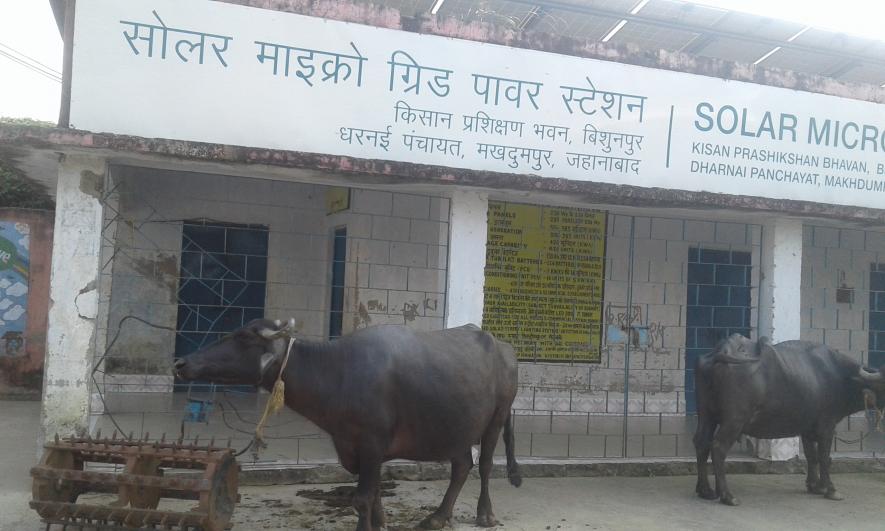 Buffalo shelter in solar grid power station. Photo credit Mohd Imran Khan
Dharnai(Bihar):  "Solar jaisa kuch bhi nahi bacha hai yahan, sab khatam ho gaya" (There is nothing like solar power here, everything has gone), says Umesh Singh, a farmer from Bihar. He is not hopeful of the revival of solar power in his village Dharnai, which became the country's first fully solar-powered village barely six years ago. But now the tag of solar-powered village remains only on paper. At present, most of the houses in the village are connected with an electricity grid for light and other purposes. 
"We were very happy to use solar power when it started in July 2014; it was a big development for this village as it ended the darkness prevailing here for the last three decades. During the initial years, it worked and after two years things start disappointing us. For the more than last two years, the solar microgrid power station has been defunct," said Umesh, a Dharnai resident in his early 60s. 
Another resident, Ravinder Kumar alias Narayanjee, sitting along with a co-villager outside his house in Dharnai says, "The solar microgrid power station has been reduced to only a showpiece now. Its battery life is over and the whole thing has become useless. At present, there is not a single user of solar power in the village because the battery of the solar microgrid power station is not working. The battery's life is over but it was not replaced". 
Ravinder further said that despite the high cost of solar power (tariff at Rs 9 per unit), several villagers used it to promote renewable energy till it lasted. "Initially, more than 400 houses were connected with solar power and later the number reduced. On paper, there may be over 100 houses still connected with solar power, but the reality is that not a single house is getting power supply from solar microgrid power station as it is shut down," he said.
Unlike Umesh and Ravinder, who belong to the dominant Bhumihar caste, Naresh Manjhi, a landless Dalit resident of the nearby Mushahr Toli, an exclusive hamlet of Musahars who are the most marginaliged section there, has a different story. He said there was no solar power connection in his home to begin with. "But our streets were lit by solar power, a rare thing for poor like us, thanks to solar. But all is gone now," he said.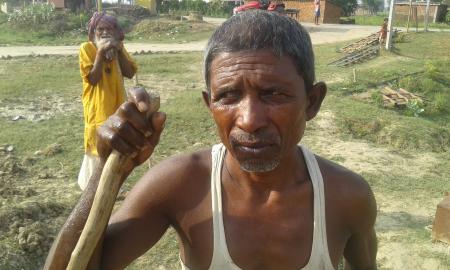 What is unbelievable is that the two adjacent buildings of the solar microgrid power station, situated hardly few metres from the national highway, are being used as animal shelters by local residents after concerned officials stopped visiting the office long back. Two buffalos were seen standing inside one building and another two buffalos close to the iron grill of the second building. Fresh cow dung and urine were strewn all around, giving a picture of how the power station has been neglected.
Vicky Kumar, a youth from Bishnupur village under Dharnai panchayat, said, "This (solar microgrid power station) has been closed long ago, there is no one to look after it and no one visits from the government. Some local residents are using the outside portion of the building as animal shelter."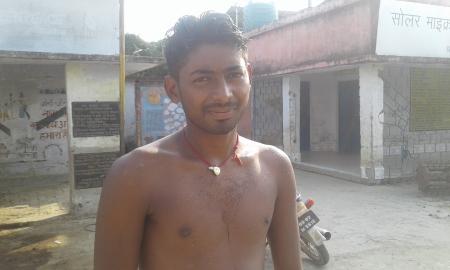 Solar Costlier Than Electricity
Vicky recalled that when solar power was started here, there were large numbers of users from his village. The solar microgrid power station is located opposite to Bishnupur, adjacent to Dharnai. "We also used it but it was costly. Solar power was good and eco-friendly. After our village was connected with the electricity grid, which is much cheaper, slowly people disconnected from solar power. Before the solar grid station closed down, there were only dozens of users."
Sachin Kumar, another young resident of Dharnai, said the government should have subsidised solar power for the villagers. "After we get connected with the electricity grid, many shifted from solar. We failed to understand how the first solar village was neglected and ignored by the government that resulted in the present situation," said Sachin, a private school teacher.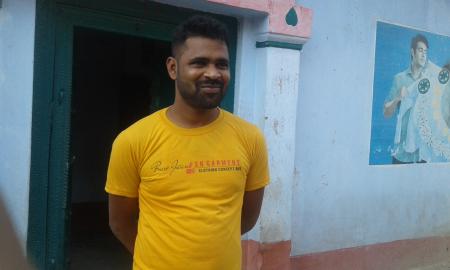 Ajay Singh Yadav, the Mukhiya (village body head) of Dharnai panchayat, admitted that the solar power station was not functioning due to the lack of battery. "We are trying to arrange battery and the process is underway." He had no answer why the power station was closed.
Ajay tried to downplay it saying that the solar microgrid power station has not functional for the last one year. But when he was informed that villagers claimed it had been defunct for over two years, he refused to comment. "When solar came here, it was like God coming as a long phase of darkness ended then. Our panchayat was designated a model one."
How Dharnai Became First Solar Village

 
Dharnai was connected with solar power due to efforts by Greenpeace India, a non-profit organisation. It was Greenpeace, along with partner organisations CEED (Centre for Environment and Energy Development) and BASIX (a livelihood promotional institute), who changed the face of the village and lives of villagers through a Decentralised Renewable Energy System (DRES).The much publicised solar microgrid power station was put into operation on July 20, 2014, with an estimated cost of nearly Rs 3 crore. 
Dharnai was projected to become a model for thousands of villages across the country. 
The then former Chief Minister Nitish Kumar, who is the current CM, visited Dharnai in the first week of August-- two weeks after the village became fully connected with solar energy in 2014. Impressed by the solar power in Dharnani, Nitish had then said, "Solar energy is the only solution and I praise and appreciate Greenpeace for accepting the challenge in successfully installing this everlasting viable solution model."
It appears that after Nitish returned to power in early 2015 and re-elected again in elections held later the same year, he hardly did anything to promote solar energy. 
According to a wallboard still visible in the solar microgrid power station's office, it started with an installed capacity of 100 kilowatts and powered 450 homes of 2,400 residents, 50 commercial operations, 60 street lights in the village, two schools, a training centre and a healthcare facility. A battery backup system ensured electricity was available around the clock. 
A former staffer of Greenpeace said that Dharnai was chosen for the project because it suited the requirements of having agriculture as the main occupation and also had basic social infrastructure like a school, healthcare facility, an anganwadi (community childcare centre), a commercial zone and around 400 households. "Solar power was welcomed by the villagers as it was a dream-come-true to live in light in place of darkness. This changed everyone's lives as it provided a new opportunity to all, especially women and children," the former staffer said.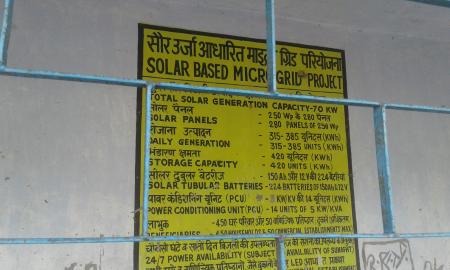 However, at the state level, the government has set up Bihar Renewable Energy Development Agency (BREDA) to promote renewable energy power projects. BREDA is currently executing projects of solar pumps and rooftop installations under the CAPEX (Capital Expenditure) model. Various other projects like Floating Power Plants and Ground Mounted Grid-tied Solar Power Plants are under different stages of approval, as per the latest economic survey of Bihar. It says that with increasing concerns over climate change due to the emission of greenhouse gases into the atmosphere, the use of clean energy is one of the viable solutions for mankind to preserve the environment for future generations. 
Dharnai , about 71 km from Patna, falls under Makhdumpur Assembly constituency (reserved) in Jehanabad district. In the last Assembly polls, opposition Rashtriya Janata Dal (RJD) won the seat.  This time, the RJD has denied ticket to its sitting MLA and fielded a young face Satish Kumar, who is popular as a street fighter for causes of the poor. His main rival is the NDA ally Hindustani Awam Morcha (HAM) candidate Devendar Kumar Manjhi, son-in-law of former CM Jitan Ram Manjhi.
A sizeable population of upper caste are not enthusiastic about Manjhi, who is followed by OBC Yadavs, Muslims and dalits. Thus, the RJD has a clear edge over HAM and its chance to retain the seat is good as the Left parties, including the CPI-ML, are part of the Grand Alliance, which also has RJD and Congress.
Get the latest reports & analysis with people's perspective on Protests, movements & deep analytical videos, discussions of the current affairs in your Telegram app. Subscribe to NewsClick's Telegram channel & get Real-Time updates on stories, as they get published on our website.
Subscribe Newsclick On Telegram