Bihar: Farmers Resort to Distress Sale Due to Slow Paddy Procurement by Government
Senior officer for paddy procurement in state cooperative department admits paddy procurement was slow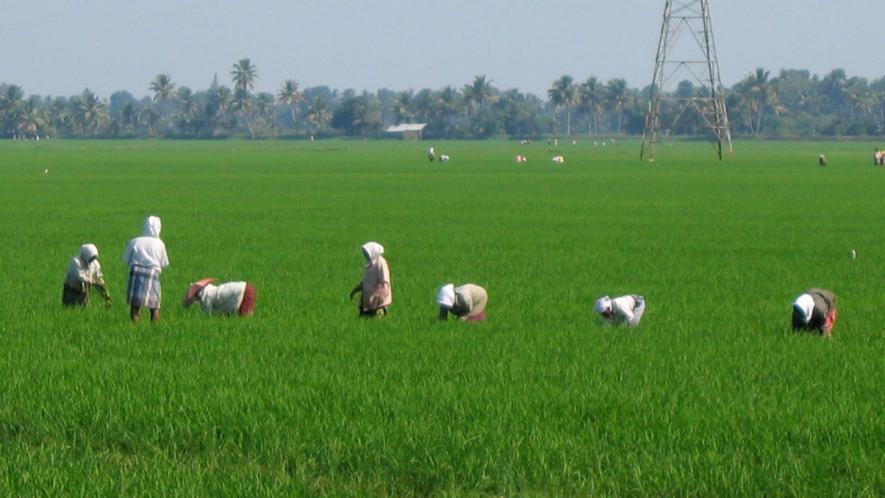 Image Courtesy: Wikimedia Commons
Patna: Just like last year, Gajendar Singh, a marginal farmer, is upset over the slow pace of paddy procurement by government agencies. This has forced him and others to resort to the distressed sale of paddy to traders in the open market.
"After waiting for over two weeks for paddy procurement by the government agencies, I sold nearly 20 quintals of paddy to a local trader two days ago because of the unfriendly system and slow process on the part of concerned officials. This has been discouraging farmers to go to sell paddy at throwaway prices to private traders. In the open market, I got a rate of Rs 1,600 per quintal, which is much below the minimum support price (MSP) for paddy. The government has fixed the MSP of paddy at Rs 2,040 per quintal," Singh, a resident of Keal village under Karpi block in the Arwal district of Bihar, told NewsClick.
Singh further said distress sale of paddy has become a normal thing for farmers in recent years. "It is not new, contrary to the tall claim made by the state government as well as the central government to procure as much paddy from farmers to ensure MSP to them. The government has failed. We, the farmers are not getting the right price of paddy despite hard labour and the cost of production increasing year after year," Singh added.
Lalan Prasad, a small farmer in Itwan village under the Haspura block of Aurangabad district, said the government agencies take more time to procure paddy citing one or another reason. "Besides, farmers need the instant payment for paddy that we had produced after the hard labour of months but government agencies delay payment, sometimes it takes weeks and months for payment. For people like me, who have small land holdings, selling paddy to a private party is easy. They made payment immediately for paddy at our door, unlike government agencies. Small and marginal farmers cannot wait for months to sell paddy if the government agencies delay procurement," Prasad told NewsClick.
Even big farmers like Farid Khan alias Raju, a resident of Jamharu village under Pali block in Patna district, prefer traders to sell paddy in place of government agencies. "I sold more than 200 quintals of paddy to traders from Rohtas district at the rate of Rs 1,650 to Rs 1,700/per quintal recently. There was no trouble, no objection and demand of some cut or bribe, which is common in government agencies. More important is that payment was made without any delay by traders as per the prevailing rate in the market," Raju told NewsClick.
Another big farmer in this village Mano Khan also sold his paddy to traders. Soon after the paddy was harvested, the paddy procurement by government agencies was delayed and followed by poor procurement.
This is not the first time that farmers were left alone to struggle to sell paddy on their own because government agencies have failed to procure paddy from farmers. It has resulted that farmers started selling paddy to traders at much lower rates, and this has been going on for several years. "We know several farmers of neighbouring villages, who sold paddy to the government agencies last month but they are yet to get their payment," Khan told NewsClick.
Singh, Prasad and Khan are just three of the thousands of farmers—including rich and poor —who have been affected by the poor paddy procurement by government agencies. They expressed a similar voice that the government has completely failed to procure paddy directly from the farmers. Paddy procurement is not only slow, but it has also led to a distress sale by farmers.
The ground reality revealed by these paddy-growing farmers exposed the state government's claim—of helping farmers to increase their income—and the central government's announcement of taking measures to double the farmers' income by 2022.
Furqan Khan, mukhiya (head) of Purchara panchayat in Haspura, told NewsClick that farmers have been fed up by officials of government agencies to complete lengthy process of paperwork to procure paddy. Apart from this, reports of irregularities are common by them that force farmers to opt for traders to sell paddy as they don't require any paperwork.
Furqan appears right as reports reaching here suggest farmers have been complaining and raising the alleged irregularities in payment and the general reluctance of the government agencies to procure paddy.
In Bihar, Primary Agriculture Cooperative Societies (PACS) and Vyapar Mandals have been engaged in procuring paddy directly from the farmers in each panchayat across the state to ensure that farmers get fair and remunerative prices for their crops.
So far [as of January 4, 2023], as per the official data of the Co-Operative Department, the government has procured 1420453.255 (14.20) lakh metric tonnes of paddy from 185800 farmers, amounting to just about 31 % of its target.
The paddy procurement process started in the state on November 1, 2022, and the government aimed at procuring 45 lakh metric tonnes of paddy by March 31, 2023.
A senior officer for paddy procurement in the state cooperative department admitted that paddy procurement was slow in November and December, but it will speed up in January and February to achieve the fixed target.
According to government data, nearly two-thirds of Bihar's total population of 12 crores is dependent on agriculture for their livelihood. Most of them are small and marginal farmers. Moreover, almost two-thirds of all agricultural activities in the state are dependent on rainfall.
According to the government's figures, agriculture is the backbone of Bihar's economy, employing 81% of the workforce and generating nearly 42% of the state's Gross Domestic Product (GDP).
Get the latest reports & analysis with people's perspective on Protests, movements & deep analytical videos, discussions of the current affairs in your Telegram app. Subscribe to NewsClick's Telegram channel & get Real-Time updates on stories, as they get published on our website.
Subscribe Newsclick On Telegram