Bihar's Farmers Upset Over Rising Diesel Prices as Cost of Mechanised Harvesting Increased
As agriculture has become increasingly mechanised in Bihar, the cost of harvesting by machines has spiked with sky-rocketing diesel prices.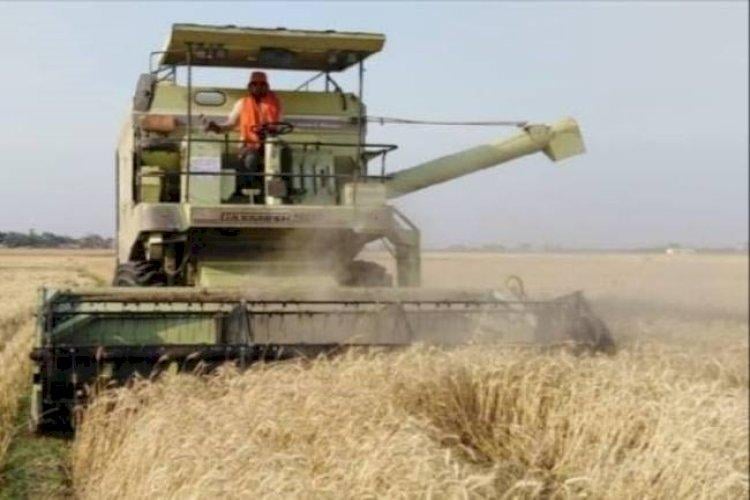 Patna: Vinay Singh, a marginal farmer, is unhappy despite having bumper wheat crops as rising diesel prices increased the cost of harvesting this time. Singh's hope for decent income was dashed by a more than 25% increase in diesel prices than last year.
"Unlike manual harvesting, mechanised harvesting is fully dependent on the use of diesel. I have paid more to hire a harvester and a thresher because of the rise in diesel prices. My input or production cost was already increased by black marketing of fertilisers, and the harvesting cost left me in hand to mouth situation," said Singh, a resident of Rampur village in Dinara block of Rohtas district, Bihar.
Singh expressed grave concern over farmers' poor income in view of increasing input costs. "The income of a farmer like me has been decreasing year after year, and agriculture has become a loss-making profession due to government failure to provide adequate help. Farmers have been left to struggle for survival," he told Newsclick.
Similarly, Radheshyam Tiwari, another farmer, said the rising diesel prices have badly affected farmers in the ongoing harvesting season. "Diesel-driven machines run our harvesting process, and a rise in diesel prices directly affects us. We have no other option but to pay more to hire a harvester and thresher," said Tiwari, a resident of Narwan village under Bhabua block in neighbouring Kaimur district, while speaking to Newsclick.
Both Singh and Tiwari are among thousands of farmers in Rohtas and Kaimur, known as the rice bowl of Bihar, facing the brunt of constant rise in diesel prices. They said they had never expected the diesel rate to cross Rs 100, and it is bound to hit agricultural activities.
With diesel prices at Rs 101 to 102 per litre on April 20 across the state, farmers in rural areas have been loudly expressing cause for concern more than the urban population. Last year in April, the diesel prices were at Rs 80 per litre.
"Now, the owners of harvesters and threshers are demanding higher rates citing rising diesel prices. Last year, we hired a harvester for Rs 700 to 800 to harvest wheat per bigha of land. For the same work, farmers have to pay Rs 1100 to 1200. Similarly, farmers have to pay more for carrying wheat by tractor-trolleys. What can we do when there is no other way? Our income is not increasing, but the cost of production increasing," Tiwari said.
Kaimur district agriculture officer Revti Raman said that about 156 harvester owners had taken permission from the department to harvest wheat and other crops this year. But all harvester owners have to register and take proper permission for harvesting.
According to Raman, most farmers, including big, marginal and small, have been harvesting with harvesters that operate on diesel. The farmers' cost of harvesting has increased manifold this time due to the rise in diesel prices.
As per the official data of the agriculture department in Rohtas, more than 750 harvesters are registered by the owners for harvesting work in the district.
Balmiki Sharma, a farmer in Paliganj block in Patna district, said increasing diesel prices badly hit farmers. "This is simple; it puts extra pressure on the input cost of crops," he said. Till a decade and a half ago (15 years back), a small number of only big and rich farmers were using mechanised harvesting. But the scenario has changed now. Today, most farmers harvest their crops with harvesters and use threshers to separate grains. As diesel prices rise, farmers have to pay more for the use of harvesters and threshers. All this is added to their cost of production," Sharma explained.
Sharma, the secretary of Paliganj Bitarni Krishak Samiti, a farmers' organisation working across 50 villages, questioned the government's promises to help farmers increase their income by 2022. In place of their income doubled, as promised, the input cost of wheat, pulses, oil seeds, maise, vegetables and paddy had gone up in the last four or five years as farmers had been forced to hire tractors for plowing, harvesters, and threshers. Farmers were forced to purchase fertiliser at higher prices from the black market as well, Sharma told Newsclick.
Agriculture experts say that farmers are directly associated with the use of diesel for agriculture activities. Most machines that farmers hire operate on diesel, including tractors for ploughing, water pumps for irrigation, harvesters, threshers, rotavators, and straw reapers.
"Bihar is emerging as a big market for farm machines and equipment due to high demand by the farmers in view of the farm labour shortage. In recent years, more and more farmers have turned to machines for easy harvesting of wheat and paddy," said a scientist at the farm machinery testing centre in the Rajendra Prasad Central Agricultural University in Bihar's Samastipur district.
A large number of poor farm labourers, primarily landless and belonging to Dalit, OBC, and Muslim communities, continue to migrate to Punjab, Haryana, Kerala, Tamil Nadu, Andhra Pradesh, and Maharashtra to work in farm fields and other sectors for better livelihood.
RK Sohane, director (extension), Bihar Agriculture University in Bhagalpur district, said the majority of farmers have switched to mechanised agriculture in the state.
According to the state government's figures, agriculture is the backbone of Bihar's economy, employing 81% of the workforce and generating nearly 42% of the state's domestic product. About 76% of Bihar's population is dependent on agriculture for their livelihood.
Get the latest reports & analysis with people's perspective on Protests, movements & deep analytical videos, discussions of the current affairs in your Telegram app. Subscribe to NewsClick's Telegram channel & get Real-Time updates on stories, as they get published on our website.
Subscribe Newsclick On Telegram