Bihar: Ahead of Monsoon, Fearing River Erosion, Villagers Begin Abandoning Villages
In what can be termed as a strange occurrence, some 50 households have dismantled their homes with their own hands, abandoned their village and migrated to safety, given the threat of river erosion and failure of the government to implement anti-erosion work.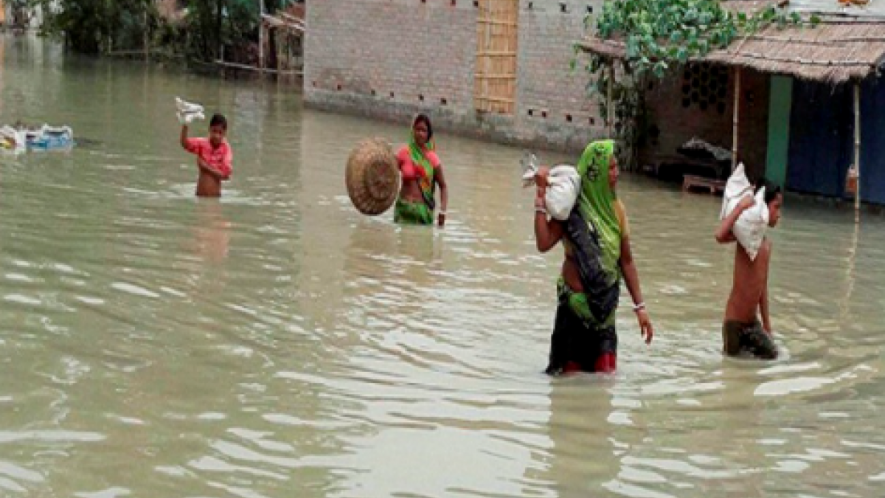 Patna: This year, the fear of severe river erosion is such ahead of monsoon that poverty-stricken Abdul Halim demolished his own house early this week that he built of bamboo with a roof of thatched and thin tin sheets in Bihar's Katihar district. He was also forced to leave his native village and migrate to a safe place. Halim has taken this step to escape the likely terror of erosion by the swollen river that poses a serious threat annually during monsoon.
Halim, along with more than 50 families, primarily poor, dismantled their homes with their own hands, abandoned their village and migrated to safety, given the threat of river erosion and failure of the government to implement anti-erosion work so far.
"At the moment, monsoon is at least two weeks away, the river is not in spate or swollen, there is no flood, but we strongly fear the threat of river erosion that washed away everything including homes, agriculture land, school, mosque last year and before. Erosion is a reality that threatens us every year; we have no option but to migrate if we want to get rid of fear," said Halim, who was a resident of erosion-prone Babla Banna village under Amdabad block till recent.
This village is situated near the bank of river Ganga, and the villagers have been real victims of river erosion for years due to official apathy. Despite repeated demands made by villagers to the local administration to protect them from the threat of river erosion, no anti-erosion work has been done.
There are others like Zakir Hussain, Nur Alam, Abdus Samad, Matiur Rahman and Mohammad Hussain. All were residents of Babla Banna. All of them share one thing in common; they have been forced to migrate in the last one week, fearing river erosion again.
"Villagers have approached local officials and elected representatives for necessary anti-erosion works to save us from violent erosion by the river. In the last three years, they have only promised and assured us, and nothing was done to provide permanent protection to us," said Hussain.
According to Samad, most of the villagers migrated to different villages in the district and neighbouring Purnea district, which are not facing the threat of river erosion like Babla Banna. Last year nearly 80 families were forced to migrate due to river erosion, and their agricultural lands were merged into the river Ganga.
"Dozens of houses and farmland are facing the threat of erosion in the village," said Samad.
Bhawanipur Khatti panchayat Mukhiya Tapan Mandal said that more than four dozen families living along the bank in Babla Banna had migrated recently due to fear of river erosion again during the coming monsoon. Their fear is not baseless because dozens of houses, three middle and one primary government schools, two mosques, and hundreds of farmland have been washed away by the Ganga in the last few years.
"We have written a letter in February 2022 to district officials and local MLA and MLC demanding to undertake anti-erosion works near Babla Banna. But unfortunately, no anti-erosion works have started yet. This village would face erosion, and more houses and farmland will be washed away".
Babla Banna is not alone. Several villages in Amdabad are facing the threat of erosion annually, said Mandal.
Gopal Chander Mishra, superintendent engineer, flood control, Katihar, said no order had been given to date for anti-erosion works near Babla Banna. Anti erosion works are undertaken only after the order is passed at the department level. Mishra admitted that Katihar is worst affected by river erosion that displaces thousands every year.
This fact has exposed the negligence on the part of the government and its seriousness in dealing with increasing river erosion year after year in the state.
In flood-prone Katihar, erosion by four major rivers - Ganga, Mahananda, Koshi and Barandi displaced thousands during monsoon.
Ironically, the State government claimed that anti-erosion works are underway as a part of flood control measures in Katihar and other vulnerable districts. On the paper,flood-control measures, mainly the maintenance of long embankments and anti-erosion works, should have been completed by May 15, but works are still underway at several places.
Flood experts have time and again raised the issue of increasing river erosion and its adverse impact. They have expressed serious concern over the fact that river erosion threatened the existence of hundreds of villages and the livelihood of thousands.
However, there is no official data on the number of people displaced by river erosion in the state.
IMD has predicted monsoon arrival on time between June 12 and 15 in Bihar. According to the WRD's website, Bihar is the most flood-affected state, accounting for close to 17.2% of the total flood-prone area in the country. Out of 94.16 lakh hectares, 68.80 lakh ha (76% of North Bihar and 73% of South Bihar) is flood-prone. At present, 28 out of 38 districts in the state are flood-prone.
Mahendra Yadav, founder-convenor of Koshi Nav Nirman Manch (KNNM), said river erosion damaged everything and displaced thousands annually in flood-affected districts, and that displaced people were left to struggle for survival and live in misery on high rise embankments, railway tracks and other places.
"Increasing river erosion has resulted in a multi jump in migration of small and marginal farmers to outside state in search of livelihood. After their farmland was washed away, they lost their source of livelihood. It is evident in villages facing river erosion," Yadav said.
A study by a team of researchers from the Kathmandu-based International Centre for Integrated Mountain Development (ICIMOD) said last year that climate change-induced heavy monsoon rainfall in the Himalayas, the catchment areas of Koshi, one of the major rivers, is causing more soil erosion in some regions of Bihar. Village after village is facing fast soil erosion, impacting livelihoods and leading to displacement.
"The Koshi basin suffers from a very high level of erosion, which not only affects the land but also results in many negative impacts from sedimentation downstream," says the study, adding that "it is important to design and implement erosion control practices for the basin, but the area is large."
The study, therefore, suggested that to maximise effectiveness: "Erosion control measures should be targeted at the most vulnerable areas, where the impact is likely to be greatest."
It pointed out that high level of erosion results in high levels of sedimentation, which affect storage infrastructure (filling of dammed lakes), can destroy agricultural land, and contribute to downstream flu-vial hazards.
Get the latest reports & analysis with people's perspective on Protests, movements & deep analytical videos, discussions of the current affairs in your Telegram app. Subscribe to NewsClick's Telegram channel & get Real-Time updates on stories, as they get published on our website.
Subscribe Newsclick On Telegram