Bihar: No Food or Cooking Fuel, Flood Victims Struggle for Survival on Rooftops, in Tractor-Trolleys
'What can we do, the flood water has submerged and damaged the roads which connect villages. There is no way for us to move outside. Block officials have refused to provide a boat citing it unavailability. We have survived so far but we will now starve if food items are not provided to us...'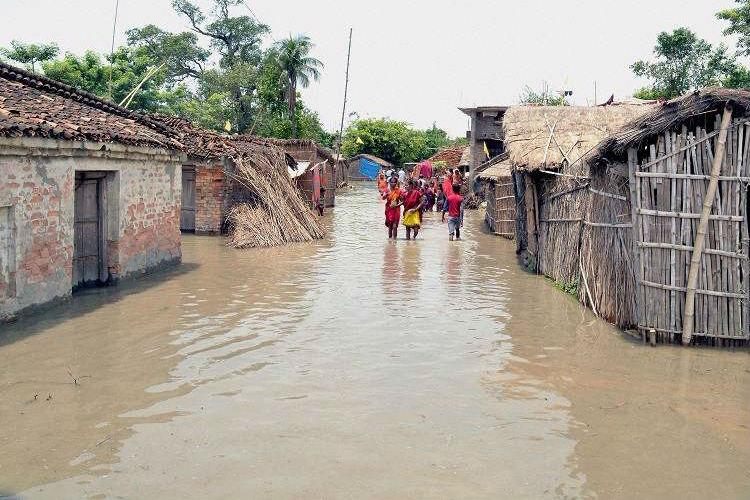 Patna: Bhikhari Rai has been a helpless man since last week; he, along with his family, has been stranded on their rooftop after flood water entered his house in Bashgatha village under Katra block in Muzaffarpur district. The roof has become a safe space for the family, with Rai expressing his unhappiness over failure of the local administration to provide a boat to move his family outside his marooned village.
Rai is not alone. His neighbour Ramendra Singh decided to turn his tractor trolley parked outside their house as a safe shelter for his family. "After chest-deep water entered my house I was left with no other option but to shift the children to the trolley as there is also the threat of drowning in flood water," he said.
Another villager, Lalbabu Prasad, said with about waist-deep flood water entering most of their houses, people have been forced to camp on their roof to survive. "What can we do, the flood water has submerged and damaged the roads which connect villages. There is no way for us to move outside. Block officials have refused to provide a boat citing it unavailability. We have survived so far but we will now starve if food items are not provided to us," he added.
Rai, Singh and Prasad, all flood victims, said they have managed to survive on dry, flattened rice, jaggery and other items; it is their staple diet for now because their kitchens are under water and there is a lack of cooking fuel, including dry wood. According to them the floods submerged their fields, badly damaging paddy seedlings and their hope for replantation.
They are three of nearly two lakh people affected by floods in Muzaffarpur – one of over one dozen districts badly hit by floods. Government agencies are yet to release data related to the numbers of villages and the people affected. There is virtually no official daily update on the flood situation for its victims in the state except for information pertaining to rising water levels of rivers and the forecast for rainfall.
The flood situation in the state remained grim on Monday after the swollen major rivers breached embankments at several places, inundating hundreds of new villages in different districts and posing a serious threat to other villages. This has forced people to flee their homes, who are now struggling to survive after shifting to higher places.
After floods inundated their villages, thousands of people, including women, children and the elderly, in the worst-affected districts of Gopalganj, Muzaffarpur, East and West Champaran, Darbhanga, Madhubani, Purnea and Katihar have been forced to take shelter on nearby high-rise embankments and national highways.
As flood waters submerged large tracts of lands and marooned more than 250 villages in both the districts, most of the displaced people have erected temporary covers over their heads with black polythene sheets.
With water level rising in major rivers Bagmati, Koshi, Lakhandei, Gandak, Burhi Gandak and Kamla Balan, flood water has threatened hundreds of villages in East and West Champaran, Gopalganj, Muzaffarpur, Araria, Kishanganj, Sitamarhi, Sheohar, Madhubani and Darbhanga districts.
The train services were disrupted in flood hit north Bihar districts and several trains either cancelled and routes diverted.
According to officials from the Water Resources Department, the pressure on embankments increased after barrage discharges of a huge amount of water into the rivers following heavy rains in the catchment areas in the last week. The water levels of the rivers have been a matter of concern as they are flowing near their danger levels at several places and threatening embankments.
However, the WRD has officially claimed that all flood protection embankments are safe.
After the monsoon arrived in Bihar this year, the state has received surplus rainfall so far (more than 430 mm, which is 100mm more than normal) in the catchment areas of major rivers in the state and neighbouring Nepal. This has resulted in floods in the low-lying areas.
As the India Meteorological Department's Patna division had forecast medium to heavy rainfall across the state over the next few days, the state government has alerted 28 of 38 flood-prone districts.
Unexpected surplus rainfall in the state has also created problems for farmers as their paddy seedlings were fully damaged at many places because of waterlogging in the fields. It was reported that the standing summer maize crop was also damaged due to heavy rainfall in the last month.
According to the WRD's website, Bihar is the most flood-affected state, accounting for close to 17.2% of the total flood-prone area in the country. Out of 94.16 lakh hectares, 68.80 lakh ha (76% of North Bihar and 73% of South Bihar) is flood-prone. At present, 28 out of 38 districts in the state are flood-prone.
Get the latest reports & analysis with people's perspective on Protests, movements & deep analytical videos, discussions of the current affairs in your Telegram app. Subscribe to NewsClick's Telegram channel & get Real-Time updates on stories, as they get published on our website.
Subscribe Newsclick On Telegram