Bihar Tops List of Deaths Caused by Illegal Sand Mining in Eastern States
A SANDRP report revealed that 124 people, mainly poor workers, died in accidents and violence with Bihar on top at 83, followed by West Bengal and Chhattisgarh at 13 each.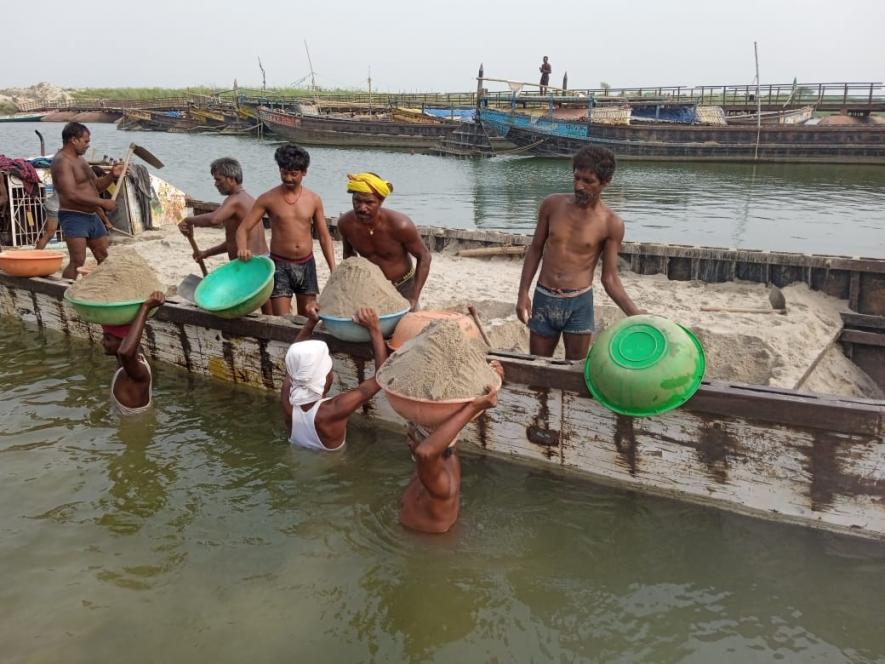 Credit -- Mohd Imran Khan
Patna: The poor, mainly labourers or workers, have been the main victims of illegal sand mining-related deaths and violence in eastern states, particularly Bihar, West Bengal, Odisha, Jharkhand, Chhattisgarh, and the Northeast states of Assam and Manipur since between April 2022 and February 2023.
According to the latest report of the Delhi-based non-profit South Asia Network on Dams, Rivers and People (SANDRP), illegal sand miners virtually control the lucrative sand business in Bihar and neighbouring states.
The report reveals that sand workers or labourers, and tractor, JCB and Poclain machine drivers, and henchmen of illegal miners died in roughly one year.
At least, 124 people died in sand mining-related accidents and violence with Bihar on top at 83, followed by West Bengal and Chhattisgarh at 13 each, Jharkhand at 11, Odisha at 4 during April 2022 and February 2023.
Bihar also accounted for 32 out of 40 deaths in mine collapse accidents, 24 out of 25 deaths due to drowning in sand mine pits, 20 out of 49 deaths in accidents of sand-transporting vehicles and 6 out of 9 gang war deaths, the report further reveals. Miners were also suspected of murdering a local reporter, the report says.
The death toll in Bihar includes about 20 sand workers who went missing when two boats capsized in August and October 2022. SANDRP didn't find follow-up reports on the final or actual status of these workers.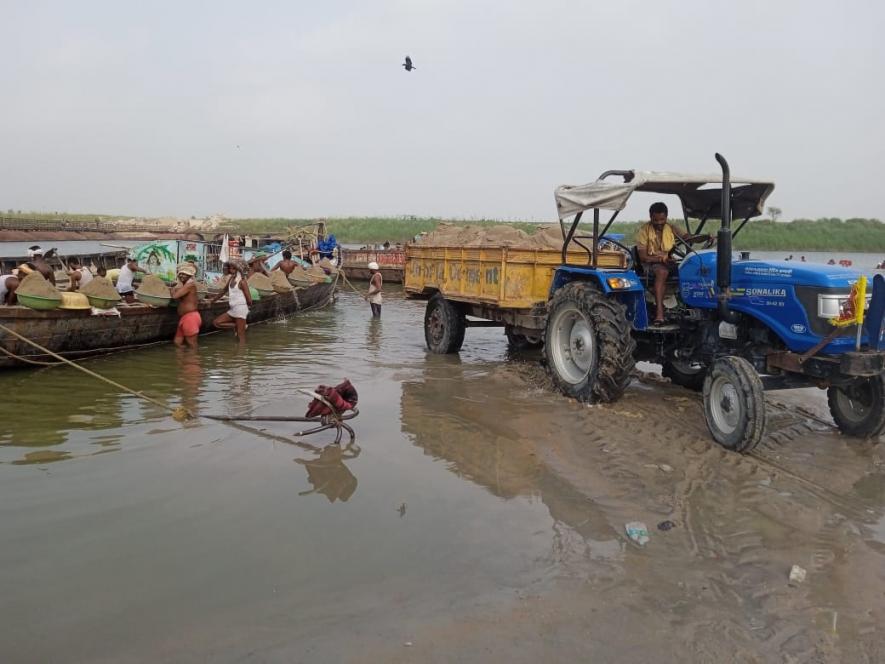 The maximum number of deaths, 49, in these states occurred in road accidents involving sand-transporting vehicles, followed by 40 deaths of workers in accidents at mining sites or during mining activities in rivers. According to the report, 25 deaths occurred due to drowning in deep sand mine pits while 9 died in inter-group rivalry.
"Bihar is emerging as the top Indian state facing all sorts of sand mining-related deaths and violence," the report states adding that "at least, 83 casualties and more than 57 injuries" were reported during the period.
This includes the death of an elderly and injuries to six people on March 28, 2022, due to the overturning of a truck on a roadside house in Madhepura, which wasn't "covered in last year's report on the topic".
The report highlighted several accidents at mining sites, including boat capsizes in Ganga and Sone rivers, in Bihar resulting in the deaths of 32 sand workers.
Four workers were burnt alive and about 12 injured during a cylinder blast on a boat transporting sand in Sone in August. In the same month, about 18 workers went missing after 6 sand boats capsized near the confluence of Sone and Ganga in Saran district.
It was followed by two sand workers going missing after a boat carrying more than 20 workers capsized in Rohtas in October. In the same month, five deaths were reported when a boat carrying about 15 workers capsized after hitting a pillar of the JP Setu bridge. Three other workers were buried to death under sand heaps in two separate accidents in Patna and Saran in July.
"Of the total 24 drowning deaths, mostly of young children in sand mine pits, 8 occurred in Sone, 4 each in Chandan and Bhudiya rivers, 3 each in Ganga and Mahananda and 1 each in Barmar and Kiul rivers." Several reports mentioned threats to life and concerns over deep pits created by excessive mining in Sone, Chandan and Budhiya rivers, the report adds.
The report also mentions multiple attacks on government officials, suggesting illegal miners have a "free run in Bihar".
"We could find, at least, 19 incidents of violent attacks, injuring more than 33 officials, including policemen, officials from administration and mining department."
Firing on officials and attempts to run them over have "become common practice adopted" by miners to "eliminate the threats during raids on illegal sand mining". In several incidents, "officials have had a narrow escape and illegal miners managed to run away with seized sand loaded on vehicles".
In February, miners tried to burn a mining official alive in Saran, the report says. "Before this, a mining official was held hostage in December 2022 in Bhagalpur. In the same month, illegal miners fired on a woman mining officer, damaged her vehicle and ran away with a seized tractor in East Champaran."
The magistrate of Jamui and three policemen "sustained injuries in an attack by miners in November 2022". In September 2022, miners threw the Vaishali ASI from a sand-laden tractor and tried to mow him down. "The Rohtas SDM and his bodyguard were critically injured in an attack by illegal sand miners in the same month," according to the report.
"The brutal killing of 26-year-old Subhash Kumar Mahto, a local reporter, in May 2022 is also attributed to his persistent reporting" on illicit liquor traders/manufacturers and illegal miners in Begusarai," the report states.
Moreover, six deaths were caused by inter-gang rivalry. "Media reports mention the deaths of 5-16 illegal sand miners during three days of gang wars in the last week of September 2022 in the state capital Patna. However, the police claimed to have found no dead body," the report shows.
Hindi dailies reported that modern weapons were used in the September gang war. Shockingly, the administration "hesitated to interfere in their business".
As per this report, at least 28 illegal miners have died in gang wars in the past two years in the state.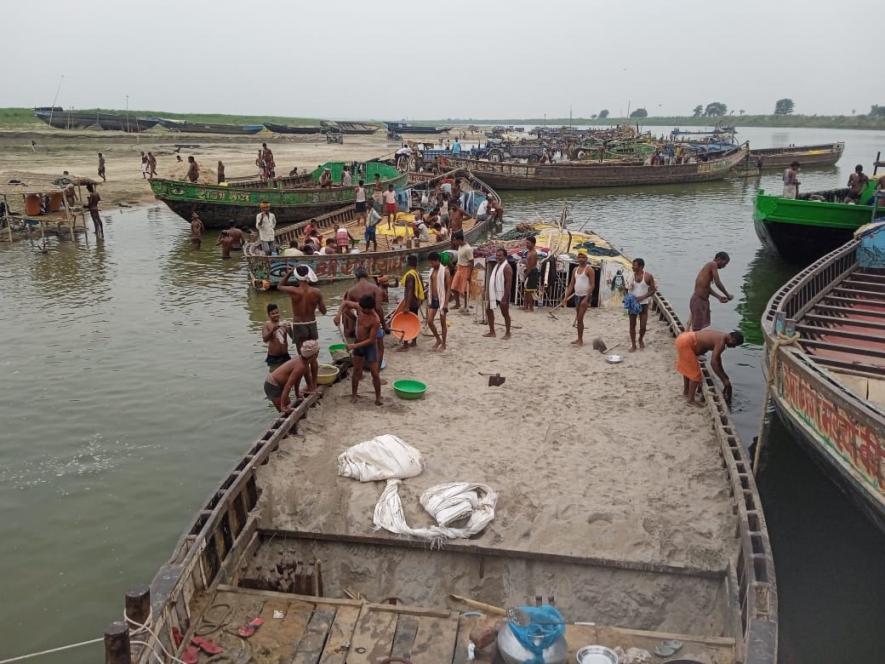 Credit -- Mohd Imran Khan
Bihar is followed by West Bengal, where 13 people died and another 49 were injured in sand mining-related accidents and violence. Eleven died and another 48 were injured in accidents of sand-transporting vehicles.
Like the March 2022 Birbhum massacre, illegal sand mining rivalry is suspected behind the murder of two TMC workers in November 2022 in Birbhum and January 2023 in the East Bardhman districts, the report reveals. Illegal sand miners having political affiliation, particularly with the regime, is the common practice in all these states, it said.
In the same period, four deaths were reported in Odisha. After Bihar, Odisha is the second eastern state where illegal sand miners have frequently attacked officials.
"We could find, at least, nine incidents of violent attacks on police, revenue and administration teams by illegal sand miners injuring more than a dozen officials from these departments," the report states.
In the case of Jharkhand, 11 deaths were reported due to sand mining-related accidents and violence during the period. At least, four government officials were attacked.
In Chhattisgarh, at least, 13 people died in sand mining-related accidents. In Assam, four people died in three road accidents involving sand-transporting vehicles.
Get the latest reports & analysis with people's perspective on Protests, movements & deep analytical videos, discussions of the current affairs in your Telegram app. Subscribe to NewsClick's Telegram channel & get Real-Time updates on stories, as they get published on our website.
Subscribe Newsclick On Telegram