Bike Taxi Riders Call Rapido Exploitative, Least Preferred Choice for Many
The company was asked to submit proof of its legal operations, but Rapido couldn't provide the material to the Bombay High Court.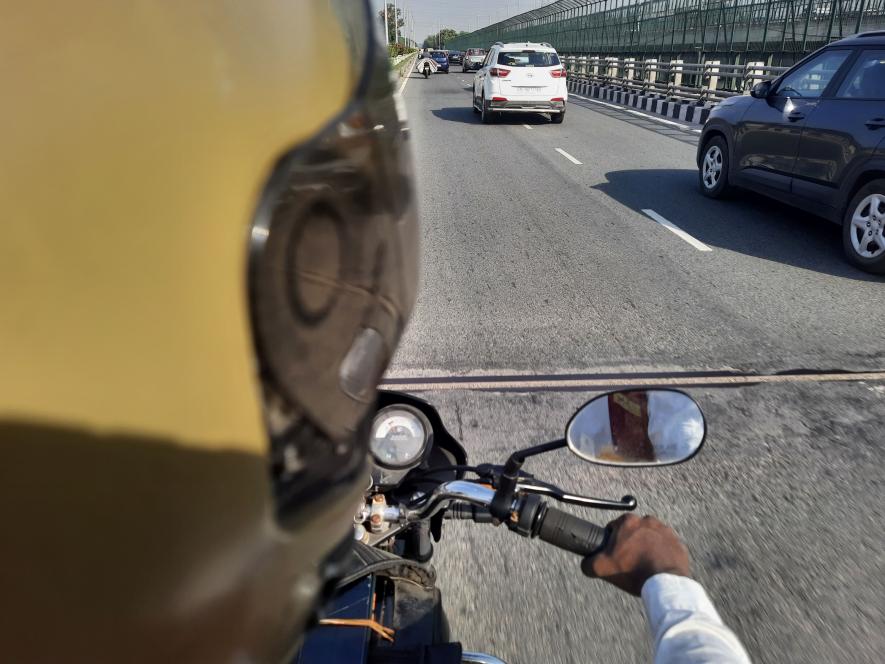 Aastik, 29, a young fellow from Ghaziabad in Uttar Pradesh, starts his day at 9 am in the morning and reaches home only at around 10 pm at night. As per him, what happens in between is a "vicious and endless cycle of exploitation" by the company he works for – Rapido.
Rapido, a bike taxi app, launched in the year 2015 is a prominent player in the market. It claims to have saved customers some money and offered employment to those who could not afford a four-wheeler, but wanted to make use of their personal two-wheelers to earn money.
The app, in a bid to show respect to its riders, calls them 'captains'. However, the captains have a different story to narrate. In the past, the company has seen several stages of hindrances from its competitor taxi applications like Ola and Uber – which also introduced an option for bikes. It has dealt with legal problems as there is a dearth of clarity on the legality of bike taxis. Then, there have been strikes by auto-rickshaw drivers, who have been facing losses with the advent of bike taxis. Riders have been thrashed for rash driving and a case of harassment was also filed by a woman in Bangalore.
The app – as Aastik suggests – unlike its competitors, allots faraway pick-ups and gives lower remuneration. Its technical errors seem intentional to him. "We get pick-ups as far as nine kilometres away. What is irksome is that the ride distance can be only two kilometres resulting in a payment of Rs 29 – less than a dollar. I would have to travel four times more just to pick up the customer. Cancelling the ride often leads to bad feedback from the customer's end. Even if the customer cancels, the app generates a mere sum of Rs 5 for the riders," he said. In addition, the company takes a "huge cut of 24%" on every ride – no matter how long or short the ride is.
Aftab is a 23-year-old student who started working with Rapido a month back to support his survival in Delhi. In a conversation with the Mojo Story, he narrated how the application has been more of a bane to him. "I was once asked to take a pick-up three kilometres away only to drop the person at a distance of one kilometre. For this, I got Rs 8. Out of this, the company took 24%," said narrated Aftab.
Legal Quagmire
The Motor Vehicle Act of 1988, unfortunately, does not recognise the two-wheelers as taxis unless the status is granted by the respective state governments. This has led to legal ambiguity pertaining to bike taxi applications amid which it is unclear whether these bikes need to sport yellow number plates. The practice is followed strictly in Gurugram, while it is anticipated that New Delhi will follow the suit. However, for Rapido and other bike taxi drivers, it seems to be an added burden.
The Bombay High Court had observed that the company had been operating illicitly without a taxi aggregator license. Following this, the founders of Rapido have now moved to the apex court seeking justice.
However, there are many other issues to navigate. Many riders consider Rapido a part-time venture to make some extra money. Putting a yellow number plate, in this case, seems unnecessary and inaccurate. Some riders feel it may affect their social stature.
Mayank, 31, has been working with Ola and Rapido for a couple of months now. However, he has a full-time corporate job that does not pay him well. "The yellow number plate will reveal that I run a taxi job. This might lead to some sort of a boycott by my peers and colleagues. Plus, this is my personal vehicle. I also use it for my household, and so does my wife. It would also limit my use of the vehicle," he said.
Aastik, who does this job full-time, also does not support this move and says that this would lead to additional expenditure and unnecessary troubles from the traffic police. He told NewsClick, "In order to get a permit to run our bikes as a taxi, we will have to pay an additional Rs 15,000 for three years, and once we are easily identifiable, the traffic police will also target us."
Least Preferred Option
The riders say that Ola and Uber still provide better rates to these riders. As per the riders who are registered on all three popular apps—Ola, Uber, and Rapido—the app that offers the greatest number of rides is Ola. "For every Rs 100 that it gives to us, the company charges only Rs 7-8, which seems a fair amount. There are no issues with the app's payment either. In case a customer does not pay or cancels the ride, or we get stuck in traffic, the app ensures that we are not at a loss," says Aastik, who rides using all three applications.
Aastik told NewsClick that Ola's incentive system is also better than the other services. "For every three rides, Ola gives us an incentive of Rs 50, and on completion of eight rides, an additional Rs 100. There are weekly incentives as well."
On the other hand, despite the hike in petrol prices and inflation of goods, Rapido has made little changes in its incentive process, say riders. For seven rides, the app gives captains an incentive of Rs 45. However, this does not come easy.
Aastik said, "Most of the time, as we approach the target number for incentives, we shockingly stop receiving any rides. The app continuously asks us to reach a 'high demand' area. On calling the support centre, we are told that it might be a server issue and that we should keep travelling." Some of the riders complain that they are unable to fetch rides when they near the incentive target even as other riders can see requests right in front of them.
"If on one particular day, the app provides us eight to 10 rides, the next day, I would struggle to receive even one," said Aftab. The bike taxi app is slowly becoming the last resort for the riders who now look for other jobs or mostly ride for Ola and Uber. "I only use Rapido when I have to go home, and if the other two apps fail to fetch me a ride," said a tired Aastik as he was ready to wrap up his day with a ride near his home in Ghaziabad. 
NewsClick made repeated attempts to get in touch with Rapido to seek a response to the allegations made by the riders but received no reply. The story will be updated if and when the company responds.
Note: Names of the drivers have been changed to protect their anonymity.
Get the latest reports & analysis with people's perspective on Protests, movements & deep analytical videos, discussions of the current affairs in your Telegram app. Subscribe to NewsClick's Telegram channel & get Real-Time updates on stories, as they get published on our website.
Subscribe Newsclick On Telegram