BJP, Congress Wooing Women Voters in Poll-Bound MP
Women voterscomprise 48.20% of the Madhya Pradesh's around 5.39 crore electorate.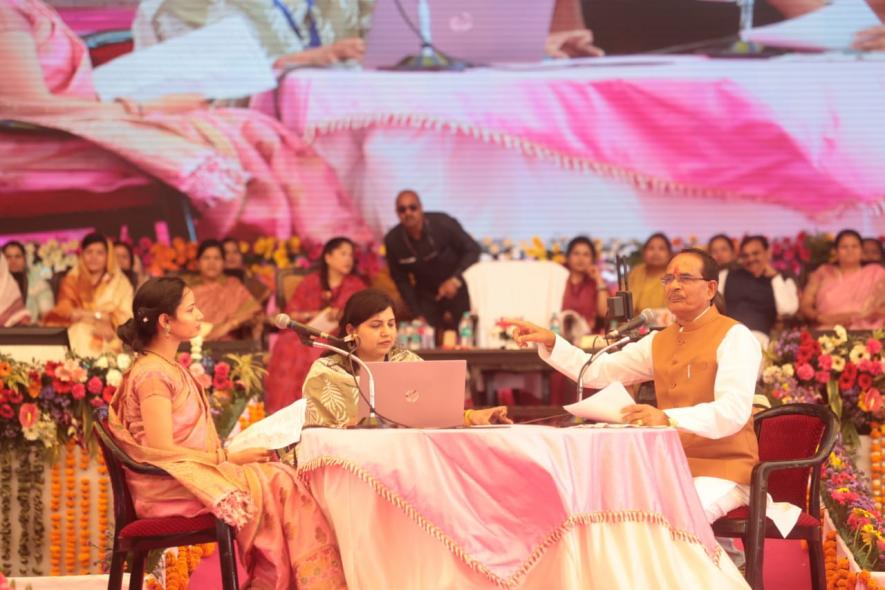 Photo source - Jansampark Madhya Pradesh.
Bhopal: When the BJP retained power in Uttar Pradesh, Uttarakhand, Goa and Manipur in March 2022, Prime Minister (PM) Narendra Modi thanked women voters. "They have blessed us. We have won splendidly in areas where women voters have dominated," he said at a meeting of party workers at the BJP's headquarters in Delhi.
Taking a cue fromModi, the BJP, which lost the Madhya Pradesh (MP) 2018 Assembly election to the Congress with a close shave, is seeking 'blessings' of the state's 2.60 crore women votersand counter anti-incumbency to retain power for the fifth time since 2003 in the November polls.
The Shivraj Singh Chouhan government has announced more than 12 schemes for women, including the much-hyped Ladli Behna Yojana,in the last two weeks.
With a budget of Rs 8,000 crore, the Yojana would provide monthly assistance of Rs 1,000 to more than 43.19 lakh poor- and middle-class women in the 23-60 age group in the lower-income category.
Bowing with folded hands before a crowd of 20,000-pluswomen at the Yojana's launchin Bhopal's Jamboree Maidan on Sunday, Chouhan said, "Pranam and Namaskar... you mean Durga, Laxmi and Saraswati to me."
Chouhan, who celebrated his 65th birthday on Sunday, said, "The beneficiaries will start receiving the aid from June 10 and every month thereafter."
Appealing to women voters to continue supporting the BJP at the government-funded event, he asked, "Do you think whether your brother (Chouhan) is doing good work? Is the BJP government good?Will you all remain with us? We will work together. Will you help your brother?" 
After getting an affirmative response, the chief minister (CM),popularly known as mama(uncle of his sisters' children), said, "Stand up and take a resolve jointly that [you] will join and walk with your brother. We will work together. Take a vow saying,'We are with you [CM] and the BJP government' so that the government remains, continues doing good work and takes the state to new heights."
The BJP is desperately trying to woowomen voters, who comprise 48.20% of the state's around 5.39 crore electorate. Among the 13,39 lakh newvoters this year, more than 7 lakh are women. The number of new woman voters has increased by 2.79% while it is 2.30% for male voters, according to officials. 
In 18 out of 230 (all tribal reserved seats) Assembly seats, including Dindori, Bichiya, Niwas, Mandla, Baihar, Paraswada, Balaghat, Waraseoni, Barghat, Pansemal, Alirajpur, Jobat, Jhabua, Thandla, Petlawad, Sardarpur, Kukshi and Sailana, women voters outnumber men.
In the 2018 election, the vote percentage of men was 75.72%and women 73.86%.Women's vote percentage has increasedby 3.75% this year—meaning they will play a decisive role in these seatsif they vote as per their numbers.
Flood of schemes for women voters
The importance of women voters in the upcoming Assembly election can be gauged from the fact that one-third of the Rs 3.14 lakh croreState Budgetfocuses on them. 
Apart from Ladli Behna Yojana, Rs 929 crore has been allocated for the girl marriage scheme Ladli Laxmi Yojana 2.0 and Rs 1,000 crore for interest subsidy to self-employed women.  
In 2022-23, Rs 85,000 crore was dedicated to women in the gender budget. The allocation for the gender budget has increased in the last three financial years—it was hiked from 24% in 2021-22 to 34% in 2022-23 and one-third this year. 
In total, 48 schemes benefiting 100% women and 356 pro-women schemes have been announced, according to officials.
Taking advantage of the International Women's Day on Wednesday, Chouhan made several announcements to woo woman government employees and college students—seven days of additional casual leave, and skills training, financial literacy, special training and job fairs for students of technical education courses. 
From no state-sponsored self-help groups (SHGs) in 2012, the state has about 4 lakh SHGs spread across 45,527 of the 51,527 villages. Their members repre­sent roughly 46 lakh families, directly and indirectly impacting about 2 crore of the state's 8.7 crore population. 
In the last Budget, Rs 1,100 crore was allocated for SHGs which was Rs. 600 crore in 2021-22.To put more money directly into the hands of beneficiaries, the state government is handing over the implementation of some big-ticket public projects to SHGs. 
"Putting money directly into the hands of beneficiaries influences voting much more than making a road or digging a well. Financial independence also fin­ally puts women in decision-making roles," Sachin Jain, of NGO Vikas Samvad, which works for health and women, tells Newsclick. "With time, SHGs became a captive audience of the ruling government."
Besides, the state government has increased women's participation in urban and rural body elections to 50% with more than 17,000 women elected last year. Women have 30% reservation in police recruitment and 33% in other government jobs.
"No party or government other than the BJP has worked for the betterment of women,"claims state BJP spokesperson Rajnesh Aggarwal.
"From birth to education and marriage to childbirth and widow pension or death, the BJP government has numerous policies for women's welfare. They become socially, politically and financially self-reliant," he tells Newsclick.
Under the Ladli Laxmi Yojana, Rs 30,000 is deposited in the account of a family after the birth of a girl childfollowed by further instalments. "The beneficiary gets Rs 1.18 lakh after she turns 30," he claims.
The Kanya Vivah Yojana provides financial aid of Rs 51,000 to married couples intending to end the dowry scourge. "A girl who secures first division in class 12 will get an E-scooty instead of a bicycle," he adds.
On women's safety, he says, "Stringent laws have been passed in cases of crime against women. MP was the first state to allow capital punishment for rapists."
Is BJP promoting Revdi culture? 
Political analyst Girija Shankar believes that the BJP is betting on this model. "TheBJP believes that its beneficiary-driven approach has yielded rich dividends. Free ration distribution before the UP election to seek votes has reinforced this belief," he tells Newsclick.
Political analyst Rasheed Kidwai too believes that the BJP is "resorting to Revdi Culture, opposed byModi, and making tall promises to pacify voters. "The BJP knows that it failed to create opportunities in education, jobs and business even after being in power for almost 20 years," he says.
"What the government has done in the last two decades is evident from the fact that more than five crore people out of MP's population of eight crore survive on PDS ration." 
On the announcement of Ladli Behna Yojana around eight months before the election, Kidwai says, "It shows the government's desperation. Months before the 2018 polls, the BJP government launched Sambal Yojana to pacify marginalised. This time, the party is banking on women voters."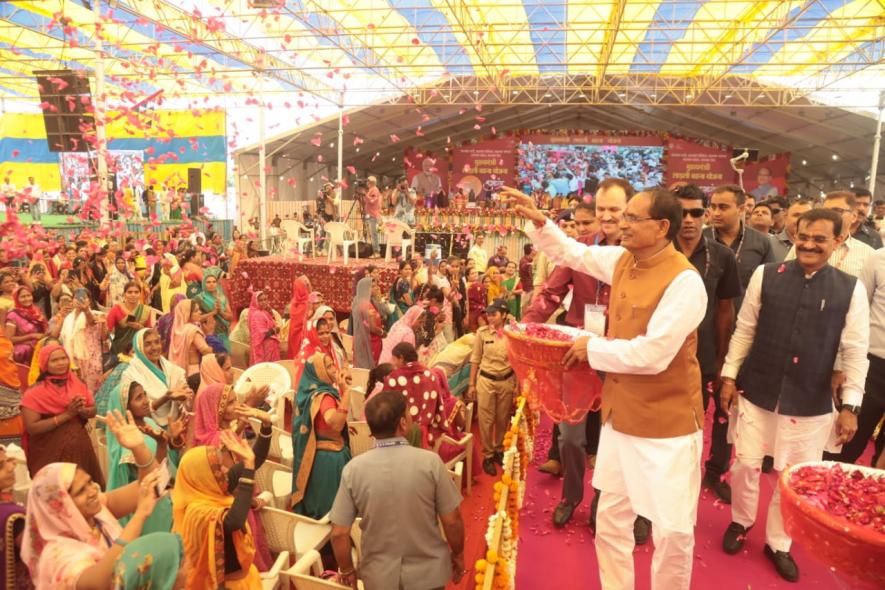 Kidwai points out that the BJP didn't shy away from copying the Congress in desperation. "The Ladli Behna Yojana is a copycat of a scheme announced by the Congress in Himachal Pradesh in the manifesto. "After the Congress revived OPS in many states, the BJP too is considering it."
A political strategist who works closely with the ruling party points out that the scheme was launched to consolidate women voters. "It's not financially prudent but is an important move to consolidate women voters ahead of Assembly polls. But if the Congress manages to convince women voters that they will get Rs 18,000 a year instead of Rs 12000, it will turn the tables," he says requesting anonymity.
Both parties know that if women are financially benefited, their families too will vote on similar lines.
Congresscounter-strategy
The Congress is eyeing women voters too. Hours after Rs 8,000 crore was allocated for the Ladli Behna Yojana in the Budget, state Congress president and former CM Kamal Nath said that women wouldget Rs 1,500 per month under the Mahila Sashakti Yojana if the Congress is voted to power.
Hitting back at Chouhan on Women's Day, Nath tweeted: "Shivraj ji, it would be better if you don't ask questions on women's welfare. With what face are you asking the question after making Madhya Pradesh number one in atrocities against women during your 18-year tenure?"
To counter the BJP, the Congress has announced a manifesto for women titled Priyadarshini, named after former PM Indira Gandhi, which has special provisions for women's safety, socio-economic strengthening of women, etc.
"Our leader Kamal Nath has already announced that women would get annual assistance of Rs 18,000. It would be the world's biggest women's welfare scheme. Just like Rajasthan, a cooking cylinder would be provided at Rs 500 to each marginalised family and Rs 100 free electricity to BPL cardholders," said a senior Congress leader and former minister tells Newsclick.
"The Congress has already announced plans to restore the Old Pension Scheme, which will benefit more than 4.40 lakh of the state'stotal 6.82 lakhgovernment employees," he adds.
Another Congress leader countered the BJP saying that only 30 lakh out of 2.60 crore women voters will benefit from the Ladli Behna Yojana.
"Many women have been excluded from the scheme and will hardly get one instalment before the model code of conduct comes into effect,"Nath's media adviser Piyush Babele says.
Political analysts believe both parties are trying to influence women voters—but will they get representation with only 21 women out of 230 MLAs.
On the Congress strategy, Kidwai says, "It's clear that politics dominates economics in India. What the Congress is doing in Madhya Pradesh is called competitive populism."
Taking a jibe, another political analyst requesting anonymity saysthat it's good that women's issues are at the centrestage in Madhya Pradesh polls and not communalism, which is the BJP's tried and tested poll strategy. \
"The BJP, known for raking up communal issues before elections, is bowing down before tribals and women voters. The competition between the two parties will ultimately benefit women," the analyst says.
A senior journalist requesting anonymity says, "More than Rs 1,500 crore has been spent on construction of temples and statues. Since women are more devoted than men, the BJP is leaving no stone unturned to regain their faith."
Surge in women voters 
According to the Election Commission, 18.82 lakh new voters were added to the list while 5.68 lakh names were deleted owing to shifting and deaths. Importantly, in 41 out of the 52 districts, more female voters were added to the updated list.Consequently, the gender ratio of voters improved from 926 to 931 women voters per 1,000 men.
According to the state chief electoral officer, 13 lakh-plus voters have been added in the last decade. Out of the total voters, 1.44 crore-plus voters are aged between 30-39, followed by 1.29 crore (between 20 and 39) and 1.06 crore (aged between 40-49 years), meaning that those aged between 20 and 49 comprise 70% voter base of MP.
(With PTI inputs)
Get the latest reports & analysis with people's perspective on Protests, movements & deep analytical videos, discussions of the current affairs in your Telegram app. Subscribe to NewsClick's Telegram channel & get Real-Time updates on stories, as they get published on our website.
Subscribe Newsclick On Telegram