BJP Gets Cheaper Ad Rates on Facebook Due to its Polarising Content
If a political party and its proxies have pumped in enough advertisements on the platform with emotionally- or politically-charged content, it's highly likely that the algorithm would offer them cheaper rates.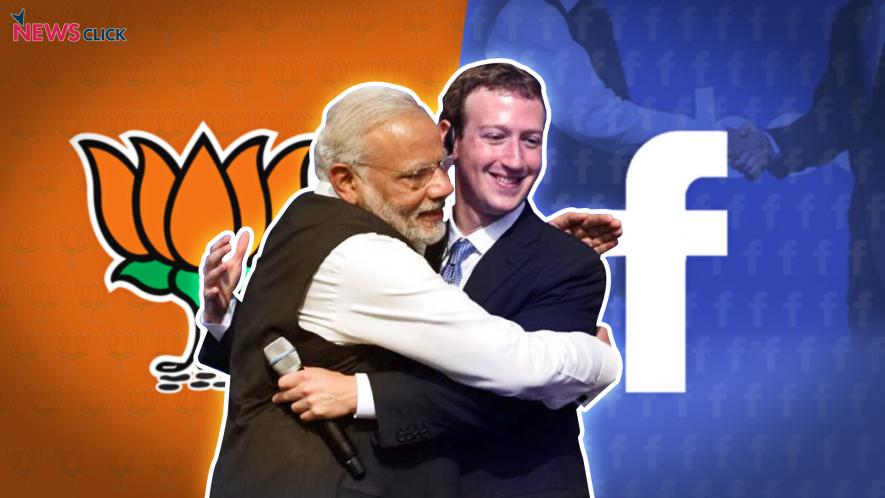 Facebook's algorithm grossly favours Bharatiya Janata Party's (BJP) advertisements because of the divisive nature of the content, as revealed by part four of a year-long investigation conducted by Kumar Sambhav of The Reporters' Collective (TRC) and Nayantara Ranganathan of ad.watch, a research project that studies political ads on social media.
The first three parts of the investigation focused on how Facebook helps BJP in the digital space by promoting advertisements from its surrogates. The first part of the investigation found that Facebook carried 718 surrogate political ads of Reliance Jio-funded New Emerging World of Journalism Limited promoting the BJP and denigrating its rivals costing Rs 52,00,000 viewed more than 290 million times in those 22 months.
The second part of the investigation discovered that at least 23 ghost and surrogate advertisers paid more than Rs 5.8 crore to Facebook to run 34,884 ads either to promote the BJP or criticise/lampoon the Opposition that garnered a staggering 1.31 billion views in the 22 months across 10 elections, including in Delhi, Odisha, Maharashtra, Bihar and Haryana.
The third part of the investigation showed how Facebook promoted BJP's advertisement at 29% less price than the amount paid by its arch-rival Congress during 10 elections between February 2019 and November 2020 (22 months), allowing it to reach a wider audience than opposition parties. 
Business Model Promotes Division
Facebook's business model is based on the auctioning of its viewing slots, where the platform provides advertisers with an opportunity to show an advertisement to a set of target audiences. In contrast to traditional advertising, the highest bidder may not win the auctions. Facebook's algorithm "can pick a lower bidder if it deems the advertisement more "relevant" to the targeted audience." While doing so, the algorithm subsidises the advertisement to make it cheaper. 
The algorithm determines the "relevance" of any content by estimating the engagement it would drive with its targeted audience. This engagement comes in the form of likes, shares and comments. The trick for anyone to game the algorithm is to find content that would hook the users or get a response (often emotional). 
The model isn't merely about advertising goods and services; instead, "it leads to unfair and unequal opportunities for political parties in electoral contests and skews the field." If a political party and its proxies have pumped in enough advertisements on the platform with emotionally- or politically-charged content, it's highly likely that the algorithm would offer them cheaper rates.  
For instance, the investigation shows how in October 2020, a lie about Bihar Opposition leader Tejashwi Yadav was shown about 150,000 to 175,000 times, mainly to the state's male voters, for a minuscule Rs 4,250 (less than three paise/view). The damage was already done when Bihar police debunked the supposedly viral claim.
Unfair Advantage to Dominant, Polarising Party
In late 2020, at the peak of the campaigning for US Presidential Elections, Donald Trump received lower advertising prices than his rival Joe Biden. In India, the BJP reaps similar benefits as the party and its affiliates "are the biggest direct publisher of political ads on Facebook." The platform has also "allowed a large number of BJP's ghost and surrogate advertisers to campaign for the party, bypassing, in the process, India's election laws and Facebook's own guidelines."
Two factors determine favourable rates for BJP- its dominance in numbers and polarising content. The multiplying effect to the party's official advertisements is provided by its dubious proxies, "further bringing down the rates at which BJP can buy advertisements on Facebook." 
The dominance is visible in the number of party followers and Narendra Modi on Facebook. In comparison, Congress, its nearest rival, lags far behind. Various studies have shown how Facebook's ad-delivery algorithm promoted political polarisation. As per a study by researchers at Northeastern University, the University of Southern California and non-profit tech justice organisation Upturn in the US, delivering advertisements to people who are not aligned with a politician's views are comparatively expensive, thereby facilitating an echo chamber of a sort.
In what the investigation deemed a "bonanza for the ruling party", Facebook's advertisement algorithm is likely to show its ads to more people for less money because of its dominance, compared to its rivals who have fewer followers.
Get the latest reports & analysis with people's perspective on Protests, movements & deep analytical videos, discussions of the current affairs in your Telegram app. Subscribe to NewsClick's Telegram channel & get Real-Time updates on stories, as they get published on our website.
Subscribe Newsclick On Telegram