BJP Leaders Face Several Allegations of Corruption Under the Yogi Government in UP
Seeing all the cases, many Opposition leaders said, that with the police working on Yogi Government's instructions, there was no way they could take actions against the ruling party's leaders in cases of corruption.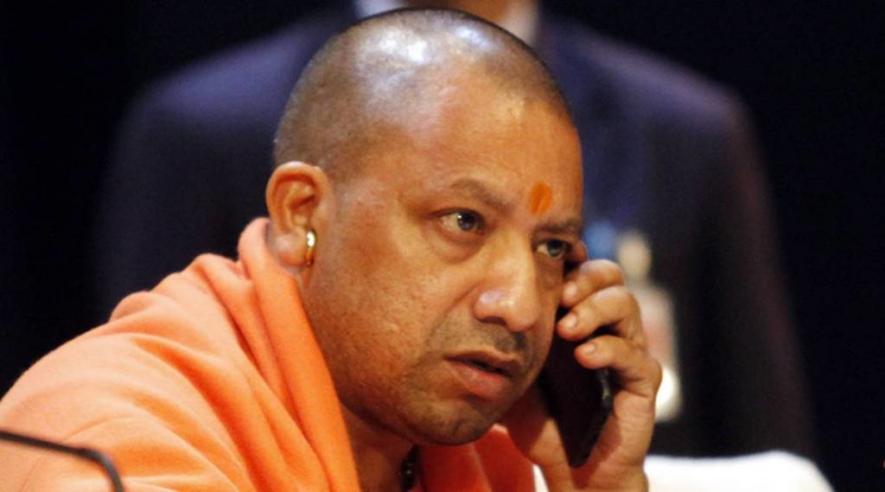 Despite its rhetoric of a corruptionless government, BJP and its party members in UP, are facing numerous allegations of corruption. Even though BJP has been in news for corruption cases earlier as well, a series of allegations has hit the party hard this month.
Last week, the BJP MLA from Sardhana Assembly Constituency, also one of the biggest poster boys of Hindutva in UP and a senior BJP leader in the State, was accused of corruption from no other than a BJP leader from Meerut, Sanjay Pradhan.
Pradhan alleged that Som took Rs.46 lakhs from him on the promise that he will use his influence to get Pradhan a PWD contract and did not even deliver s promise. In a written complaint to the Meerut Senior Superintendent of Police, Rajesh Kumar Pandey, Pradhan sought action against Som and demanded that he gets his money back.
"I gave Rs.43 lakhs to Thakur Sangeet Som after he assured that he will get me a PWD contract to build a degree college in Dadri area. It was on this promise that I gave Rs.15 lakh to Shekhar, an associate of the BJP MLA on July 15, last year. Then he asked me to pay Rs.25 lakh to some Robin who owns a hotel. Then I gave Rs.3 lakhs to Som's brother, Sagar Som," Pradhan claimed while talking to NewsClick. Dadri has a substantial chunk of Thakur population and Sangeet Som, who has always portrayed himself as an influential Thakur leader, enjoys influence in the local Thakur circle.
Pradhan, who is the head of the Ghat village in Sardhana and is also a member of the BJP's district executive committee, said that the police was yet to take action on his complaint.
This is not the first time that Som is faced with allegations of corruption. In April, a local businessman Rahul Singh alleged that Som duped him of Rs.53 lakhs. Singh said that Som had asked him to pay him the money on the promise of making him a partner in brick kiln business but never shared the profits with him.
Singh alleged that Som took the money from him for a business partnership in a brick kiln busibess but never shared the business profits with him. He also alleged that despite producing evidence, police did not take any action against Som because the police was acting under pressure of the ruling party MLA.
Singh also claimed that even the village panchayat was set up twice to sort out the issue and the panchayat had asked Som to return Singh his money.
Singh has filed a complaint against Som in the ADG Meerut's office as well. On Wednesday, he also told the media that he would commit suicide outside the Chief Minister Adityanath's office in Lucknow, if the administration does not act on his complaint.
"I sold my 50 milch animals and nine bighasof land to get in partnership with Som for a business proposition last year. He used my money to establish the business but he did not offer me any of the profit. When I asked him for profit, his brother gave me a death threat," Singh told NewsClick.
"Upon the Village Panchayat's persuasion, he registered nine bighasof land under Rahul's name and assured the village panchayat that he will return my money in a year and now after giving his land, he is going back on his words," Singh added.
Som, however, rejected all allegations and called it a "conspiracy" meant to malign him. He told NewsClick that he had written a letter to the party high command about these "politically motivated cases of allegation which spring up before every election".
Som's case was preceded by a bigger and a much more serious allegation made against Yogi Adityanath's Principal Secretary, Sashi Prakash Goyal. He was accused of allegedly demanding a bribe of Rs.25 lakhs to set up a petrol pump in Hardoi. The case turned into a source of major embarrassment after the State Governor Ram Naik wrote to the chief minister Adityanath, informing him about a complaint he had received through an email from a businessman Abhishek Gupta, against Goyal. Gupta claimed that Goyal allegedly asked for widening the narrow road which connects his proposed petrol pump to the main road
Governor Naik asked the CM to conduct a probe and take action in the case. Instead, the Adityanath government detained Abhishek Gupta and interrogated him. After spending a day in detention, Gupta retracted his allegations and said that he had "lost his mental balance", prompting a series of criticism from the Opposition leaders about the Yogi government's decision to go after the complainants in cases of corruption.
Immediately after the news of Gupta's allegations broke out, he was detained by the Lucknow police, after which he retracted his charges against the bureaucrat. Hours later, he released a video statement withdrawing all charges. The video was recorded while he was still in police custody. Gupta said that he was "frustrated" with the delay in completion of his petrol pump project due to the red tape. He had met Goyal to clear the red tape, but his efforts had gone in vain as Goyal did not entertain his attempts to speed up the project. He claimed that since he had taken a loan of more than Rs.1 crore for the project, and had to pay Rs.1.10 lakh interest every month, he became "mentally unstable". He claimed that he made the frivolous charges against the top bureaucrat out of depression.
Disapproving the Yogi government's targeting of complainants in corruption cases after seeing Gupta's fate, Samajwadi Party chief, Akhilesh Yadav, demanded a CBI probe into the allegations. A party spokesperson, Sunil Sajan, alleged that Gupta was tortured and coerced to sign the written apology letter and withdraw his allegations.
Som was not the only member of BJP's UP unit to face allegations of corruption. Meerut police registered a case against the husband and daughter of the BJP MLC, Sarojini Agarwal, for charges of committing fraud and corruption in the allocation of housing scheme, last week.
According to the Superintendent of Police (City) Meerut, Ranvijay Singh, Om Prakash Agarwal and Neema Agarwal, husband and daughter of the BJP MLC, have been accused by some people of duping them of Rs.10 lakhs.
They were accused of taking Rs.10 lakhs from the complainant on the pretext of getting him a house under the scheme.
"A case was registered against them under IPC sections 420 (cheating), 467 (forgery of valuable security will), 468 (forgery for purpose of cheating), and 421 (dishonest or fraudulent removal or concealment of property to prevent distribution among creditors etc)," Singh told NewsClick.
The complainant, Irfan Ansari, told NewsClick that a police case was registered only after the local court's intervention. Irfan accused Sarojini Agarwal of using her political clout to get the contract for building a house under the Samajwadi Aawas Yojna— a flagship scheme of the previous Akhilesh Yadav government– to a company called Prateek Dealcom Limited. Both, Omprakash and Neela are directors in the company.
"The local police did not listen to my complaint after which I had to knock on the doors of the local court which saw some merit in my complaint and asked the police to probe the matter," Irfan said.
Seeing all the cases, many Opposition leaders said, that with the police working on Yogi Government's instructions, there was no way they could take actions against the ruling party's leaders in cases of corruption.
"The police will never act against BJP leaders in any case, let it be cases of corruption. Why do people think that the BJP government would act against its leaders? In no case, has it been done. In Sarojini Agarwal's case, the police was not even ready to file a case against her husband and daughter," the Samajwadi Party MLA from Meerut, Rafeeq Ansari, told NewsClick.
Get the latest reports & analysis with people's perspective on Protests, movements & deep analytical videos, discussions of the current affairs in your Telegram app. Subscribe to NewsClick's Telegram channel & get Real-Time updates on stories, as they get published on our website.
Subscribe Newsclick On Telegram