Is BJP-RSS Combine Jolted by Farmer Protests?
Monolithic nationalism focuses on voters, constituencies, and local concerns, which offsets counter-narratives that raise national issues.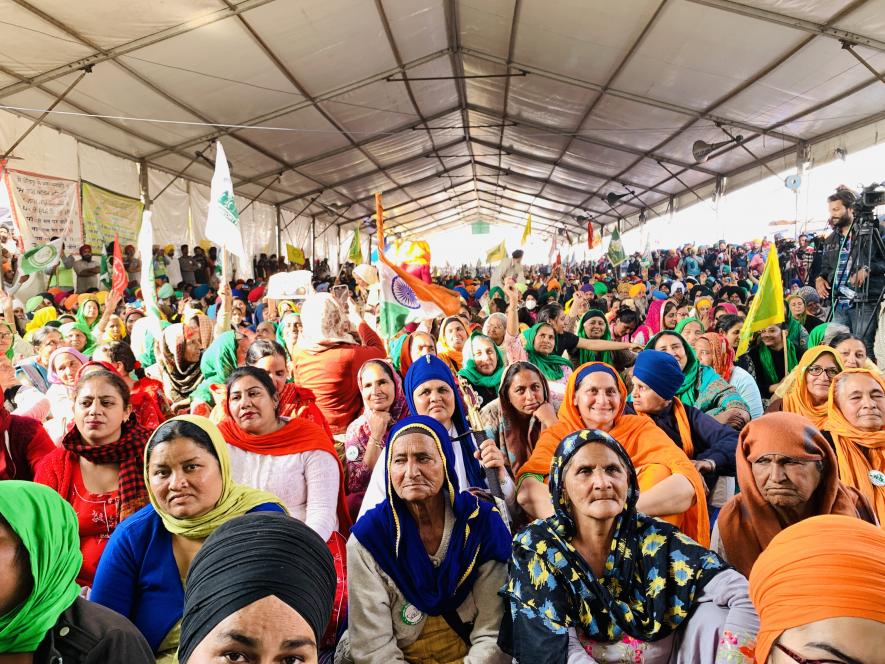 Women farmers at Singhu border.
The question must surely be on many minds whether or not the Bharatiya Janata Party is feeling jolted after two months of unflinching protests by farmers. Does the BJP feel cornered, and is the Modi-Shah duo feeling exposed? Is the Teflon-coated larger-than-life image which guards them against criticism withering?
Will the farmer protests lead Prime Minister Narendra Modi and Union Home Minister Amit Shah to a fresh course of action for the rest of their government's tenure? We need to understand how this regime thinks, and how the parent organisation of this regime led by a supreme leader has trained them to make sense of any crisis.
One question matters the most at the outset: what kind of impact will the protest have on the BJP's electoral prospects in the run-up to the 2024 Lok Sabha election? Remember that under Shah's stewardship, the electoral process in the country has gotten fortified, or gentrified, and turned away from the larger social and economic issues.
So, we find that the migrant crisis could not significantly alter the electoral outcome in Bihar. Even the ongoing economic crisis is not becoming a rallying issue despite efforts of Congress leader Rahul Gandhi to make it one. Even the escalating prices of petrol and diesel, not to mention essential commodities such as onion, seem not to be those very issues that once brought governments crashing down. 
Today, elections seem to have developed an independent logic of their own. They are based on big data, such as micro-information about households and families. There is an unprecedented use of money-power, which includes the ability to buy up legislators in case the ruling party falls short of MLAs. 
The other prevailing tactic is to fragment Opposition parties by funding and sponsoring dummy candidates, or fielding prospective vote-splitters, which makes it possible to secure fine-grained data on vote percentages and how many seats can be won or lost. 
Therefore, those who are feeling relieved, maybe even euphoric, by the unprecedented mobilisation of farmers may have to pause and think about whether it would adversely impact the BJP electorally. The opposition certainly lacks the resources and organisational skills of the BJP. That apart, using investigative machinery they can force parties such as the AIMIM and the TRS to fragment votes and create false narratives.
It is certainly a cause of concern if one thinks the ongoing mass mobilisation of farmers will not have a decisive impact on forthcoming elections in West Bengal and Assam; yet, they have not even become an electoral issue. Instead, West Bengal is busy debating the legacies of Subash Chandra Bose and Rabindranath Tagore. It is inexplicable why Chief Minister Mamata Banerjeeis not creating a narrative about how the BJP is a threat to the peasantry. The only possible reason could be that she feels they would not respond to something that is seen to be 'happening in Punjab'. 
It is intriguing that in West Bengal, an essentially agrarian state, Chief Minister Mamata Banerjee and her Trinamool Congress have not been raking up the anti-farmer image of Modi. This makes it seem as if ever since Modi became Prime Minister there are no national issues left at all. We may still celebrate the farmer protests, but the way the Modi-Shah duo would approach it—through the lens of hyper-local electoralism—means that it is a lesser cause of anxiety to them than many wish it to be.
Further, even socially, the farmer movement may not be able to build a single unified narrative. For, the Rashtriya Swayamsevak Sangh (RSS), the BJP's parent organisation, counter-visualises India through a provincial lens and combines this vision with the localisation of electoral narratives. 
The way most of the media presents the farmer protests, or how most of the middle class and progressive imagination also sees it, are just one layer of perception. 
Beneath and beyond it, the RSS sees this issue as deeply fragmented and from a provincial lens. Its perception could strike a contrast, by marking its sheer indifference to the crisis in the farm sector and the laws brought in by the central government. 
The RSS does this by actively mobilising and accentuating conflicting viewpoints. So we find that as always, the RSS-affiliated farm union has declared its opposition to the new laws, but the RSS itself has vowed to campaign "to explain" these laws to laypeople. 
The RSS assesses the popular imagination to gauge how much space is available to plant misinformation, rumours, and falsehoods. This is what makes them less anxious than many want to believe they are. It also seems to have evolved a strategy to simultaneously appropriate, deny, revile, contradict, and distance itself from the farm movement. This is also true of how it has dealt with historical figures and many other issues of popular concern. 
For example, the RSS and organisations affiliated with it are alleged to have been involved in the assassination of Mahatma Gandhi. Yet they have appropriated Gandhi and also celebrate Godse. They take the lead in organising events to mark Gandhi Jayanti and also talk about Gandhi's Ram Rajya. Then they also inaugurate a temple or library dedicated to Godse. In the same breath, they blame Gandhi for Partition and celebrate Gandhi's strategies on inter-caste harmony. The same can be said of the RSS's simultaneous appropriation of and contempt for BR Ambedkar, Jawaharlal Nehru, Bhagat Singh, and many others.
This is how RSS finds space in social mobilisations as well; which it simultaneously appropriates and condemns. It offers multiple contradictory narratives without a thought about how it may come across as less than credible. 
There is something to be understood from this phenomenon. The RSS may resist diversity but not multiplicity (or duplicity). For instance, the RSS seems to understand that the "idea" of the nation is an abstraction and that people think more in terms of local spaces. It uses this awareness and furthers it by talking about unity and a singular national interest. 
To the RSS, even Hinduism is more about various sects and castes differentiated across regions. It is on this differentiation that it constantly seeks to impose a Hindu religion marked by uniform practices. The bottom-up micro-view of the RSS is the source of its confidence and insulates the BJP against the electoral impact of the unprecedented mobilisation of farmers.
How would those who oppose the instrumental use of these insights by the RSS-BJP develop their political repertoire? For, it is an irony that those who believe in diversity are attempting to foster a "national" imagination; while the monolithic nationalists appear to be invested in micro-diversity. This irony explains why, during this regime, the optics have always diverged from the real outcomes. 
India needs a fresh re-thinking on the impact of mobilisations, including the farmer movement, on the current regime. This may make mass movements more socially and politically potent.
The author is an associate professor at the Centre for Political Studies, JNU. The views are personal.
Get the latest reports & analysis with people's perspective on Protests, movements & deep analytical videos, discussions of the current affairs in your Telegram app. Subscribe to NewsClick's Telegram channel & get Real-Time updates on stories, as they get published on our website.
Subscribe Newsclick On Telegram