BJP's Maharashtra Tactics Meant to Dishearten Opposition
But all apparent wins for the BJP aren't final, for voters are the final arbiters.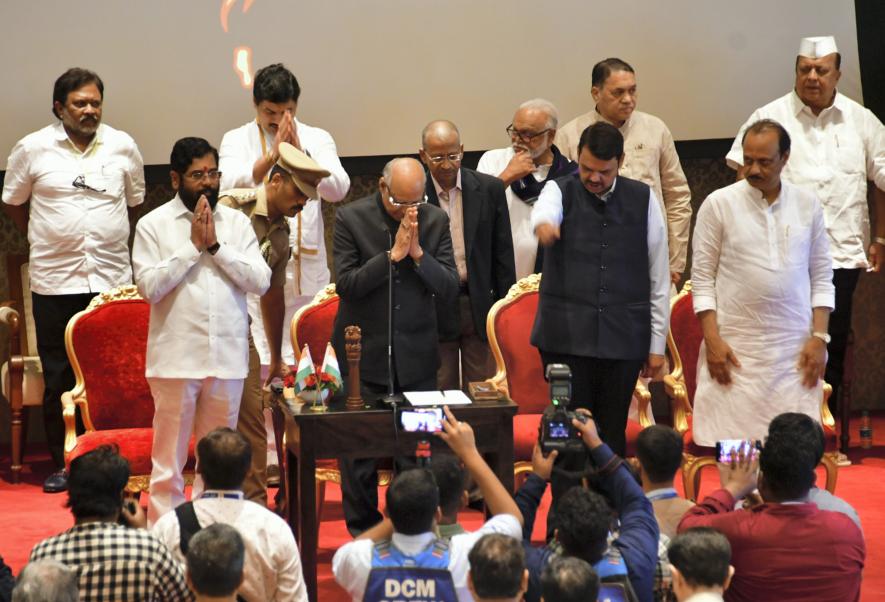 Maharashtra Governor Ramesh Bais with Chief Minister Eknath Shinde, Deputy Chief Ministers Devendra Fadnavis and Ajit Pawar, and newly sworn-in State Cabinet ministers during a ceremony at Raj Bhavan, in Mumbai, Sunday, July 2, 2023. Image Courtesy: PTI
Sharad Pawar, redoubtable supremo of the Nationalist Congress Party (NCP), whose autobiography is aptly titled On My Own Terms, found himself cornered on Sunday by nine party stalwarts who, as he said, had acted on "somebody else's terms".
Ajit Pawar and eight other veterans of Maharashtra politics and the NCP, including so-called Sharad Pawar loyalists Praful Patel and Chhagan Bhujbal, joined the Bharatiya Janata Party government of Chief Minister Eknath Shinde. Ajit Pawar was sworn in as the second Deputy Chief Minister of Maharashtra, and the eight MLAs are now Cabinet ministers in the State government. Ajit Pawar has previously demonstrated his tireless pursuit of a Cabinet berth. In November 2019, he was sworn in as Deputy Chief Minister in the short-lived Devendra Fadnavis government which lasted three days.
Sunday's events unfolded just six days after Prime Minister Narendra Modi stridently claimed in a high-decibel speech before his party workers in Madhya Pradesh that those who once "guaranteed corruption" would face guaranteed action now, get punished and imprisoned.
NCP Newcomers Face Corruption Charges
It's no secret that four NCP leaders who have now become Cabinet Ministers—Ajit Pawar, Bhujbal, Aditi Tatkare and Hasan Mushrif—face corruption charges and Enforcement Directorate probes.
That is why a sardonic quip is doing the rounds that the "ED faction of the NCP has joined hands with the BJP".
In fact, Modi specifically mentioned an alleged irrigation scam in his speech in Madhya Pradesh. This was an allusion to Ajit Pawar, who held the irrigation portfolio in Maharashtra until 2014. Interestingly, that year, the BJP's Fadnavis became chief minister of the state, but no investigation was launched against Ajit Pawar during his term. Now, as Deputy Chief Minister, Fadnavis has referred to the former minister's alleged role in so-called scams in a public meeting.
The Prime Minister joined this chorus of allegations in his speech to party workers, in which he berated the NCP for its alleged "corrupt practices" and "scams" totalling Rs 70,000 crore. He said those involved in these scams would face "serious consequences"
Still, days later, the BJP happily accommodated the people it accused of serious misdeeds in its Council of Ministers in the Maharashtra government, in which it is a key partner.
Why Target NCP
Last year, most of the Uddhav Thackeray-led Shiv Sena's MLAs broke away from the party and, led by Shinde, joined the BJP and formed a government in Maharashtra. While that episode had a Shinde versus Thackeray flavour, this year, the BJP has stoked an Ajit Pawar versus Sharad Pawar conflict!
Now, the BJP does not need these NCP MLAs because the Shinde government already enjoys majority support in the Maharashtra legislature. But they have joined the BJP—on their terms—because the BJP is hungry to secure as many of Maharashtra's 48 Lok Sabha seats as possible.
What the BJP wants is to shatter Opposition unity, which could fatally injure its prospects for winning the 2024 General Election. Maharashtra has the second-most Lok Sabha seats after Uttar Pradesh's 80 seats and is therefore crucial to government formation at the Centre. However, reportedly, a recent internal survey has shown its prospects of winning in Maharashtra, Madhya Pradesh, and Uttar Pradesh as bleak. Political surveys and political contests over them have become almost a norm in Maharashtra.
All this has naturally sparked apprehensions in the BJP that it would appear weak before the 2024 Lok Sabha polls. That could explain why splitting the Shiv Sena and absorbing its members did not seem enough for it!
Sympathy for Uddhav Thackeray
The BJP leadership and cadre cannot possibly be ignorant that Thackeray garnered public sympathy and support after the BJP's machinations last year. Thackeray has left no stone unturned to remind people of that episode and continually firm up the perception that he was betrayed by his party MLAs (led by Shinde) at the behest of the BJP. Despite attempts to marginalise and make Thackeray insignificant in public life, he commands attention and admiration, which might mean a favourable electoral outcome. The heavy odds Thackeray confronts since his party's legislative wing deserted him had a bright side—it drew him closer to people who intensely disapproved of wrongs done to him.
BJP Delays Municipality Polls
The disaffection against BJP's actions is so high that Thackeray, with the Congress and NCP, can hope to sweep the elections for 200 municipalities, including the prestigious seats in Mumbai and Pune. Political commentators say that if the BJP and Shinde's Shiv Sena are putting off local elections, they could hardly be confident about facing a general election in nine months. That could be why the BJP exploited Ajit Pawar's dissatisfaction over Sharad Pawar appointing Supriya Sule as the NCP working president and taking away his power to pick election candidates for the party.
But will this plan work? Most of the MLAs of the Eknath Shinde-led Shiv Sena, who were assured of Cabinet berths, are now at a loss as NCP MLAs have become ministers! Noted political scientist Prof Suhas Palshikar said in a recent interview with Karan Thapar on these developments that with experienced leaders such as Fadnavis and Ajit Pawar as Deputy Chief Ministers, Shinde's position as Chief Minister has been greatly hollowed out. He would find it difficult to effectively discharge his responsibilities. In other words, the BJP has put the Shinde-led Shiv Sena on standby—making them even more vulnerable to voters' wrath. It would be difficult for the BJP to manage the internal contradiction arising from the discontent of Shinde's Shiv Sena.
In Karnataka, the BJP lured Congress and Janata Dal (Secular) MLAs to dislodge the elected government and install itself in power. It gave ministerial berths to these incoming MLAs, headed first by BS Yediyurappa and later by Basavaraj Bommai. None of this went down well with the electorate or the BJP rank and file. It was badly defeated in the recent State Assembly election. In Madhya Pradesh and Goa, the BJP established governments by engineering defections—and it may face electoral debacles there in a few months, just like in 2018.
Congress Party's Karnataka Win Incensed BJP
The Karnataka election drove home the point that Modi and Hindutva strategies alone cannot garner the BJP electoral victories. It compounded these concerns once the 17 Opposition parties met in Patna late in June. Sheer anxiety seems to have now prompted it to make a big display of a fractured Opposition. The accusations that all non-BJP parties are dynastic and indulge in corrupt practices would appear realistic to many when it unleashes investigative agencies against rival leaders. No BJP leader is ever probed, indicating its ruthless effort to use corruption charges to malign those who pose electoral challenges.
What the BJP has done to the NCP, it might try on other parties, like the Janata Dal (United), the Rashtriya Janata Dal, and any regional formation central to uniting against the BJP to defeat it in 2024.
The prospect of a Lok Sabha defeat in 2024 has the BJP anxious about Opposition parties uniting. Could it also be that the BJP fears coercive actions against its members if the rivals it is ruthlessly pursuing decide to pay it back in kind? Indeed, it would be naive to think that the NCP will be the only party to face such tribulations until the BJP is in power.
The author served as Officer on Special Duty to President of India KR Narayanan. The views are personal.
Get the latest reports & analysis with people's perspective on Protests, movements & deep analytical videos, discussions of the current affairs in your Telegram app. Subscribe to NewsClick's Telegram channel & get Real-Time updates on stories, as they get published on our website.
Subscribe Newsclick On Telegram