BJP's Pan-India Growth on Back of Defections and Central Agencies
The lack of ideological underpinnings in the Congress, a so-called umbrella party for leaders from across the board, further causes defections.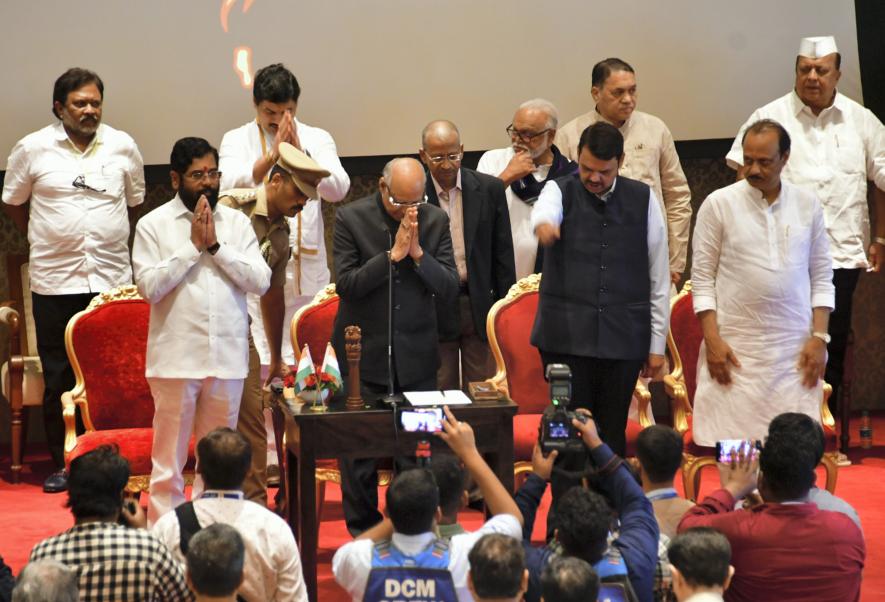 Maharashtra Governor Ramesh Bais with Chief Minister Eknath Shinde, Deputy Chief Ministers Devendra Fadnavis and Ajit Pawar, and newly sworn-in State Cabinet ministers during a ceremony at Raj Bhavan, in Mumbai, Sunday, July 2, 2023. Image Courtesy: PTI
The latest defection of Nationalist Congress Party (NCP) MLAs in Maharashtra is another indictment of the worrying trend under the current Bharatiya Janata Party (BJP) regime at the Centre. It is the second time the BJP has managed to engineer such defections in Maharashtra in the last two years. 
In June last year, 40 of the 56 Shiv Sena MLAs, led by Eknath Shinde, walked out of the party, thereby toppling the then-Maharashtra Vikas Aghadi (MVA) government. Shinde later became the chief minister in the government formed in an alliance with the BJP. The recent defections saw Ajit Pawar and eight other MLAs taking oath as ministers in the state government. 
Political defections in India have been common since the country's independence. Parties like the Congress Socialist Party and the Jana Congress were at the centre of early defections. However, the same became worse in the 1960s, especially in 1967, when Congress lost power in several states. It also saw its majority reduced in the Parliament. 
The phrase "Aaya Ram Gaya Ram" comes from Haryana, the early hotbed of political defections. One MLA, Gaya Lal, helped topple several governments in less than a year. Bhajan Lal was the Gaya Lal of Haryana in the 1980s, shifting parties to remain in power. Even the term 'farmhouse politics' originated in Haryana as MLAs were asked to stay in a farmhouse to escape defections to other parties; in some ways, it was an earlier variant of the current 'resort' politics. 
Defections have been defined  as the "transfer of allegiance by a legislator from one party to another political party or an identifiable political group." 
In the first four decades of Indian politics, Congress caused several political defections. Whenever a strong Congress government was at the Centre, MLAs and MPs from other parties defected to Congress. The governments collapsed across India in 1971, and a repeat occurred in 1980 after Indira Gandhi returned to power. Indira Gandhi's return was facilitated by the defection of 76 MPs from the Morarji Desai government. Post her return, legislators from non-communist opposition parties joined Congress to help the latter form governments nationwide. For instance, the ruling Janata Party joined Congress in Himachal Pradesh; similarly, Bhajan Lal defected to Congress with 21 MLAs in Haryana. At the same time, turncoats like Bhajan Lal didn't shy away from deserting Congress as well to remain in power in the 1980s. 
These defections were caused due to a variety of reasons; feudalism, intra-regional rivalries, and access to power, to name a few. The biggest reason was the unique existence of Congress, a dominant party in a multi-party political system. India's political forces organised themselves into two streams, Congressism and anti-Congressim. 
The lack of ideological underpinnings in Congress, a so-called umbrella party for leaders from across the board, further caused defections. For instance, communist parties and BJP (Bharatiya Janata Party) escaped defections in the 1980s. In contrast, other caste-based or family-based parties couldn't hold onto their elected representatives who sought political power. 
Ironically, the first anti-defection law was passed in Parliament in 1985 under a Congress government headed by prime minister Rajiv Gandhi. The objective was "to curb the evil of political defections motivated by the lure of office or other similar considerations that endanger the foundations of our democracy." The law did not make it illegal for elected representatives to switch parties; however, it gave legislatures powers to penalise such action. However, the defections continued unabated. 
In 2003, the anti-defection law was tweaked; earlier, legislatures could switch parties without getting disqualified if they represented 1/3rd of the party's strength. This was changed to two-thirds. Additionally, the role of the speaker in a legislative assembly became crucial; the speaker was entrusted with deciding on disqualification pleas filed by political parties against the defected members.  
Defections and Weaponisation of Central Agencies 
Before Narendra Modi became the prime minister in 2014, BJP was relatively strong in a number of states. It had governments in Madhya Pradesh, Gujarat, Chhattisgarh and Goa and was an ally in the governments of states like Bihar and Punjab. 
While the party won a clear majority in the 2014 General Elections, its rise to power also meant the desertion of politicians from the Congress. Several leaders switched parties to join the BJP to ride the new Modi wave, which reduced Congress to 44 seats in the Lok Sabha. These desertions from Congress proved crucial for the BJP to win elections in states like Haryana, Assam, Uttarakhand and Uttar Pradesh. 
At the same time, as the BJP embarked on its "Congress-Mukt Bharat" project, it sought the help of the amended anti-defection law to lure MLAs. Under the law, it would not lead to disqualification if more than two-thirds of MLAs of a party defect.  
In Arunachal Pradesh, Congress secured 47 seats in the 60-member Assembly in the 2014 polls. However, in less than two years, Congress' strength was reduced to just one seat after Chief Minister Pema Khandu and other MLAs defected to the People's Party of Arunachal. Later, Khundu allied with the BJP and remained the CM. 
BJP did something similar in Manipur after Congress won more seats in the 2017 Assembly polls. Thanks to alliances with regional parties (NGF (Naga People's Front) and NPP (National People's Party)) and support from one Congress MLA, BJP formed a government. The lone Congress MLA who switched sides had never resigned from the party; despite that, he became a minister in the new government. 
In Karnataka, where BJP had successfully carried out 'Operation Lotus' in 2008, a repeat happened in 2019 when 13 Congress MLAs defected to BJP. Joined by three other MLAs from JDS (Janata Dal-Secular) and one from KPJP, they successfully toppled the Congress-JDS government, helping BJP return to power in the state it had lost in 2018. 
A 2020 report by ADR found that since 2014, 405 MLAs defected from their parties. 182 (44.9%) of them joined BJP. 170 (42%) of these 405 MLAs were from Congress. In March 2020, just as the COVID pandemic was knocking on India's doors, BJP was busy toppling another government. In Madhya Pradesh, 21 Congress MLAs resigned from the party to join BJP, leading to the downfall of the Kamal Nath government. Yet again, BJP returned to power in another state it had lost in elections. 
In a healthy democracy, a party or an alliance gets to form the government if they have a majority. The same hasn't been the case under the Modi regime. Even if an opposition party form the government, its leaders get harassed by central investigative agencies. Since 2014, ED has probed around 121 political leaders. Of these, 115 (95%) are from non-BJP parties. 
The probes by central agencies ease down if a leader decides to defect to BJP. Cases against Assam CM Himanta Biswa Sarma, who joined BJP from Congress, Suvendu Adhikari and many others were either put on the back burner or dropped after they joined BJP. 
On the other hand, harassment against opposition leaders continues unabated. The CBI and the ED team up to file multiple cases against top leaders of opposition parties. Rashtriya Janata Dal (RJD) leader Tejashwi Yadav and his family are examples of this; yet another instance is Delhi Deputy Chief Minister Manish Sisodia. In many such cases, the ED used draconian provisions of the Prevention of Money Laundering Act(PMLA) to imprison political leaders. 
This modus operandi has proven to be incredibly effective. While leaders like Sarma, Adhikari, Narayan Rane, etc., have defected to the BJP, others who don't defect are made to go through the process of trial or conviction, which itself is a punishment. Using this tactic, the BJP helped topple the Maha Vikas Aghadi (MVA) government in Maharashtra in 2022. Shiv Sena leaders like Yamini Jadhav, Bhawana Gawali, Pratap Sarnaik, and others saw ED cases filed against them before they joined the Shinde camp. Similarly, in the recent mutiny in the NCP by Ajit Pawar, several MLAs and MLCs had ED cases against them. 
Even when a party has a solid case to get defected MLAs disqualified, the speaker's powers get used to delay decisions on disqualification pleas. It has been over a year, and the Maharashtra speaker has yet to take a call on the disqualification pleas filed by Shiv Sena against the Shinde camp MLAs. 
There has been a common trend where opposition parties' leaders see raids or cases by central agencies before critical elections. In April 2021, the IT department raided properties of Senthamarai, the daughter of DMK chief (now Tamil Nadu chief minister) MK Stalin, before the Assembly elections. A similar thing happened with TMC MP Abhishek Banerjee and his family, who faced raids by central agencies. 
Before the Kerala elections, ED alleged that Swapna Suresh, one of the accused in a gold smuggling case, "committed the crime at the behest and insistence of CM Pinarayi Vijayan." The CBI raided Karnataka Congress leader DK Shivakumar in October 2020. Multiple raids were carried out on the premises of Rajasthan CM Ashok Gehlot's associates at the time of a power tussle within the Congress between Gehlot and Sachin Pilot. 
Haryana Congress leader Bhupinder Singh Hooda was booked in a land acquisition case before the 2019 Lok Sabha polls. A similar thing happened to Telugu Desam Party (TDP) chief Chandrababu Naidu when the party left its alliance with BJP. 
While horse-trading (or defections) of MLAs also happened during previous governments, the case of the BJP is unique as it tends to use every means at its disposal to intimidate, harass and weaken opposition parties. 
The BJP deploys its questionable moves to make politicians defect, and that too in broad daylight. Then, they get full support from gullible or motivated media platforms that hail the party's methods as masterstrokes; horse-trading of MLAs gets termed 'chanakya-neeti'. Opposition leaders are declared guilty by the media based on propaganda PR at the behest of the central government. The naked abuse of power is neither surprising nor shocking anymore. These tactics are set to increase as the next General election is less than a year away.
Get the latest reports & analysis with people's perspective on Protests, movements & deep analytical videos, discussions of the current affairs in your Telegram app. Subscribe to NewsClick's Telegram channel & get Real-Time updates on stories, as they get published on our website.
Subscribe Newsclick On Telegram