Blocked Roads, Disrupted Deliveries: G20 Puts Gig Workers in a Bind
According to a report by the Forum for Internet Retailers, Sellers, and Traders, around 9,000 gig workers were bearing the brunt of losing their daily earnings due to the suspension of commercial activities within specific areas.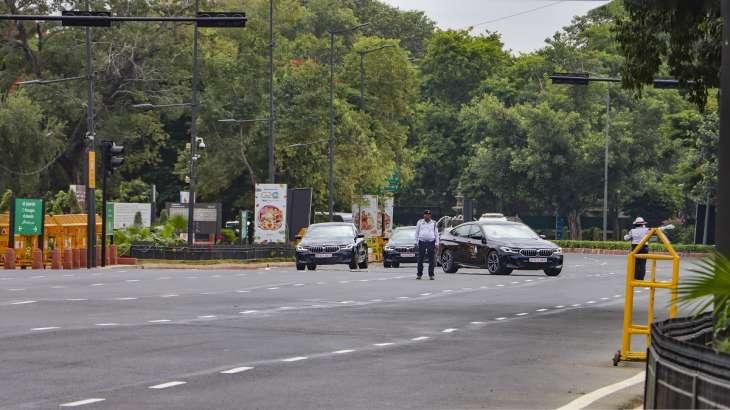 New Delhi: During the G20 summit, restrictions and road closures created significant issues for gig workers who rely on daily income to make ends meet.
Inder has been working as a food delivery agent for the past three years. He has a family of four to feed and is the sole breadwinner. When the news about food deliveries being put on hold surfaced, he couldn't help but worry about how to earn money for his family. "With the amount I earn regularly, it's already challenging to save money. The average earnings are between Rs 450-500 a day. When the government declared that several roads would be closed, and restaurants in a few of the most prime locations in the city, like Connaught Place, would be closed, I was shocked and felt completely helpless," narrated Inder.
According to a report by Forum for Internet Retailers, Sellers, and Traders (FIRST), around 9,000 gig workers were bearing the brunt of losing their daily earnings due to the suspension of commercial activities within specific areas governed by the NDMC (New Delhi Municipal Council) for a three-day period. Vinod Kumar, the president of FIRST, expressed hope that the government would establish sanitised zones for market operations, enabling deliveries and shopping activities to continue while ensuring safety during the summit.
It is essential to understand the functioning of food delivery agents. They typically operate within specific areas with multiple food outlets, enabling them to secure a maximum number of orders throughout the day. In a situation like this, working in different areas, even for three days, becomes challenging for them as it takes them out of their usual territory. With a significant portion of Central Delhi blocked, these workers found it impossible to access higher-paying delivery opportunities in East Delhi. To reach multiple locations, they had to cross the blocked areas. While the workers acknowledge the company's cooperation in not charging them for cancelled orders when they find it unfeasible to navigate to a particular area, they still grapple with other issues.
"Even for an order that is just 4-5 kilometres away from the restaurant, we have had to take a detour of 10-12 kilometres to reach the location. It becomes really exhausting since the customers also often do not realise why we are late," said Yash Gupta, another food delivery agent. Gupta has been facing problems for the last two days since the petrol expense has also gone up for him. For every detour that he has to take due to the restrictions, although there's no penalty from the app's end, he has to bear the cost of the extra petrol consumed along the way. This has also resulted in fetching a lesser number of orders than usual since one order may take longer to be delivered.
Yash faced another problem on the first day of the summit and said that many of his colleagues had faced the same. Although the restaurants in the Connaught Place area were shut, deliveries to addresses were still possible from restaurants in different areas. Yash received an order for which he went into Central Delhi, not to pick up but to make the delivery. When he reached the location, he was caught by the Delhi Police "who questioned him for an hour straight about what he was doing in a restricted area". He kept trying to explain to them that this was not his fault and he was not aware that deliveries could not be made either, but the police turned a deaf ear towards him. Not only this, but he also kept calling the customer who "did not show up at all", and his order was cancelled.
The Confederation of All India Traders (CAIT) has expressed concerns regarding the repercussions of these restrictions on well-known markets in areas such as Connaught Place, Janpath, Khan Market, and Malcha Marg. It is estimated that, when considered collectively, these markets could incur business losses amounting to approximately Rs 100 crore during the three-day closure. Delhi's retail markets typically generate an average of Rs 500 crore in daily sales, making this a substantial setback for the industry.
Another reason behind the setback for the gig workers was that the summit was happening over the weekend. A time when the majority of people order food and go out to meet their friends. For the workers who have been running bike taxis, a cheaper and convenient way primarily for the youth, they also had to face multiple issues with not much support from the company's end as alleged by them.
Shubham is a bike taxi rider and works for approximately 10-12 hours daily. He told NewsClick that during these three days, he has faced significant challenges because he couldn't access incentives or longer rides, which typically yield higher earnings. Instead, he had to accept shorter rides where the fare for dropping off passengers did not cover even his petrol expenses. He said, "The roads are blocked, and the police are not allowing us to use specific areas, which are the only routes available. Due to the traffic situation, many people have opted for the metro instead of using these ride-sharing applications."
Another bike taxi driver, Deva, talked about the multiple issues he faced when it came to crossing Delhi to enter Ghaziabad or Noida region. "The rules are really strict and we are facing more checkings than ever. This is good because proper security is being maintained. But the problem is although we are in NCR, we are not being able to travel smoothly between the borders," said Deva. 
Sunand, Secretary of CITU Delhi State Committee, highlighted how, even under normal circumstances, gig workers often go unnoticed, and their issues remain unaddressed. He stated, "The major problem is the absence of a legal framework that could provide assistance to gig workers. Moreover, these companies have deliberately established a murky employee-employer relationship with gig workers. Consequently, in case of any trouble, they have no recourse." He also mentioned that the Labor Department of Delhi had issued notifications instructing employers to compensate their employees for the three days of the summit. Unfortunately, gig workers were excluded from this provision, leaving them with no recourse.
As the summit concludes, gig workers hold onto hope for a recovery and anticipate an organised resistance or appeal that could pave the way for justice, ultimately integrating them into the legal framework.
Get the latest reports & analysis with people's perspective on Protests, movements & deep analytical videos, discussions of the current affairs in your Telegram app. Subscribe to NewsClick's Telegram channel & get Real-Time updates on stories, as they get published on our website.
Subscribe Newsclick On Telegram