Book Review: Ramrao, the Story of India's Farm Crisis
Ramrao tells us what it is like to be – financially, socially, emotionally and mentally – an Indian farmer today.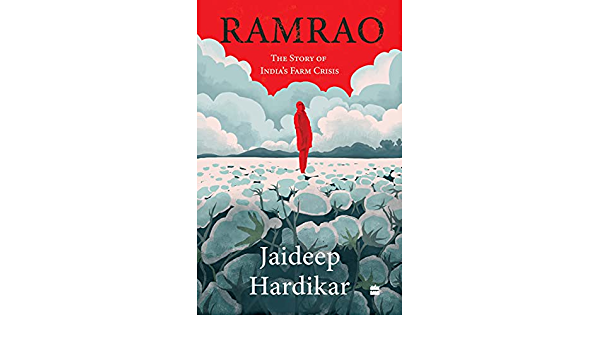 Ramrao: The story of India's Farm Crisis
Jaideep Hardikar
Published by Harper Collins.
Rs 399.
In April 2014, Jaideep Hardikar first met Ramrao Penchleniwar.
Earlier that month, Ramrao, a debt-strapped farmer in Maharashtra's Vidarbha region, had drunk two bottles of insecticide. Only prompt help had saved him.
The subtext is already familiar. Vidarbha, the North-eastern part of Maharashtra, has the highest incidence of farmer suicides in the country. A grim achievement in a country stamped all over with farm distress.
The questions write themselves out. Why do India's farmers run up large debts trying to farm? Why are they breaking, reaching a point where they wish to die? What is it like to be an Indian farmer today?
There is no dearth of prescriptive punditry around these questions. In shorter supply, however, is a sense of the ground realities against which those answers should be weighed.
Which is what Ramrao, by veteran rural India reporter Jaideep Hardikar, delivers.
Seven years with Ramrao
Hardikar first met Ramrao shortly after the latter's attempt to kill himself.
Over the next seven years, they stayed in touch. That relationship has now produced a book where Hardikar recounts Ramrao's journey since 2014. What we get, in the process, is a close look at what it's like to be a farmer today.
Ramrao slowly, hesitantly resumes farming. But each year brings fresh shocks: a death in the family, unpredictable monsoons, return of pests like Pink Bollworm, cattle and wildlife – all seeking food and attacking his fields, the high cost of pesticides, globalisation's delinking of prices from local production, loan waivers that don't reach, economic shocks like demonetisation, costly informal economy loans, rising labour costs, governments at the state and Centre that rarely rise above the performative... One could go on.
In tandem, there is Hiwara, Ramrao's village. In there, one glimpses an older moral economy. Like the lenders who, recognising Ramrao is in trouble, don't press him to give their money back quickly.
And then, there is Ramrao himself, with his sense of responsibility and a dark sense of humour. Early on in the book, talking about his recovery, he wonders if the pesticide he drank had been adulterated.
What Hardikar shows is how all of these play out – singly and together – in the lives of India's farmers.
In all, Ramrao retires some loans, but is simultaneously forced to take new ones. He struggles so hard just to keep his head above the water.
What deepens the book, taking it beyond a recounting of stresses and shocks, is Hardikar's understanding of each of these crises. Every time a fresh force – like the pink bollworm or abortive relief from loan waivers – exerts itself, he takes us deeper, to its origins. The pink bollworm takes us to India's puzzling reliance on BT Cotton seeds. The lack of succour from loan waivers takes us to the crisis in rural banking, and the extortionate replacements that have come up.
Hardikar is one of the more under-stated writers in Indian journalism today. Despite engaging with massive questions – the seeds of India's farm distress and the human costs it is exacting – the narrative moves briskly. Try this bit from the beginning, when Hardikar first heard about the outstanding loans on Ramrao's head.
The question is how he will repay his loans.
He asks me, nervously looking at his register, 'How do I clear my burden?'
He doesn't want to farm again. He has no zeal left to do the same backbreaking work that he has been doing all his life. He cannot sell his land to repay his debt because there are some legal problems with its title.
We sit in silence, pondering over Ramrao's piercing question. Bhaskar and the other man are watching us. I avoid eye contact with him; I have no answer to his question, only more questions.
'How did you get into this mess, Ramrao?' I ask.
Ramrao takes a deep breath and sighs. Staring outside the door, he folds up his green lungi, tucks it into his waist, and starts talking.
Where the book belongs
Ramrao is an important addition to the global genre of books on agrarian distress.
This includes books like Chen Guidi and Wu Chuntao's Will the Boat Sink the River. Published in 2007, it spoke about how the Chinese miracle was leaving the country's 900 million peasants behind. Or, farther back in time, Let Us Now Praise Famous Men. James Agee and Walker Evans' book on American tenant farmers during the great depression.
Back home, India too has seen a steady flow of books, updating us about the shifting, evolving contours of rural distress in the country. This includes books like Dust On The Road, which contains Mahasweta Devi's non-fiction and journalism between 1981 and 1992. P Sainath drew his reporting between 1990 and 1992 into Everybody Loves A Good Drought. In 2012, in Those Who Did Not Die, Ranjana Padhi wrote about Punjab's farm widows. Two books this year, Kavitha Iyer's Landscapes of Loss and Ramrao, update that story further.
And yet, when I think of Ramrao, one more book comes to mind. That is Madhu Ramnath's Woodsmoke and Leafcups. Doing fieldwork for his PhD, Ramnath had lived with Bastar's Durva tribals. In a region beyond Jagatsinghpur where the state's writ runs in the day – and naxals control the night.
There is no dearth of punditry about how tribals live in this conflict zone either. And yet, for me, Ramnath's book stands out. Fascinated by the community, he had ended up living with them for thirty years. His book shows how tribals view the world outside.
Ramrao does something similar. It tells us what it is like to be – financially, socially, emotionally and mentally – an Indian farmer today.
You should read it.
M Rajshekhar is an independent reporter studying corruption, oligarchy and the political economy of India's environment. He is also the author of Despite the State: Why India Lets Its People Down and How They Cope.
Get the latest reports & analysis with people's perspective on Protests, movements & deep analytical videos, discussions of the current affairs in your Telegram app. Subscribe to NewsClick's Telegram channel & get Real-Time updates on stories, as they get published on our website.
Subscribe Newsclick On Telegram