Branded as Drug Peddlers, the Sansis of Punjab Struggle for a Life of Dignity
Listed by British colonial rulers as a criminal tribe, the Sansis of Punjab find it hard to shed the label 69 years after the Criminal Tribes Act was repealed. Allegedly encouraged by the police, Sansis are being identified as drug peddlers in Punjab, a state grappling with drug menace.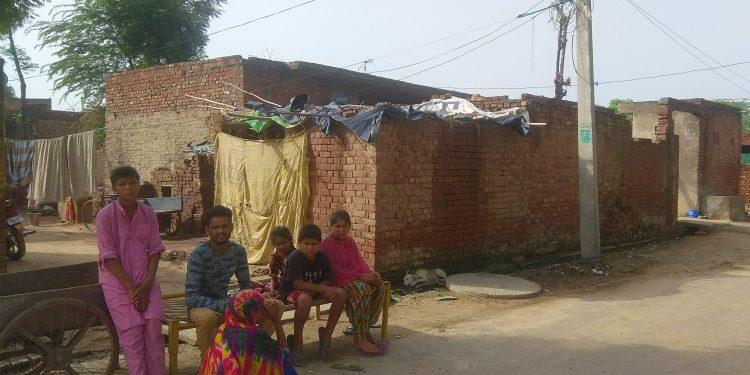 Sansis in their colony in Madaur village, Patiala./Mohit Singla
Listed by British colonial rulers as a criminal tribe, the Sansis of Punjab find it hard to shed the label 69 years after the Criminal Tribes Act was repealed. Allegedly encouraged by the police, Sansis are being identified as drug peddlers in Punjab, a state grappling with drug menace. Living in slum-like conditions, these landless tribals are looking for their Vinoba Bhave, who could provide them a life of dignity, writes MOHIT SINGLA reporting from Nabha, Patiala.
————-
In her youth, Sansi tribal Gurdev Kaur was unaware of the cost of questioning the police. "Is it written on our forehead that we are pick pockets?" she asked police officers who were frisking a group of four Sansi women out of hundreds of people standing at Tarn Taran bus stand in Punjab.
The questioning irked the police so much that the then-Superintendent of Police, Sukhdev Singh Chinna, and Sub-Inspector Harinder Singh Malhi wrote the words 'jeb katri' (pick pocket) on their foreheads using an etching gun that is used to engrave names on steel utensils.
The etching gun did not initially work due to a power cut, so the police used the battery of a jeep to power it. They forced the women on their knees and held their hands behind while the etching gun ran on their foreheads and blood streamed down their faces.
Mohinder Kaur, one of the victims, narrated this horrifying incident that took place in 1993 – one that still haunts her. It was 23 years later, in 2016, that the cops responsible for the crime were sentenced to a jail term of three years.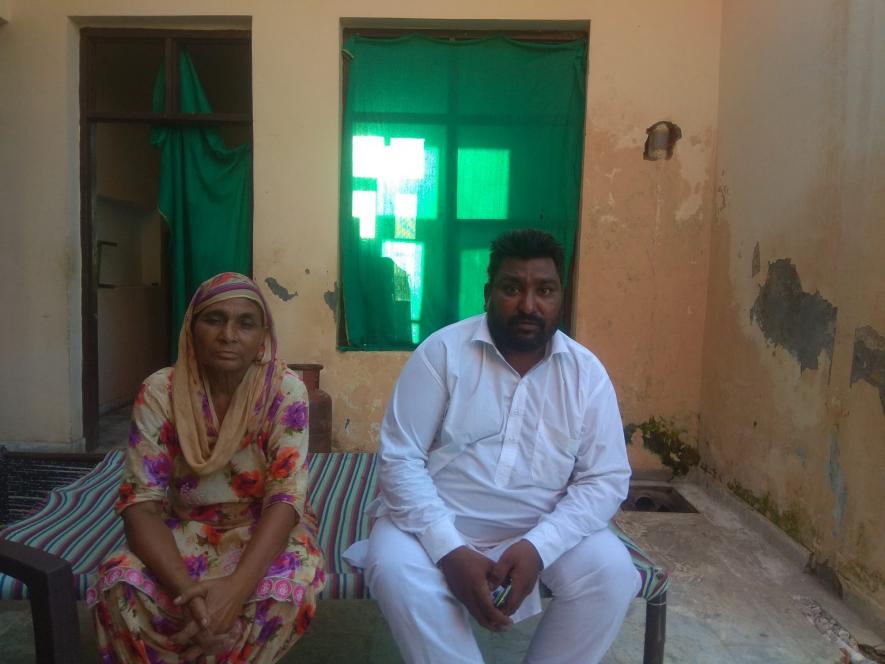 Mohinder Kaur with her son./Mohit Singla
Mohinder Kaur underwent multiple surgeries to erase the words written on her forehead, and was not aware of the court judgement till I told her about it recently.
The Punjab police was widely condemned for the incident, and the National Human Rights Commission of India contested the case against the police agency. However, it is still a cake walk for the police to ignore the laws of the book while dealing with the Sansi – a tribe once listed under the Criminal Tribes Act, 1871.
The police is rarely criticised by the civil society for its the treatment of Sansis during search operations, whose homes and colonies are often searched without court warrants. The media covers these operations without questions.
The distress among Sansis is such that they too don't raise their voice. "When a policeman knocks, we can't afford to delay opening the gate for a couple of minutes to fetch our duppatta, let alone raising voice against harassment", said a Sansi woman from Baghrian village of the Sangur district of Punjab.
Also read: Over 64 % of Accused under Excise Laws are SC/ST, Nomadic Tribes in MP: Report
Sansis take the blame for drug peddling
Earlier infamous for minor thefts like stealing sacks of grain or for pick pocketing, Sansis are now expected to don the total blame for drug peddling, a major issue in the state of Punjab. With frequent reporting of deaths due to overdose, drug abuse has become a boiling issue in the state. 
A 2019 report on substance abuse by the National Drug Dependence Treatment Centre at the All India Institute Of Medical Science (AIIMS) indicates that about 7.2 lakh people in Punjab need help for opioid (heroin, pharmaceutical opioids and opium) related problems.
Punjab has a 22.9% crime rate (per lakh population) in cases registered under the Narcotic Drugs and Psychotropic Substances Act (NDPS), 1985 with about 6,909 cases registered last year, according to 'Crime in India 2020' report released by the National Crime Records Bureau.
When the government wants to project action, its campaign against drugs mostly involves targeting addicts and a few retailers while the big fish remain at bay. It is the Sansis who bear most of the heat in this drill.
During a similar campaign, an 18 year-old girl was picked from her house in Rohti Chhanna village in Patiala. Her widowed mother Rimmi said she unsuccessfully begged the police officers as well as influential people in the village to arrest her instead of spoiling her daughter's life by booking her. "I spent my life in illicit activities, police stations and courts, but I did not wish for this kind of life for my daughter – a student of stenography after 12th grade. Now she is trapped in this world of crime," she wailed.
Although crime has become an identification mark of this tribe, there are numerous examples that negate this label. Retired sessions judge Buaji Sansi, who served as a special judge for NDPS cases for 11 years, boldly carries his surname 'Sansi' on his name plates to send out a message to Sansis as well as other communities.
Buaji expressed pain at the fact that most of the accused under the NDPS Act come from the Sansi tribe. Sansis are easy targets since the police themselves encouraged drug peddling among the people of the community, said Buaji. "If you go by traffickers nabbed by enforcement directorate, there you see accused from all communities who got their properties attached in NDPS cases" he added.
"Earlier also, Sansis were involved in minor thefts and pick pocketing only, but the police had branded them as culprits behind all burglaries to cover big dacoits and organized crimes. Now, a large number of cases are registered against Sansis only in similar fashion. The police investigations fail to locate the wholesale suppliers of these retailers," Buaji explained.
Also read: India needs a special law to protect and promote minority rights in the criminal justice system      
Sansis neglected by the government
In the villages of Rohti Chhanna, Madaur, Chhintawala and Alipur of Patiala district and Baghrian, Jolian and Sherpur of Sangrur district that have a sizeable Sansi population, it can be observed that most of the Sansis live in small houses (300 – 500 square feet). These houses have been built in colonies provided to them from common village land on the outskirts of the villages.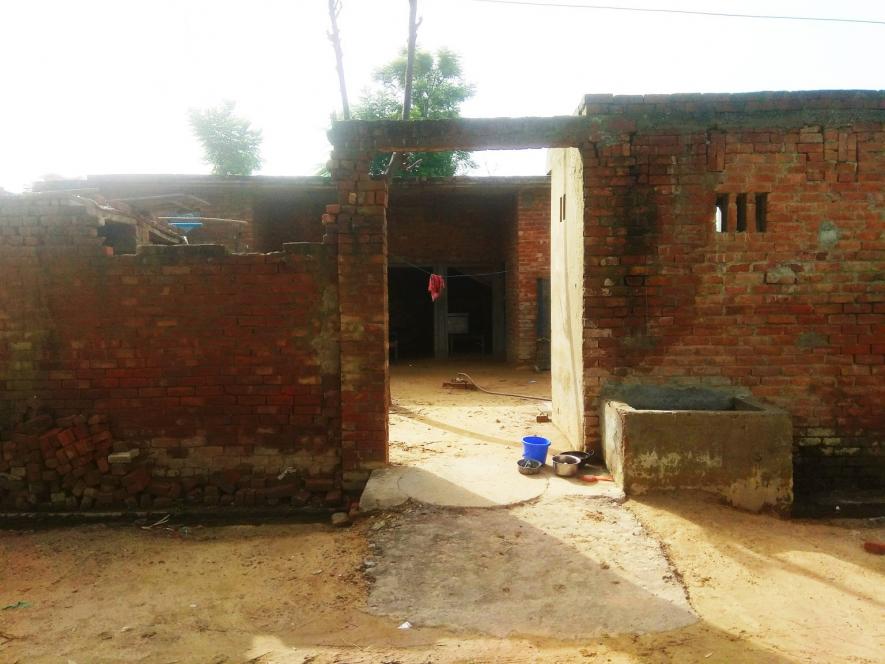 A house belonging to a member of the Sansi tribe in a 'Sansi colony'./Mohit Singla
Shelling most of their incomes to police and lawyers, those dwelling in these colonies don't own the land they live on. Since these landless dwellers find it hard to make a living from other sources, they resort to theft – pickpocketing on buses and trains, smuggling cheap liquor, and selling poppy husk and opium.
Interestingly, every Sansi colony blames police officers from the 1980s, who motivated them to start selling liquor and cannabis.
Parminder Singh, an unemployed youth who passed the Punjab State Teacher Eligibility Test, Narinder Singh, an M.Tech student, and other Sansis said that the government has no agenda of employment for them. 
Most men residing in these villages die at the early age of 35 – 40 years, due to stress, alcohol and other addictions, and their inability to afford treatments for the same. Over 25% of Sansi women in Jolian village are widows, said Sarpanch Baljinder Kaur. Sansis in Rohti Chhanna counted 12 widows in 40 families.
"With the husbands in jails, many others too live like widows. Imagine the childhood of their wards," said Harbhajan Singh Udhoke, President of All India Vimukt Jaati Sewak Sangh (AIVJSS). "Where widows are indulged in illegal activities, the children live most of their lives as orphans with the only parent moving between jails and bails" he added. 
A Deputy Superintendent of Police in the area said that most of them sell cheaper substances and only a few are into heroin trading because its stocking requires a heavier investment. The baggage of pending cases doesn't let them switch professions since no profession can provide the requisite number of leaves to attend to court hearings.
Rekha, a widow from the Sansi community, claims that the influential people of the village ridicule them by forcing them to clean drains in the name of the Mahatma Gandhi National Rural Employment Guarantee Act. In another instance, a furniture showroom only agreed to employ a Sansi youth after a non-Sansi villager vouched for him.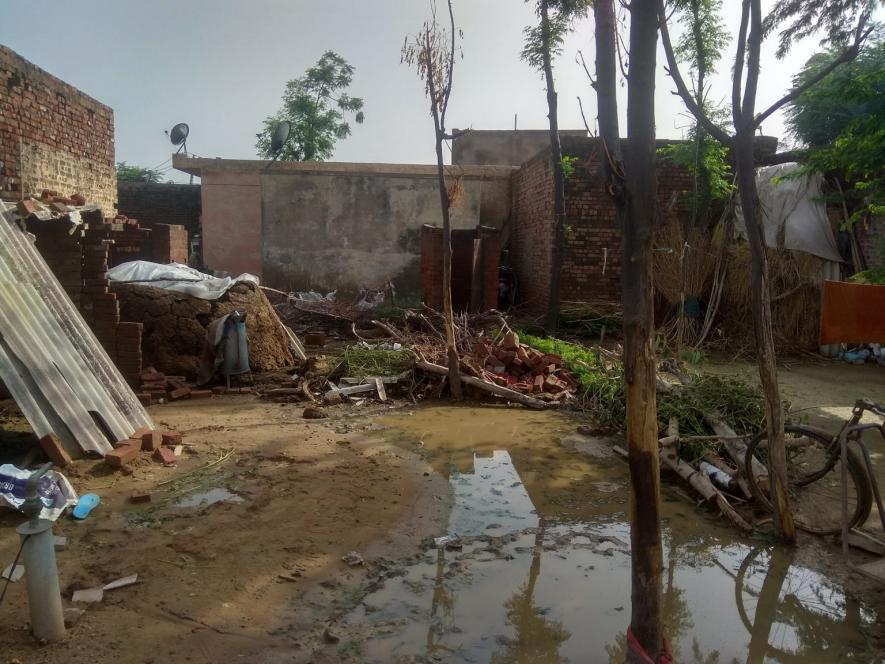 Water logged around a Sansi family's house./Mohit Singla
Meanwhile, the women don't wish a life full of hardships that is bereft of dignity for their children. "Only we know how we bear the disrespectful behaviour to our women and children by the influential villagers, police and anti-social elements" said a Sansi family in Alipur village.
Sansis in Madaur village rued that most of their earnings go to the police. When the police wish to earn stars on their shoulders, the Sansis are easy prey.
 "Despite many having moved towards vegetable selling, goat-keeping and other labour jobs in our village, the police conducts camps here twice a year, and our colonies are represented as an "infamous area" in the news reporting police drives here to curb drug abuse" said Chamak Singh, a resident of Jolian village.
Also read: NCRB: Crime Rate up 28% Due to COVID-19 Violations, Crimes Against SC/STs Rise by over 9%
Shedding the 'criminal tribe' title
The Sansi tribe has been known for illegal but nonviolent activities since the British Era. Listed a s "criminal tribes" earlier, the Sansis are now recognized as a scheduled caste in Punjab, instead of as a scheduled tribe – a move that has reduced their reservation in public sector jobs. 
In his book 'The Sansis of Punjab' published in 1965, Sher Singh quotes census and crime data from the pre-independence era to argue that Sansis were not involved in crimes prior to their listing into the habitual offenders list. However, their indulgence was "a result of the draconian provisions" of the Criminal Tribes Act.
In response to the United Provinces Criminal Tribes Act Enquiry Committee of 1947, then City Magistrate Lloyd Jones said of the Sansis that "declaring them criminal by birth affects their future generations morally as they know that as soon as they attain age of 15, they would be registered. Even if their character is not bad and they are not interested to commit thefts, etc., it is the Act itself that makes them to think towards crime".
Enacted in the name of reformative law in 1871, the Criminal Tribes Act and its subsequent amendments made the local governments and bureaucracy all powerful over these tribes and opened doors to corruption, as per historians. In a 1936 speech in Nellore, Andhra Pradesh, Jawaharlal Nehru called for wide awareness regarding the 'monstrous' provisions in the Act. 
As per the Act, every registered member had to mark attendance at local police station on a daily basis. Members had to carry a document of permission from the village head or a police officer in order to leave the village. The document carried details about the travel destination and duration of the trip that had to be abided by. Government officials could take away their wards on a teacher's complaint declaring members of the tribes unfit for parenting.
While people with wards in school were exempted from daily attendance and provisions to provide cultivable lands were made along with various reformative measures, these measures mostly went into hands of corrupt officials and influential villagers, Sher Singh claims in his book.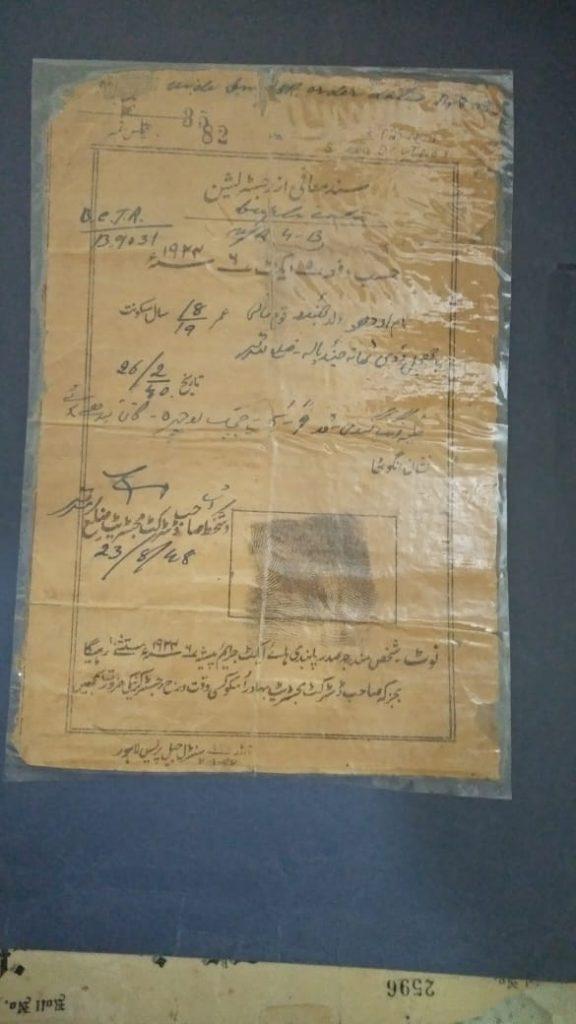 Mercy petition by a Sansi of Jandiala district, Amritsar, held in 1946 under the Criminal Tribes Act, 1924 being accepted by the magistrate in 1948. His successors still possess this letter./Mohit Singla
Master Prabhu Dayal, a social worker born in Madhya Pradesh, pledged to remained barefoot from 1929 until the law was finally repealed on August 31, 1952 – a day celebrated as independence day by denotified tribes every year.
Asa Singh Talwandi, National Convenor, AIVJSS, said that the organization has submitted memorandums this year too, demanding for a white paper in the parliament to omit the blot of "habitual offenders" from their names.
The organization has also demanded scheduled tribe status in Punjab, besides a special budget and an approach for the upliftment of their community. 
In the world's largest democracy, Sansis are looking for another Vinoba Bhave who could steer them out of this dejected life and bring dignity to them.
(Mohit Singla is an independent journalist.)
Get the latest reports & analysis with people's perspective on Protests, movements & deep analytical videos, discussions of the current affairs in your Telegram app. Subscribe to NewsClick's Telegram channel & get Real-Time updates on stories, as they get published on our website.
Subscribe Newsclick On Telegram