Brinda Karat on the Third Anniversary of Delhi Riots- "Cannot Abandon Struggle for Justice"
There has been a slew of challenges ranging from rehabilitation and compensation to the perusal of justice.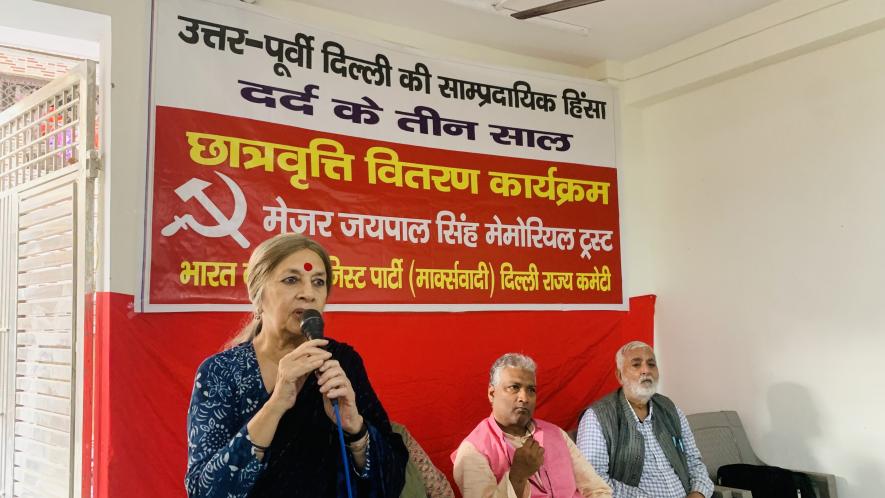 New Delhi: The victims of riots in North East Delhi came together on the third anniversary of horrific violence that claimed 53 lives at Qaumi Ekta Bhawan in Brij Puri to demand speedy justice. In a public meeting organised by the Communist Party of India (Marxist) (CPI-M) to remember the victims, the family members on Sunday emphasised that the riots were not about tyranny by followers of one religion over other but injustice by ruling leaders who used violence to further their political interests.
Aaghaz who lost his newlywed son Ashfaq in riots said that the struggle for justice must continue if it is to ensure that no violence occurs again in the area. He said, "the victims have gathered here only to say that justice is yet to be delivered. The struggle for justice must continue. We will get it one day. History is a testimony to it that no ruler would be permanent. Just look at the religious scriptures of any religion and you would find the fate of unjust rulers. The one who perpetrates injustice is a tyrant and it does not matter which religion he follows. If Mughals could go, if British could go then present tyrants would be dusted too."
Mallika, who lost her husband said that her partner could have been alive, had the police intervened in the matter. "My husband was hiding in the room. I had hidden my children inside the bed. When the rioters came, they started beating my husband. When they got to know about my children, they started beating them with iron rods. Later, my husband was brought down in the street and thrown away in the fire. I went to the Policemen to ask for help but they mocked me! My family was finished. After three years, I only seek justice," she told NewsClick.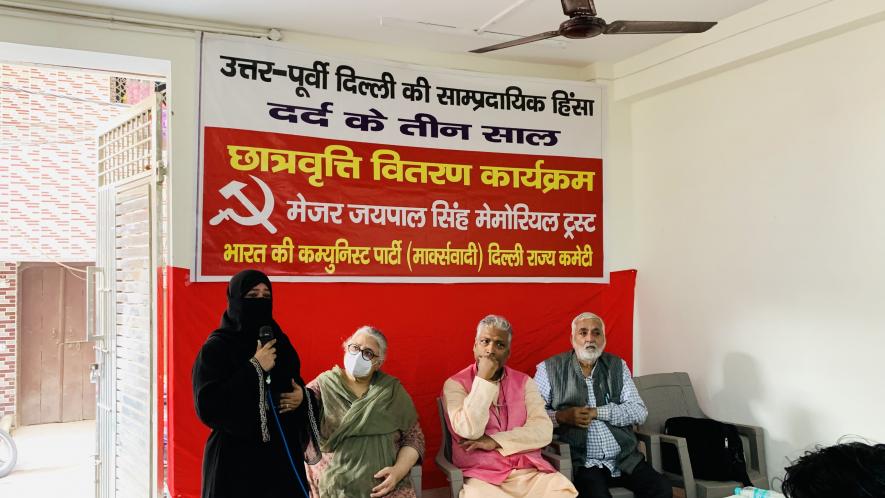 The members of the left party maintain that there had been a slew of challenges ranging from rehabilitation and compensation to perusal of justice. After rehabilitation, the struggle for just compensation has begun. We still do not know the status of all cases related to murders. Further, the challenging part has been to enable the survivors to earn with dignity and begin a new life. The space of Qaumi Ekta Bhawan was created with the intention to strengthen the bond among communities.
Ashok Tiwari, who specialises in pedagogical training told NewsClick, "we need to stand up with the communities in a sense that ensure that they are empowered economically and socially. We are right now focusing to impart training for self-employment. When we interacted with community members, we found that there are learning gaps in students studying in school. So, we started coaching and computer classes. We are also looking at other avenues where children could express themselves creatively such as writing and acting workshops too. It's a new beginning for people and us too."
Sehba Farooqi, Secretary, of All India Democratic Women Association (AIDWA) Delhi emphasised that the struggle for justice could not be fought by Muslims alone. "It is not a question of Hindu-Muslims unity. It's a political question. The attacks which happened here were not attacks on Muslims alone. They were attacks on every individual who wish to see India as a secular republic. It was an attack on the constitution. Some people say that Muslims alone endured injustices and they will have to fight alone but if we see the country, it is being pushed in one specific direction. There are attacks on Dalits and Tribals too. People here are saying that Brinda Karat was the first to visit them after the riots. It's not a new thing for us. She went to Jahangirpuri too when bulldozers were demolishing the homes and shops of innocent people. We could have issued the statements at the luxury of home. We went there to emphasise that the struggle to save the country will be fought on the streets. So, Muslims too will have to join other segments of society for a united struggle too," Farooqi said.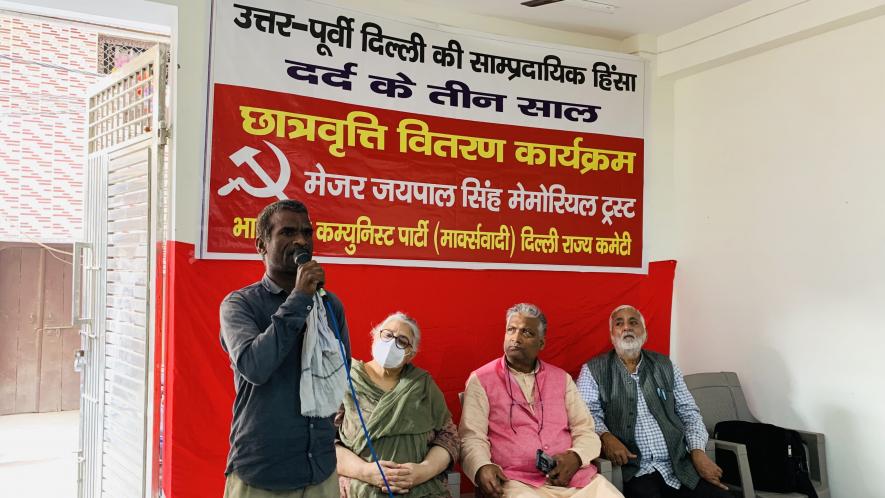 Addressing the gathering of riot victims, Brinda Karat, Politburo Member, Communist Party of India (Marxist) said that the objective of bringing together riot victims is not to refresh their grief and trauma but to show that they are fighting the hardships and look after their families with unprecedented resolution. She said, "the victims have narrated their ordeal about life without their loved ones. With this meeting, we wanted to show the world that even though our sisters and brothers are living in hardships, they are demanding their right to life. They are saying to rioters that you tried to finish their families but we are alive and demanding justice. One of the victims recounted that when his husband was killed and she went to the police station, she was persuaded by police officials not to file the complaint. In today's newspaper, we are learning that among 700 cases related to riots, only 10% of cases could see any progress and nobody has been persecuted in murder cases. We cannot abandon this struggle for justice. I urge you to please come up with case files, documents and information for us in the next month and we will initiate this legal struggle by keeping all people together. We must say that what was done to us will not be forgotten. If we want our generations to never face this violence again, we must fight this struggle and get real culprits punished."
Karat said that it is a pity that government could not fix a universal mechanism for compensation of riot victims and treats different classes without a humanitarian approach. "I also wish to speak about compensation. No compensation can bring back a dead person but I fail to understand the standard of relief for people. The son of Ram Sugarath Paswan was a minor and he was given only half compensation. How inhuman is it? Ankit and Ratan Lal were murdered in a gruesome manner and their families were rightly compensated Rs 1 crore each. I want to ask this government which yardstick it is using to compensate somebody Rs 1 crore and somebody Rs 5 Lakh and discriminate against people. There are victims who lost their eyesight in acid attacks. If the compensation could not help them live with dignity, then it should be reconsidered. So, there should be a renewed for justice collectively."
Get the latest reports & analysis with people's perspective on Protests, movements & deep analytical videos, discussions of the current affairs in your Telegram app. Subscribe to NewsClick's Telegram channel & get Real-Time updates on stories, as they get published on our website.
Subscribe Newsclick On Telegram