Bruhat Bengaluru Mahanagara Palike (BBMP) Civic Workers Not Paid Since January 2018
Contractual civic workers have been holding protests in Bengaluru.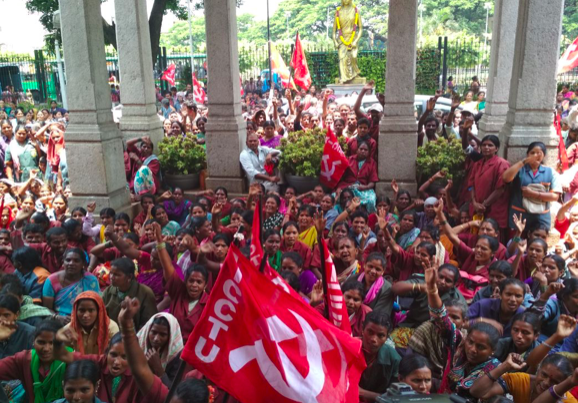 The workers of Bruhat Bengaluru Mahanagara Palike (BBMP) have protested against the corruption treatment given to the workers by the contractors in the past. One such protest was organised by Guttige Pourakarmikara Sangha (Contractual Civic Workers' Union) on April 20, in front of the BBMP head office in Bengaluru. Today's protest was in the light of workers not being paid wages since January 2018.
BBMP is the Bengaluru city corporation body. It is responsible for civic and infrastructural development in the city. Solid waste management, health and town planning are few of the many departments that constitute BBMP along with 12 standing committees of the city council. All these committees and departments are to work together to ensure the development of the Bangalore Metropolitan areas. 
BBMP is an employer of civic workers (pourakarmikas), who work to ensure that the demands of the city are met. 
The protesting workers spoke to Newsclick about the working conditions in which they work and the reasons behind the protest today.
According to a report in The Hindu, the salaries of the pourakarmikas across the state have been nearly doubled and according to the Labour Department officials, the pourakarmikas of Bengaluru are among the highest paid in the country. Civic workers employed by the BBMP were being paid Rs. 7,730 (including provident fund and Employee's State Insurance Corporation). The Labour department announced on August 4, 2016 that the wages have been hiked to Rs. 14,040. The protesting workers have a different story – a story of betrayal – two years after the announcement.  
An agitated Shantamma (name changed) from Vijinapura says, "If we knew the details like how much salary exactly we're supposed to be paid, why the hell we would have been here? They never tell us what is it that we should get. They pay whatever they feel like. This time, I think they have decided not to pay anything and also to not let us work." 
Walking in the sprawling campus of BBMP Head Office, Shantamma points at the massive building of BBMP and says, "These people have this place to sit in AC. It is us, who sweep and clean the streets of the city and we also pick up dead rodents and dogs in the streets. They get salaries; they get to eat three meals a day; their children go to school; and us? I and my husband have been working for three years and there are people here with us today, who have been working for 10-15 years now. This is the only work that we know. Why are we not being paid? Aren't our children, children? I want to ask these people sitting inside to come and eat the food that they give to us. I bet that they will not be able to recover from the experience." 
Shantamma says she and her husband have not been paid for last four months and it has become impossible to pay the rent. The couple have been given passbooks and ATM cards. Mocking this, Roopamma (name changed), a pourakarmika employed with the BBMP for 9 years interrupts Shantamma and says, "What should we do with the ATM cards? Swipe it however you want and how many ever times you want, will money pop out from the heavens?"
Girijayya (name changed) from Ulsoor explained the demands that the protesting workers today are making. "Our problem is that we are not getting our salaries. We are 140 workers in our ward (the areas are divided into wards and are numbered, Ulsoor is ward number 80). Out of these many workers, BBMP has selected just 76 workers. They have rejected and fired those workers who have an experience of less than two years. The plight of those whose names haven't been rejected is that, they are not being paid. If we go and ask the contractors, they ask to us to go to the BBMP. When we come to the BBMP, they shift the ball to the police; and police ask us to go and meet the minister. Who do we go and ask? Tell me. This has been the only thing that we are doing." 
Girijayya also says that it is impossible to go and talk to these people. Ministers, he says, keep promising safety measures and provident funds, but there is nothing is happening on the ground. When enquired if the workers are provided with any safety tools like masks and gloves, the crowd around and Girijayya shouts, "No! Nothing! We have nothing." 
Girijayya says that they have to work irrespective of what conditions they are in. "So now, out of these 76 workers, only 19 workers are apparently eligible for the payments, and out of these 19 workers, only four are actually being paid. What is happening? Should we have to fight for everything? Even for what we deserve for the work we do? The work that we do is visible. If BBMP is surviving, isn't it because workers like us work in the city? Shouldn't we be rewarded by being paid our salaries? BBMP has crores of money to pay the contractors, and don't they have any money to pay our salaries?" he questions.
He, seconded by other workers, added, "It is the election time and it is now that we will be asked for votes. We will vote for sure, but we do not know if they remember their responsibility towards us."
The protesting workers have demanded that the BBMP should do away with the contract system which has, according to them, given rise to corruption. The wages for the period between January and March this year, must be immediately paid along with the wage slips, they say. 
Instead of a corrupt privatised contractual system the workers are asking for a system of direct payment of wages to the pourakarmikas. Girijayya, takes a jibe at the BBMP, "If you cannot work without bribes, do you want us to pay you the bribe? All of us will pool in money to pay you."
Sarfaraz Khan, the Joint commissioner (Health/SWM), BBMP, who visited the protest site, addressed the protesters. Khan said he will ensure that the workers will be paid by Monday (April 23, 2018) and also they will be provided with all the safety measures. He also promised that none of the workers will be fired. Khan's promises answers Girijayya's question: "Should we have to fight for everything? Even for what we deserve for the work we do?" 
Get the latest reports & analysis with people's perspective on Protests, movements & deep analytical videos, discussions of the current affairs in your Telegram app. Subscribe to NewsClick's Telegram channel & get Real-Time updates on stories, as they get published on our website.
Subscribe Newsclick On Telegram