Building Knowledge, and the Organisation, to Change the World
Veteran AIDWA leader R. Chandra reflects on her experiences and elucidates how the women's organisation builds knowledge to change the world, in an interview with Tricontinental Institute of Social Research.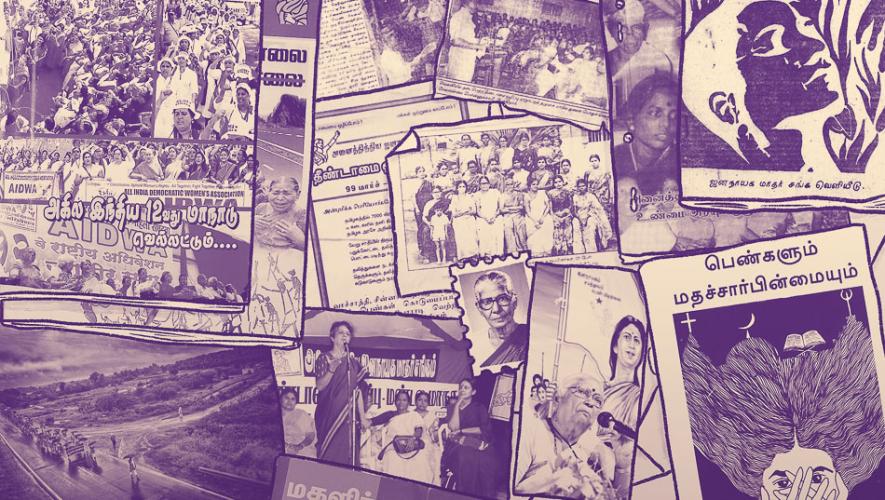 Tamil Nadu, a southern state of India with a population of 73 million, experienced an agrarian transformation in the 1960s. This process was brought on by the introduction of new technologies into agriculture. The agrarian transformation birthed new contradictions, sharpened the old ones in village society and markedly impacted the state's politics. These contradictions manifested in numerous incidents of organised atrocities against oppressed castes as well as well increased violence against women.
In this tumultuous backdrop, a group of women activists in the communist movement in Tamil Nadu formed an organisation called Jananaayaga Madhar Sangam ('Democratic Women's Association') in 1973 to address the specific nature of women's exploitation and oppression. Madhar Sangam joined a group of other Left-wing women's organisations from different states to establish the All India Democratic Women's Association (AIDWA) in 1981.
AIDWA built a strong organisation by mobilising a broad section of women against gender, caste and class exploitation. These struggles, encompassing a broad section of women, and mass organisations, are united in building power for women's emancipation. AIDWA's multi-layered approach to the issues of such a broad coalition of women and their struggles demands a continuously evolving understanding of realities on the ground and the situation of women in all the complex intersections of society (such as caste hierarchies and religious differences). Regular and rigorous grassroots research by AIDWA became necessary to grasp these complexities and prepare AIDWA for its campaigns better.
Grassroots Research for Understanding Ever-evolving Socioeconomic Issues
In the 1990s, the onset of neoliberalism wreaked havoc on the working class and peasantry of India. Hunger and precariousness heightened social tensions along the hierarchies of caste, gender, and social identity (including religion). Surveys by AIDWA in this period revealed new fault lines in both the countryside and cities.
The agricultural sector and rural areas began to acutely feel the impact of the liberalisation of the economy as the state began withdrawing agricultural support. There was a severe agrarian crisis and loss of rural employment as a result of the drastic reduction in bank credit to agriculture, phasing out of extension services that provided technical inputs to farmers, lack of public investments in irrigation, cuts in expenditure on the maintenance of irrigation facilities (canals, reservoirs, etc.), and reduction of agricultural subsidies, coupled with exposure to volatile agricultural markets due to trade liberalisation. Exposure to international markets and the spread of contract farming led to changes in cropping patterns, often moving away from labour-intensive crops. Such changes had a devastating impact on the rural population.
AIDWA initiated intense discussions on the pernicious ramifications of neoliberal policies. It designed and conducted a survey covering all districts of Tamil Nadu in 1998-99 to find out what was happening to agriculture across the state. Through the surveys, it detected shifts in cropping patterns and the movement of farmers from foodgrains to more lucrative horticultural crops, such as jasmine, papaya, guava, and grapes.
The surveys also found evidence in support of an increase in child labour and women performing tasks that they had not done previously due to these changes in many districts. It was found that the shift in cropping pattern towards less labour-intensive crops and the rise of contract farming not only increased unemployment in some instances, in others, it led to the emergence of child labour. The shift from food crops to non-food crops threatens food security and impacts employment opportunities available in the village economy. The growing unemployment in the villages forced the families of agricultural workers to migrate.
Using Research to Identify Social Oppressions and Organise Struggles
In the 1980s, AIDWA intervened in women's struggles against various forms of social oppression across the country. These included domestic violence, cases of rape, and dowry harassment. By the 1990s, it had become clear that this intervention against social oppression had to focus on specific forms of oppression that impacted different sections of women, such as dalits (oppressed castes), Muslims, agricultural workers, and young women. Surveys played a crucial role in identifying the issues of diverse sections of women and adopting political strategies for waging struggles against them.
AIDWA has been actively fighting against caste atrocities since its inception. Its interventions in the cases of caste atrocities have revealed harrowing apathy of the police and administrative responses that serve as the buttress of the status quo. A need was felt to create an organisation to gain a comprehensive understanding of the various forms of untouchability and discrimination faced by dalits. A team of researchers, most of whom were AIDWA activists, was assembled to survey dalit households. The results of the surveys were presented and discussed with those who had worked on the survey and the various political leaders of the movement. A number of cases of untouchability and discrimination were identified in every taluk (locality). The survey found that the entry of dalits into temples and the cremation or burial of the dead were among the serious issues faced by dalit families. The learning experiences in the field provided AIDWA activists with evidence of atrocities that needed to be challenged and insights into how to build campaigns to transcend these atrocities.
At the heart of discrimination against dalits is the question of land. AIDWA surveys found that nearly 95% of the dalits covered under the survey did not own or have control over land, even in villages where they make up the majority of the population. Because of this, they have to sell their labour power as agricultural workers on other people's land and depend on the landed dominant caste families for survival. One consequence of this dependence is that the dominant castes use their economic power to maintain their social authority, and they use their social power to ensure the longevity of their economic dominance.
The surveys also found less anti-dalit violence in some districts because of the impact of the struggle for social reform and economic rights organised by All India Kisan Sabha (AIKS) and the communist parties.
In May 2007, because of the work of AIDWA and AIKS, Left organisations created the Tamil Nadu Untouchability Eradication Front (TNUEF), which conducted its survey in 1,845 villages in 22 districts, and found 82 forms of untouchability and 22 other types of atrocities against dalits. The survey by TNUEF provided the means for people's organisations to focus on those aspects of oppression that troubled the people most and to pursue these cases through police stations and courts. The identification of the forms and the extent of caste discrimination prevalence helped TNUEF organise struggles against caste discrimination.
Research Forms a Crucial Part of AIDWA's Work
The surveys have helped AIDWA understand the social and economic landscape thoroughly. Its activists were able to identify different forms of social oppression and economic oppression. Its activists then took up these issues and mobilised at every level to fight against them. In the process, many women who joined in these struggles became members of AIDWA. During this process, women of different sections entered different levels of leadership in the organisation and further improved our understanding of such issues.
The experience of the surveys on untouchability and agrarian issues taught AIDWA to make research a priority. The practice of carrying out a survey before taking up an issue has become ingrained in AIDWA's work. It has developed a concrete methodology for sampling and properly structured questionnaires. Its members formulate their questions and conduct their own field studies when they take up an issue now. Since they know the value of the studies, these women have become a crucial part of the organisation's local work, bringing this research into its campaigns, discussing the findings in various committees, and presenting these at AIDWA's conferences. This sharing of information inspires other organisations to replicate these activist research practices.
R Chandra, one of the AIDWA leaders in Tamil Nadu, developed many of the organisation's surveys that looked at changes in the agrarian economy, caste oppression, and the specific impact of the rightward drift of Indian politics on Muslim women.
Tricontinental: Institute for Social Research spoke to R. Chandra about AIDWA's surveys in particular and activist research in general. In dossier no. 58, veteran AIDWA leader R. Chandra reflects on her experiences and elucidates how AIDWA builds knowledge to change the world.
Read the dossier here.
Get the latest reports & analysis with people's perspective on Protests, movements & deep analytical videos, discussions of the current affairs in your Telegram app. Subscribe to NewsClick's Telegram channel & get Real-Time updates on stories, as they get published on our website.
Subscribe Newsclick On Telegram