Busted: Lies from the PM's Speech
Modi was addressing this rally in the national capital, which has been witnessing protests against the CAA, NRC and National Population Register.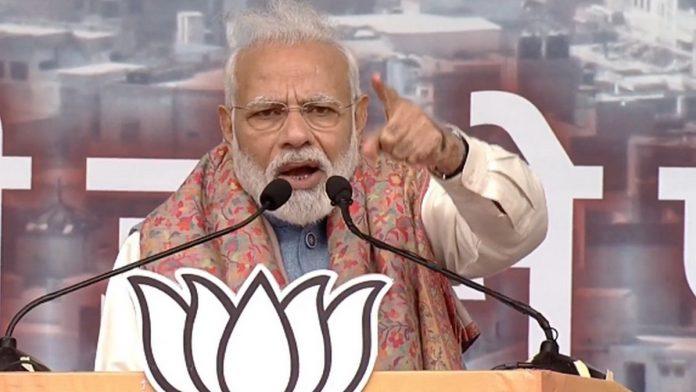 Image Courtesy: The Print
On December 22, PM Narendra Modi, addressing the Bharatiya Janata Party (BJP) election rally in Delhi, outrightly rejected the existence of detention centres in India. This, as noted by many, is far from the truth and is a plain lie. Modi was addressing this rally in the national capital, which has been witnessing protests against the Citizenship Amendment Act (CAA), National Register of Citizens (NRC) and National Population Register (NPR). 
Modi declared that the "Congress and urban naxals have created this whole narrative of detention centres and it is a lie. Lie. Lie. Lie…" He even said, "It was the Supreme Court that wanted NRC in Assam and the BJP does not intend to implement NRC."
Also Read: MHA Issues Manual for Detention Centres in All States in India
This does not make the directions—by Modi's very own Central government for all the states and union territories to build at least one detention centre—disappear. In July 2019, the Ministry of Home Affairs had even brought out an 11-page manual, called, '2019 Model Detention Manual'. According to the answer provided by the minister of state for home affairs, G Kishan Reddy, on the subject, "The Model Detention Centre Manual, inter-alia, prescribes the amenities to be provided in the Detention Centres to maintain standards of living in consonance with human dignity including electricity with generator, drinking water, hygiene, accommodation with beds, sufficient toilets/baths with provisions of running water, communication and medical facilities, provisions for kitchen and recreational facilities."
As a part of the same question, Reddy also stated that as of June 25, 2016, there was a total of 1,133 persons held in the six detention centres in Assam. Of these, 769 persons had been detained for more than a year, and 335 for more than three years.
"No Detention Centres?"
In this very speech, Modi went a bit too far when he said that there has been no discussion around the word NRC ever since the formation of his government in 2014. As per records, this again isn't true.
After Assam, Karnataka was the first state to show interest in implementing the NRC and in building detention centres. In November, the state government of Karnataka had told the High Court that it has identified 35 spaces for temporary Foreigners Detention Centres (FDC) in all the districts for lodging illegal immigrants after they are either released on bail or on completion of imprisonment in criminal cases. The state already has its detention centre in Nelamangala, 40 km from Bangalore. According to a report in The New Indian Express, the centre has been created in adherence with the MHA manual. Most facilities have been incorporated. Nobody who is detained is going to be at the centre for more than three months prior to deportation.
Also Read: 60 Suspected Illegal Bangladeshi Immigrants Arrested in Bengaluru
The PM tried to wash his hands off all of these developments during his tenure by falsely stating that there has been no discussion around NRC in his tenure and thus, he once again implied that there are no detention centres. One wonders as to why was the '2019 Model Detention Centre Model' formulated then? As per a report in The Telegraph, the detention camps in Assam are run by the state Home Department with approval from the Union Home Ministry. A proposal to set up 10 new ones has been sent to Ministry, but the clearance is pending.
Union Home Minister Amit Shah has said a number of times that the CAA focuses on securing the citizenship of "Hindus, Sikhs, Buddhists, Christians and Jains," in the country. Earlier on October 1, Shah, addressing a political rally in Kolkata, had said, "I want to assure all Hindu, Sikh, Jain, Buddhist and Christian refugees that you will not be forced to leave India by the Centre. Don't believe in the rumours. Before NRC, we will bring the Citizenship Amendment Bill (CAB), which will ensure that these people get Indian citizenship."
Also Read: NRC in Karnataka: BJP's Hope to Retain its Political Presence in the State
Shah made it explicit through his statement that the intention of the government is to keep the Muslims out.
The home minister, on the floor of Rajya Sabha, had said, "NRC will make a list of all Indian citizens... But this is true and the government acknowledges that Hindu refugees, Buddhists, Jains, Sikhs, Christians and Parsi refugees should get citizenship and this is exactly why we have brought the Citizenship (Amendment) Bill." In Lok Sabha, while presenting the Bill, Shah had made it very clear that the "NRC will come, come what may". He had also said that the BJP's manifesto shows the need to have an NRC.
In his speech on Sunday however, Modi seemed to suggest that none of this has taken place. Speaking about NRC, he took a dig at thousands of citizens of this country protesting and asked, "Were you sleeping when the NRC law was made during Congress?"
"We did not make it, it hasn't been tabled in Parliament, it hasn't been discussed in the Cabinet, no laws have been formed. Would we come up with a communal and divisive law when we have rolled out development projects which do not ask for the religious identities of the beneficiaries?" he asked, feigning innocence.
More Lies
Shah in Lok Sabha had accused the Congress of playing vote bank politics and hence having denied citizenship to the Hindu migrants from Pakistan, Bangladesh and Afghanistan. Modi just fuelled this accusation of Shah and declared that the Congress is hell bent upon playing vote bank politics by misguiding the citizens into protesting against CAA and NRC. This is how the citizens exercising their democratic right to protest are seen by the prime minister of this country—docile and naive beings who are mere pawns in the political games.
Also Watch: That's an Outright Lie, Mr. Modi!
The protesters, however, have some straightforward questions for the Modi government.
Rameez Raja, a protester based in Mumbai, asked, "What was the need of amendment when we have a pre-existing law to grant citizenship to migrants? What will be the cost and where will that money come from, when already India's budget for basic necessities like gloves and food for our own Army Jawans is tight, with education budget lowered by almost 3,000 crore?"
Also Read: Massive Rally in Chennai Against CAA
Get the latest reports & analysis with people's perspective on Protests, movements & deep analytical videos, discussions of the current affairs in your Telegram app. Subscribe to NewsClick's Telegram channel & get Real-Time updates on stories, as they get published on our website.
Subscribe Newsclick On Telegram