Busting Myths About Muslim Population Growth in India
The threat of a declining Hindu population and growing minority numbers lacks a basis in logic and facts.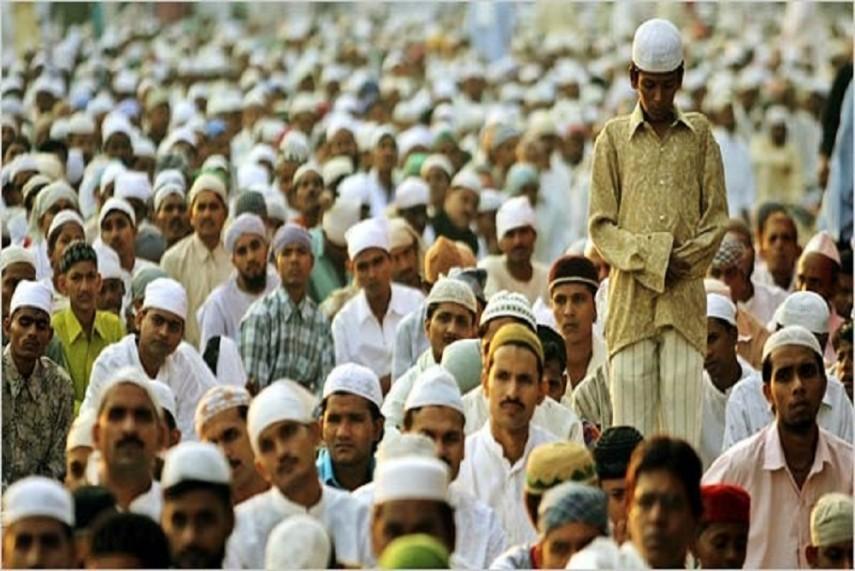 Image Courtesy: Outlook India
On 11 June, Himanta Biswa Sarma, the Chief Minister of Assam, sparked a controversy when he said the Muslims should adopt a "family planning policy" to combat poverty and other social problems in the state. His statement adds to the prevailing stereotypical perception about the Muslim community vis-a-vis population growth rates. The popular perception, spread through propaganda, is that Muslims intend to become a numerical majority in India and harbour a secret wish for an Islamic state.
Many like Sadhvi Prachi of the Vishwa Hindu Parishad and Sakshi Maharaj, a BJP Member of Parliament, have advised Hindus—specifically Hindu women, to have more children to counteract this alleged design. The perception about community-wise growth rates is based on misplaced notions widely used to mock the entire community.
While the rate of growth of the Muslim population is higher than that of Hindus, a simple analysis would show that it is similar to that of many Hindu and Adivasi communities. It is easy to forget that India encouraged a two-child norm a few decades ago, not to control the population of specific groups or communities but reduce the size of Indian families across the population. It is because social and economic strata, and not religion, determines the family size across communities.
The Muslim population in 1951 was 9.8% and 14.2% in 2011 as per the Census. The percentage of Adivasis was 5.6% in 1951 and became 8.6% in 2011. These communities share in common a higher prevalence and extent of poverty and illiteracy. It is the changes in the relative social, educational and economic status of individuals and groups that affect the growth rate of the population.
The share in the population of Muslims in India went from 13.4% in 2001 to 14.2% as per Census 2011. The decadal growth rate of the Muslim population was at a 20-year low in 2011. It fell to 24.6% from 32.8% in 1991, a decline parallel to that of Hindus, who went from 22.7% in 1991 to 16.7% in 2011.
As a long-term trend, the growth rates of all Indian communities are converging. It means that the decadal rates of growth of the community-wise population are declining and approaching each other.
The argument that Muslims have more children—or larger families—due to polygamy forgets that the number of children depends on the total number of women of child-bearing age. Since this argument does not take sex ratio into account, it is simply propaganda and creates misconceptions. Further, the incidence of polygamy is quite similar among Hindus and Muslims in India.
The Committee on the Status of Women in India found in 1974 that "polygamy was not exclusive to Muslims but was prevalent among all communities of India". It recorded the prevalence of polygamy among tribals at 15.2%, Buddhists (9.7%), Jains (6.7%) and Hindus (5.8%). Muslims were the least polygamous, at 5.7%. Polygamy prevailed despite the low sex ratio (average 943, and among Muslims, at 951). Nevertheless, the low sex ratio for India would severely limit the possibility of polygamy.
Factually speaking, the fertility rate (number of children per woman) gives us the best picture to understand demographic changes. The latest figures on children per mother by religious groups are more than a decade old, sourced from the National Family Health Survey, 2005-06 (NFHS-3). As per this data, the Hindu and Muslim fertility rates are falling at an equal pace. In 2004-05, the average fertility of Indian women was three. Amongst Hindu women, it was 2.8, while among Muslim women, it was 3.4.
In 2014, the National Family Health Survey found that the national fertility rate has fallen to 2.2, not far from the replacement fertility rate of 2 per cent. Among Hindu women, it was 2.13 (a decline of 0.67%), and among Muslims, it was 2.62, a 0.78% decline) Therefore, the fertility rate of Muslims showed a sharper decline than Hindus. The fertility rate of Muslim women in Kerala is 2.3, in Karnataka 2.2 and Andhra 1.8.
Educational standards, particularly of women, are the most important contributing factor to smaller families. In these southern states, the fertility rate of Hindu women is significantly lower than that of Hindu women in Bihar (2.9), Rajasthan (2.8) and Uttar Pradesh (2.6).
As per actual numbers in the 2011 Census, the population of Muslims was 17.2 crores, and Hindus were 96.6 crores. (79%). Looking at this data, studeis predict that there could be 31 crores Muslims and 130 crores Hindus by 2050.
So, the threat of a declining Hindu population and growing minority numbers lacks any basis in logic. According to the 2011 Census, the Hindu share in population now stands at 79.8% and the share of Muslims is 14.2%. Programs that limit family size are adopted by the Muslim community in much larger numbers (despite contrary perceptions), as per the former Chief Election Commissioner SY Quraishi, whose excellent book, "The Population Myth: Islam, Family Planning and Politics in India", examines the issue in great detail.
Sarma's damaging statement only strengthens social discord and bias. Unfortunately, social media also amplifies many falsehoods about the Muslim population. Comments like these serve to polarise society and must be combated with facts and building awareness.
The author is a social activist and commentator. The views are personal.
Get the latest reports & analysis with people's perspective on Protests, movements & deep analytical videos, discussions of the current affairs in your Telegram app. Subscribe to NewsClick's Telegram channel & get Real-Time updates on stories, as they get published on our website.
Subscribe Newsclick On Telegram